By Cindy Carlsson
What is My Son Sanctuary?
The My Son Sanctuary UNESCO World Heritage site preserves the battered remains of the holiest site in Vietnam's ancient Champa kingdom. It includes multiple Hindu temples from the 7th-13th centuries. Together, these temples had more than 70 elaborate brick towers. Although severely damaged by war, the ruins provide an often-picturesque glimpse of the culture, artistic talent, and ingenious building techniques of this ancient civilization.
Disclosure: This article contains affiliate links. Making a purchase through an affiliate link will mean a small commission for this website. This will not affect your price.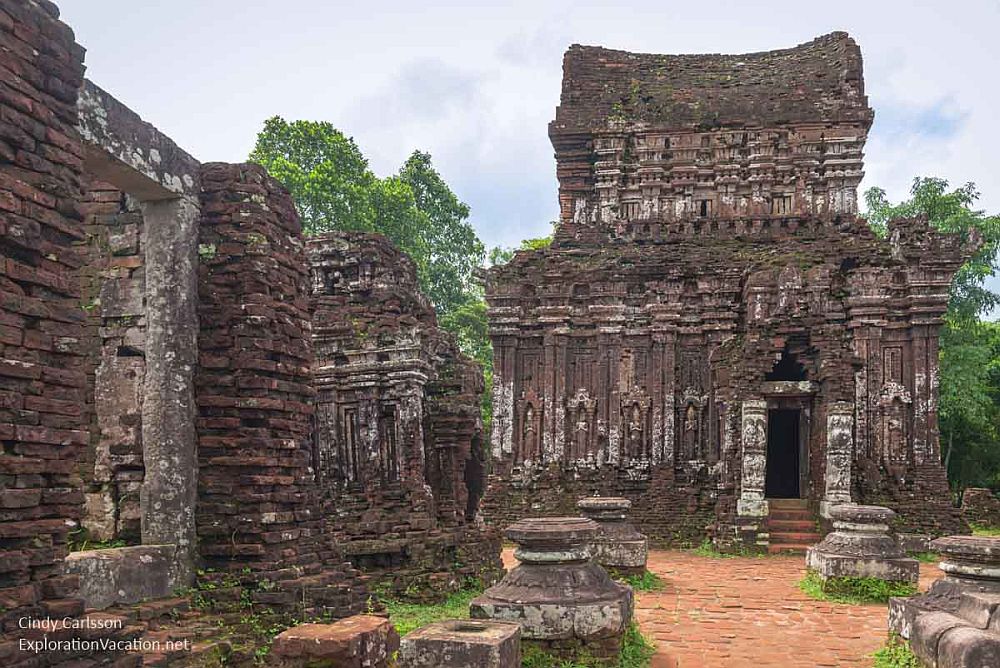 Why is My Son Sanctuary a UNESCO World Heritage site?
UNESCO describes My Son Sanctuary as "a remarkable architectural ensemble that developed over a period of ten centuries. It presents a vivid picture of spiritual and political life in an important phase of the history of South-East Asia."
The ancient Champa kingdom developed in Vietnam in the 2nd century and was the dominant force in the area for centuries. The Cham practiced a unique form of Hinduism and began building wooden temples at My Son in the 4th century. Those early temples were replaced a few hundred years later by the elaborately carved and decorated brick towers that remain today.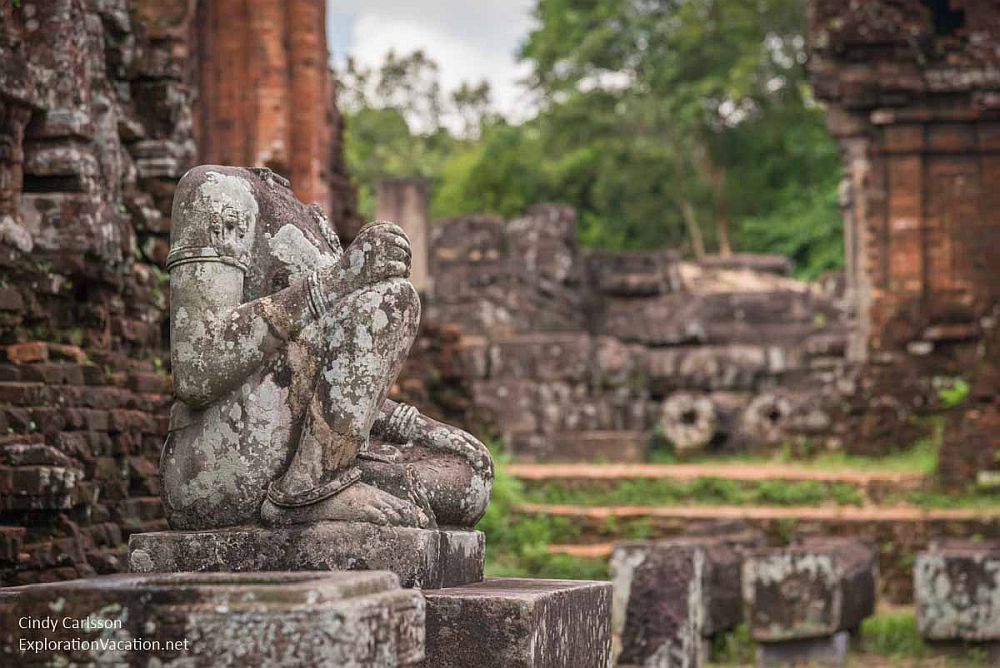 What can you expect on a visit to My Son Sanctuary?
My Son is at once beautiful, mysterious, and depressing. Americans bombed the site heavily in 1969 in an effort to drive out the Viet Cong using the site. Of the 70+ towers standing when French archaeologists documented the site in 1903, about 20 remained when the war ended.
My Son's temples generally take the form of brick towers, with each temple having at least one shrine and a set of supporting buildings. (Although the construction techniques are quite different, some areas look a bit like a very small and very ruined version of Angkor Wat.) Easy paths wind through these temple groups, each of which is different. Some are absolutely beautiful, with intricate towers rising above a tangle of ruins. A few have individual structures restored to look like new. And others are little more than piles of grass-covered bricks.
Some sculpture and artwork remains in and around the temples, but more is displayed in a couple of small museums on the site. There are also daily cultural performances of traditional Cham music and dance.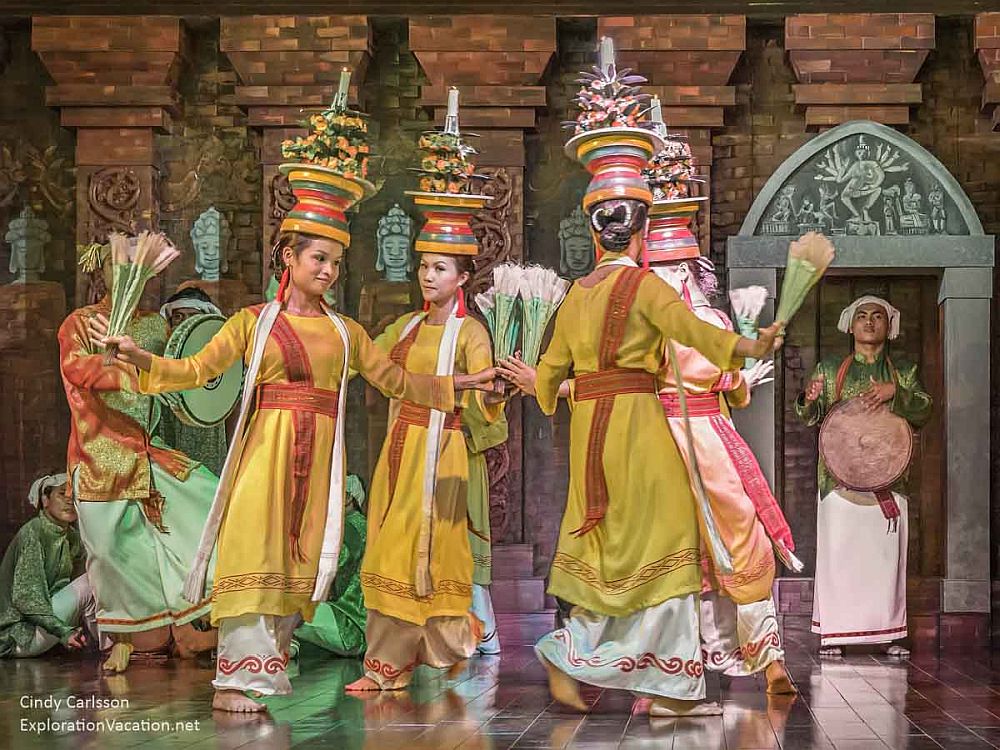 Read more about what to see at My Son here.
Is My Son Sanctuary worth visiting?
The only place to see ancient Champa sites is Vietnam and the only place to see multiple Champa temples in one place is My Son. Prior to the arrival of US bombers, My Son would have been worth traveling a long way to see. What remains today is evocative, interesting, and unique, but not enough in and of itself to warrant a separate trip to this part of Vietnam.
On the other hand, it is worth traveling a very long way to visit the nearby Hoi An Ancient Town UNESCO World Heritage site and this part of Vietnam in general. It's a wonderful part of the country. And, while you are in the area, it is very much worth making time to visit My Son.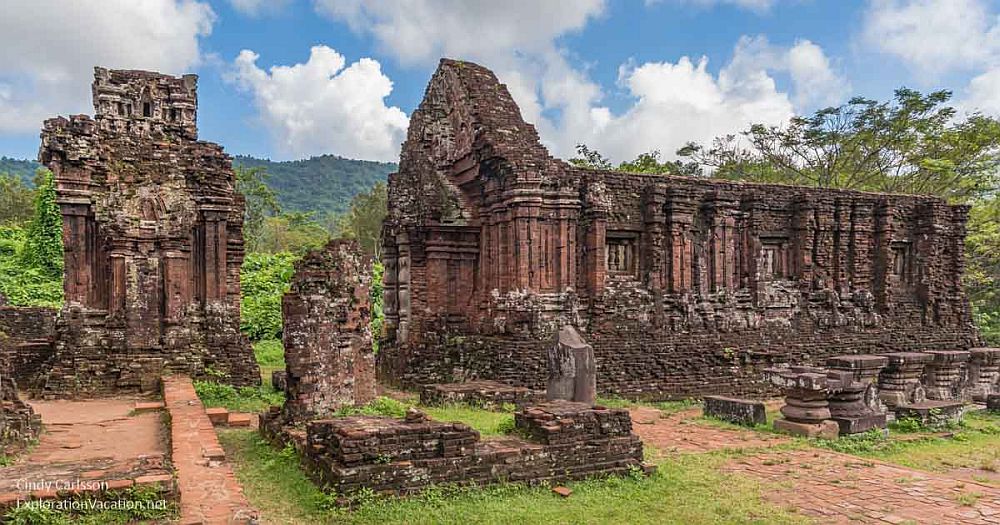 What sorts of travelers would like My Son Sanctuary?
My Son is photogenic and different enough from other sights in Vietnam to be of general interest. It's also easy to visit, and visitors can spend as little or much time as they want wandering the grounds or watching cultural performances. However, even visitors with a great deal of interest in ancient Asian religions and architecture won't need much more than a half-day to see absolutely everything at the site. It's just not that big.
Tips for visiting My Son Sanctuary
Always stay on the official paths. Unexploded ordinance has yet to be fully cleared from all areas.
My Son is in a valley that traps heat and humidity. Nor is there much shade at the site. Bring water, a hat, and sunscreen.
Take the free tram. It's about a mile between the entrance area and the first temples.
The best-preserved ruins are in Group BCD. Although it was once the finest temple here, today Group A has the least to see.
Regularly scheduled cultural performances take place each morning and, usually, throughout the day. Check when you enter to verify when and where they are being held. (Most are in a designated pavilion, but some are actually held in the ruins.)
Early morning right after sunrise is the most comfortable and least crowded time to visit. Late afternoon isn't usually very crowded either, but it's also very hot.
This is a wonderful part of Vietnam with beaches, culture, history, and so much more. It's an area that should be on every Vietnam itinerary! And, once in the area, it's easy to visit My Son.
Where is My Son Sanctuary?
My Son Sanctuary is located about 40 kms (30 miles) west of Hoi An and about the same distance southwest of Da Nang. Travel time is a little more than an hour from either city. However, it's generally a little quicker and a lot cheaper to travel from Hoi An.
Use the map below to book your accommodations in Hoi An, or type in Da Nang if you choose to stay there:
From either city hire a car and driver, taxi, scooter taxi, or book a tour. While there is public transportation between Hoi An and Da Nang, nothing goes to the rural area where My Son is located.
There is a small charge to park at the site, although some nearby restaurants may let you park for free.
For more information about My Son, its opening hours and admission fees, see its official website.
Text and photos provided by Cindy Carlsson, the always-curious traveler and photographer behind the website ExplorationVacation. Cindy loves diving deep into the places she visits and sharing her discoveries on the website, Facebook, and Instagram.
Have you been to My Son Sanctuary? If so, do you have any additional information or advice about this UNESCO World Heritage site? Please add your comments below!