By Cindy Carlsson
What is Grimeton Radio Station?
The Grimeton Radio Station in Varberg, Sweden, is a fully functional radio station from the days before electronic transatlantic communications. The site includes the original 1920s station, including all the original long-wave radio equipment and towers, as well as a variety of short-wave equipment.
Disclosure: This article contains affiliate links. Making a purchase through an affiliate link will mean a small commission for this website. This will not affect your price.
Why is Grimeton Station a UNESCO World Heritage site?
Once part of a network that connected Europe and North America, Grimeton Station offers a unique look at a moment of transition in telecommunications. UNESCO describes the station as both an "outstanding illustration of the development of telecommunications" and "the only surviving example of a major transmitting station based on pre-electronic technology."
What can you expect on a visit to Grimeton Station?
The historic station houses the original equipment from the 1920s, including the world's only intact example of the Alexanderson alternator used to transmit long-wave radio signals. A variety of tours and activities lets visitors choose just how much they want to learn about this historic equipment.
Outside, the six original long-wave radio towers stand high above an assortment of towers used by various types of communications technology. One of original towers is also open for guided climbs. And once a year they start up the historic alternator and transmit messages via the long-wave towers.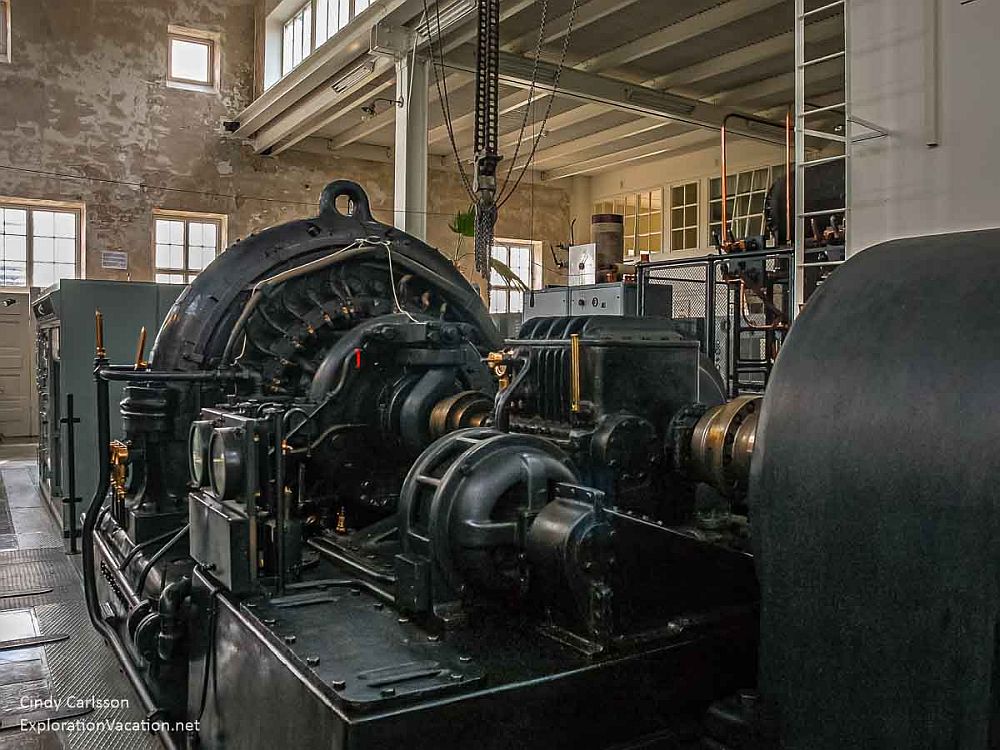 The site also includes a number of other historic buildings. One of these houses an exhibition on the station's technology and the history of telecommunications technology more broadly. Visitors are also welcome to watch amateur radio hobbyists at work in another building.
You can read more about what you'll see at Grimeton here.
Is Grimeton Radio Station worth visiting?
Unless you are really into either technology, radio history, or climbing very tall towers, this isn't a site worth traveling a long way to visit.
However, if you happen to be on Sweden's west coast, it is well worth setting aside a few hours to visit Grimeton Station. The site is well-run, has activities for visitors of all ages (including children), and is a lot more interesting than you might expect.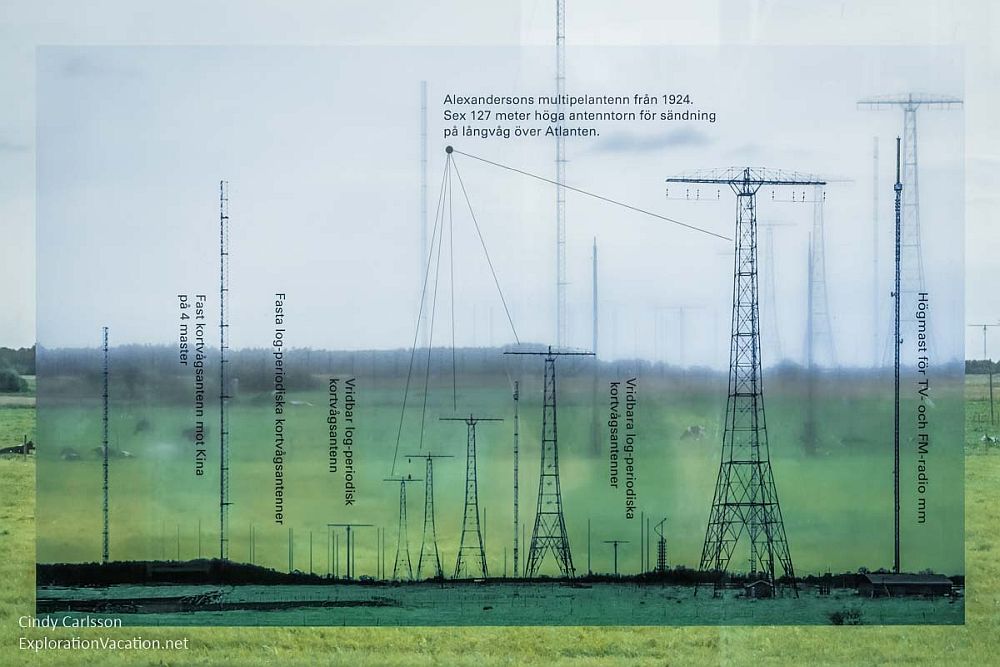 Tips for visiting Grimeton Station
Grimeton Station has very limited hours much of the year. However, group tours are usually available with an advance reservation when the site is otherwise closed.
If you have only limited interest in telecommunications history, you probably won't need much more than an hour to see this site. However, if you find some things here that interest you, it would be easy to spend most of an afternoon taking a tour, talking with an amateur radio operator, and doing a few activities.
The site has a really interesting gift shop and a very basic café.
A separate ticket is required to climb the tower.
If you want to be there when they broadcast using the historic equipment, Alexanderson Day is the Sunday closest to July 2. This is actually a big deal, so the site will be crowded. Plan ahead.
This part of Sweden is noted for its long expanses of sandy beaches and is a popular summer vacation getaway. It's also noted for the Kattegattleden, a 370 km (230-mile) bike trail along the coast. That trail runs very near Grimeton Station.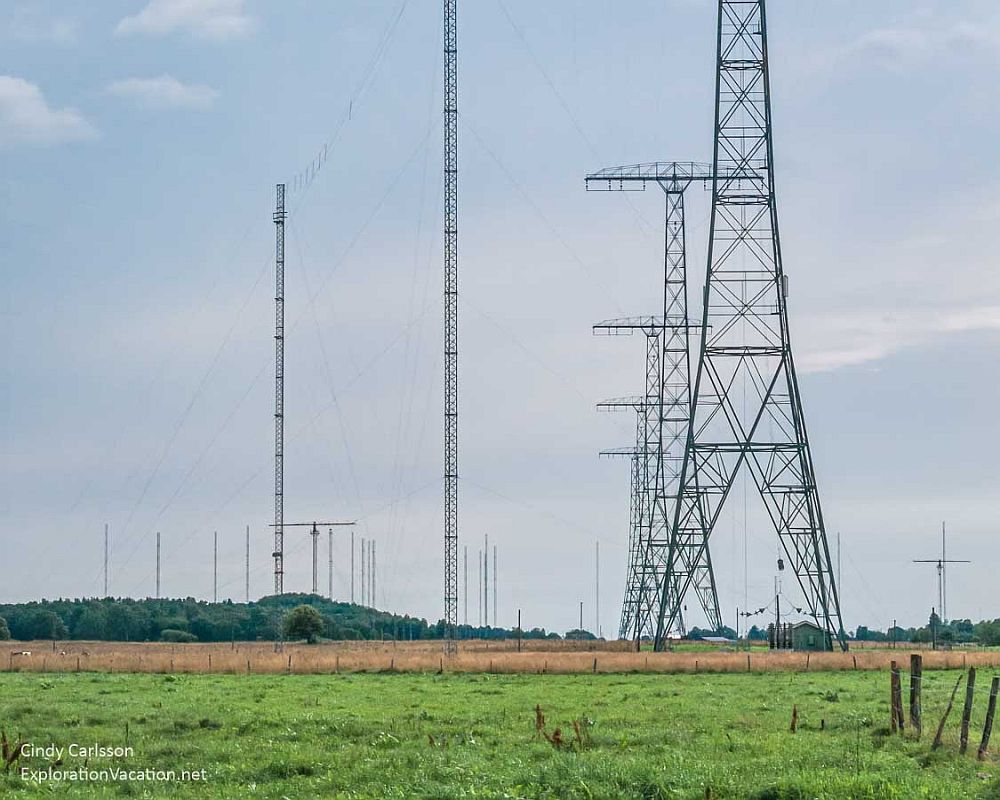 Where is Grimeton Radio Station?
The site's address is Grimeton 72, SE-432 98, Grimeton. (Sometimes Varberg or Rolfstorp are listed as the location instead of Grimeton.) It's clearly marked in most mapping programs.
The nearest city of any size is Varberg, about 8 kms (5 miles) away. The local Varberg bus serving Rolfstorp stops at the radio station. Free parking is usually available at the site as well.
Varberg is midway up Sweden's west coast. It's an hour's drive or a 45-minute train trip south of Gothenburg, the region's largest city. Coming from the south, it's a two hour-plus drive or train trip up the coast from Malmo. (Book train tickets well in advance, especially during summer vacation and holidays.)
Use the map below (zoom out) to find accommodations in Varberg, along the beach, or in Gothenburg.
For more information about Grimeton Radio Station, its opening hours and admission fees, see its official website.
Text and photos provided by Cindy Carlsson, the always-curious traveler and photographer behind the website ExplorationVacation. Cindy loves diving deep into the places she visits and sharing her discoveries on the website, Facebook, and Instagram.
Have you been to the Grimeton Radio Station? If so, do you have any additional information or advice about this UNESCO World Heritage site? Please add your comments below!