By Cindy Carlsson
What is Olympic National Park?
Located on Washington state's Olympic Peninsula, Olympic National Park protects a variety of ecosystems. These range from beaches along the Pacific coast to old growth forest, temperate rain forests, alpine meadows, and towering mountain peaks. At about 1,400 square miles (3,626 sq km) in size, Olympic National Park covers much of the peninsula and Pacific coastline. It shares its boundaries with several other protected areas and is also designated as the Olympic Biosphere Reserve.
Disclosure: This article contains affiliate links. Making a purchase through an affiliate link will mean a small commission for this website. This will not affect your price.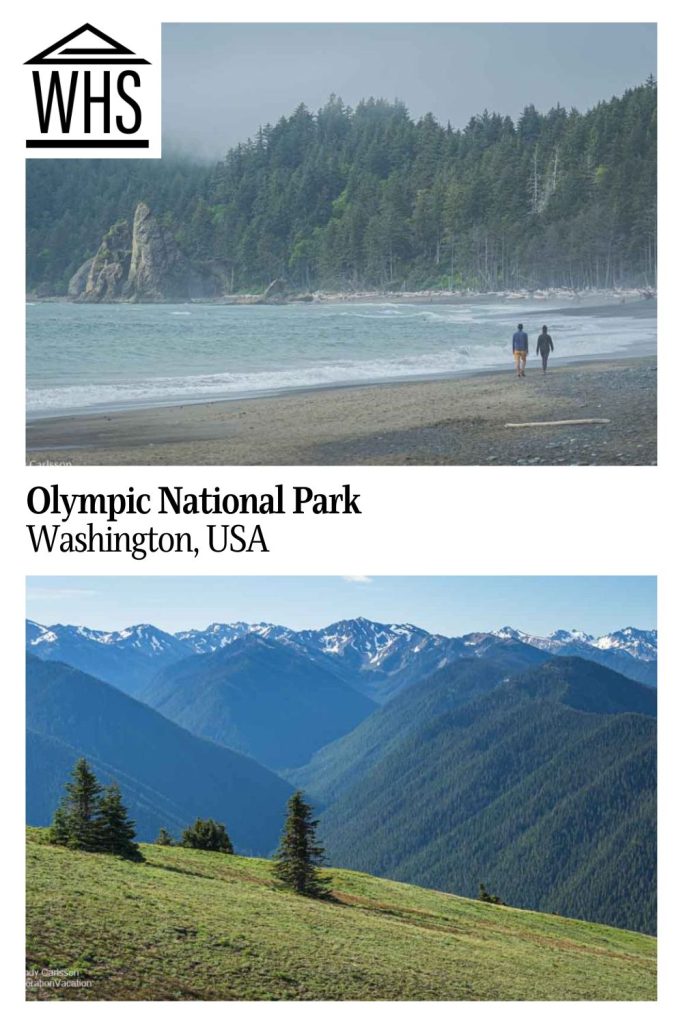 Why is Olympic National Park a UNESCO World Heritage site?
While Olympic National Park is noted for its beauty, the park's UNESCO World Heritage designation is mostly due to the diversity and significance of the park's ecosystems. UNESCO explains:
"The park's varied topography from seashore to glacier, affected by high rainfall, has produced complex and varied vegetation zones, providing habitats of unmatched diversity on the Pacific coast. The coastal Olympic rainforest reaches its maximum development within the property and has a living standing biomass which may be the highest anywhere in the world. The park's isolation has allowed the development of endemic wildlife, subspecies of trout, varieties of plants and unique fur coloration in mammals, indications of a separate course of evolution."
What can you expect on a visit to Olympic National Park?
Olympic National Park has three general components: the mountains and old-growth forests accessed from the north and southeast, temperate rainforests accessed from the south and west, and the Pacific Coast beaches (and Ozette Lake) located to the west of the rest of the park.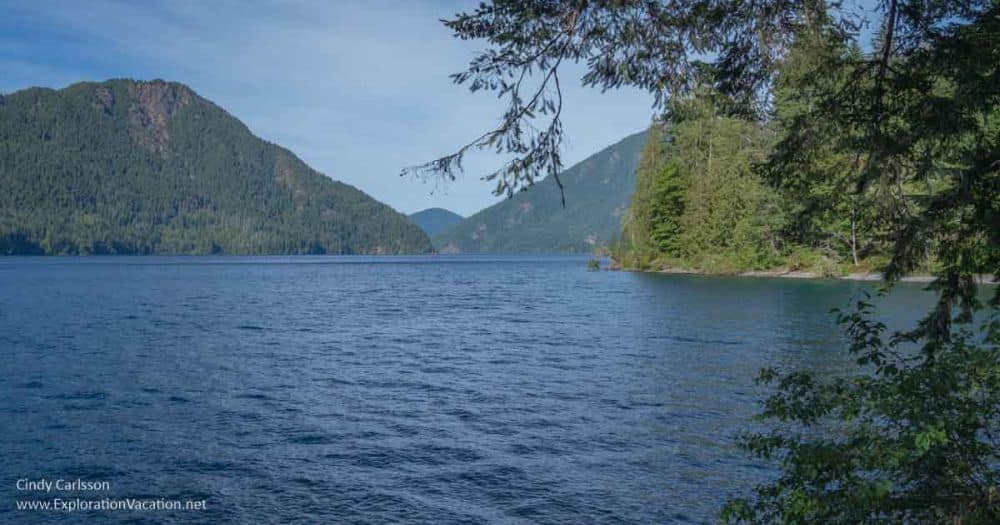 No roads run through this very large park. That means driving around the perimeter of the park and then going into the park (and back out again) to see most of the features accessible via roadway. You cannot see the entire park in a day, so the best plan is to focus on one region at a time.
Highlights of the Olympic National Park World Heritage Site generally fall into three groups:
1. Northern forests and mountains
From the north, visitors can easily get to four different areas noted for their forests, trout streams, mountains, and waterfalls.
Hurricane Ridge is probably the park's best-known feature. Getting there is a slow 20-mile (32 km) drive through the forest with very few places to stop until you reach the parking area where the Hurricane Ridge Visitor Center was located. (The historic Day Lodge burned down in spring 2023.)
From there, a variety of trails (including a few easy ones) wind through forests and alpine meadows with stunning views of the mountains. Many trails are interconnected loops, which makes it relatively easy to find routes that work for everyone.
In spring and summer the meadows are filled with wildflowers. You're also likely to see a lot of deer in this area at any time of year. (They'll let you take all the pictures you want as long as you don't get too close!)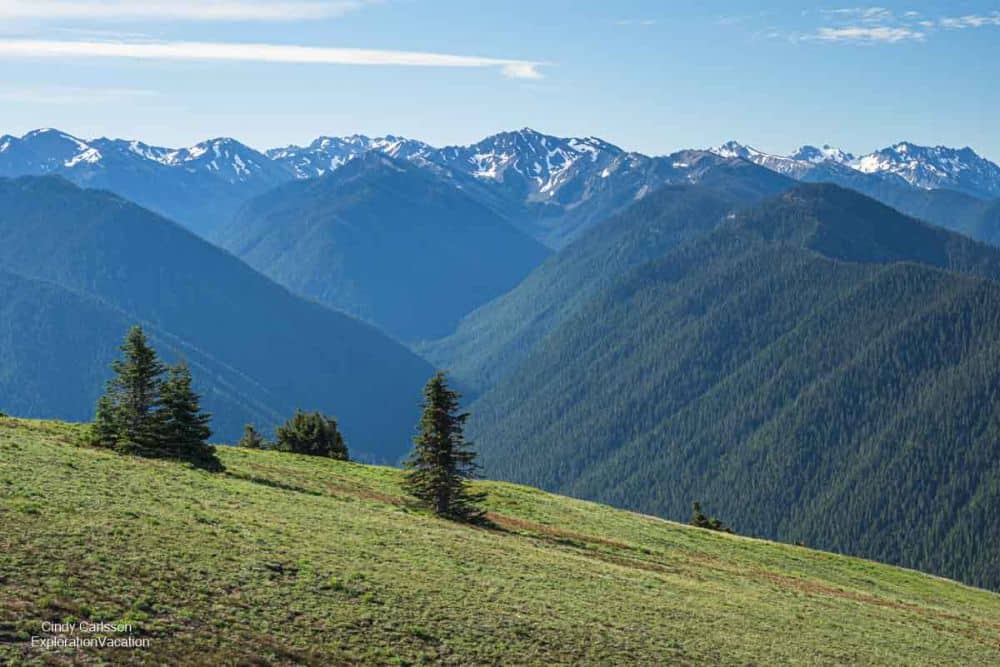 Waterfall fans will also find three notable waterfalls in this part of Olympic National Park. One of the most picturesque is Madison Falls in the Elwha Valley. It's easy to get to Madison Falls, but the valley beyond is currently accessible only by foot after the road washed out. The valley itself is undergoing a transformation as salmon return following the removal of dams on the Elwha River. This is another area where you're likely to find a lot of wildlife.
The most dramatic waterfall is Sol Duc Falls, located far down the busy Sol Duc Valley. It's a longer hike, but still easy. And it's a lovely trail that winds through moss-draped forests. At the waterfall, a bridge and viewing platforms make it easy to observe the falls as it plunges into a narrow canyon. Like the Elwha River, the Sol Duc is an important salmon stream. Unlike the Elwha area, the Sol Duc area has several lodging and camping options. It also has swimming and hot mineral pools available for use by both resort guests and day visitors.
Along the way you've undoubtedly noticed Lake Crescent. With several pull-outs along the highway, this is an easy photo stop as you head west. (It's much more challenging to find a safe spot to stop if you are traveling the other direction.) While the lake is best-known for water recreation, the trailhead for picture-perfect 90-foot/27-meter Marymere Falls is also located not far from the lakeshore. There's also a variety of lodging available in this area, making it a good base.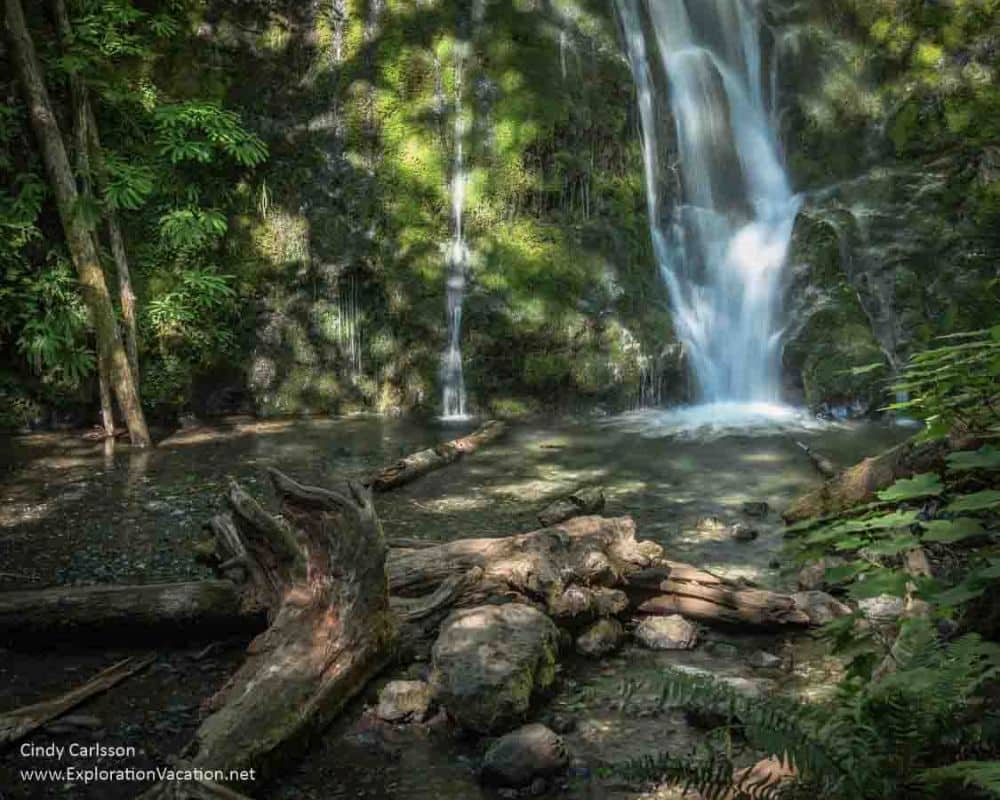 2. Southwestern rainforests
Intact temperate rainforests are rare. The fact that Olympic National Park retains these ecosystems is part of the reason it is a UNESCO World Heritage site. You can experience a temperate rain forest on a day visit to any of three areas: the Hoh Rain Forest, Queets Valley, and the Quinault Rain Forest.
Of these, the Hoh and Quinault areas are the easiest to access and offer the most services. Both have trails bursting with ferns and dripping with the moss that hangs on every surface. The short Hall of Mosses Trail in the Hoh Rain Forest gives visitors with limited time an outstanding look at this lush ecosystem. If you have more time, follow the Hoh River Trail. Or continue down to the Quinault Valley, where you can drive a scenic loop road along a lake and through the rainforest along the Quinault River. This gorgeous area also has hiking trails of various lengths, as well as a few historic sites.
3. Beaches
Separated from the rest of Olympic National Park, the Pacific coast is lined with wild beaches, most of which have sea stacks, enormous piles of driftwood, birds and wildlife, and tidepools filled with odd sea creatures – all backed by coastal forests. All of these are part of both the national park and the Olympic Coast National Marine Sanctuary. A few are on or accessed through tribal land.
Coming from the south, the Kalaloch area has a variety of mostly sand beaches numbered 1-4. All have sea stacks and most have tidepools. Beach 1 has a nice trail that wanders through spruce trees with mysterious burls (giant lumps) on their trunks. Beach 4 is said to have great tidepools.
Just beyond, Ruby Beach is a gem with a broad stretch of sand, towering sea stacks, tidepools, and well-weathered driftwood tree trunks. Like many Pacific coast beaches, this isn't a great swimming beach, as it is cold and has dangerous riptides, but at low tide it has a wonderful sandbar. It's also a beach that seems particularly prone to fog.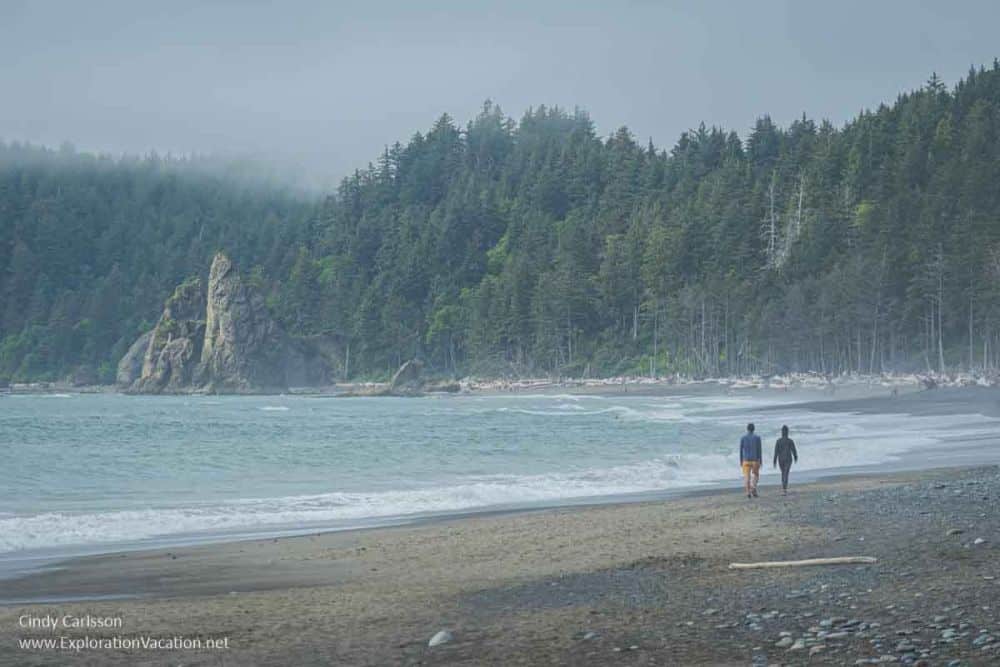 You'll find First, Second, and Third beaches further up the coast just south of La Push. First Beach is part of the Quileute Indian Reservation and its convenient parking make it popular with both visitors and local residents. Second and Third beaches require a bit of a hike, but the trade-off is sharing them with fewer people. Note that while all three beaches are near each other, you can't walk between them.
Rialto Beach is located just north of La Push. One of the most popular beaches in the Olympic National Park, it features a mostly rocky beach, absolutely enormous piles of driftwood, lots of birds, and a few seals. But it's best known for the Hole in the Wall, a rock formation that is accessible when the tide is low. You'll also find tide pools in the Hole in the Wall area.
Of course, there are still more beaches, but these are some of the best and easiest to reach.
Is the Olympic National Park World Heritage Site worth visiting?
Olympic National Park is definitely worth visiting. However, for many travelers, it may not belong at the top of their World Heritage bucket list.
Despite its proximity to Seattle, this isn't a park where you can pop over on a quick day trip. At least, not if you want to see much. The National Park Service suggests visiting Hurricane Ridge, Rialto Beach, and the Hoh Rain Forest (three of the park's signature attractions) in one very long day. And that is doable, but it will be a very, very long day. And you'll only get to spend a brief amount of time at each spot.
Olympic National Park is unique not for having the best example of any specific feature, but for having so much variety close enough together to all be in one park. But you can see those individual elements in other places: places that may be easier to get to and more satisfying to explore.
So, while Olympic National Park is a wonderful place, casual visitors may have a better experience seeing similar features and wildlife in other North American UNESCO World Heritage sites, including Waterton-Glacier International Peace Park, Redwood national and state parks, and the Canadian Rocky Mountain Parks, as well as at other state and provincial parks.
None of this means Olympic National Park isn't worth visiting. (I've been there twice and intend to return again.) The backcountry hiking trails are said to offer stunning scenery and a walk through the Hoh Rain Forest or along Rialto Beach is amazing. But it's not a destination for anyone in a hurry.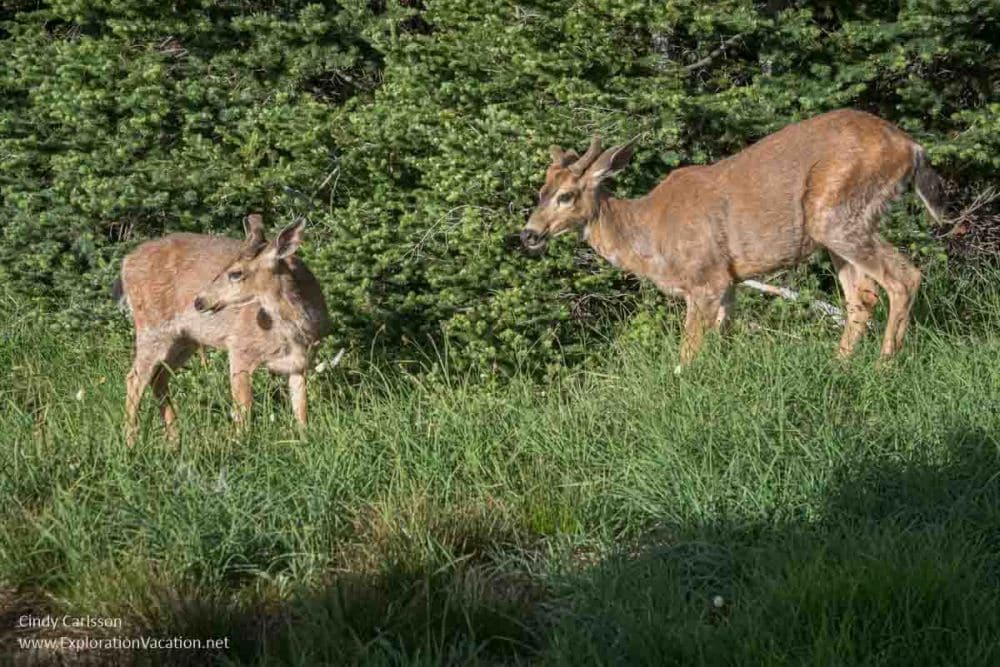 What sorts of travelers would like Olympic National Park?
While it has a few historic and cultural sites, Olympic National Park is a destination for nature lovers, nature photographers, and outdoor enthusiasts – particularly hikers and anglers.
Tips for visiting Olympic National Park
Allow far more time than you think you'll need just to get from place to place within the park.
You'll spend less time driving and more time enjoying the park if you stay in different parts of the peninsula.
Weather on the Olympic Peninsula can vary considerably from place to place and can change quickly. Summer is the driest season. The park gets up to 170 inches/432 centimeters of rain along the coast and western valleys, but little of that usually falls in summer. Still, even in summer, always check the weather for the part of the park you plan to visit before setting out for the day.
It's illegal to pick flowers or take shells, rocks, driftwood, pine cones, or other natural materials from anywhere in the park. Likewise, it's illegal to touch any wildlife, including critters living in tidepools.
You'll be traveling through tribal land as you travel around the park. If you stop to use tribal parks and beaches, an additional fee or permit is usually required. Please respect tribal rules and customs as you travel.
A park pass is required to visit most areas of the park. Buy it online before you go. They aren't available in all locations once you get to the park.
Due to the fire that destroyed the Hurricane Ridge Day Lodge, access to Hurricane Ridge is likely to be severely limited at least through 2024 – and probably a lot longer. Even before the fire, limited parking there and in the Hoh Rain Forest often resulted in very long waits to drive into these areas during the peak summer season. Early morning offers the best chance of getting into these areas. (You can drive up to Hurricane Ridge before the "gate" opens at 7 am.)
Really, really want to visit Hurricane Ridge but don't want to be up at the crack of dawn? Take the shuttle from Port Angeles. It continues running even after Hurricane Ridge closes to private vehicles for the day.
Expect to climb over at least some driftwood to reach most beaches. And check the tide table before heading out on a beach walk.
Even many short trails in Olympic National Park seem to be unusually poorly marked. Have a map whenever you leave your car.
Cellphone service is not available in many areas in and around the park. Another good reason to have a map.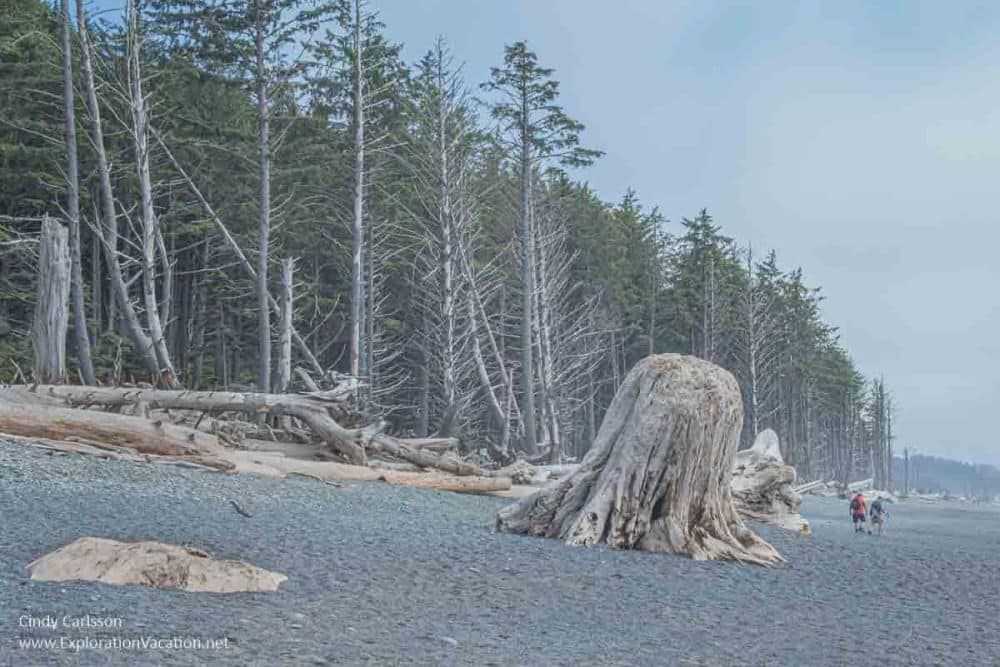 Where is Olympic National Park?
While the Olympic National Park World Heritage site covers most of Washington's Olympic Peninsula, it doesn't cover a contiguous area. The bulk of the park is located in the center of the peninsula, while the beaches huddle along the Pacific coast. That means there are many access points into the park – once you get to the peninsula.
If you're flying into the area through the Seattle-Tacoma International Airport, pick up your rental car (Book it here!) and head south to enter the park at Quinault (2½ hours), or head north along the park's eastern boundary to see some less-visited areas on that side of the park. Otherwise, continue up and around to the visitor center in Port Angeles (also 2½ hours) or Hurricane Ridge (3 hours) on the north. Although it looks longer to get to the northern part of the park by driving south from the airport, it's faster than driving up to Seattle first.
If you are already in Seattle, drive time to the Port Angeles visitor center is about the same (depending on the time of day) whether you take the same loop south or head north and pick up any number of ferries out of Seattle or the Kingston Ferry out of Edmonds. (The ferry schedule will determine whether or not it takes longer to get there. But it's more fun than driving and you'll get to see some lovely towns along the way.)
From Canada, it's cheap and easy to take the ferry from Victoria, British Columbia, to Port Angeles. It's also fast, at just 90 minutes.
From Portland, Oregon, the Quinault area is a 3-4-hour drive. It's about 4 hours to go straight to Port Angeles.
Your options are rather limited if you want to visit Olympic National Park, but don't want to drive. Buses run from Seattle to Port Angeles. Once there, the Clallam Transit System runs both the Hurricane Ridge Shuttle and regular buses that serve destinations in and around the northern part of the park. Several companies also run hiker shuttles to other areas in the park.
A variety of both private and small group tours are available once you are on the peninsula, with most focused on hiking, and mostly leaving from Seattle. These usually take 9-12 hours and include a few sites in the northern part of the park.
For more information about the Olympic National Park UNESCO World Heritage site, its opening hours and admission fees, see the National Park Service Olympic National Park website.
Text and photos provided by Cindy Carlsson, the always-curious traveler and photographer at ExplorationVacation. Cindy focuses on independent travel that dives deep into the world and its wonders. Check ExplorationVacation, Facebook, or Instagram for destination information, travel tips, and inspiration. Her most recent visit to Olympic National Park was this spring when the flowers were just beginning to bloom and the weather was unbelievably beautiful.
Have you been to Olympic National Park? If so, do you have any additional information or advice about this UNESCO World Heritage site? Please add your comments below!