Rice Terraces of the Philippine Cordilleras
By Carol Colborn
What are the Rice Terraces of the Philippine Cordilleras?
There are five clusters of rice terraces in this UNESCO designation: they are the most intact of the terraces carved out of the Philippine Cordillera mountain range about 2,000 years ago. They are in in four municipalities in the mountainous part of northern Luzon, the largest island in the Philippine archipelago.
Disclosure: This article contains affiliate links. Making a purchase through an affiliate link will mean a small commission for this website. This will not affect your price.
The five terrace clusters are:
Nagacadan in the municipality of Kiangan
Hungduan in the villages of Nungulunan, Hapao, and Baang in the municipality of the same name
Mayoyao in the municipality of the same name
Bangaan in the municipality of Banaue; and
Batad, also in the municipality of Banaue.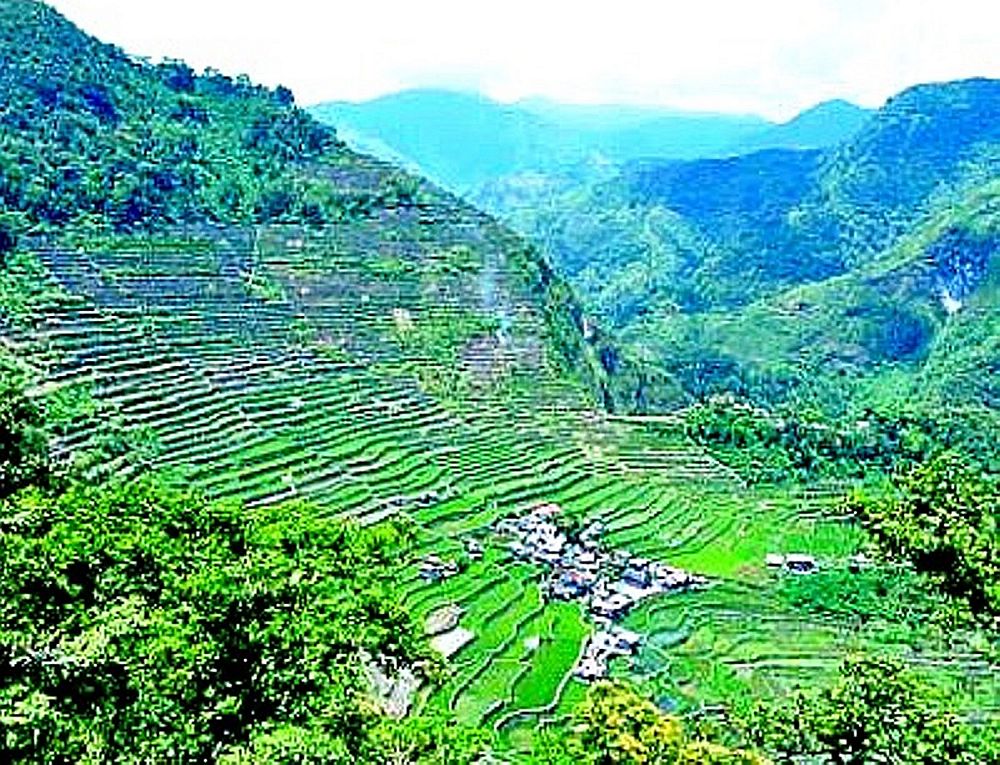 Why are these rice terraces a UNESCO World Heritage site?
The terraces are an outstanding example of a present-day living landscape that evolved from pre-colonial Philippines. They are the creations of the Ifugaos, a minority ethnic group that has lived in these mountains for more than two thousand years.
According to the UNESCO listing, "The Ifugao Rice Terraces epitomize the absolute blending of the physical, socio-cultural, economic, religious, and political environment. Indeed, it is a living cultural landscape of unparalleled beauty." This is an expression of the harmony between people and their environment, an enduring legacy of an ancient civilization.
These rice terraces reach a higher altitude and are built on steeper slopes than many other terraces around the world. Made of stone and mud walls carved into the natural mountain contours, pond fields were created that harvest water from the mountaintops in an elaborate farming system. Even at such early periods, a mastery of engineering went into the building of these terraces such that they have been left virtually unchanged. Maintaining them is done cooperatively, and is based on local knowledge of the lunar cycles, soil conservation, pest control, zoning, and religious rituals.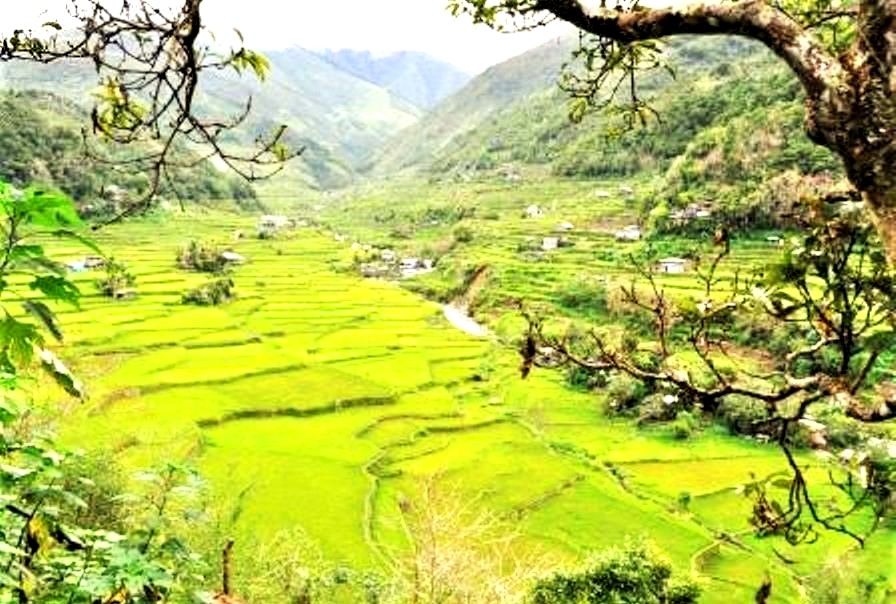 What can you expect on a visit?
The rice terraces are spread over a wide area and reaching each one ranges from easy to difficult. The nearest to the main hotel area in Banaue is Bangaan, which backdrops a typical Ifugao traditional village.
The most beautiful, Batad, is in the same town, nestled in amphitheatre-like, semi-circular terraces with a village at its base. It can be reached by jeepney but you will have to descend a steep trail on foot. There are some steps in the beginning, and this is a difficult hike. When you get to Batad, however, you will be amazed. You can even hike to a waterfall beyond the rice terraces.
Mayoyao is characterized by terraces interspersed with traditional farmers' houses and granaries. It is also reachable via a jeepney ride over rough roads.
Nagadacan consists of two distinct ascending rows of terraces bisected by a river, and Hungduan is beautiful in its web-like design. Each one shows how the village tends to and uses the terraces.
Are the rice terraces of the Cordilleras worth visiting?
This is definitely worth visiting and is considered by some to be the "eighth wonder of the world." But they are situated in remote Philippine mountain villages far from Metro Manila and even Baguio, the nearest major city, so you will have to make a special trip for it. The climate up in these mountains can range from cool to cold, depending on the month of year. It is best to go in summer when it is a refreshing alternative to the Metro Manila heat.
The adventurous backpacker would absolutely love to visit these rice terraces. Those used to more luxurious traveling will also find reasonable lodging and dining options. If you are a lover of nature, culture, and history, you will find these rice terraces the perfect unique destination. To cover all five clusters, you would probably need at least three days.
Tips for visiting the terraces
Some clusters are easier to get to but some are more difficult and rugged. Be prepared for both types of hikes. Renting a jeepney is the easiest way to get around. Base yourself in Banaue near the Bangaan Terrace Cluster. There are a range of hotels, hostels, homestays, and other lodging options for different budgets here but there are also lodging facilities in each cluster.
Use the map below to find accommodations in Banaue:
The trip from Manila is often favored over the trip from Baguio since the latter has rougher roads and requires some time to reach from Manila. You may want to visit Baguio, dubbed "The City of the Pines," anyway, as it is a beautiful established mountain city to visit if you have a week. You will need two additional days if you also want to visit Sagada, a town in the same mountain range, about one and a half hours away from Banaue. It is famous for its hanging coffins, Sumaguing Cave, and Bomod-ok Falls.
Where are the rice terraces?
All of the places mentioned in this article are marked on the Google map below:
The GPS addresses of each cluster are as follows:
Nagacadan: Q3J7+CQ3, Kiangan, Ifugao, Philippines
Hungduan: no available data
Mayoyao: X6CH+23V, Mayoyao, Ifugao, Philippines
Bangaan: W46G+6HW, Road, Banaue, Ifugao, Philippines
Batad: W4MP+V49, Mountain Province Rd, Banaue, Ifugao, Philippines
The journey from Manila to Banaue takes about five hours by car and eight hours by bus. From Baguio, it is about three hours by car and eight and a half hours by bus. The trip from Manila to Baguio is three and a half hours by car and six hours by bus.
Text and photos provided by Carol Colborn of Carolina: Cruising Past 70. After a jet-setting career with pioneering IT companies in the Philippines, Carol migrated to the US and now blogs about her travels with her husband. She has published three travel books, all available at Amazon, and also writes for Travel Awaits, an e-magazine.
Have you been to the Rice Terraces of the Philippine Cordilleras? If so, do you have any additional information or advice about this UNESCO World Heritage site? Please add your comments below!