Castle of the Teutonic Order in Malbork
By Nicole Janowski
What is the Castle of the Teutonic Order in Malbork?
This UNESCO site is a 13th-century fortified monastery belonging to the Teutonic Order. For years, it served both religious and political purposes as residence to the Grand Master of the Teutonic Order (a medieval community of monks battling pagans and the Kingdom of Poland), and over 3,000 knights. It is the largest and most elaborate Gothic-style brick castle in the world.
Disclosure: This article contains affiliate links. Making a purchase through an affiliate link will mean a small commission for this website. This will not affect your price.
Malbork Castle has fallen into disrepair several times throughout its history, with the latest being during World War II. It has been meticulously restored each time using state-of-the-art conservation techniques developed on site.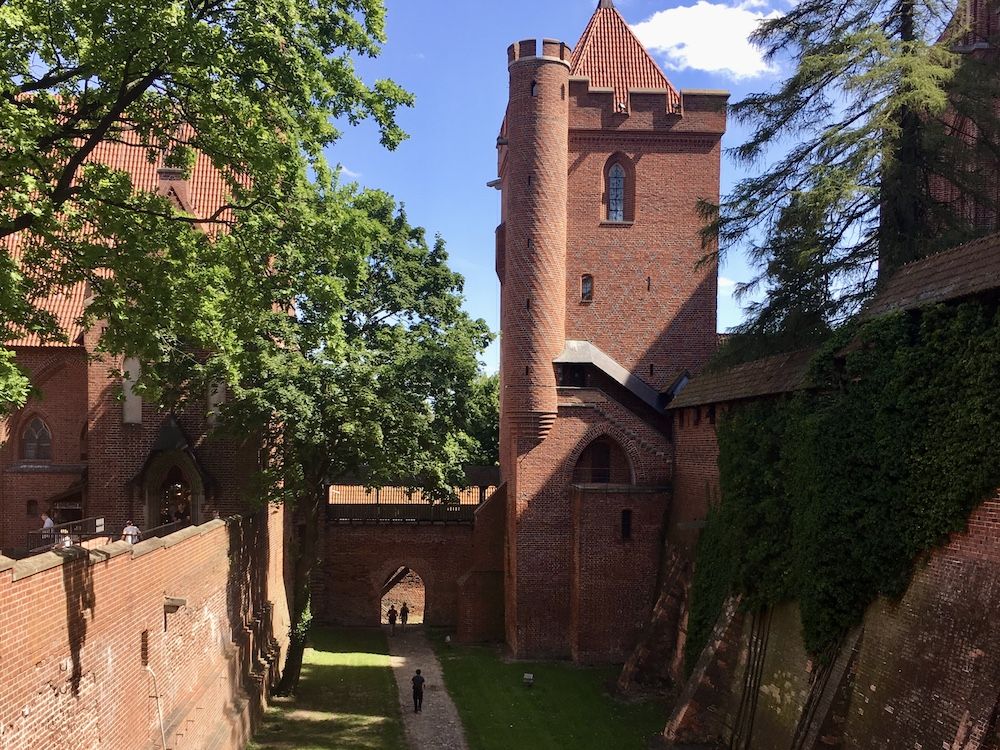 Why is Malbork Castle a UNESCO World Heritage site?
Malbork Castle remains "a symbol of power and cultural tradition" in Poland, according to UNESCO. Its massive halls and turrets are "at the same time the major material manifestation of the Crusades in eastern Europe, the compulsory conversion to Christianity of the Baltic peoples, and the colonization of their tribal territories, which played a vital role in the history of Europe." The castle itself is also an incredible example of medieval construction methods used on a large scale.
What can you expect on a visit to Malbork Castle?
Malbork Castle is a large and sprawling complex that takes several hours to walk through completely. You'll wander around the outside gardens and through multiple inner chambers, learning about the castle's history along the way. Within the castle's rooms, you'll find artifacts, artwork, and exhibitions about life during the Crusades.
A general entry ticket to Malbork Castle includes a self-guided audio tour. I highly recommend following along and doing the tour as you walk through the castle because the narration truly makes the experience come to life.
Book a tour of Malbork Castle, with or without transportation.
During the summer especially, Malbork Castle is a popular tourist attraction that draws big crowds. It's not unusual to see several tour buses full of people being unloaded at once.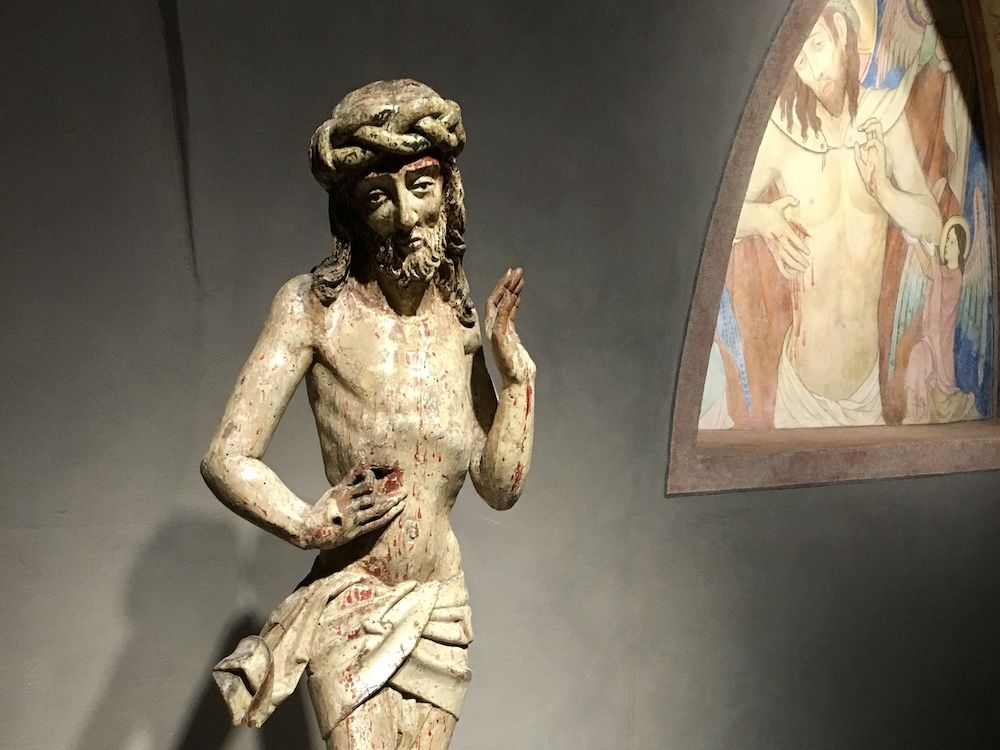 Is Malbork Castle worth visiting?
It's definitely worth visiting if you're at all interested in history, art, or impressive buildings. Even if you're not, the castle's grounds and gardens are beautiful and enjoyable to walk around on a nice day. Because of Malbork Castle's sheer size, it's best to set aside at least half a day to walk through completely.
Use the map below to book your accommodations in Malbork:
Tips for visiting Malbork Castle
Wear comfortable walking shoes as most of the castle's floors are uneven cobblestones.
You can pay a little bit extra to access the castle's highest turret, which is an amazing viewpoint to see the grounds from above.
Pets (except service animals) are not allowed on castle grounds. If you're there between April and September, however, there is a free pet kennel where you can leave your pup. You'll need to bring along their updated vaccination record book.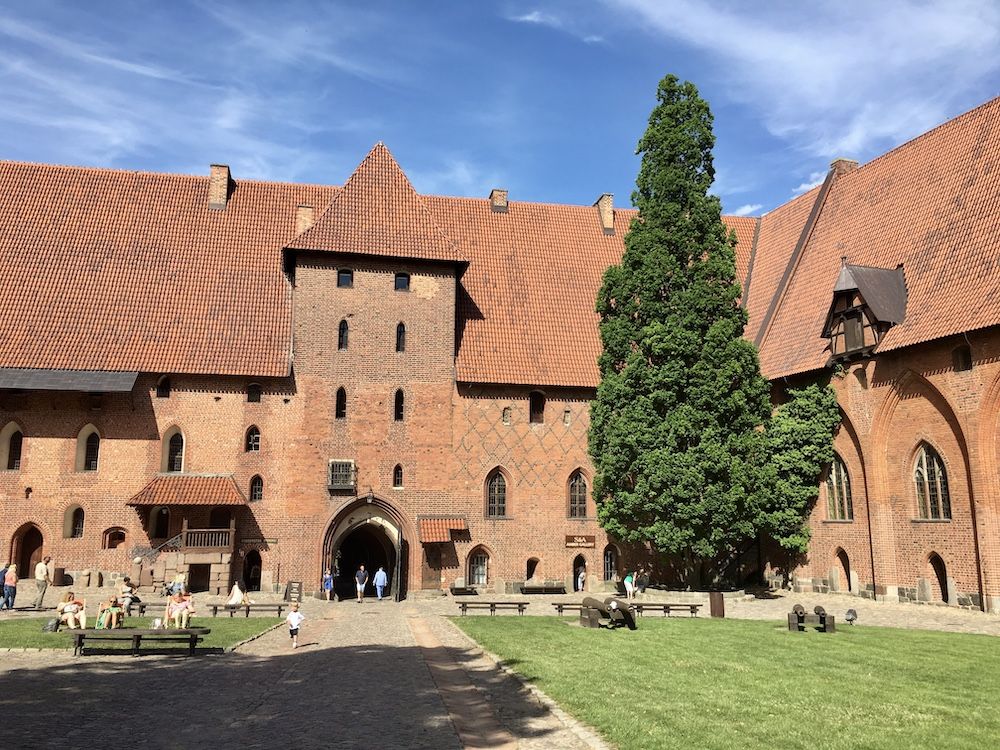 Where is Malbork Castle?
The castle is located in the town of Malbork, near Poland's northern Baltic coast.
By car, it takes about 45 minutes to drive from Gdańsk. Parking is available at the castle for a fee of 30 PLN, but you can also find plenty of free and metered spots around the area.
Malbork Castle is also accessible by train from Gdańsk. Tickets cost between €2-3 and the journey takes just over 45 minutes.
For more information about the Castle of the Teutonic Order in Malbork, its opening hours and admission fees, see its official website.
Text and photos provided by Nicole Janowski of Niki in New Zealand. She is a travel blogger who's passionate about putting together in-depth guides and itineraries for her favorite destinations around the world. You can find her on Instagram.
Have you been to the Castle of the Teutonic Order in Malbork? If so, do you have any additional information or advice about this UNESCO World Heritage site? Please add your comments below!