Old Bridge Area of the Old City of Mostar
By Nicole Janowski
What is the Old Bridge Area of the Old City of Mostar?
Mostar is a historic town in present-day Bosnia and Herzegovina that developed during the 15th and 16th centuries as an Ottoman settlement. Within the Old City lies the Old Bridge (or Stari Most), an extraordinary technological achievement, built in 1566. The Old Bridge metaphorically (and literally) bridged the gap between the Muslims, Christians, and Jews who lived on either side of the Neretva River.
Disclosure: This article contains affiliate links. Making a purchase through an affiliate link will mean a small commission for this website. This will not affect your price.
Unfortunately, the Old Bridge and much of the area around it were destroyed during the Croat-Bosniak War of the early 1990s. The subsequent rebuilding of the bridge and the historic city core has become a symbol of peace and reconciliation in the region.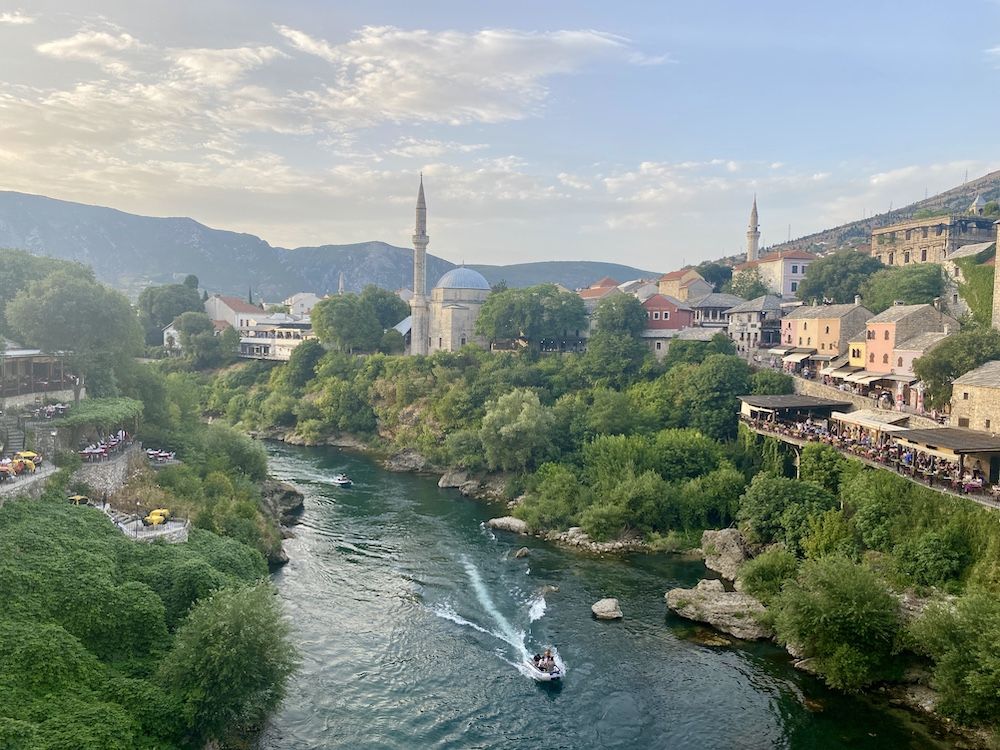 Why is the Old Bridge Area of the Old City of Mostar a UNESCO World Heritage site?
According to UNESCO's website, "The reconstructed Old Bridge and Old City of Mostar is a symbol of reconciliation, international co-operation and of the coexistence of diverse cultural, ethnic and religious communities." The area is also a wonderful example of a multicultural urban settlement, with Ottoman, European, and Mediterranean features.
What can you expect on a visit to Mostar?
Mostar's Old Bridge area is a bustling hub of activity. You can expect to see shops selling colorful jewelry and trinkets, street-side markets with fresh produce, and people drinking espresso at cafes with outdoor seating. Stray cats wander around every corner and young children play games on the sidewalks.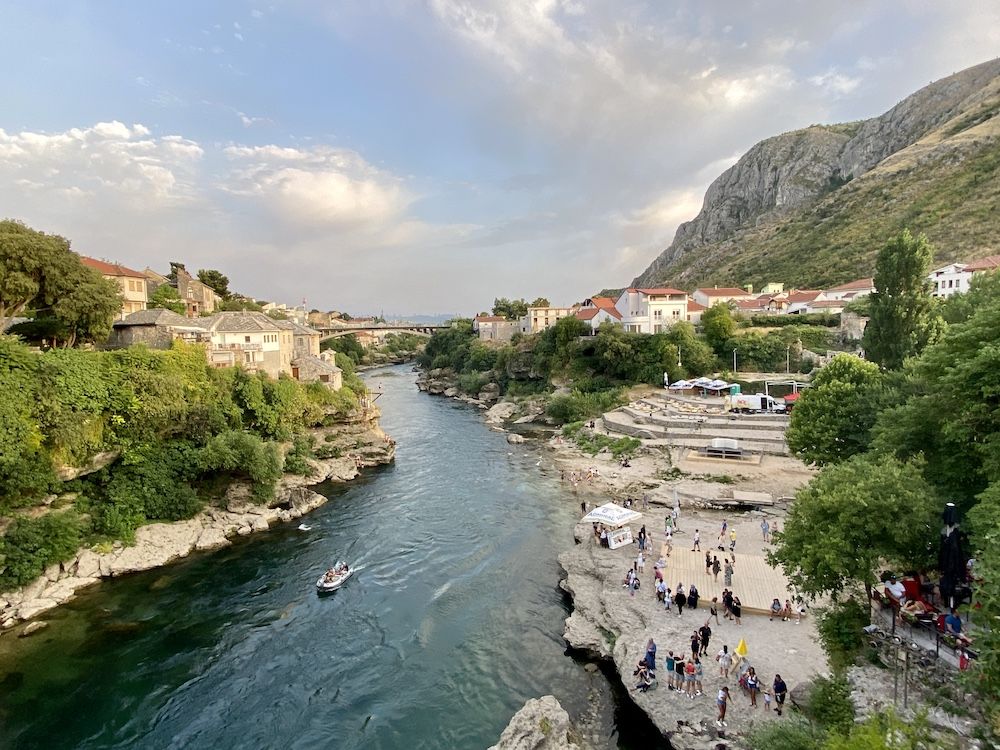 Once the sun goes down, the terraced restaurants along the river come to life. You'll find lots of different cuisines, from traditional Bosnian to Italian to Middle Eastern. The food is hearty, delicious, and is made even better with a view of the Old Bridge as you eat.
On certain nights, you might see a young local boy dangling off the edge of the Old Bridge. If his partners gather enough money from passersby, the boy will dramatically leap off the bridge into the river below. While these performances look terrifying (the bridge is almost 79 feet – 24 meters – high!), the boys who jump are actually well trained on how to jump without hurting themselves.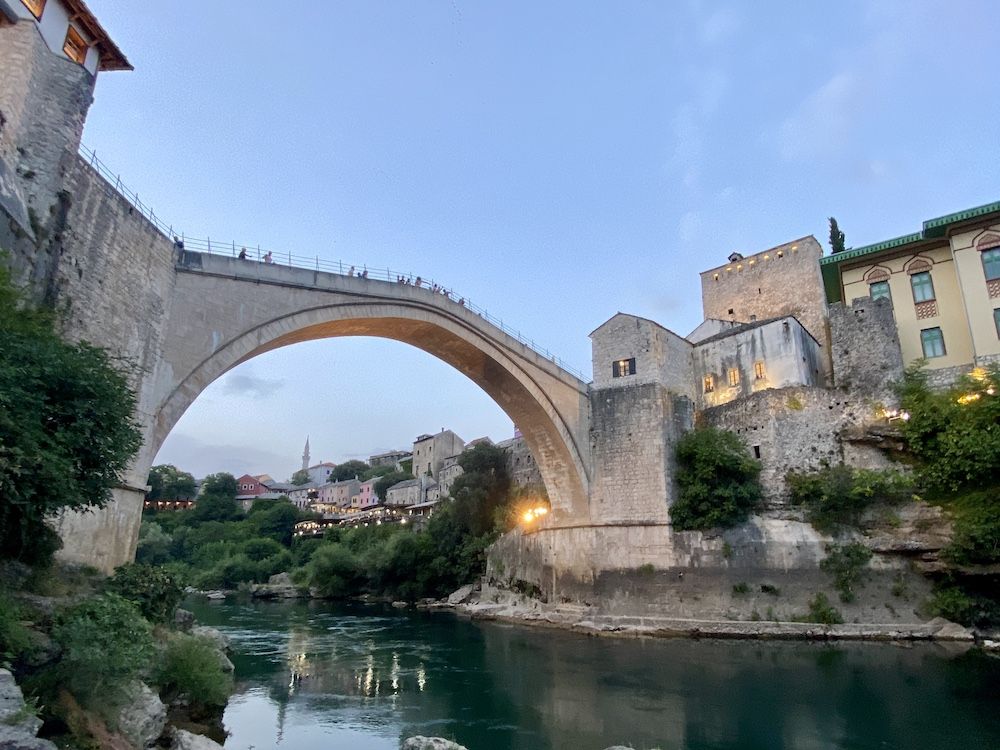 Is Mostar worth visiting?
Mostar is a city that is absolutely worth a visit. There is so much history, unique architecture, and delicious food around every corner. You can easily spend anywhere between two and four days roaming the streets and seeing all that the Old City has to offer. If you have more time, Mostar also makes a good base for exploring other parts of Bosnia.
Use this link to find your accommodations in Mostar.
What sorts of travelers would like Mostar?
Anyone who's interested in recent European history and eclectic destinations will love Mostar. The diverse mix of cultures within the Old City guarantees that there is something for everyone. It's easy to get around, and most people speak at least a little bit of English, so it's also a manageable destination for first-time travelers.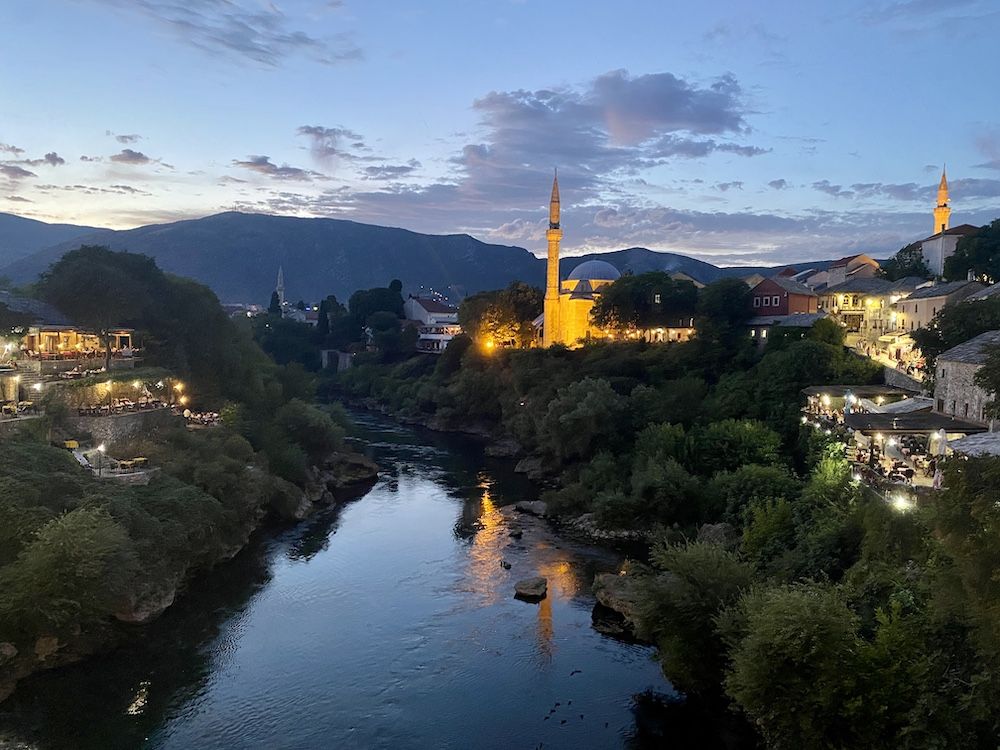 Tips for visiting Mostar
A lot of shops and restaurants will not take credit cards, so make sure to have a few Bosnian convertible marks to spend.
The Dervish monastery in Blagaj makes a great day trip from Mostar. Make sure to check out the nearby Blagaj Fort as well!
Tours and activities in Mostar.
Where is Mostar?
Mostar is located in Bosnia's southwestern region, not far from the Croatian border. By car, Mostar takes about two hours to reach from the Bosnian capital of Sarajevo. If you're coming from Dubrovnik in Croatia, make sure to factor in a bit more time to go through the border crossing. The streets in the Old Bridge Area are narrow, but it's easy to find free street parking just beyond the Old City.
Mostar can also be reached by bus from any major city in Bosnia, Croatia, and Montenegro.
For more information about Mostar, see its official website.
Text and photos provided by Nicole Janowski of Niki in New Zealand. She is a travel blogger who's passionate about putting together in-depth guides and itineraries for her favorite destinations around the world. You can find her on Instagram.
Have you been to Mostar? If so, do you have any additional information or advice about this UNESCO World Heritage site? Please add your comments below!