The Great Spa Towns of Europe
Written as collaboration among several authors
What is the Great Spa Towns of Europe UNESCO site?
The Great Spa Towns of Europe is a collection of 11 towns across seven countries. Each one has natural hot springs and, especially in the 18th and 19th centuries, developed into grand resort destinations around those springs. These towns, and many others, drew visitors from the wealthy classes all over Europe to "take the waters," whether that meant soaking in the hot spring water or drinking it.
Disclosure: This article contains affiliate links. Making a purchase through an affiliate link will mean a small commission for this website. This will not affect your price.
These 11 towns still have the infrastructure that developed around this early tourism: the spa buildings themselves, the fountains, the drinking halls, and so on, as well as other facilities like promenades, landscaped parks, hotels, theaters and concert halls.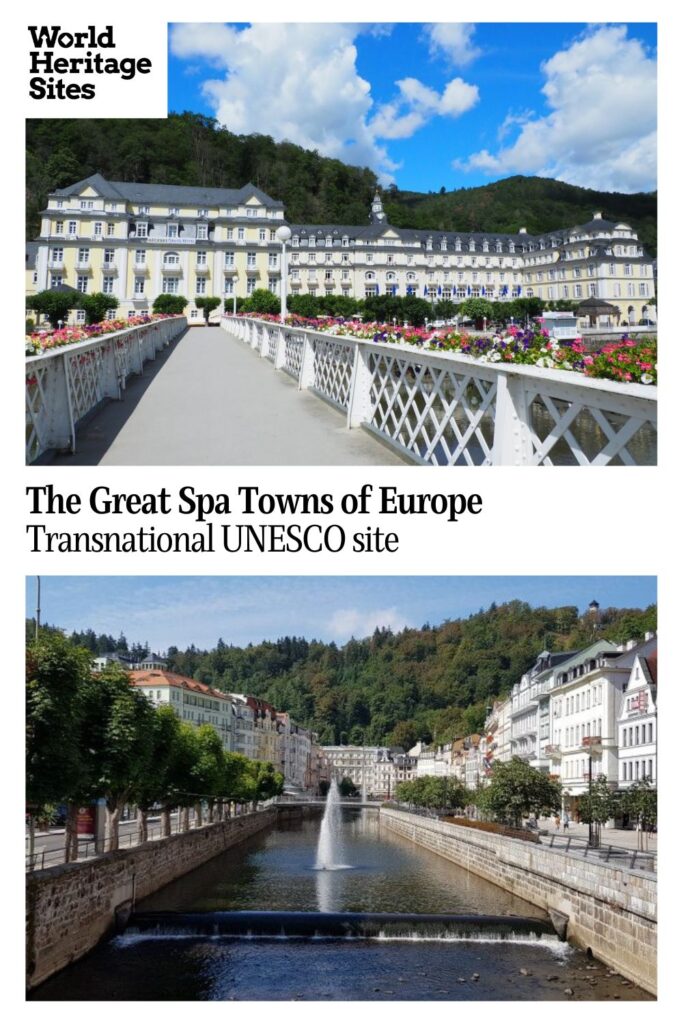 Why are the Great Spa Towns of Europe a UNESCO World Heritage site?
The Great Spa Towns of Europe are illustrative of a very particular type of leisure activity and, in effect, the beginnings of mass tourism. Spas go back many centuries before the rise of these towns – in fact, some have the remains of Roman spas within their borders – but from about 1700 until the 1930s, according to UNESCO, the spa phenomenon "gained its highest expression." The towns developed infrastructure and facilities specifically to meet the demands of the rising spa industry.
"Taking the cure" or "taking the waters" was a highly structured activity blending medicine, leisure, entertainment and socializing. According to UNESCO, "the Great Spas of Europe exhibits an important interchange of innovative ideas that influenced the development of medicine, balneology and leisure activities." This was expressed in terms of "the spatial layout of spa towns and the form and function of spa buildings or 'spa architecture'. Urban parks and promenades allowed people taking the cure 'to see and be seen' by others."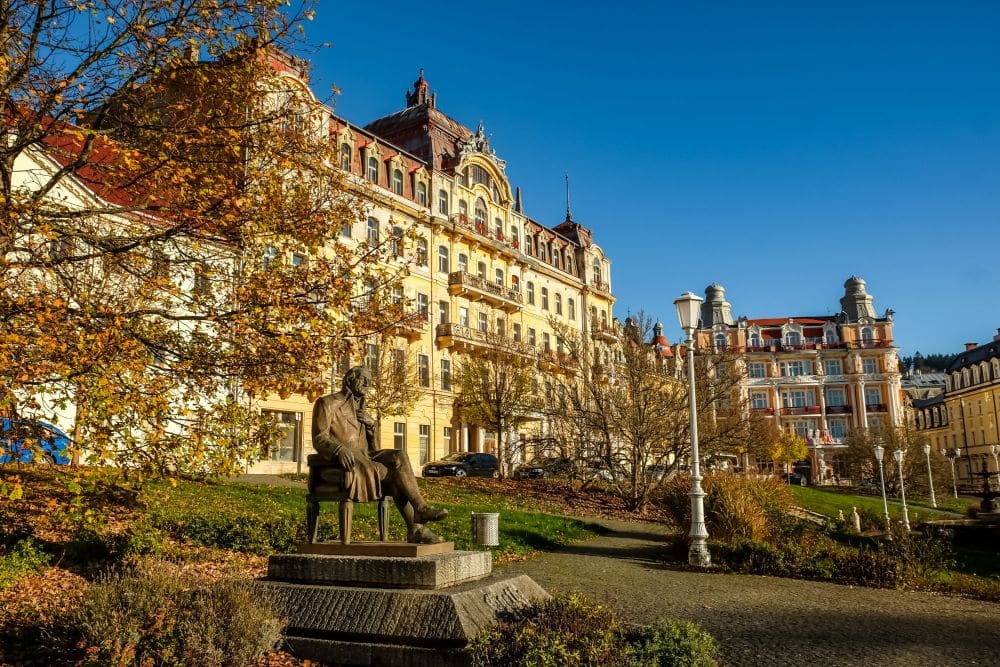 The 11 towns included in the designation are:
In Czechia: Karlovy Vary, Františkovy Lázně and Mariánské Lázně
In France: Vichy
In Germany: Bad Ems, Baden-Baden and Bad Kissingen
In Austria: Baden bei Wien
In Belgium: Spa
In Italy: Montecatini Terme
In the UK: City of Bath
What can you expect on a visit to one of the Great Spas of Europe?
While all of the spas on the list were part of this Great Spa phenomenon, each is different:
Karlovy Vary in Czechia
Legend has it that King Charles IV (1316-1378) discovered the hot springs of Karlovy Vary while out on a hunting expedition. The King was impressed by the curative powers of the thermal waters as they soothed and healed his injured leg.
During the 19th century Karlovy Vary became the playground of kings, presidents, the rich and famous, and this can be seen in the opulent architecture of the grand hotels which were built during this era.
Two such hotels are the Grandhotel Pupp and the Hotel Imperial, which feature stunning interiors that will transport you back to this gilded age. Moving with the times, these luxurious hotels offer a range of spa and wellness treatments which will have you feeling relaxed and refreshed.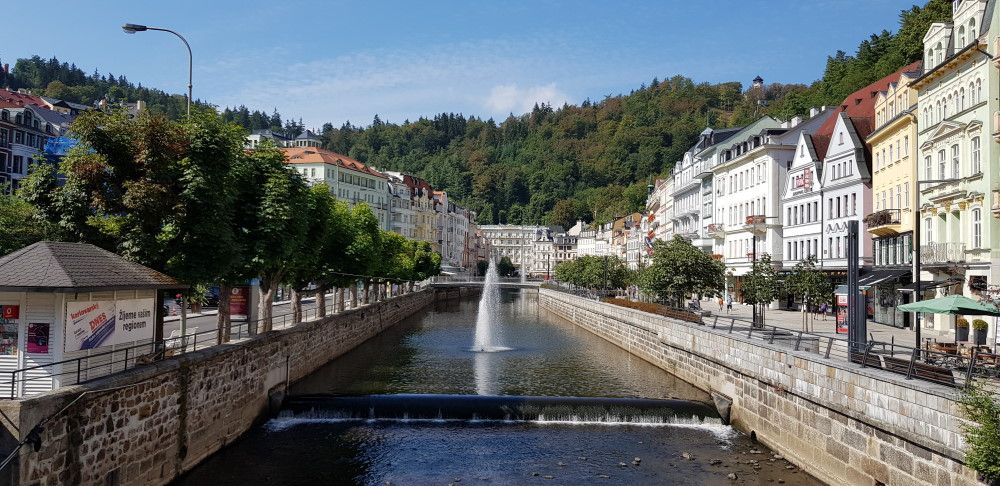 As you walk through this pretty spa city you will be charmed by the colorful buildings and colonnaded promenades that house the sixteen thermal springs of Karlovy Vary. Here you can drink the healing waters that have a slightly mineral taste. After taking the waters, make sure to follow tradition by having a sweet spa wafer and buying a souvenir sipping cup.
Today Karlovy Vary has the added distinction of hosting the Karlovy Vary Film Festival which takes place each July and attracts movie stars from across the world.
Contributed by Rosalind Cuthbertson of Frequent Traveller
Accommodations in Karlovy Vary.
Mariánské Lázně, Czechia
Located only 50 km (31 miles) away from Karlovy Vary, Marianske Lazne has always been in the shadow of this more popular Czech spa town, even if the place is equally interesting and beautiful.
The first springs were discovered in the area in the 13th century but the town is fairly new, founded only in the 19th century. Very quickly Marianske Lazne became the favorite hotspot for those seeking spa treatment, including well-known persons such as Austrian Emperor Franz Joseph, the British king Edward VII, Sigmund Freud, and artists like Chopin, Goethe, and Kafka. Today Marianske Lazne still attracts numerous visitors, although the town isn't as crowded as Karlovy Vary (and therefore it's much more enjoyable).
As soon as you arrive in the town you will surely be impressed with the stunning architecture of Marianske Lazne, mostly dating back to the end of the 19th and the beginning of the 20th century. All the grand hotels are in the beautiful art nouveau style, rich in details, and the good news is you can stay in them still today. The best one is probably Nové Lázně hotel, where you can use the bath that belonged to the English king Edward VII, who visited the town eight times.
The highlight of Marianske Lazne is the gorgeous colonnade in neo-Baroque style built between 1888 and 1889. With a length of 180 meters, it is the longest colonnade in the Czech Republic, perfect for a lazy stroll along its length. While walking, pay attention to the details too, including beautiful frescoes. Next to it you will find the singing fountain that gives shows nine times per day between 30th April and 31st October.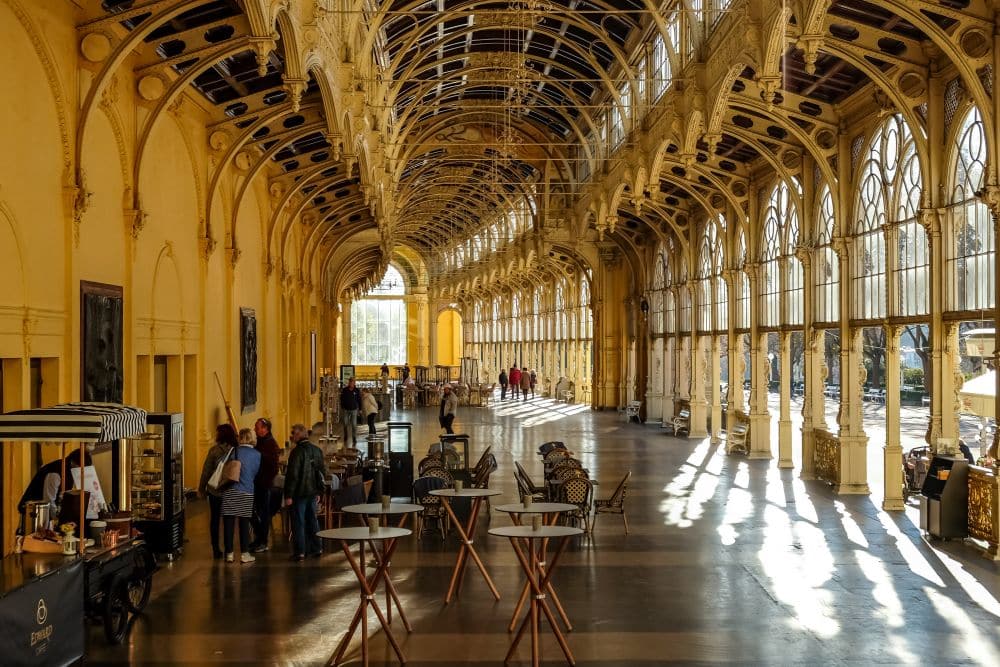 Getting to Marianske Lazne is easy with direct trains from both Prague and Karlovy Vary departing every two hours through the day.
Contributed by Kamila of Kami & the rest of the World.
Accommodations in Mariánské Lázně.
Františkovy Lázně, Czechia
(Not yet available. If you're a blogger and can contribute 200-250 words and a photo, please contact rachel(at)rachelsruminations(dot)com.)
Accommodations in Františkovy Lázně
Vichy, France
(Not yet available. If you're a blogger and can contribute 200-250 words and a photo, please contact rachel(at)rachelsruminations(dot)com.)
Bad Ems, Germany
Bad Ems is a small town squeezed into a river valley. The original Kursaal is opulent and still used for concerts and other events. It also houses the casino. The promenade follows the river, and you can taste the thermal spring water at public fountains along the way.
Häcker's Grand Hotel is also along the promenade and is just as grand as the Kursaal. It still holds a spa in its basement and spring water fountains in the ornate lobby. If you want a more modern vibe, you can walk down the promenade until you reach Bad Ems Therme, a modern spa facility.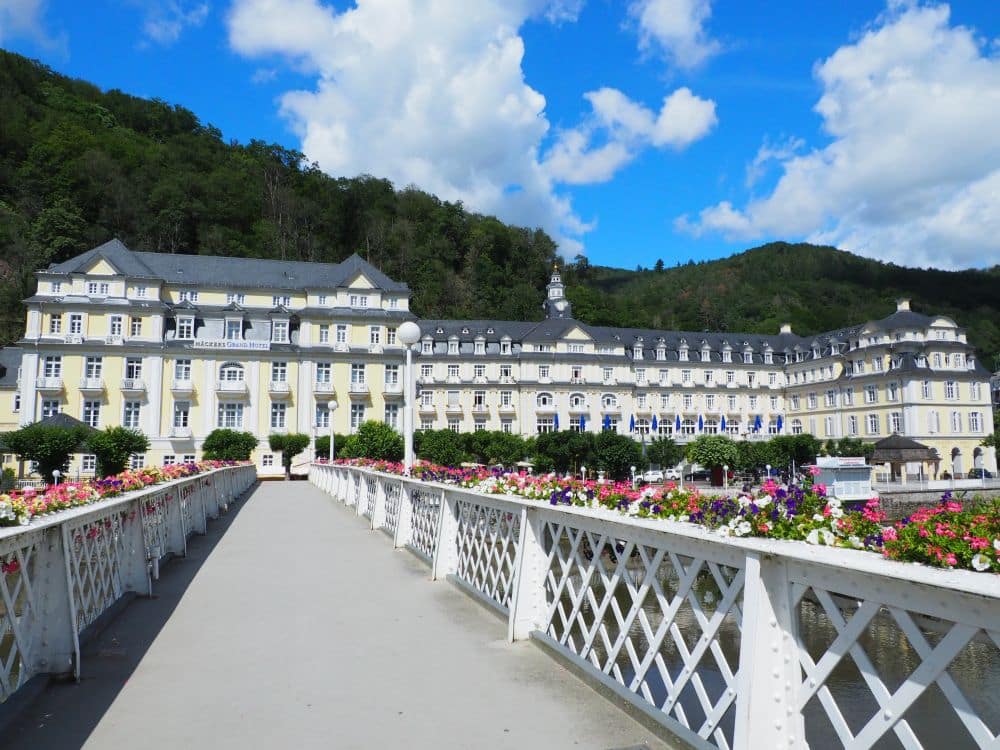 As you walk, you'll notice large villas on the other side of the river; in Bad Ems the nobility and royalty mostly stayed on one side in hotels – still there, but mostly apartments these days – and the wealthy but un-titled on the other in villas they built for themselves. You'll also notice the onion domes of the Russian Orthodox Church. Anywhere the Russian nobility visited had to have one.
The mountains around Bad Ems have plenty of hiking trails. You can also take the Kurwaldbahn, a funicular, up the mountain if you prefer not to climb.
If you're going to be in Bad Ems, don't miss the nearby Upper Middle Rhine Valley, a gorgeous UNESCO site of vineyards and fairytale castles.
Contributed by Rachel Heller of Rachel's Ruminations
Baden-Baden, Germany
To get a glimpse of spa towns before they became grand destinations, you can tour the remains of a Roman bath in Baden-Baden. Unfortunately, the 19th-century Friedrichsbad was built right on top of it. The neo-Renaissance style Friedrichsbad is a good place to go if you want to get a clear sense of what bathing in the 19th century was like: it claims to offer "Roman-style" bathing but with Irish hot-air baths. Be warned: bathing in Friedrichsbad is done stark naked! If that doesn't appeal to you, you can always go to the modern spa right next door called Caracalla Spa. There, only the sauna section involves getting naked.
Baden-Baden has a range of original architecture from its heyday as a spa town. The most extravagant are the Trinkhalle, a colonnaded building where visitors promenaded if it was raining, and the Kurhaus, originally housing a casino, and now housing one again. Take a look inside if you can! There's also a beautiful theater.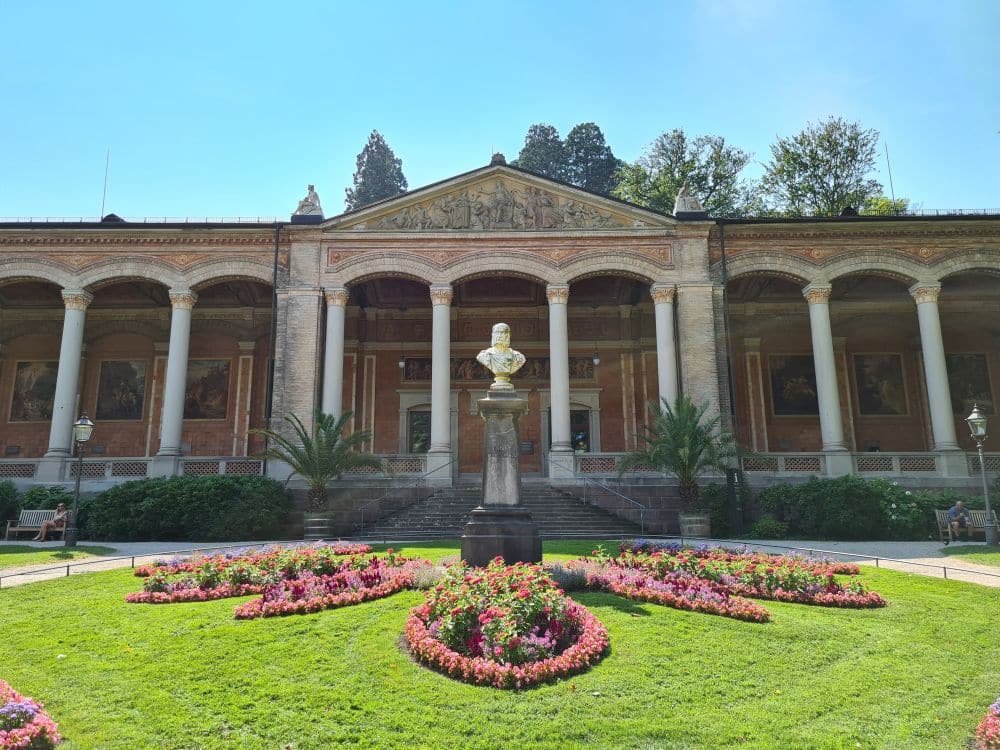 You can stroll along the long promenade called Lichtentaler Allee and its formal gardens and visit one of the five museums.
Heliopark Bad Hotel Zum Hirsch is the oldest hotel in Baden-Baden, predating the city's spa town boom. What's special here is that some of the rooms have a "thermal water connection." That means the spring water is piped right into the bathtub in the room!
Contributed by Rachel Heller of Rachel's Ruminations
Bad Kissingen, Germany
Bad Kissingen feels more like a tropical paradise then it does Bavarian. When visitors set foot in Bad Kissingen, they are greeted by tropical palm trees, seasonal flowers, and impressive water fountains.
In German, "Bad" in front of a town indicates a spa town and Bad Kissingen is a prime example of a quaint spa town. Visitors have been enjoying the spas here since the 16th century. In the 1830's, Bad Kissingen became a well-known resort area and has been a popular spa destination ever since.
The waters around Bad Kissingen are rich in minerals and are said to be medicinal. Many places around Bad Kissingen offer drinking water directly from the springs. The water has healing elements in it that may aid in digestion, treat various diseases, among many other possible health benefits. The famous spas that are used for bathing around Bad Kissingen are used for healing and relaxing purposes.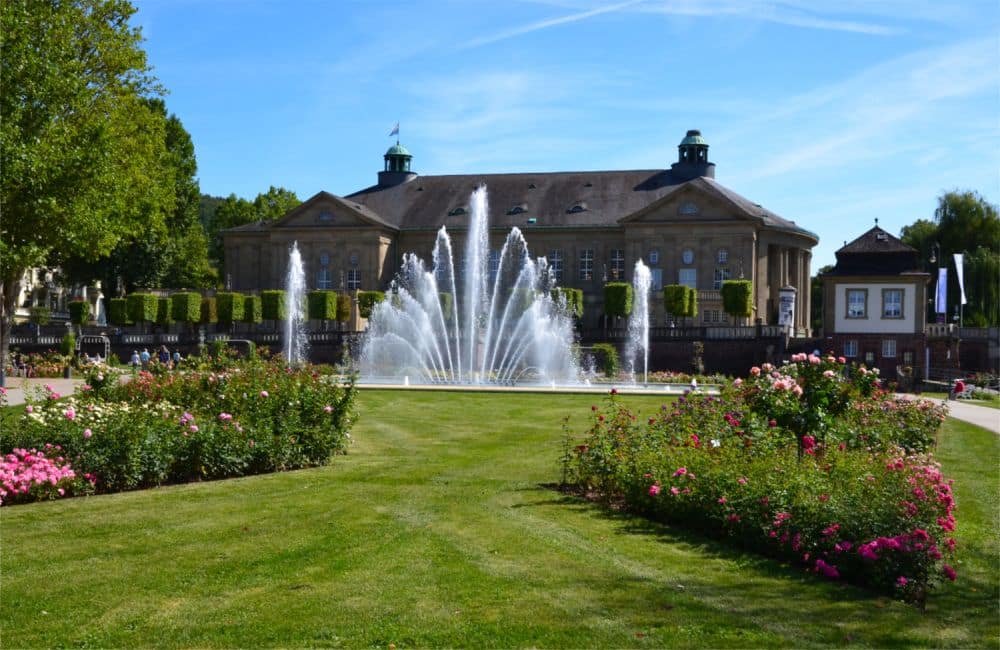 KissSalis Therme is the most famous of the thermal baths in Bad Kissingen and for good reason. KissSalis Therme is huge, with 10 indoor and outdoor pool options. There are saunas, steam baths, fitness areas, and much more, all with the idea of health and relaxation.
For visitors wishing to see Bad Kissingen without enjoying any of the spa activities, there is plenty to do and see around town. Bad Kissingen has a beautiful downtown area with historical buildings, churches, and a decent-sized town square. Cafes, restaurants, and shops can be found all throughout the city. Bad Kissingen has so much to offer whether you want to spend a half day, full day, or multiple days here.
Contributed by Brandon of Zimmin Around the World.
Accommodations in Bad Kissingen
Baden bei Wien, Austria
(Pending.)
Accommodations in Baden bei Wien
Spa, Belgium
(Pending)
Montecatini Terme, Italy
Situated in one of the most beautiful areas in Tuscany, nearby Lucca, Montecatini Terme has some of the most beautiful spas in the world. From Neo-Renaissance buildings to more modern structures, you will find the perfect treatment for you.
Are you looking for a classic-looking building? Tettuccio Thermal Complex has everything to impress you! The structures were built by the end of the 18th century and renovated at the beginning of the 20th century, yet they look like an ancient Roman thermal bath complex. Polychrome marbles, frescoes and columns will immerse you in a surreal atmosphere. In addition to the pools, you can also visit Terme Tettuccio's beautiful gardens.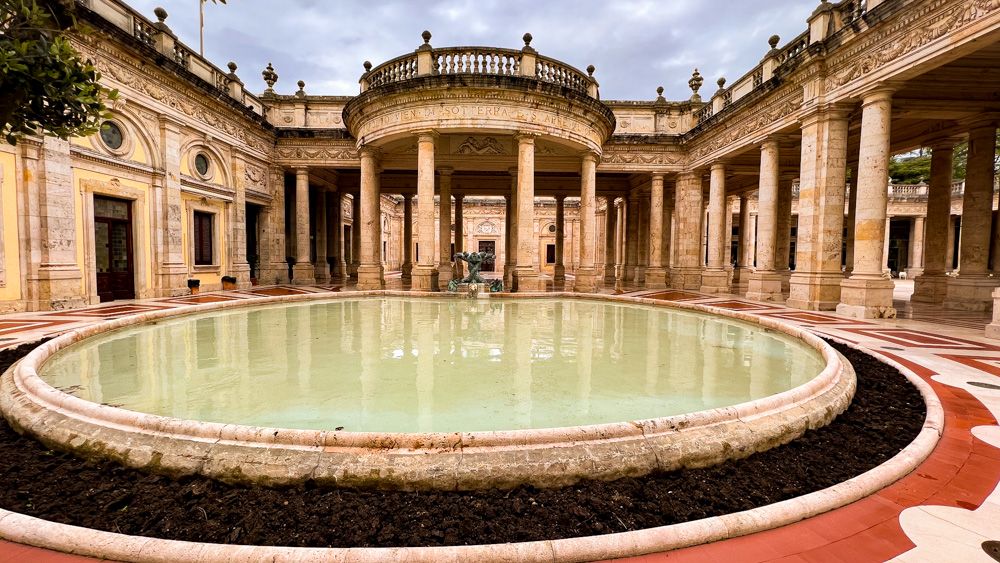 Apart from Tettuccio, many other establishments in the city offer different services for a complete thermal treatment. You can check also for bundles to get access to multiple pools inside different buildings.
Montecatini Terme has attracted so many celebrities over the years that it features a Walk of Fame. Running from Piazza del Popolo to Terme Tettuccio, a series of plaques features names of Italian personalities, but also international artists like Richard Strauss, René Magritte, Audrey Hepburn and Woody Allen.
If you're planning a trip to this magical area, don't forget to check out other beautiful places in Lucca and its surroundings, like Villa Reale di Marlia or Garfagnana.
Contributed by Anita of Anita Beyond The Sea
Accommodations in Montecatini Terme
City of Bath, UK
The City of Bath was first established as Aquae Sulis by the Romans around a series of natural hot springs in the 1st century AD. Even today, the Roman remains in Bath are some of the most famous and important north of the Alps.
Bath is one of few UNESCO sites to have two World Heritage designations: one as the City of Bath for its Roman and Georgian history and architecture, and this one as part of the collective list of Great Spa Towns.
During the Georgian era, Bath became a fashionable and elegant spa city, with many grand neo-classical buildings. The 18th-century architectural design, in particular, is a stunning example of city planning to make Bath as aesthetically pleasing as possible.
Today the most important and popular site in Bath is the museum of the Roman Baths, where the original baths are now located below street level. While these waters cannot be enjoyed by visitors, the nearby modern Thermae Bath Spa does contain some natural thermal baths along with an 18th-century hot bath so visitors can experience the mineral-rich waters from the springs.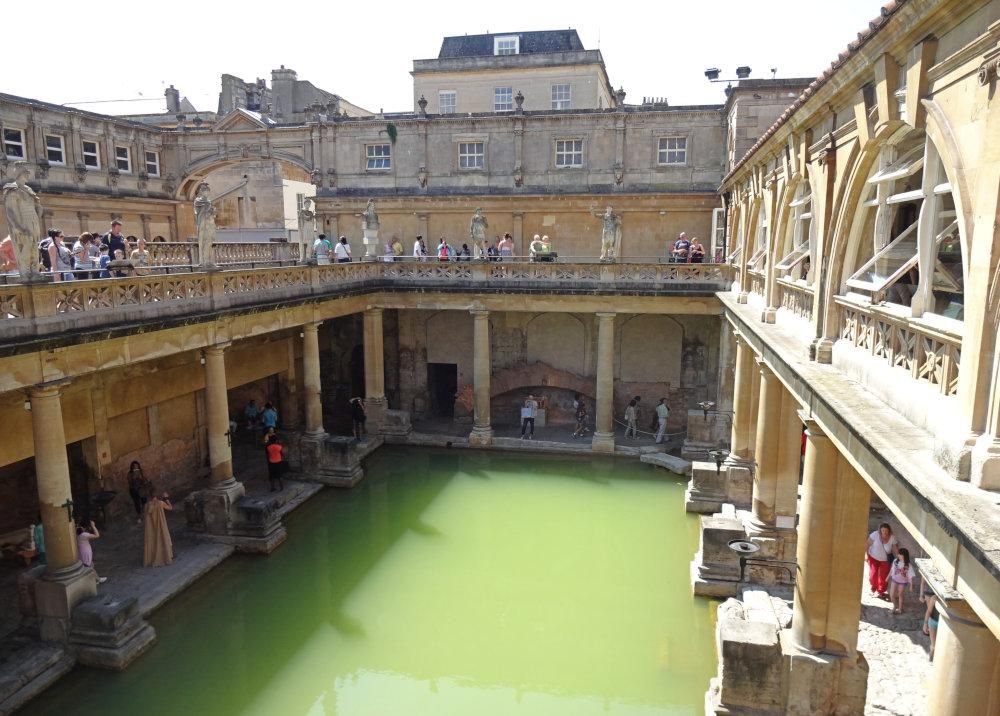 Other beautiful things to see in Bath include the 7th-century Bath Abbey, the covered Pulteney Bridge, and the Royal Crescent. There are a number of interesting museums and art galleries to explore here as well, notably the Jane Austen Centre, as this famous British author lived in Bath for a time.
There are also some gorgeous gardens and parks to enjoy in Bath, particularly the Parade Gardens directly next to the River Avon and the much larger Prior Park Landscape Garden. If you're a fan of Netflix's Bridgerton, many of the "Georgian London" scenes were actually filmed in Bath too!
If you're going to Bath, consider adding Stonehenge to your itinerary, as it isn't very far away.
Contributed by Kristy of Tassie Devil Abroad.
Are the Great Spa Towns of Europe worth visiting?
The Great Spa Towns of Europe retain their grand buildings and parks from the 18th and 19th century and still serve much the same purpose: they still have natural spring water and spas, as well as the grand theaters and concert halls. The difference nowadays, of course, is that "taking the waters" isn't as elitist as it once was. You don't need a noble or royal title or even to be wealthy to soak up the atmosphere – and the mineral waters – of these elegant towns.
It's definitely worth visiting for a stroll around the grand old buildings, picturing the upper classes as they once promenaded and gossiped. Walking around is completely free. Many of the spa-era buildings are open to the public for free too, so don't hesitate to venture inside.
If you're visiting in the summer, there may be performances of various sorts either outside or inside the historic spa buildings.
Many of the spas have been modernized, so for a fee you can enjoy a soak in the hot thermal water. There are often options in terms of temperature, salt content and the like. Many spas today have sauna facilities as well as steambaths too.
If you like thermal baths or beautiful 18th and 19th century buildings, you'll enjoy visiting a spa town. Any of these towns would be child-friendly with their parks to play in and spas to splash in. And many are surrounded by beautiful natural areas for outdoor activities like hiking.
What sorts of travelers would like these spa towns?
Besides the obvious – that they're great places for anyone who enjoys soaking in a spa – these towns would be worth visiting for anyone interested in this pre-war period of history and/or architecture or the history of tourism. Children and their parents would enjoy the parks and gardens, and children can enter some parts of most spas for a day of water play. Some of these towns have other activities like hiking in the vicinity.
Tips for visiting the Great Spa Towns of Europe
Bring a bathing suit! In some spas you are expected to wear one, in others you bathe naked, and in others you have a choice of naked or non-naked sections. Generally there's no need to bring a towel or robe, but it might save you money if the spa charges a fee for them. The same goes for slippers or flip-flops, which are a good idea if you want to avoid catching a fungus.
To get the full experience, stay at least a night. Get dressed up in the evening and go to the casino or a concert. The wealthy who holidayed in these towns didn't just bathe and drink the water. They also strolled, gossiped, networked, gambled, and attended concerts. These spa towns mostly still offer these activities, especially in the summer.
Where are the Great Spa Towns of Europe?
While it varies from place to place, all of the spa towns are reachable by train. This will usually involve intercity trains to the nearest larger town, then a local train to the spa town itself. All can be reached easily by car as well.
Compare rental car costs here.
As you can see, these 11 spa towns are widely scattered. If you want to visit more than one, your best bet is in western Czechia, where all three Czech spas are quite near each other. You should also know that there are far more spa towns in Europe than the eleven in the UNESCO designation. You can find a much larger list on the site of the European Historic Thermal Towns Association.
For more information about the Great Spa Towns of Europe, its opening hours, and admission fees, start at the Great Spa Towns of Europe website.
Have you been to any of the Great Spa Towns of Europe? If so, do you have any additional information or advice about this UNESCO World Heritage site? Please add your comments below!