Nice, Winter Resort Town of the Riviera
By Stephanie
What is Nice, Winter Resort Town of the Riviera?
Nice is the fifth-largest city in France, and is situated right on the Mediterranean Coast in southern France. The town gained popularity in the 1800s as a lovely winter destination for royalty and the wealthy to escape cold northern European winters. Queen Victoria of England was a frequent visitor to the French Riviera town of Nice. Thus, the town was deliberately developed from an old medieval town into a beautiful, upscale destination by the sea.
Disclosure: This article contains affiliate links. Making a purchase through an affiliate link will mean a small commission for this website. This will not affect your price.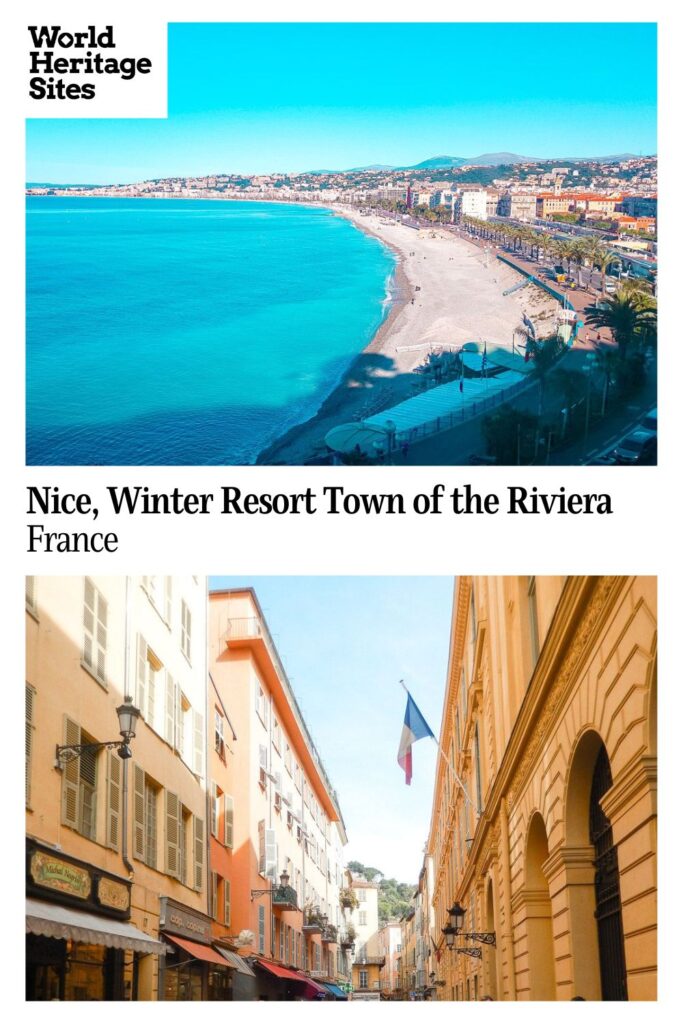 Why is Nice a UNESCO World Heritage site?
Nice is an interesting choice as a UNESCO site. It wasn't chosen for its charm, beauty, or stunning vistas, even though those could all be used as reasons to consider it. Instead, it's a World Heritage site because of the role that tourism had in developing Nice into the vibrant, dynamic and developed city it is today. While cities and destinations being developed solely due to tourism is a common occurrence today, back in the early 1800s it most definitely was not common. UNESCO's site states, "…Nice demonstrates that tourism has often also generated an original heritage," meaning that the culture and heritage of Nice is inextricably tied to the influences of tourism in the 1800s.
What can you expect on a visit to Nice?
As a truly gorgeous destination, there are many interesting things to see and do in Nice. It has the most beautiful path along the sea, Promenade des Anglais, a 7-mile-wide, palm-lined coastal lane that offers excellent views and plenty of opportunities for biking, walking, jogging, or people watching.
The Promenade also provides access to the miles and miles of beaches in Nice – these beaches are easily accessible from the city and are very popular destinations during the warm summer months (although you should know that Nice has pebbly beaches, not sandy beaches).
The Old Town of Nice is charming and fairly large – with narrow, winding streets painted in warm orange, tan, red, pink, and golden hues. You can find all sorts of interesting shops in Old Town, as well as cafes, restaurants, and dessert shops.
Try this walking tour of Nice's Old Town. Or this food tour of the Old Town.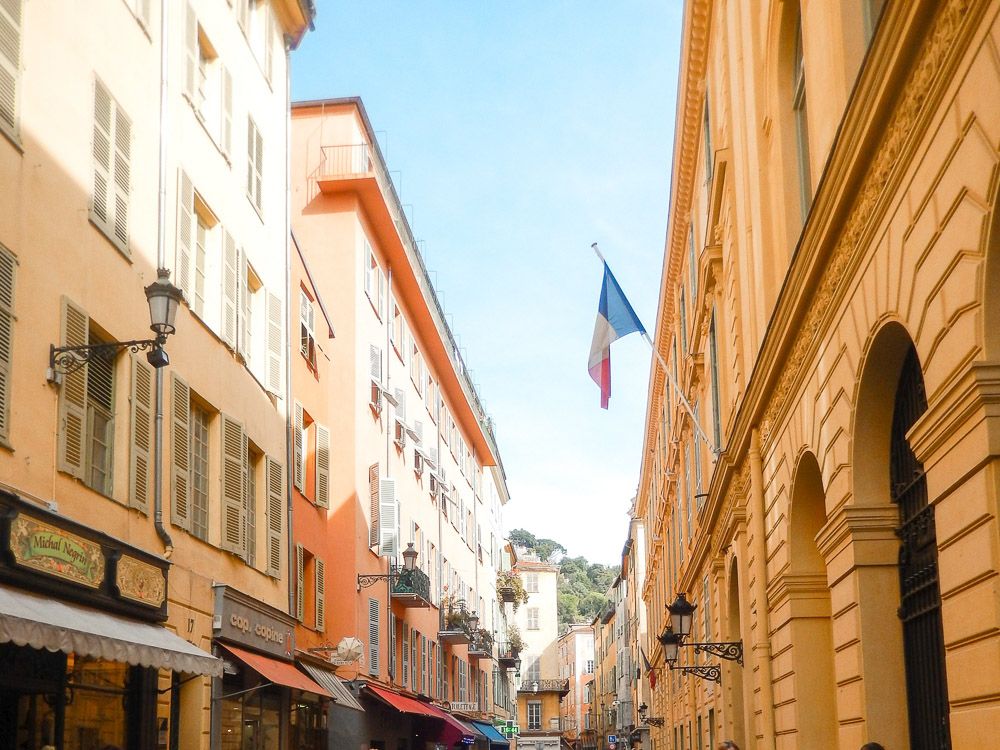 The rest of the city is a mix of Mediterranean and traditional French style – lots of palm trees and some colorful buildings, but also gorgeous, Belle Epoque architecture on the facades. The Hotel Negresco in particular is an example of incredible design catering to wealthy clientele – this hotel really is like staying in a palace or a museum. The Port is super cute and houses some really drool-worthy yachts, and while Castle Hill doesn't have a castle anymore, it does have walking paths, a waterfall, and offers incredible views over Nice.
In the northern neighborhood of Cimiez, you'll find the Hotel Excelsior Regina Palace, built as a sumptuous hotel for royalty (today it is an apartment building). You can also find buildings from Roman times, and several important museums: the Chagall Museum and the Musée Matisse. Matisse lived and worked in Nice for large portions of his life.
Is Nice worth visiting?
Nice is definitely worth visiting on any trip to southern France. In fact, it's the city I would recommend starting with, and would also definitely recommend it over nearby Marseille. From Nice, you can visit other little towns and villages on the French Riviera. I would suggest spending 1-2 full days in Nice, and then several days beyond that to explore the larger Provence region.
Find your accommodations in Nice.
What sorts of travelers would like Nice?
Anyone who loves a good beach holiday will enjoy Nice. In addition, anyone who loves beautiful European cities will have a great time exploring the charming streets in Nice.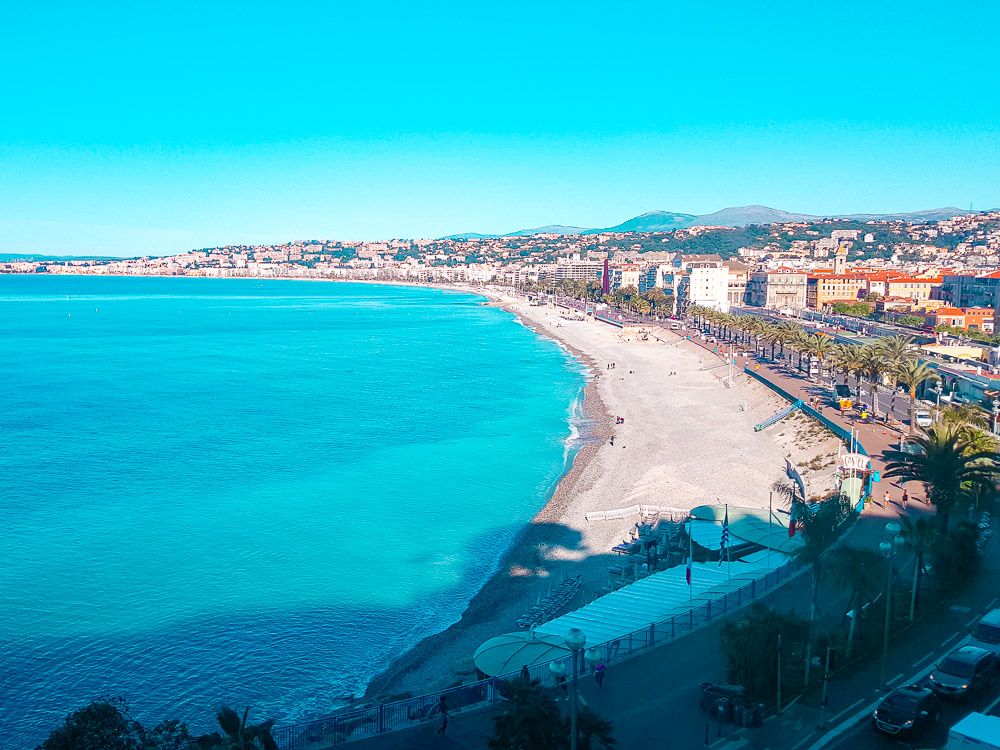 Tips for visiting Nice
Nice is really lovely in the off-season and shoulder season (that is how it became a big city, after all), so a winter, spring, or fall trip here can be really beautiful.
There are Velo Bleu stations set up around the city where you can rent bicycles to bike on the Promenade des Anglais, which is very fun. Make sure you download the app and put in your credit card info ahead of time.
Nice is very compact, so you can get around basically all of it on foot. You may want to take the bus up to the Cimiez neighborhood, which is on a hill and a little farther away.
Make sure you try pissaladière, socca, and salade nicoise – three regional foods that are specialties to Nice. Pissaladière is similar to pizza, but the crust is thicker and toppings consist of olives, onions, and anchovies. Socca is like a savory, thin pancake made of chickpea flour. Salade Nicoise is made with tuna, hard-boiled eggs, olives, and anchovies.
While you're planning your trip, take a look at other UNESCO World Heritage sites in France.
Where is Nice?
Nice is on the southeastern coast of France, right on the Mediterranean. It is only 32 kilometers (20 miles) from the border of Italy.
Nice is 200 km (124 miles) or 2 hours, 11 minutes from Marseille, which is the closest big city to Nice. You can find public parking in Nice, but it is all metered and/or in a parking garage.
Alternatively, you can also get from Marseille to Nice by train. Southern France is well-connected by high speed train and it's a convenient way to get around. Tickets generally cost between 25-50 euro, and the ride lasts about 2.5 hours.
For more information about Nice and what to do here, see its official website here.
Text and photos provided by Stephanie of The Unknown Enthusiast. Stephanie blogs about exciting and affordable travel destinations all around the world.
Have you been to Nice? If so, do you have any additional information or advice about this UNESCO World Heritage site? Please add your comments below!