Upper Middle Rhine Valley
By Rachel Heller
What is the Upper Middle Rhine Valley?
The Upper Middle Rhine Valley, as the name indicates, is a 65-km-long (40 mi) section of the Rhine River between Bingen and Koblenz. This stretch of the river is a gorge, with rolling hills on either side. The site includes about 60 small towns and lots of vineyards, as well as about 40 castles and forts, many no more than ruins, but some restored to their former glory.
Disclosure: This article contains affiliate links. Making a purchase through an affiliate link will mean a small commission for this website. This will not affect your price.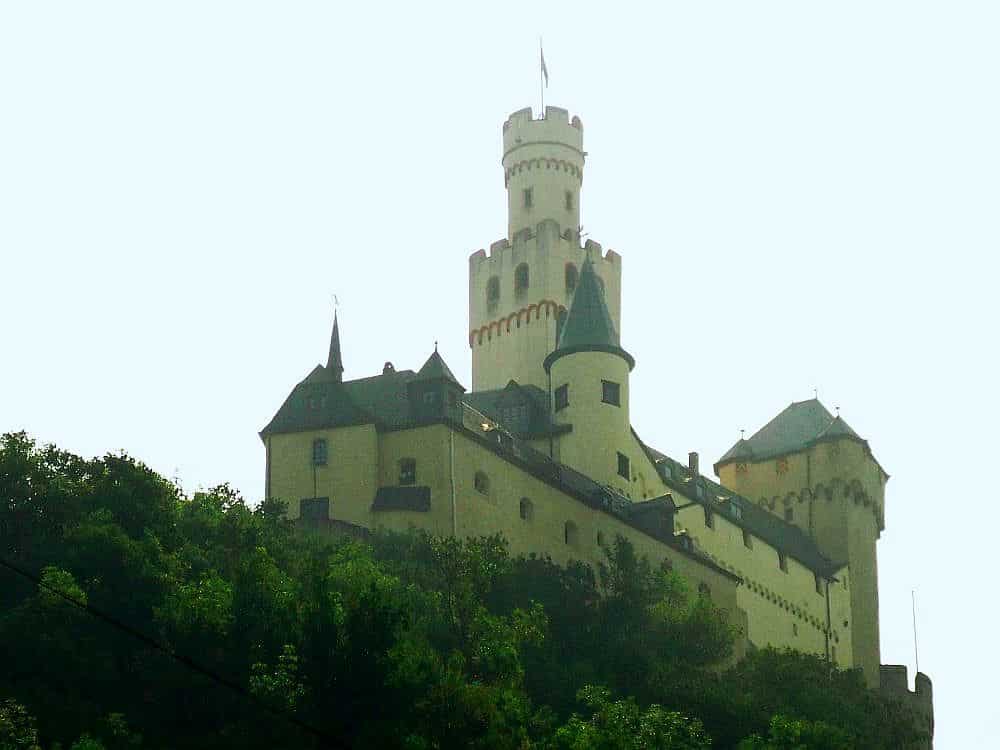 Why is the Upper Middle Rhine Valley a UNESCO World Heritage site?
Besides its scenic beauty, with the vineyard-covered hills and hilltop castles, UNESCO lists three reasons for the designation. First of all, for over 2000 years it was (and still is, to some extent) an important trade route that contributed to cultural exchange between the Mediterranean and the north.
Secondly, the site is "an outstanding organic cultural landscape, the present-day character of which is determined both by its geomorphological and geological setting and by the human interventions, such as settlements, transport infrastructure, and land use, that it has undergone over two thousand years."
The third reason UNESCO offers is that it is a good example of how human society evolves and shapes the landscape, as evidenced particularly by the age-old terracing of the hills for growing grapes.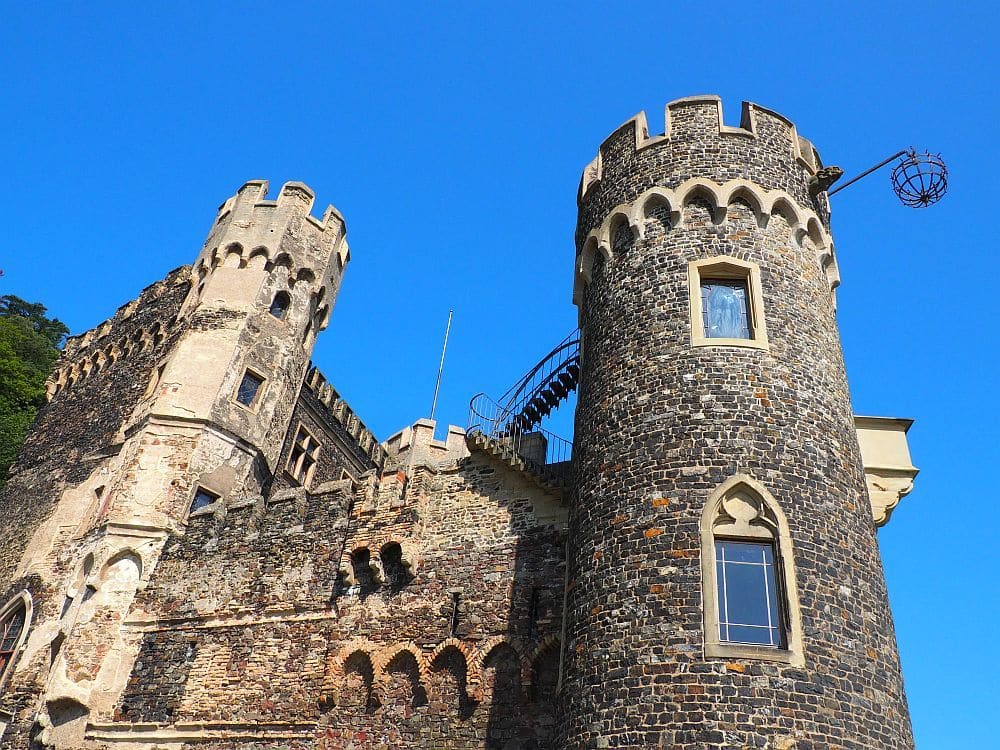 What can you expect on a visit to the Upper Middle Rhine Valley?
This really depends on how you approach it. Many people pass through this area on river cruises, perhaps stopping to see a castle or two and to taste some wine at one of the vineyards. This is a beautiful way to focus on the overall scenery, which is truly breathtaking. It's especially enjoyable to spot the castle ruins located so picturesquely high above the river.
Others enjoy passing through the area more slowly, either by bike along the excellent riverside bike path, or by car, stopping to visit any castles that are open to the public. These visitors get the advantage of seeing lots of pretty scenery, but don't get the overall view you'd get from the river. On the other hand, they get to explore the interiors of some castles, or wander around ruined ones.
There's also a scenic train route along the riverbank from Mainz to Koblenz or vice-versa. This would give visitors a quick look at the beautiful scenery, but perhaps too quick. Be sure, if you book it, to specify that you want the scenic one. Otherwise you'll end up on another, quicker route that's not along the river.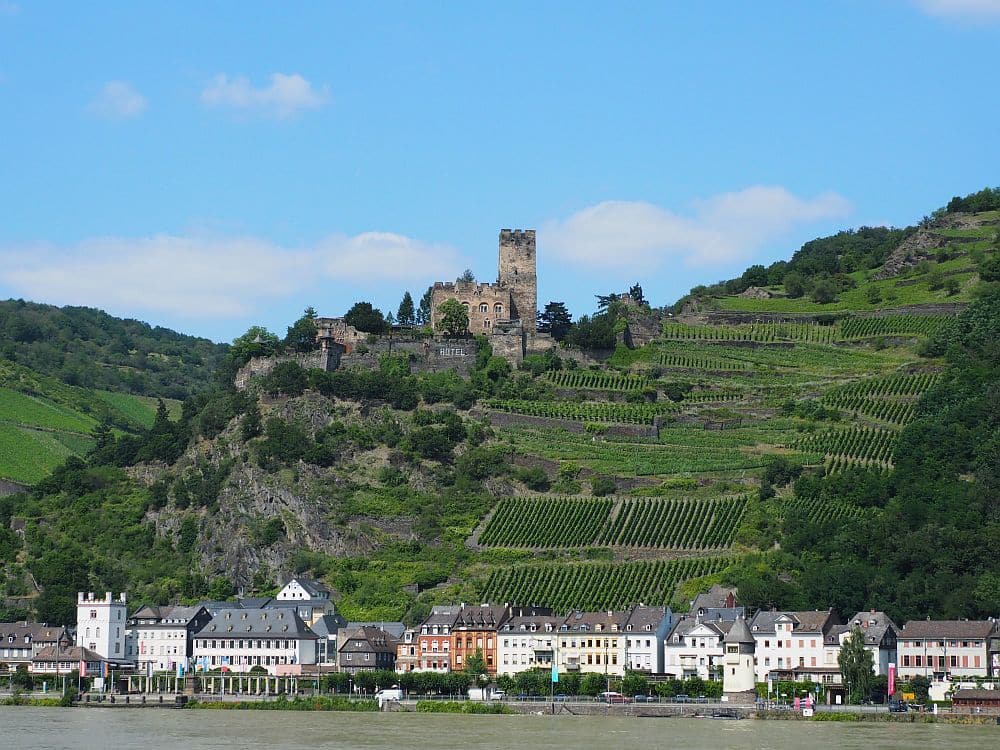 Rhine Valley Castles
In the 19th century the Romantic movement's interest in all things medieval led to some castles being restored – not always authentically. Some that fall into this category are Katz Castle and Maus Castle (both now private), Stolzenfels, Reichenstein, Rheinstein and Lahneck (all open to the public). Sooneck Castle, also open to the public, is a bit of a mix: partly authentic, with some Romantic-era additions.
Nevertheless, other castles maintain some level of authenticity: Marksburg, in particular, has been restored to its medieval appearance and a visit is both educational and atmospheric.
Pfalzgrafenstein Castle is very unusual in that it is not on a hilltop. Instead, it sits in the middle of the river, since it was built in the 14th century to serve as a toll station on this lucrative shipping route. It is open (via ferry) to the public as well.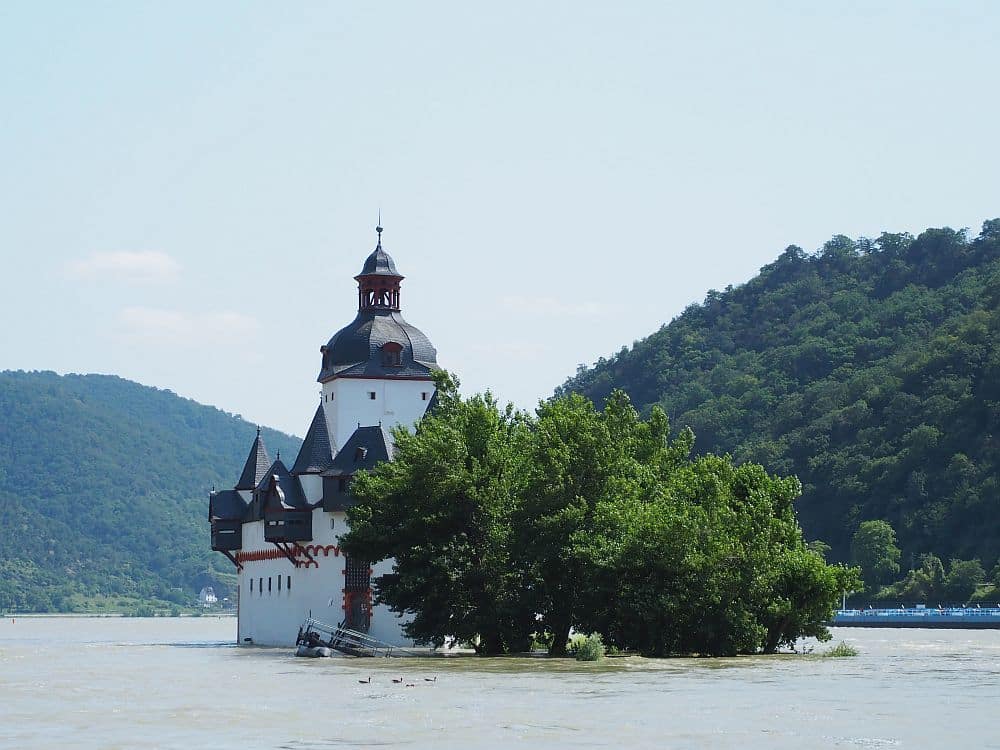 While many Rhine Valley castles are wholly or partly in ruins, some have been converted to hotels, including Stahleck (a youth hostel), Gutenfels, Rheinfels, Schönburg, and Reichenstein, which is both hotel and museum.
Is the Upper Middle Rhine Valley worth visiting?
This area is definitely worth visiting. The castles are beautiful, as is the landscape with its steep hills partly covered in terraced vineyards. While it's got all the modern conveniences – a railway line along the river, as well as excellent roads and all necessary infrastructure – the Upper Middle Rhine Valley appears largely unchanged for centuries, making it an evocative and nostalgic sight.
What sorts of travelers would like the Upper Middle Rhine Valley?
Pretty much anyone would like it for one reason or another. Less active travelers would delight in the ever-changing views from the deck of a river cruise. Walkers and bikers would enjoy the riverside, and hikers have plenty of opportunity to explore the vineyards and hilltop ruins. The area is great for a road trip, which allows for driving at least a part of the way up the hill to each castle. Children would love the whole "knights of old" vibe, and wouldn't care if the castle was a 19th-century version of medieval or more authentic.
Tours and boat trips to see the Upper Middle Rhine Valley.
Tips for visiting the Upper Middle Rhine Valley
If you don't have much time, but want to visit just a few castles, my top suggestions are Pfalzgrafenstein (because it's different), Marksburg (for authenticity) and either Reichenstein or Rheinstein for the Romantic version.
As so many of these UNESCO site articles mention, good shoes are key here. You'll be dealing with uneven pavements, cobblestones, steep climbs up to castles, and so on.
A popular sight in the area is the Loreley, a steep rock cliff that the river curves around. You can visit it on land to see the view over the river, or pass by it on a cruise, seeing it from river level.
Bacharach is an absolutely charming walled village tucked between two steep hills in the center of the Upper Middle Rhine Valley. It's a great place to establish a home base and do your driving or hiking or biking from there. You can cross the river at the Engelsburg-Kaub ferry. I'd recommend staying several days to fully take in what the area has to offer.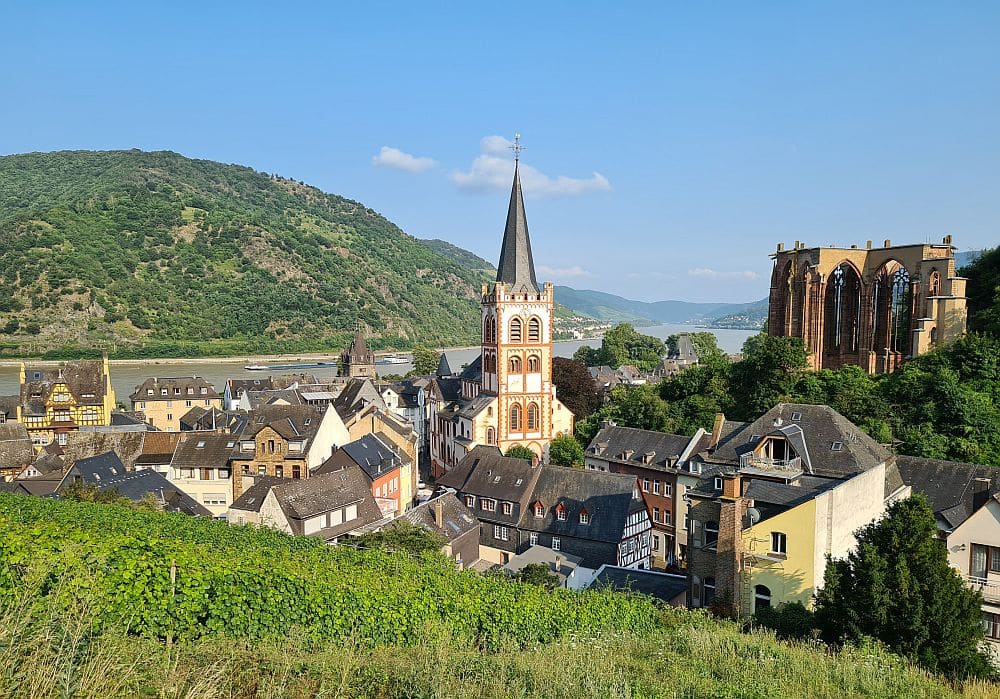 Where is the Upper Middle Rhine Valley?
The area is west of Frankfurt and south of Dusseldorf and Bonn. Train connections from anywhere in Germany – and from any big city in Western Europe – are excellent. The easiest way to see it by train would be to go to either Koblenz or Mainz and take the scenic train from there to Bacharach or another stop between Koblenz and Bingen.
To give an idea of the amount of driving involved, it's about an hour's drive from Frankfurt to Bingen, at the southern end of the UNESCO-designated area. From Bonn to Koblenz, at the northern end of the UNESCO-designated area, is also about an hour. From Dusseldorf to Koblenz is closer to two hours' drive. If you were to drive the length of the UNESCO area – between Koblenz and Bingen – without stopping, it would take an hour, which indicates how much is packed into such a small area.
For more information about the sights in the Upper Middle Rhine Valley, their opening hours and admission fees, you'll need to look up each castle individually. These are the ones that can be visited:
Text and photos provided by Rachel Heller of Rachel's Ruminations, a travel blog focusing on historical and cultural sights/sites for independent travelers. Rachel is also the owner of this website.
Have you been to the Upper Middle Rhine Valley? If so, do you have any additional information or advice about this UNESCO World Heritage site? Please add your comments below!