By Rachel Heller
What is the Historic Centre of Telč?
Telč is a small town in south central Czechia. The UNESCO designation of Telč includes an absolutely beautiful town center mostly dating to the 15th century, plus a Gothic castle from the same period and two artificial ponds that were originally intended for defense.
Disclosure: This article contains affiliate links. Making a purchase through an affiliate will mean a small commission for this website. This will not affect your price.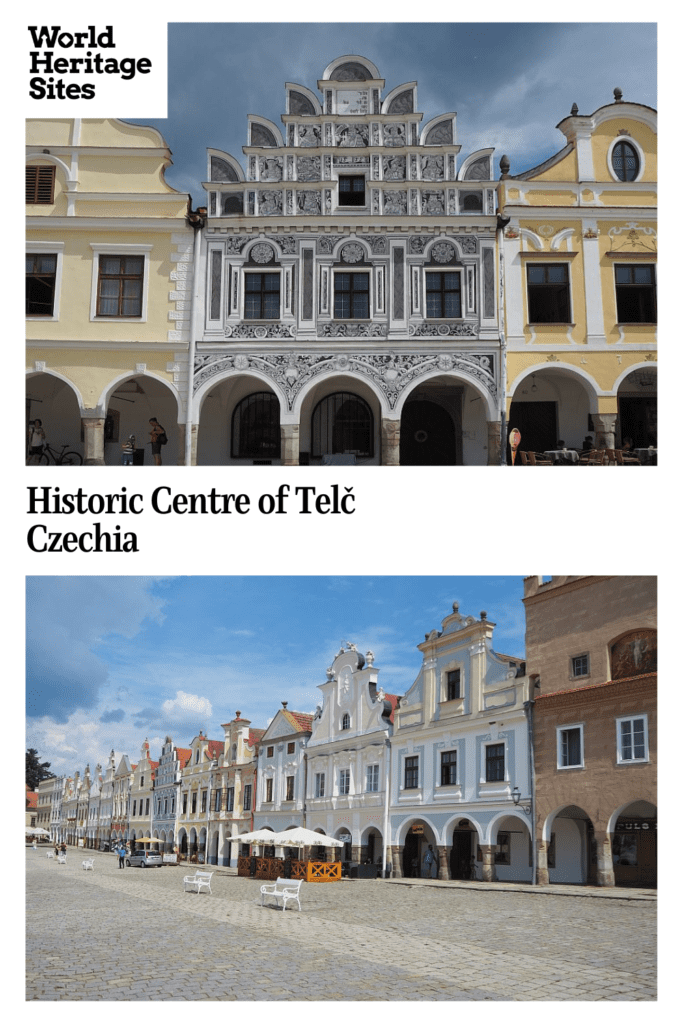 The Gothic castle is decorated in Renaissance style and the interior is filled with Italian art. It looks more like an elegant Italian palazzo in a city than a defensive structure.
The real highlight of Telč, though, is the large triangular plaza in the center of town, lined with houses that are each decorated in a pastel color, all of them different in terms of the shape of the façade or how it's painted. An arcade runs along the fronts of the houses, sheltering the sidewalk.
Why is Telč a UNESCO World Heritage site?
Basically, because it's so pretty! According to UNESCO, "its triangular market place possesses great beauty and harmony as well as great cultural importance surrounded as it is by intact and well preserved Renaissance buildings with a dazzling variety of facades."
Telč is also important because it's an excellent example of how towns in Central Europe in the Middle Ages were deliberately planned and established in the middle of forests for political and economic reasons.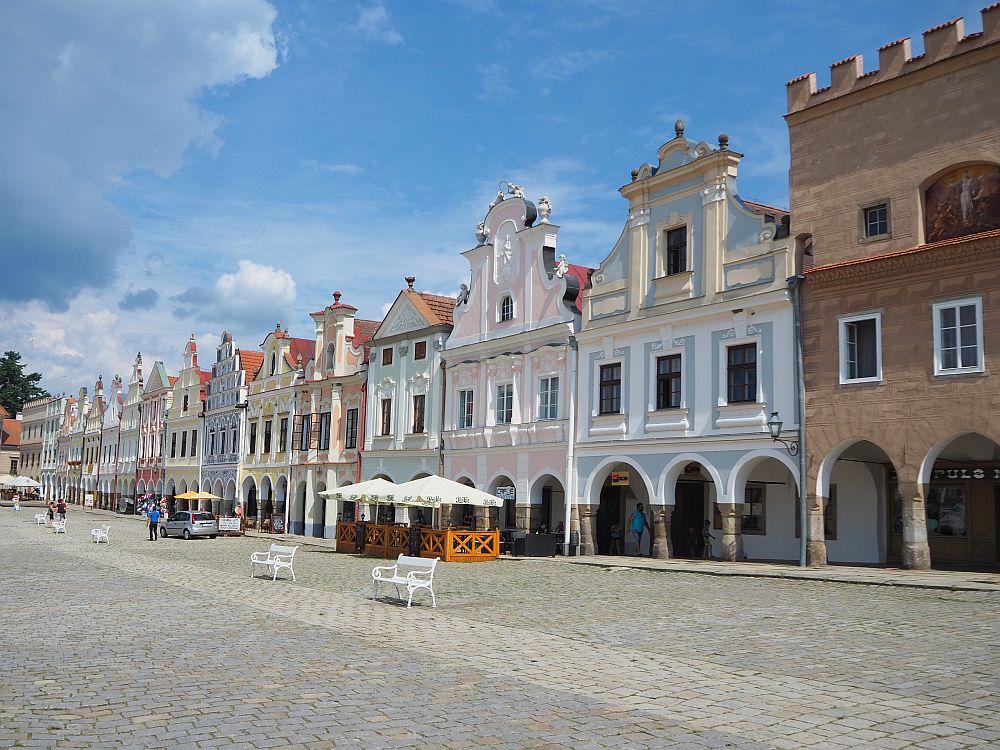 What can you expect on a visit to Telč?
If you're like me, you'll be spellbound by just how pretty Telč is. It's worth taking your time and looking carefully at each house individually. You'll notice lots of details on the exteriors that you might otherwise miss: sculptural elements or trompe l'oeil or sgraffito (painting that uses colored plaster) or other styles.
As you're gawping at the buildings, move along the plaza toward the pointy end of the triangle. There you'll find St. James Church, a pretty Gothic church in its own right, but you can also climb its tower. From the top you can get a different view of Telč's main square as well as the castle right next door.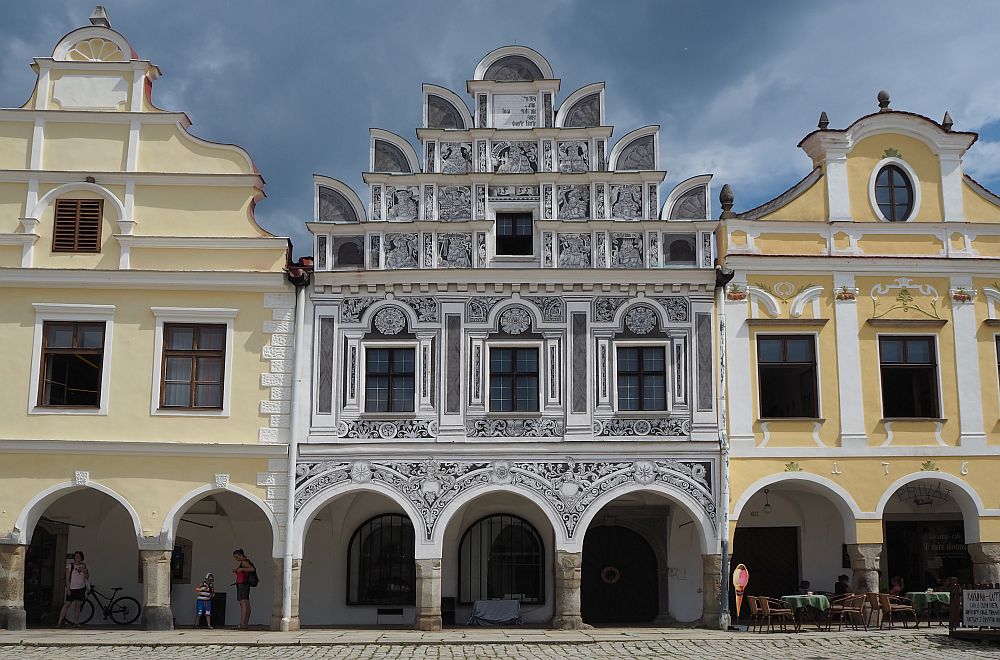 Is Telč worth visiting?
Yes, at least if you are at all interested in architecture. The Renaissance and Baroque details of the houses are beautiful and in pristine condition. If that's not your thing, at least stop by if you're in the vicinity (halfway between Prague and Brno). You might be surprised at how charmed you are by the sight, even if architecture doesn't interest you.
Click on the map below to find accommodations in Telč.
Tips for visiting Telč
As I wrote above, take your time and look at the houses one by one.
The cobblestones are uneven, so flat shoes are a must.
If you're driving, it's a straight shot between Telč and Brno, where Villa Tugendhat is, also a UNESCO site. On the way, you pass through another UNESCO site, the town of Třebíč. The three sites combined would make an excellent day out.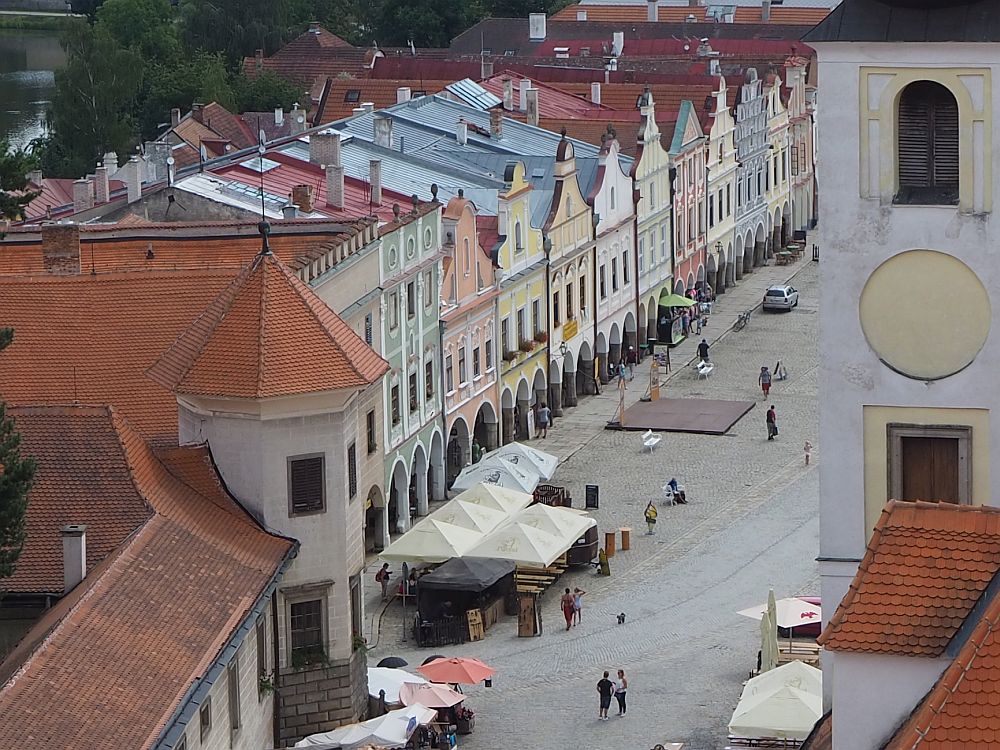 Where is Telč?
Telč is about halfway between Prague and Brno. If you're driving, from Prague it would take about two hours, and a bit less than that from Brno. If you're limited to public transportation, from Prague you could take buses, but with the transfers you'd have to make, it would take over four hours. From Brno, there are direct buses in less than two hours.
For more information about Telč, and the opening hours and admission fees for the church and the castle, see the town's tourism website.
Text and photo provided by Rachel Heller of Rachel's Ruminations, a travel blog focusing on historical and cultural sights/sites for independent travelers. Rachel is also the owner of this website. Read her article 11 stunning UNESCO sites in Czechia outside of Prague.
Have you been to Telč? If so, do you have any additional information or advice about this UNESCO World Heritage site? Please add your comments below!