By Rachel Heller
What are the Porticoes of Bologna?
Porticoes are also sometimes called arcades, and appear in many cities. The ground floor of each building is several meters back from the street. The upper floors extend to the edge of the street, held up by columns, often with arches between them. This creates wide public sidewalks, shaded from sun or rain, that are privately owned but used by the public.
Disclosure: This article contains affiliate links. Making a purchase through an affiliate link will mean a small commission for this website. This will not affect your price.
In Bologna, however, porticoes are pretty much everywhere in the older part of the city: along every street and around every piazza, adding up to 62 kilometers of porticoes. The earliest ones date to the 12th century, but even some new buildings in Bologna include porticoes. The earliest porticoes are made of wood, but the majority are stone, and there are also some made of brick. The columns and arches come in an array of styles, depending on when they were built.
The UNESCO designation includes, strictly speaking, only twelve sections of porticoes. However, these twelve pieces were chosen as exemplars of the entire city's ensemble: chosen to represent a range of styles, uses and time periods.
The twelve components are:
Portici residenziali di Santa Caterina: medieval-period residential structures.
Piazza porticata Santo Stefano: late medieval and Renaissance, including the entire square, a basilica and a 14th-century palace.
Strada portici di Galliera: 15th and 16th-century palace porticoes, classically inspired.
Portico del Baraccano: porticoes and vaults connecting public buildings from the 16th and 17th centuries.
Portici commerciali del Pavaglione e dei Banchi: includes three plazas – Maggiore, Re Enzo and del Nettuno – medieval but redesigned in the Renaissance.
Portico devozionale di San Luca: a "covered street" built in the 18th century as a devotional route; the longest portico ever built.
Portici accademici di via Zamboni: academic buildings that together form an urban campus.
Portico della Certosa: a "sepulchral" portico leading from the Portico di San Luca to Certosa cemetery.
Portici di piazza Cavour e via Farini: arcades around Cavour and Minghetti plazas; 19th century but still linked to the older traditions.
Portici trionfali di Strada Maggiore: a street with porticoes from all periods.
Edificio porticato del quartiere Barca: modern social housing with a new take on the old tradition.
Edificio porticato del MAMbo: 20th-century portico on the Museum of Modern Art as well as other nearby repurposed structures.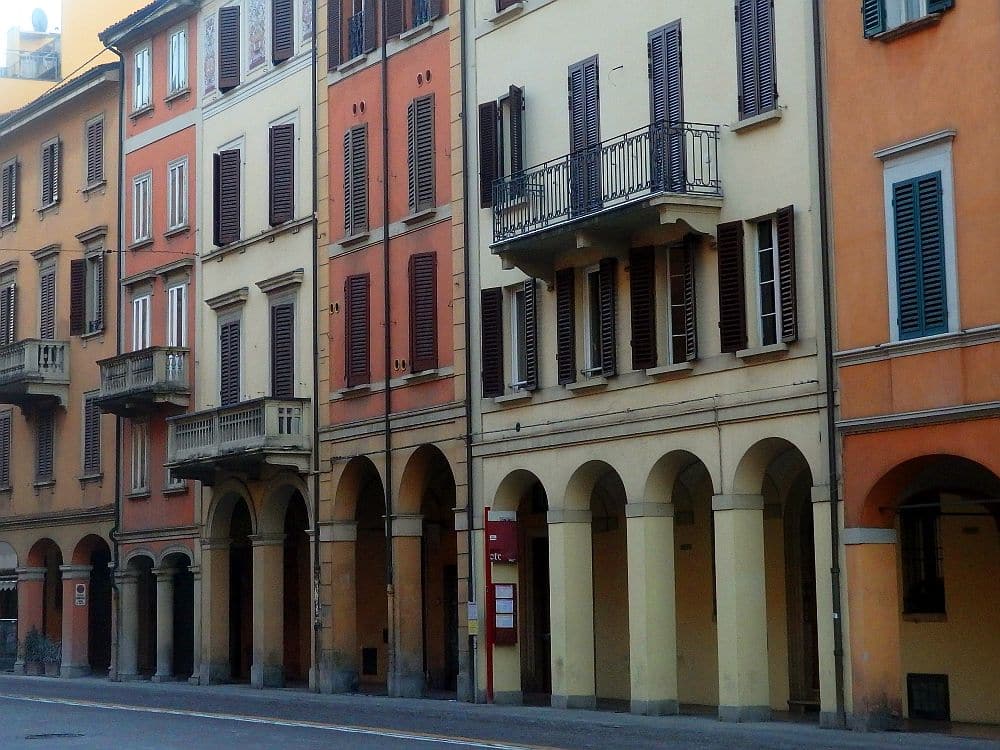 Why are the Porticoes of Bologna a UNESCO World Heritage site?
According to UNESCO, the continuity of the portico design in Bologna – the fact that it was a required element over centuries – made it a center of urban functions: a social as well as an architectural feature. Not only that, but the importance of Bologna's university, which drew scholars from far and wide for centuries, meant that the idea of porticoes as a public good spread all over the world. UNESCO explains: "Numerous architects, painters, sculptors and artists in general who visited Bologna to study or for pleasure, worked on the porticoes and lived in them, experiencing their liveliness and activism, and thereafter they took this element elsewhere in Italy and in the world, in every historical period."
The chosen twelve examples show "in the various chronological, typological, technological and functional declinations, a variety of porticoed building typologies, widespread among the houses of the working class and the aristocratic residences, the public and religious buildings, which were developed in the centuries from the 12th to the contemporary era."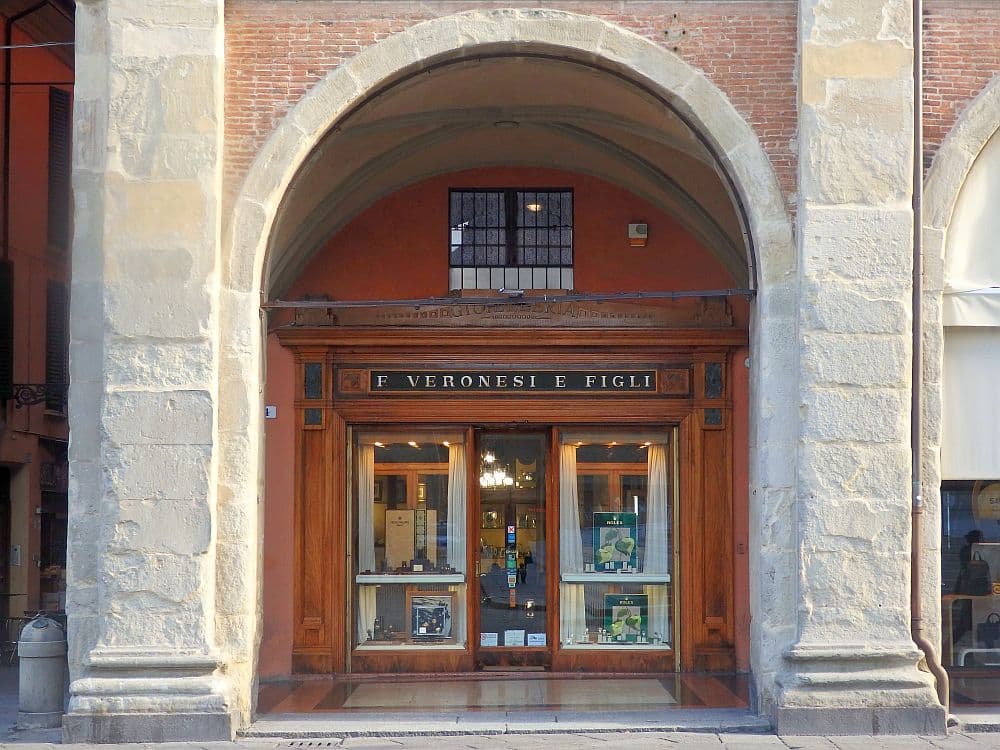 What can you expect on a visit to the Porticoes of Bologna?
You will see porticoes everywhere, both in the older and newer parts of the city. As a matter of fact, it's not particularly necessary to seek out the twelve exemplars because that's just what they are: examples of a far larger number of porticoes.
If you visit in the summer months, you'll certainly appreciate the shade the porticoes provide as you wander the city. Make sure to take the time to notice the details: the decorative features on the columns and arches as well as the ceilings of the porticoes, which are quite ornate in some blocks.
The best-known portico is the Portico di San Luca, which is really a porticoed path rather than a building with a portico. It was built to support a yearly religious procession out of the city to the Sanctuary of the Madonna of San Luca.
Strada Maggiore is a porticoed street with a variety of different styles from different time periods. Notice in particular the Casa Isolani on Strada Maggiore 19. It's unusual in that it's wooden, but also its design is unusual. Also look for Piazza Cavour, where you'll find some highly-decorated portico ceilings at the Palazzo della Banca d'Italia.
While you will see porticoes everywhere, the best places to see them well are the piazzas, since there you can get a more distant overall view.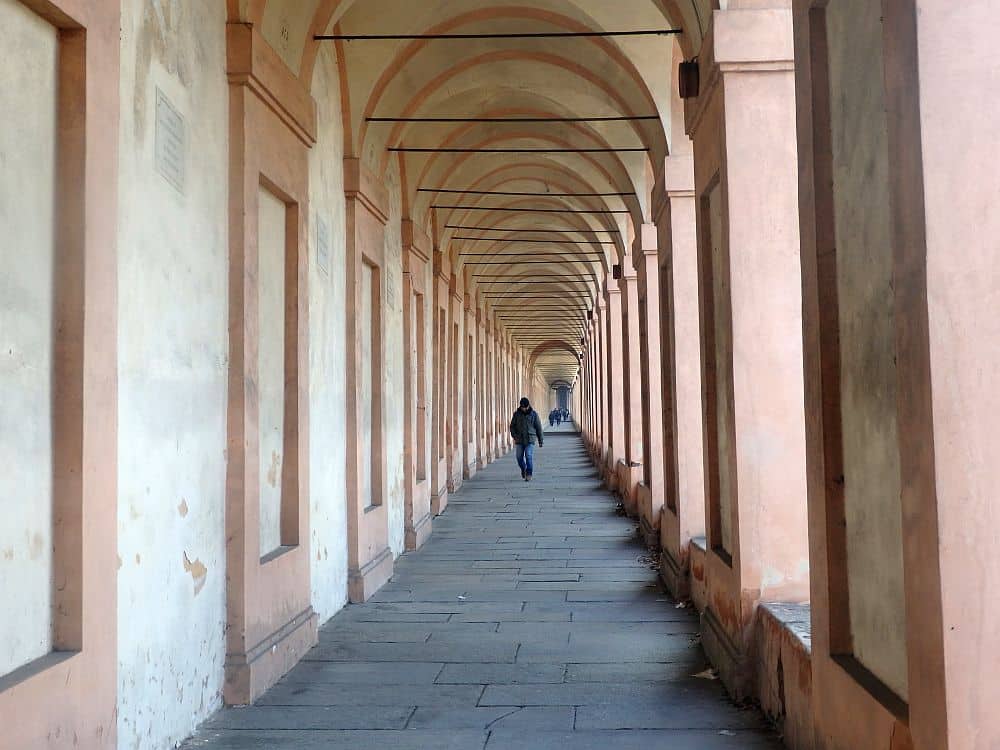 Are the Porticoes of Bologna worth visiting?
A better question would be "Is Bologna worth visiting?" and the answer would have to be "Yes." It's a beautiful city, designed, thanks to the porticoes, for strolling. It's also home to what is arguably the best cuisine in all of Italy.
What sorts of travelers would like the Porticoes of Bologna?
The porticoes themselves will mostly only be of interest to architecture fans, but that doesn't mean Bologna isn't worth visiting for others. Certainly for foodies, Bologna is a must. And, like any bigger Italian city, there's plenty to see and experience for pretty much anyone.
Tips for visiting Bologna
Walking the Portico di San Luca is a pleasant way to get a bit out of the city and away from crowds. It's mostly uphill on the way to the Sanctuary, and mostly downhill coming back.
Eat tagliatelle al ragu, a.k.a. pasta Bolognese. It is completely unlike what most of us have always called Bolognese sauce. Better yet, eat it on handmade – make sure it's handmade – tortellini or tortelloni. The other must-try pasta is passatelli: it's just wonderful.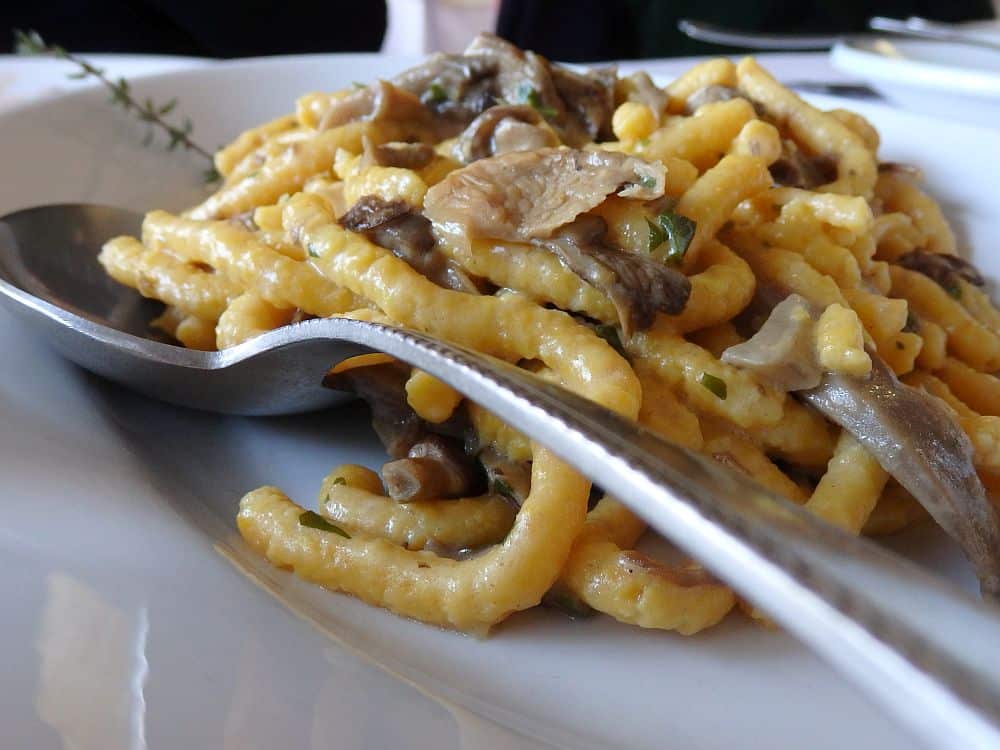 Also buy yourself some real Parmigiano Reggiano cheese to take home, and some balsamic vinegar. Don't buy the really liquid kind like you can get at home; get the more expensive thick kind. It's lovely and slightly sweet: it even tastes good on ice cream!
While you could "do" Bologna in a day trip, you wouldn't do it well. Take at least a couple of days, if only to be able to taste all the food!
Book accommodations in Bologna.
Where is Bologna?
Bologna is in the north of Italy. It's an hour and a half north of Florence by car, or less than 40 minutes by train. From Venice, taking the train or driving will both take about two hours. From Modena, another UNESCO site, the train ride is only 30 minutes.
Given that you'd also need to find parking, it's better to get around by train.
It's about a 20-minute walk from the train station to Piazza Maggiore in the center of the old city, or you can take public transportation in about 15 minutes.
For more information about Bologna and its porticoes, see Bologna Tourism board's website.
Text and photos provided by Rachel Heller of Rachel's Ruminations, a travel blog focusing on historical and cultural sights/sites for independent travelers. Rachel is also the owner of this website.
Have you been to Bologna? If so, do you have any additional information or advice about this UNESCO World Heritage site? Please add your comments below!