Cathedral, Torre Civica and Piazza Grande, Modena
By Lori Sorrentino
What is Cathedral, Torre Civica and Piazza Grande, Modena?
Modena, Italy, known as the Capital of Romanesque art, was named a UNESCO World Heritage Site in 1997. The site includes the Ghirlandina Tower (Torre Civica), Piazza Grande, and Modena's Cathedral, which is dedicated to the Assumption of the Virgin Mary and Saint Geminianus, the patron saint of Modena.
Disclosure: This article contains affiliate links. Making a purchase through an affiliate link will mean a small commission for this website. This will not affect your price.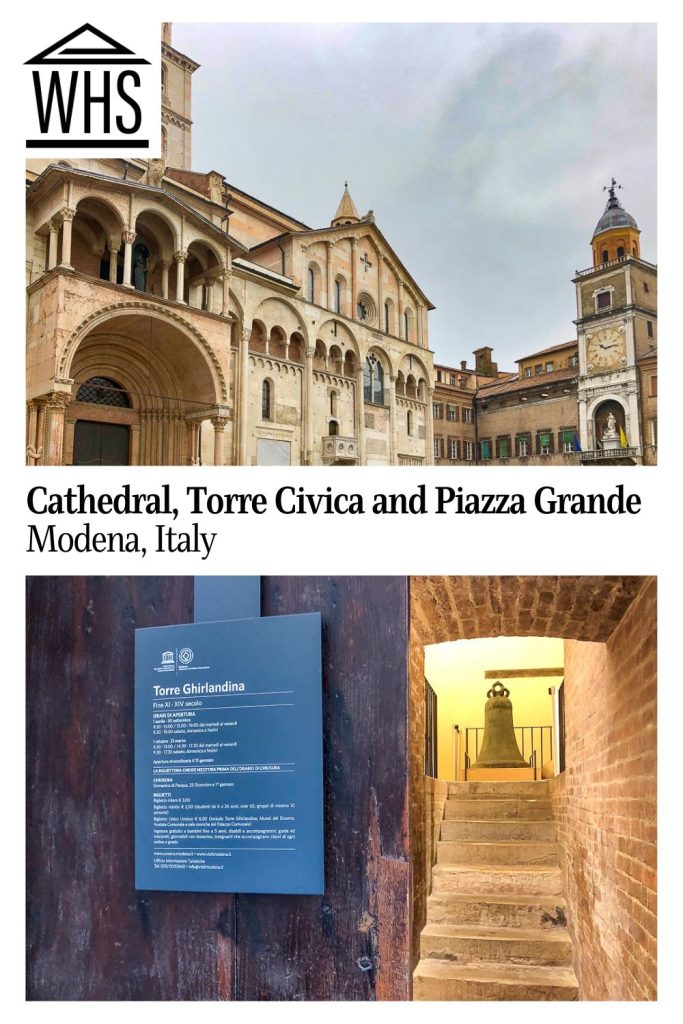 Why is Modena a UNESCO World Heritage site?
It was designated as a UNESCO World Heritage site because of its Romanesque Christian masterpieces: the Cathedral of Modena and the Ghirlandina Tower. The property also includes the Piazza Grande and buildings around it.
Construction on the Cathedral started in 1099, and today is one of the best examples of Italian Romanesque architecture to be found anywhere. Following a lengthy construction that included the Ghirlandina bell tower, the cathedral was finally dedicated in 1319.
The Ghirlandina Tower is 89 meters (292 feet) tall and is annexed to the Duomo. It is named for the two ghirlande, marble railings resembling wreaths that decorate the tower. It is the proud symbol of Modena and can be seen from all vantage points outside of the city.
The cathedral and tower were developed and built in a collaboration between an architect and a sculptor. According to UNESCO, "The joint creation of Lanfranco and Wiligelmo is a masterpiece of human creative genius in which a new dialectical relation between architecture and sculpture was created in Romanesque art."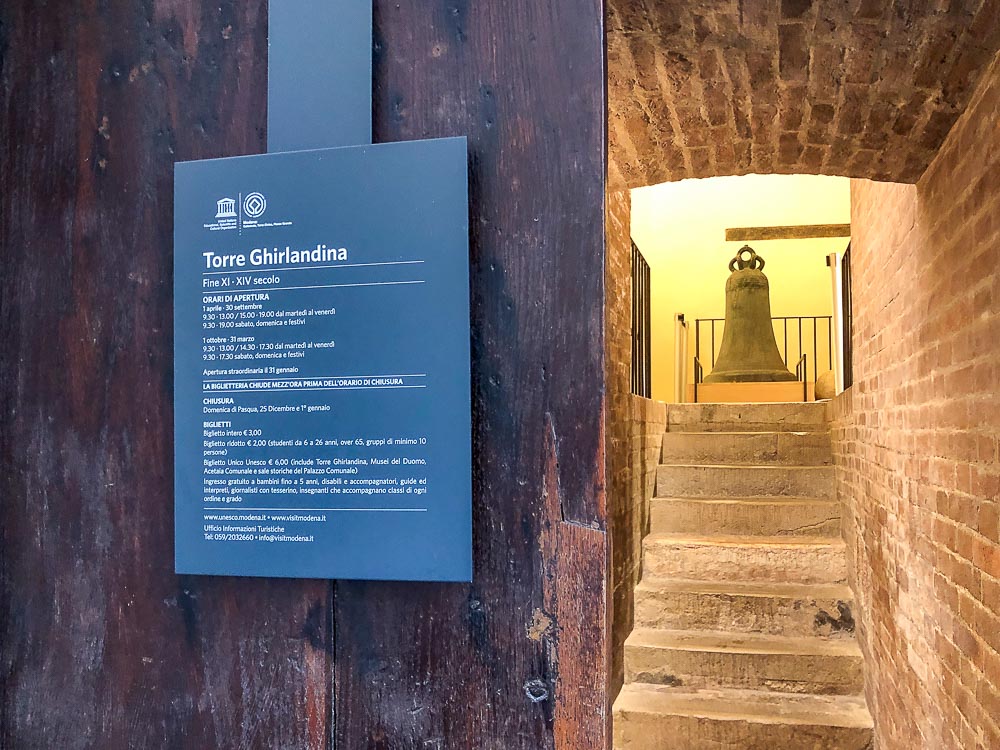 What can you expect on a visit to Modena?
The Piazza Grande is the heart of Modena, making it a gathering place for locals, students, and visitors. It's not very large as Italian piazzas go, making it seem more laid back. There's no hustle and bustle, just a relaxed atmosphere where you can take your time enjoying the art and architecture of the cathedral and bell tower.
You can climb the 200 steps up to the fifth floor of the tower. From there you'll have a full panoramic view of the city.
Is Modena worth visiting?
When visiting northern Italy, the city and countryside of Modena should definitely be included in your itinerary, especially if you love food. There's no denying Modena is one of the best food cities in Italy.
Once there, the historic area of the city will remind you of Bologna but on a smaller scale, and is easy to navigate on foot or by car. Along with all the history and architecture, there are unique shops and wonderful restaurants serving traditional local food.
Modena is not one of the more popular destinations in Italy. Visitors who prefer bus tours and want to quickly see popular sites with a guide may be disappointed. Modena is a great place to slow travel and explore on your own.
For travelers who want to visit a place of great historic significance in Italy but would prefer to stay away from over-touristed destinations like Venice, Florence or Rome, Modena is a great choice. Along with the Cathedral, Ghirlandina Tower, and Piazza Grande are many more historic sites that can be visited on a day trip, or better yet, by staying a night or two.
Book your accommodations in Modena by clicking on the map below:
Tips for Visiting Modena
As with most medieval cities, there are cobblestone lanes and streets that can be uneven in places. It's always best to wear sturdy and comfortable shoes for walking around.
Because it's not heavily touristed, to be comfortable with the language, brush up on a few Italian phrases like please, thank you, and you're welcome. Or use an app on your smartphone to translate from English to Italian, Italian to English. They work great and are fun for both parties in the conversation.
Most shops, cafés and restaurants will accept credit cards, but be sure to carry some euros just to be safe.
Where is Modena?
Modena, along with Bologna, is in the Emilia Romagna region of Italy. It is situated northwest of Bologna, and you can drive the 55km (34 miles) in about 40 minutes. Parking can be challenging with some areas of the city being free and other areas metered (you'll need coins for the meters).
Rather not drive? The least expensive, most comfortable, and quickest way to Modena from Bologna is by train: under 20 minutes. There are also buses which take a bit longer and taxis which tend to be expensive.
If you're staying in Florence and not driving, the best and fastest way to Modena is by train, which takes just over an hour. Although they don't run as often as from Bologna, the trains are equally inexpensive.
For more information about Modena's historic UNESCO sites, its opening hours and admission fees, see its official website.
Text and photos provided by Lori Sorrentino of Italy Foodies, the taste-tempting website all about food travel to Italy.
Have you been to Modena? If so, do you have any additional information or advice about this UNESCO World Heritage site? Please add your comments below!