By Zoe
What is Delos?
Delos, a small island (350 hectares/865 acres) in the Greek islands (the Cyclades), has archeological sites from civilizations as far back as the 3rd millennium BC and extending to the early Christian era. To the ancient Greeks, it was a sacred place because it was believed to be the birthplace of Apollo, the sun god, and Artemis, the moon god. In the 2nd century BC, the island grew in importance as a commercial center and many merchants built houses there.
Disclosure: This article contains affiliate links. Making a purchase through an affiliate link will mean a small commission for this website. This will not affect your price.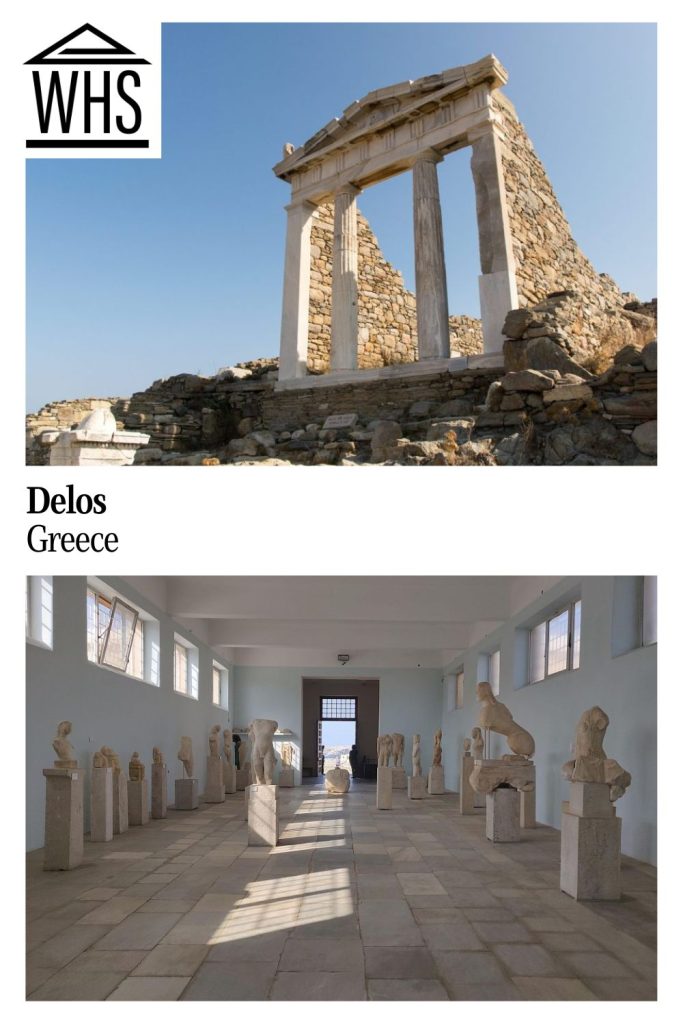 In the 1st century BC, it was attacked twice and declined after that. It was captured by a succession of conquerors over the next many centuries.
Archeologists since the 19th century have uncovered the original sanctuary of Apollo, but also much of the 2nd century town.
The entire island is the UNESCO site, and only a handful of people live there. All of them are either employed by the Greek Ministry of Culture to maintain the site or they are there short-term, as visiting researchers.
Why is Delos a UNESCO World Heritage site?
Delos became a UNESCO World Heritage site in 1990. It made the UNESCO list due to its exceptionally extensive and rich archaeological site: "The archaeological site of Delos provides an outstanding example of an architectural ensemble that restores the image of an extremely important cosmopolitan Mediterranean port that began to prosper since 314 BC, reaching outstanding levels during the 2nd and 1st centuries BC." Many structures have been excavated, including warehouses, residences, public buildings and temples.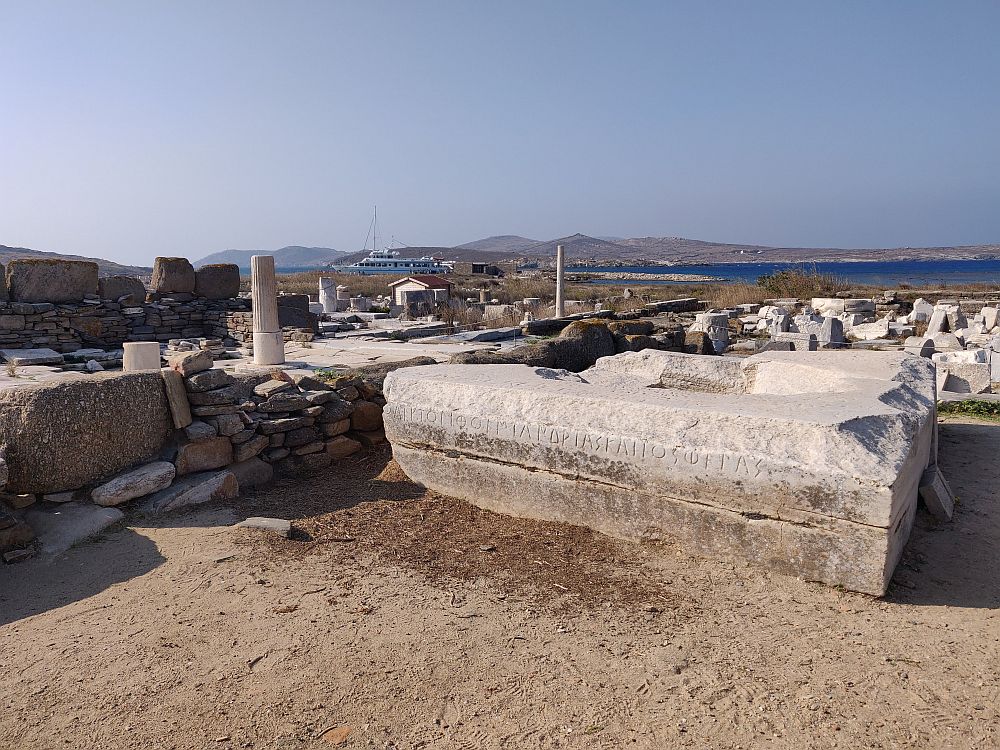 What can you expect on a visit to Delos?
First impression of Delos is 'wow'. To have such a large island fully covered with so many historical ruins is special to visit. With the boat journey to Delos, it already starts to make you wonder what you will see as you arrive. From the docking, you can already view many of the ruins from a distance, allowing you to be curious and eager to explore.
Is Delos worth visiting?
If you love Greek history, then it's a must to visit. Delos is classed as one of the most important archaeological sites in Greece. You can explore the ruins and islands at your own pace, following a few different routes to choose from. There are also two museums with delicate items and statues preserved; admission is included in your ticket to the island. If you are simply travelling around Greece, such as from Mykonos, then it's well worth a trip for something unique.
Delos is worth visiting for at least a half or full-day trip, before heading back to Mykonos or another location along your travels.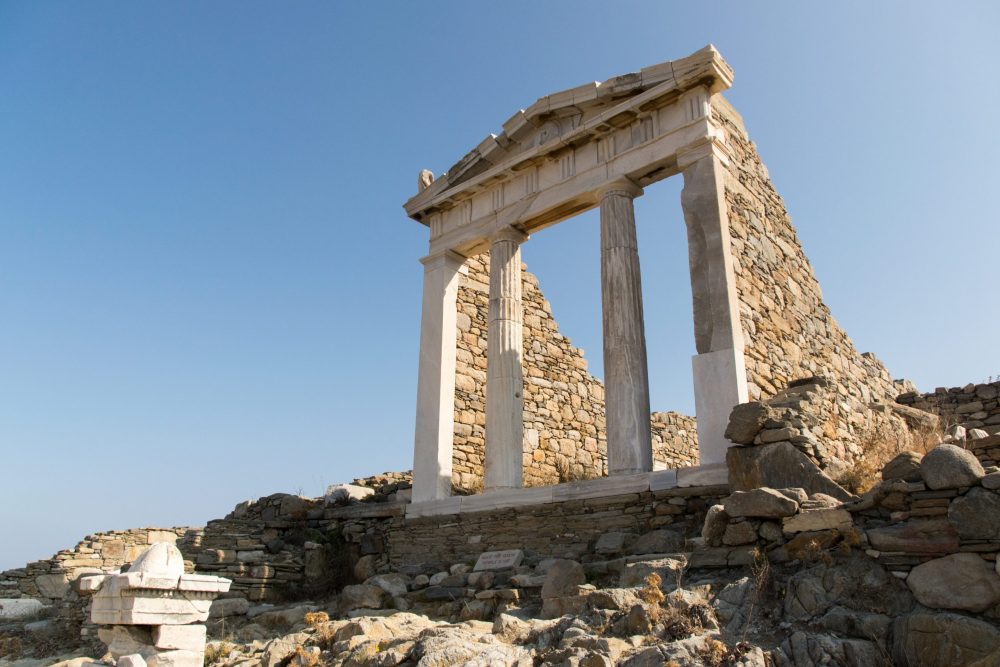 What sorts of travelers would like Delos?
Delos is a beautiful historical site that would be liked by those who want to know and learn more about Greek history. However, it's also for travellers who are simply on their travels and fancy something else than just sitting next to their swimming pool. It's enjoyable for travellers who like to hike or walk too, as the island has many routes from 4km to 15km routes to choose from through the ruins.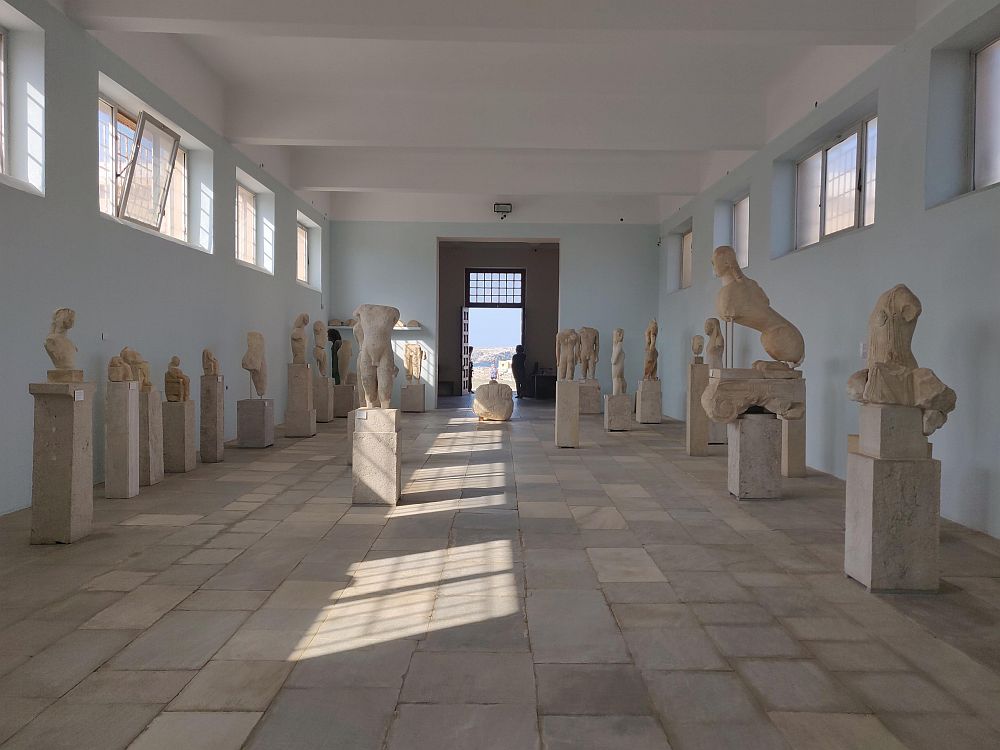 Tips for visiting Delos
Get your boat ticket in advance if you are visiting during busy travel periods and want to get the first boat to the island, as it fills up quickly.
Wear suitable walking or hiking shoes, since the paths are not flat and there are hills to hike up.
Take snacks and water with you for your visit, as on hot days it's always best to have extra than none at all as there is no restaurant on Delos.
While in the 1st century BC, as many as 30,000 people lived on Delos, today you can't stay there. Instead, look for accommodations on Mykonos nearby and take a boat over to visit.
Where is Delos?
Delos is an island in the Aegean Sea, close to Mykonos. You can only get here by boat, usually from the island of Mykonos, though in the summer there are also boats from Tinos and Naxos. The boat trip from Mykonos takes only around 45 minutes, with many time slots to choose from.
For more information on Delos, read the Greek Ministry of Culture's site.
Text and photos provided by Zoe from Together In Transit.
Have you been to Delos? If so, do you have any additional information or advice about this UNESCO World Heritage site? Please add your comments below!