City of Luxembourg: its Old Quarters and Fortifications
By Zoe
What is the City of Luxembourg?
Luxembourg City is the capital of Luxembourg, and the Old Quarters and Fortifications are at the center of the city. Due to its strategic position, Luxembourg has been a reinforced, fortified site throughout its history, starting in the 10th century. The city changed hands many times over the ensuing centuries: Burgundy, Habsburgs, Spain, France, Austria and Prussia all had their turn, and each new regime added to and strengthened the fortifications. Parts of the Old Quarter, with its residential, trade and religious buildings, remain, even though most of the fortifications were removed in the 19th century.
Disclosure: This article contains affiliate links. Making a purchase through an affiliate link will mean a small commission for this website. This will not affect your price.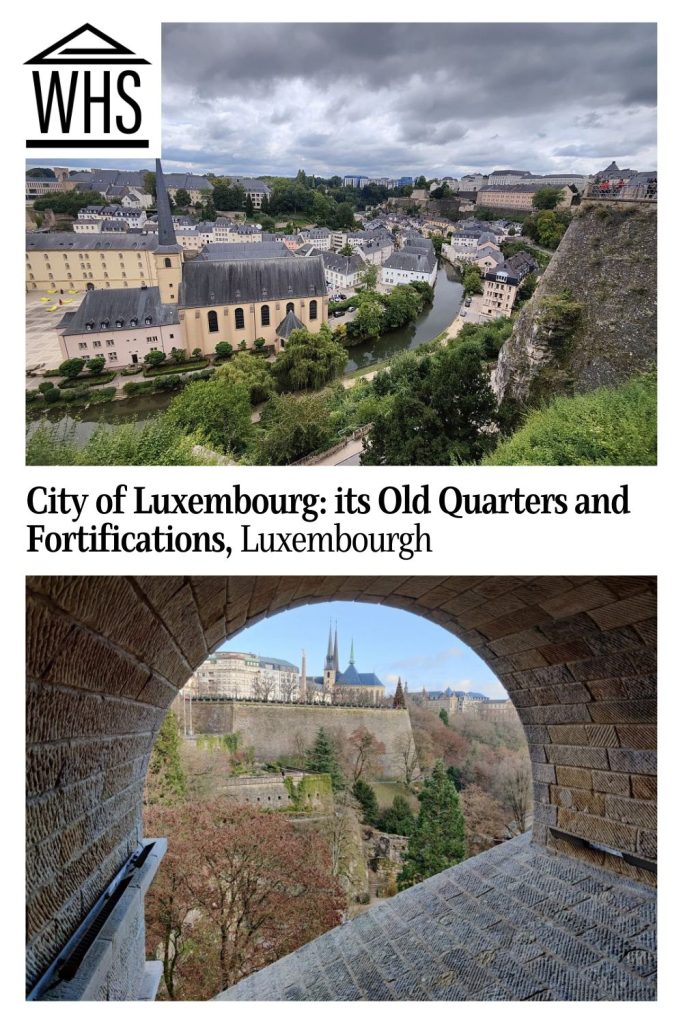 Why is Luxembourg City a UNESCO World Heritage site?
Luxembourg City with its Old Quarters and Fortifications became a UNESCO World Heritage site in 2001.These fortifications are a prime example of what a fortified European city once was like, so keeping this protected is important. Not only the walls and city layout are preserved, but also many buildings and houses, which now also hold the status of monuments.
According to UNESCO, "The City of Luxembourg played a significant role in European history for several centuries. It preserves major remains of its impressive fortifications and its old quarters, in an exceptional natural setting."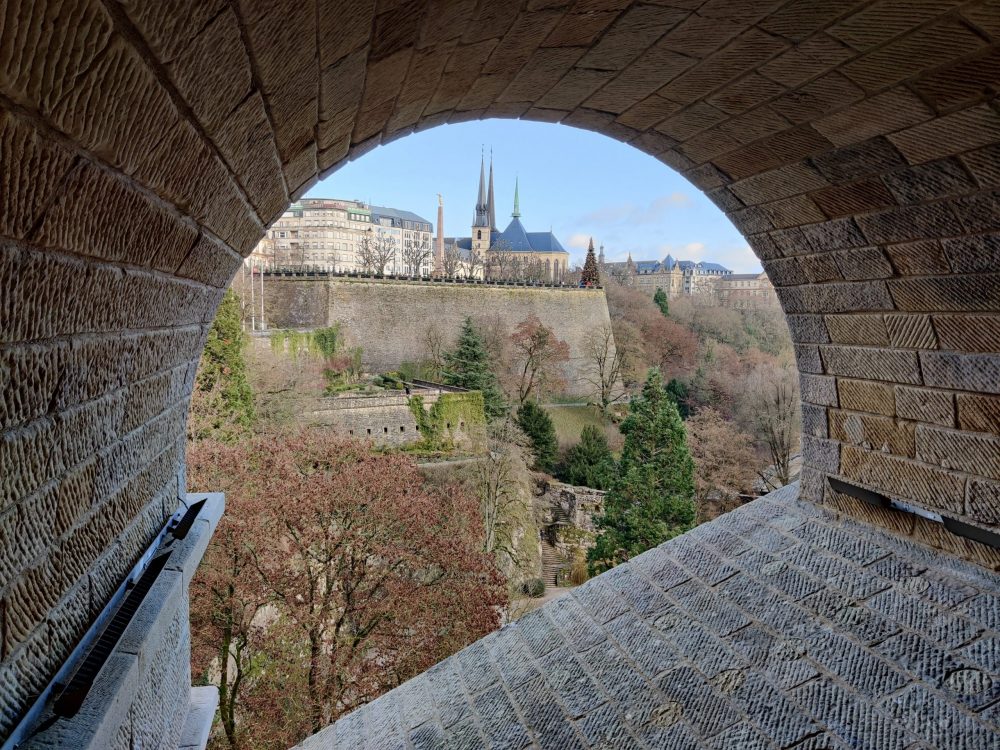 What can you expect on a visit to the City of Luxembourg?
I personally love Luxembourg, and even considered living there once. The capital city has something for everyone and is very beautiful all year round. The old quarters and fortifications give the city an amazing vibe: going back in time but with a modern twist. It's very hilly and green, as cities go, so it's a great place for walking.
Is the City of Luxembourg worth visiting?
Luxembourg in general is an amazing place to visit any time of the year, with so much to see and do. Exploring the old quarters and fortifications is a must and not really something you can avoid, as it makes up the whole city center of Luxembourg.
Luxembourg and the fortifications are enjoyed by all: families, couples and those travelling alone. It is family friendly, but I personally feel that it's most suitable for those travelling alone or for couples, since walking up and down the hills and old quarters can be tiring for children.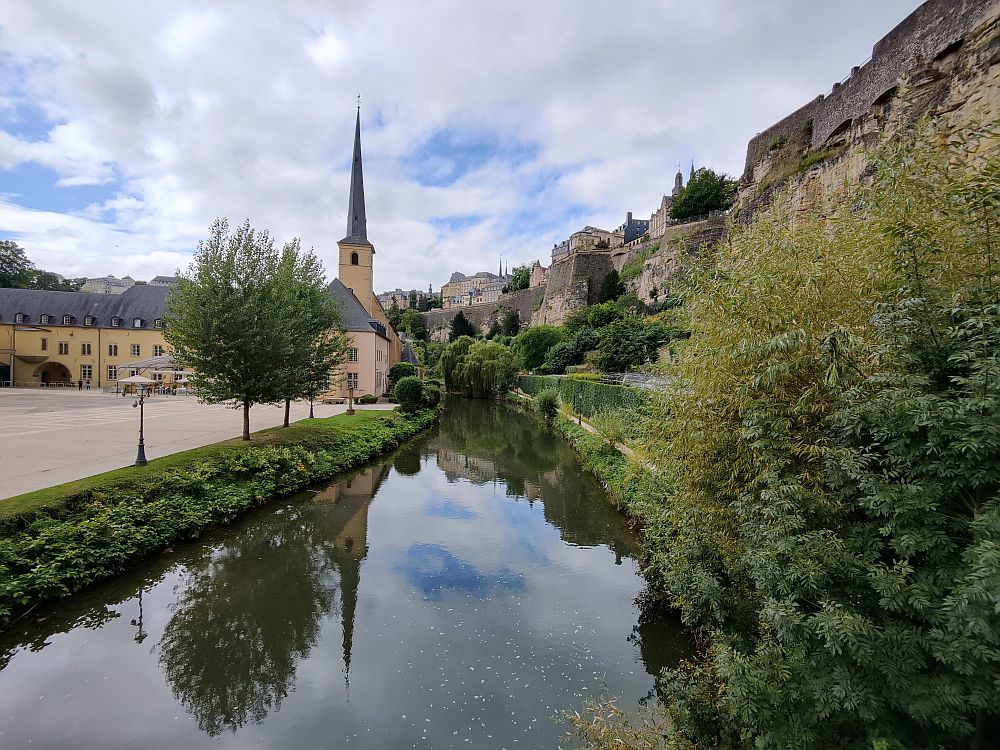 Tips for visiting the City of Luxembourg
The old quarters and fortifications can be seen all year round, but the best times to enjoy walking here are during the sunrise or sunset. It is then much quieter to visit and the perfect time for some beautiful photography. While visiting, wear suitable shoes for walking and enjoy the location by stopping at a local café or restaurant for a bite to eat.
To learn more about the full history of this UNESCO World Heritage site, visit the National Museum of History and Art in Luxembourg.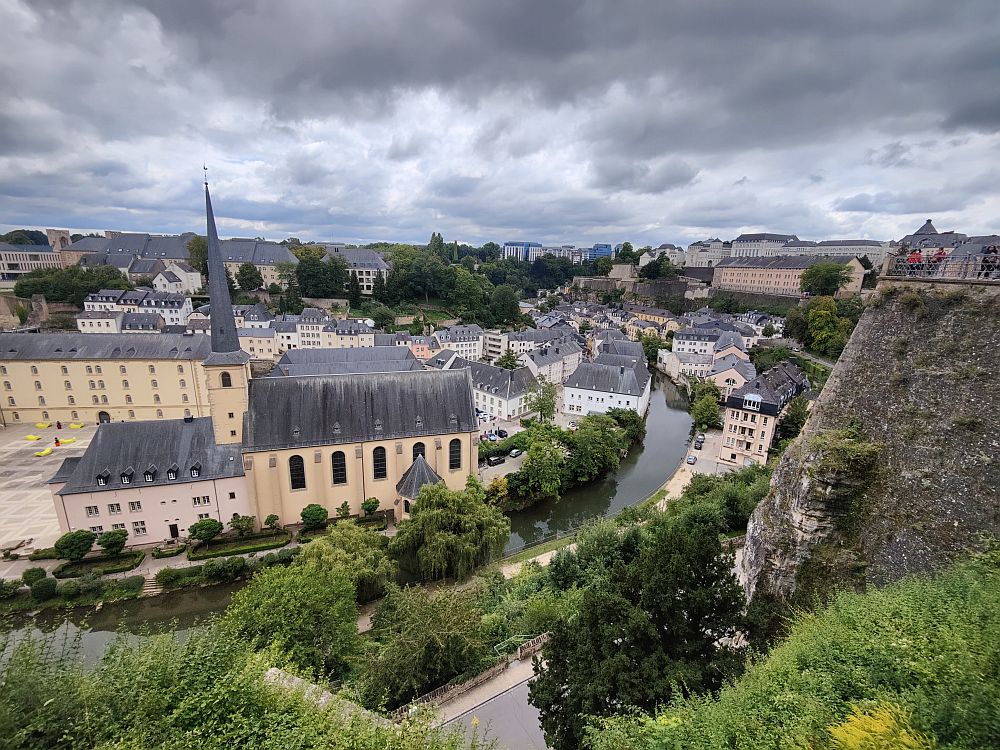 What remains of the fortifications, especially the Bock Promontory, give an impression of how imposing they must have been when they were completely intact.
The underground casements can be visited as well. These tunnels, called Bock Casemates, were made when the old quarters and fortifications were owned by the Spanish and French Kings in the 16th century.
Book your accommodations in Luxembourg City using the map below:
If you are visiting this location for longer than a day and want to enjoy some nature surrounding the city, head to the Mullerthal Trails. Here you can hike many different routes through the forest all year round.
Top tip: Luxembourg public transportation is free for the whole country, so if you arrive on a rainy day, make use of the free transportation to avoid the rain clouds.
Baden-Baden, Germany, is not far away from Luxembourg. It's part of the transnational UNESCO site The Great Spa Towns of Europe. It would make a great day trip from Luxembourg. Strasbourg, a beautiful UNESCO-listed city in France, is also not far away.
Where is the City of Luxembourg?
Luxembourg City is very easy to get to with different modes of transportation. For flying, Luxembourg airport is only a free short bus journey away from the city. Arriving by car is very doable with parking garages in the city. Since Luxembourg is a very small country, you can visit from cities across the borders in France, Germany or Belgium. There are multiple big cities from which you can visit Luxembourg city on a day trip, such as Liege in Belgium, Trier or Saarbrucken in Germany, or Metz in France. This is the same for travelling by train: many cities are connected to Luxembourg.
For more information, visit the Luxembourg City tourism website.
Text and photos by Zoe from Together In Transit.
Have you been to the city of Luxembourg? If so, do you have any additional information or advice about this UNESCO World Heritage site? Please add your comments below!