By Rachel Heller
What is Baalbek?
Baalbek is a complex of temples in Lebanon that date back to the Imperial Roman period. The temples are in various states of ruin, but the real highlight is the Temple of Bacchus, which is in remarkably good condition. The monumental base of what was once the Temple of Jupiter is made of absolutely massive stones. A few of its columns have been reassembled to give an idea of the sheer size of the temple.
Disclosure: This article contains affiliate links. Making a purchase through an affiliate link will mean a small commission for this website. This will not affect your price.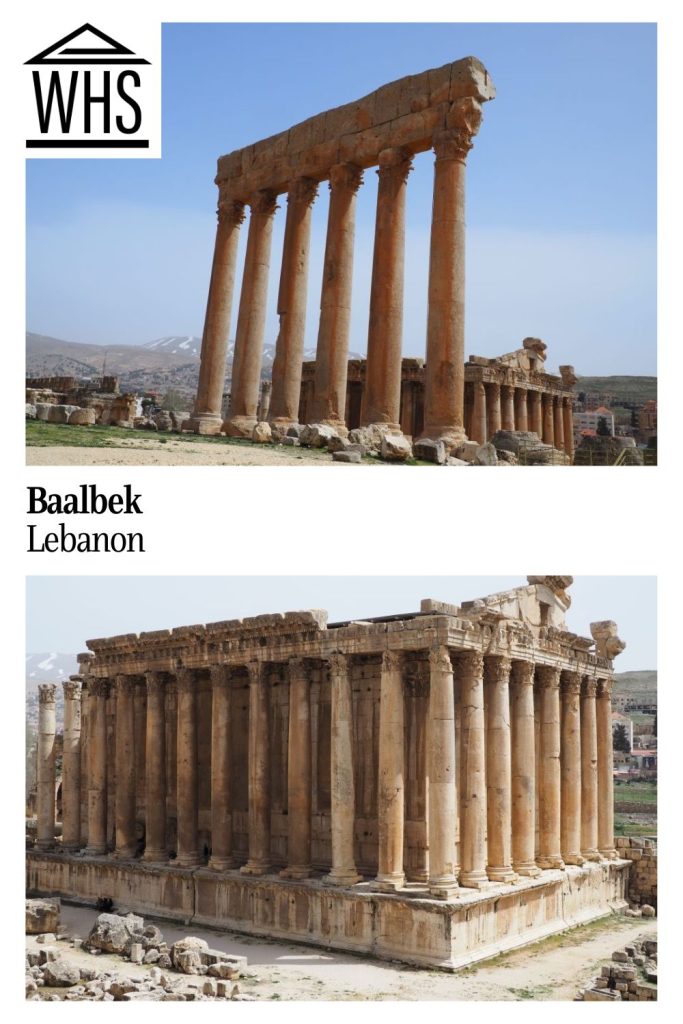 Why is Baalbek a UNESCO World Heritage site?
According to UNESCO, Baalbek is "a religious complex of outstanding artistic value … with its exquisitely detailed stonework." It reflects a combination of Phoenician and Greco-Roman belief systems.
The structures are an excellent example of a Roman temple complex, with some of the largest temples the Romans ever built, and quite well preserved as well. The complex is "one of the most impressive testimonies to the Roman period at its apogee that displays to the full the power and wealth of the Roman Empire."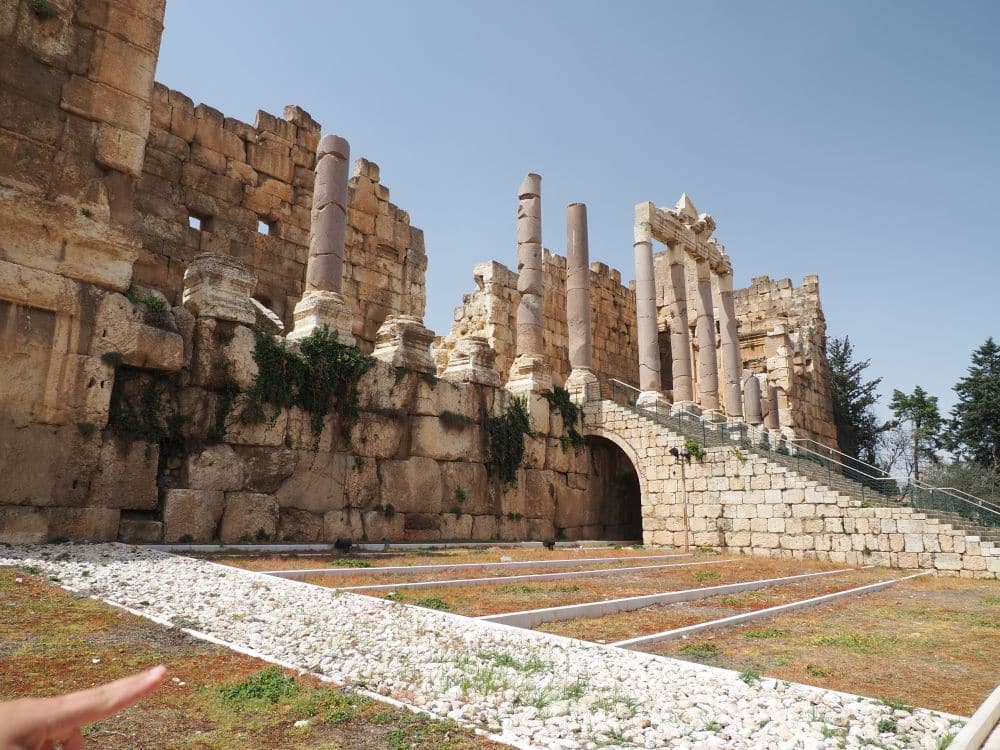 What can you expect on a visit to Baalbek?
Passing by the ruins of the Temple of Venus – which has an unusual circular design – you'll mount a modern stairway where a very wide stairway once led to the entrance to The Temple of Jupiter. Some of the huge portico on the front remains – some pillars and walls. Walking past them into the complex you'll see the large Great Court ahead of you. Six of the columns of the Temple of Jupiter have been restored; they're 22 meters (72 feet) high. It'll take a bit of imagination to picture how awe-inspiring this place must have been when the temple in the center was surrounded by 54 columns this size, and another 128 smaller ones around the edges of the Great Court.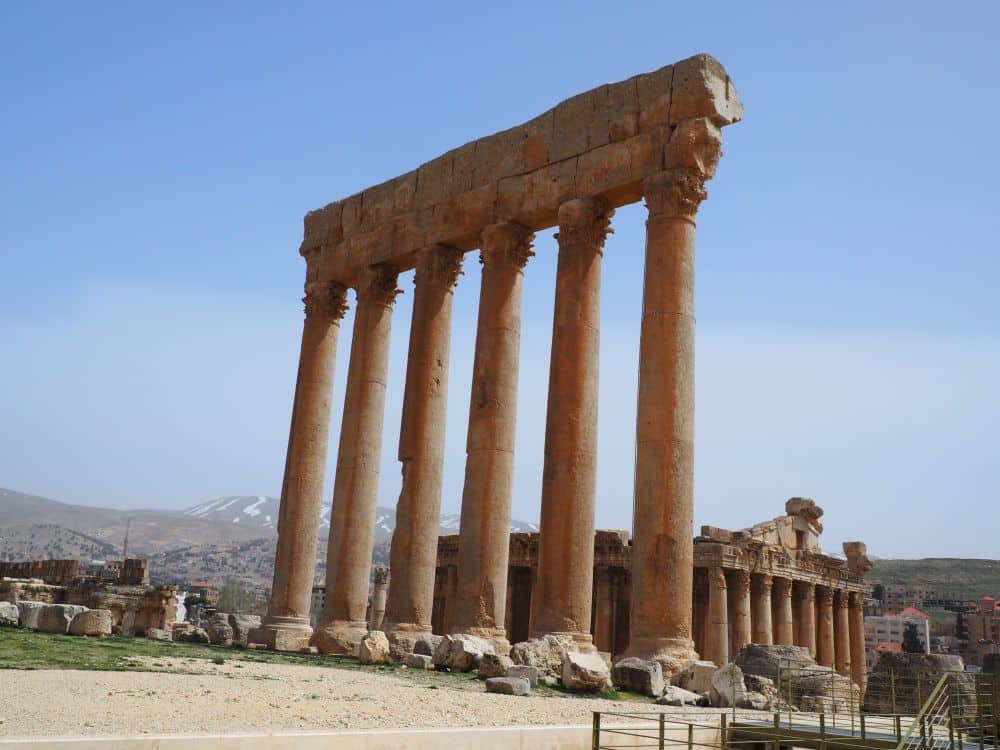 The base of the Temple of Jupiter remains, and you're allowed to climb up it to get a better view of the whole complex. You'll see the intact outer walls and the traces of various altars along them. You'll also notice newer, rougher blocks along the tops of the walls. These were added to it later when the site was used as a fortification for a while.
Walking around the base of the Temple allows you to get a clear sense of the massive blocks of stone (about 800 tons each) that the Romans – or, more likely, their slaves – transported here to support the weight of the temple and its columns.
Moving on, you'll spot the highlight of the complex: the Temple of Bacchus. It sits on lower ground, and appears, from the base of the Temple of Jupiter, to be essentially intact. Its rows of Corinthian columns (20 meters or 66 feet tall) surrounding its exterior still stand. So do the walls of the temple inside of the pillars.
Walking down to enter the temple, you'll see that it's not just the walls that are intact. Some of the pieces of the roof between the pillars and the walls are still in place. The detail in those roof panels is truly amazing. Go inside the temple, which does not have a roof, and you'll see some extremely detailed sculptural work, including ornate Corinthian half-columns.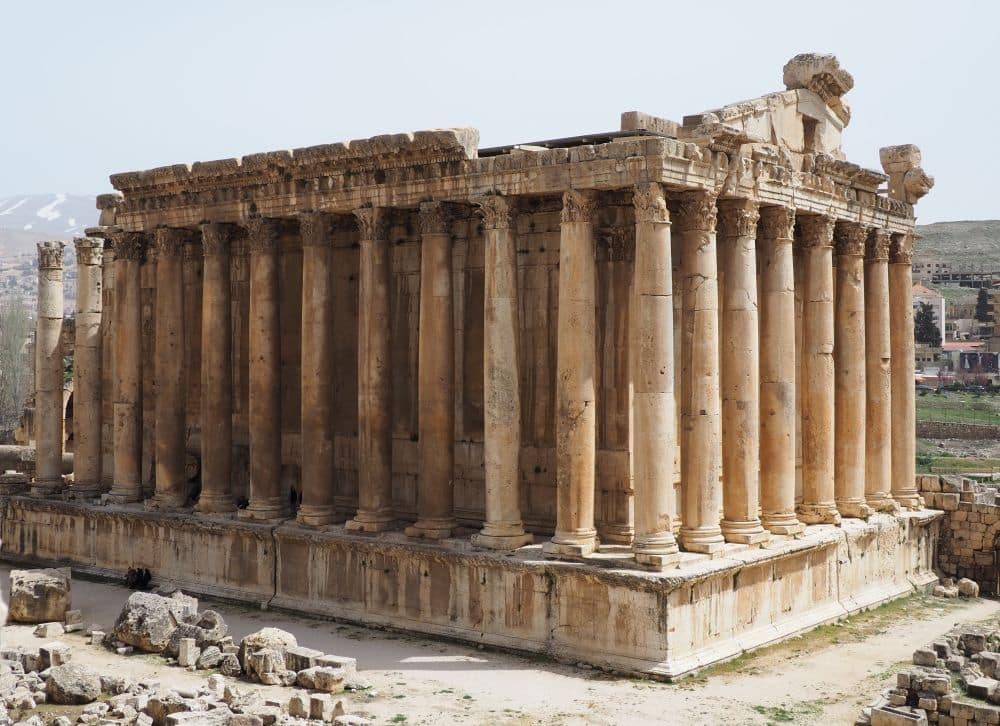 There are two small museums on site. They may be helpful for understanding the history of the site, which predates the Romans.
Is Baalbek worth visiting?
Absolutely yes! If you have any interest in Roman history, a visit to Baalbek is a must.
What sorts of travelers would like Baalbek?
Roman history buffs, first and foremost. Lebanon is not an easy place to travel around, and Baalbek is rather out of the way. So it's not something I'd recommend if Roman history isn't your thing. If it is your thing, you'll see that Baalbek is truly extraordinary.
Tips for visiting Baalbek
The US State Department travel advisory rates Lebanon as a "Level 3: Reconsider Travel" country. Not only that, the area near the Syrian border and any areas where there are Syrian refugee camps are "Level 4: Do not travel." Both of these descriptions apply to the Baalbek site.
On the other hand, the US State Department tends to be over-cautious and has not changed these advisories in years. It might be a good reason, though, to do as I did and go there as part of a tour, on the assumption that a tour company isn't going to take any risks with its clients. Use your own judgement and check to see how the travel advisories have changed.
Beirut is a big, vibrant and modern city, and generally visitors stay there and do day tours from there. Look for accommodations in Beirut.
If you go to Baalbek with a tour, make sure it includes the services of a well-informed guide, not just a driver. Signage is pretty minimal and a guide can explain what you're seeing. If you go on your own, you might be able to hire a guide on-site, but make sure to negotiate a price before you begin. In either case, tip your guide above what you've paid for the tour. It's expected.
While you're there, ask your guide to stop at the nearby quarry. There you can see a massive stone that was meant for Baalbek but never used, and learn how these stones were cut and moved to the site.
If you decide to rent a car and drive, be very careful and take local advice about where to go. Don't go wandering around in the city of Baalbek without a trusted guide. Just park next to the Baalbek site to see it.
Compare rental car prices here.
And speaking of tipping – do NOT use ATM machines in Lebanon. They only offer a government-set and very low exchange rate. Bring plenty of cash dollars and change it at exchange offices. Ask at your accommodations about where to change money. Also ask them to check the exchange rate for you. It changes daily, and locals keep an app on their phones that tells the current rate. Many hotels and most restaurants will refuse to accept credit or debit cards.
Since most of the guided tours combine destinations, you'll probably get to see at least one other UNESCO site: Anjar combines well with Baalbek, as does Byblos. If you like Roman ruins, there's an impressive UNESCO-listed hippodrome down south in Tyre as well.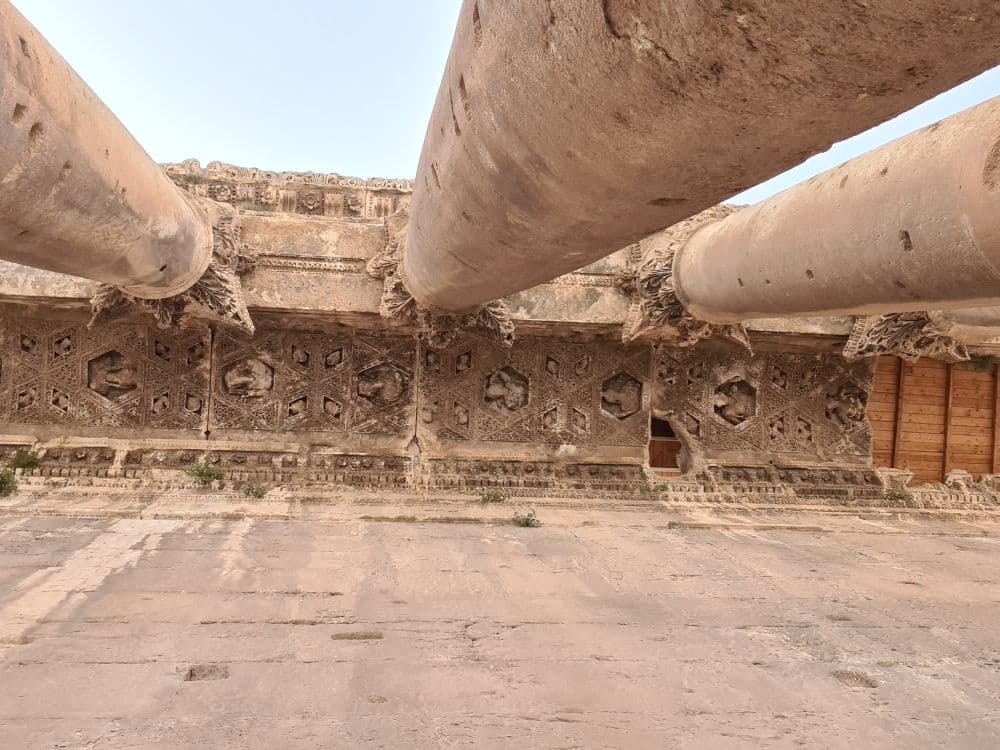 Where is Baalbek?
Baalbek is northeast of Beirut or southeast of Tripoli, not far from the Syrian border in the Bekaa Valley. If you rent a car, it'll take about an hour and a half from Beirut. It should take about the same amount of time by guided tour, depending on what other stops they include. Going by public transportation could take many hours, since the vans follow no discernable timetable. I wouldn't risk it.
Book a guided small-group tour to Baalbek, Anjar and Ksara here.
Or a guided private tour to Baalbek, Anjar and Ksara.
There are plenty more tours and combinations. Just make sure to choose one with an actual guide, not just a driver.
There does not appear to be an official Baalbek website. If you are not going there with a tour, ask for information about opening times and tickets at your accommodation.
Text and photos provided by Rachel Heller of Rachel's Ruminations, a travel blog focusing on historical and cultural sights/sites for independent travelers. Rachel is also the owner of this website.
Have you been to Baalbek? If so, do you have any additional information or advice about this UNESCO World Heritage site? Please add your comments below!