By Kez
What is Kunya-Urgench?
Kunya-Urgench, also referred to sometimes as Köneürgench or Köneürgenç, is an historic town in the Dashogouz Vilayet region of northern Turkmenistan. It is about a ten-minute drive from the Turkmenistan border with Southern Uzbekistan, near the town of Nukus.
This medieval town, capital of the state of Khorezm, was a major stop on the Silk Road between the 11th and 16th centuries. The inhabitants left the town in the 18th century and it has stood empty since then. Some of the structures survived intact, with some renovation in the 20th century and more recently.
Disclosure: This article contains affiliate links. Making a purchase through an affiliate link will mean a small commission for this website. This will not affect your price.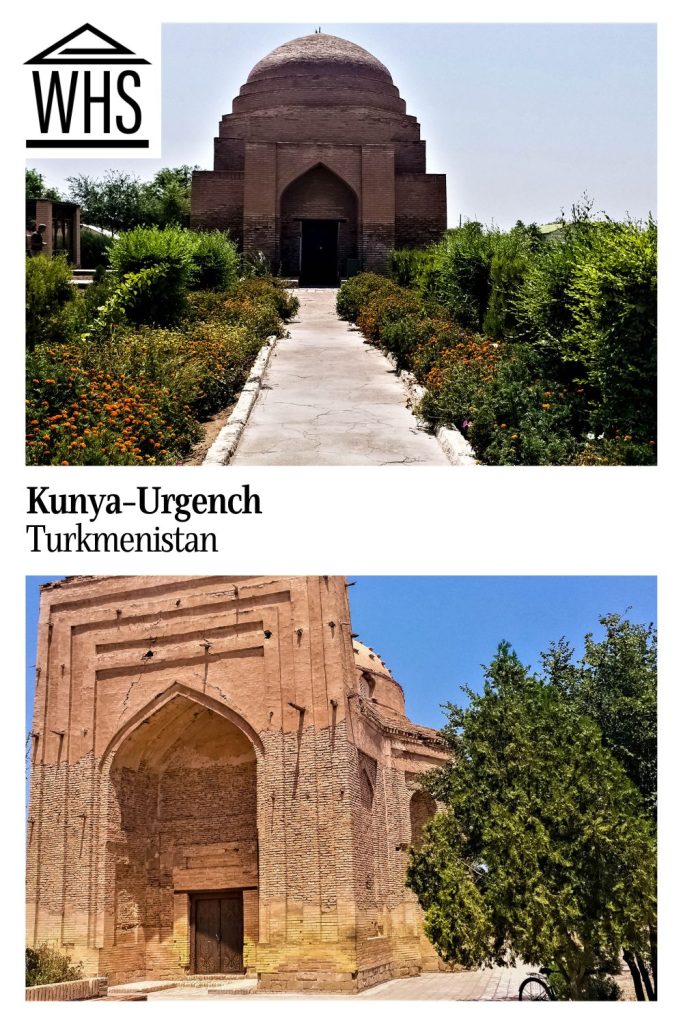 Why is Kunya-Urgench a UNESCO World Heritage site?
Its entry on the UNESCO list states that, "Kunya-Urgench provides an exceptional testimony to a cultural tradition (the Islamic culture of the Khorezm) and is unique in its state of preservation."
As a once-booming town on one of the trade routes of the famous Silk Road, Kunya-Urgench is home to monuments dating back several centuries, through long-gone empires. The architecture seen here was influential in the greater Central and Western Asian regions, including Afghanistan and Iran.
Unlike structures at many other historically significant sites, the architectural gems at Kunya-Urgench are remarkably well preserved.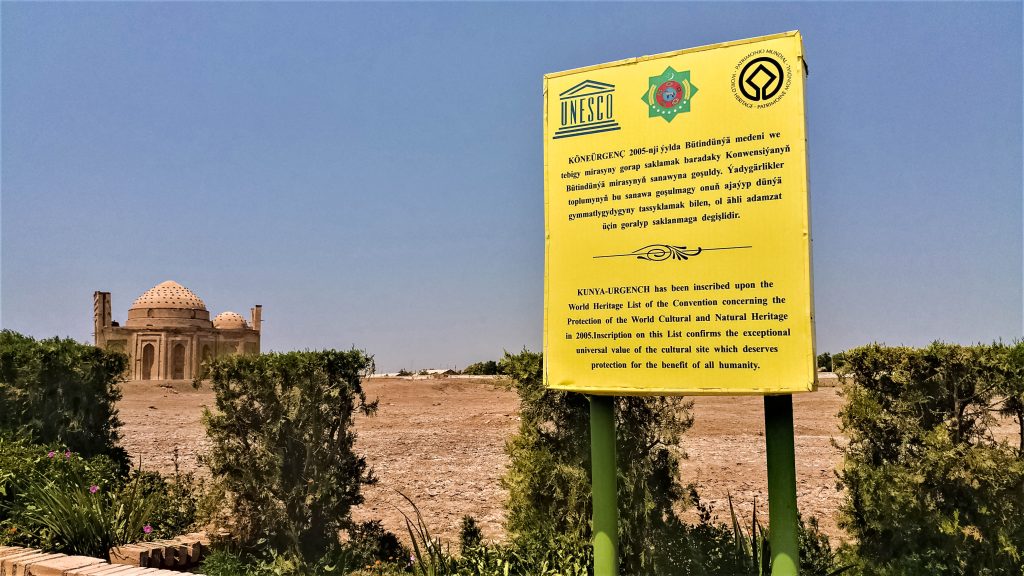 What can you expect on a visit to Kunya-Urgench?
The whole town is a UNESCO site and it's certainly quite interesting to walk around. The section of the town that is the most historically intriguing is the section with the mausoleums and a museum. This complex is where local taxi drivers will take you if you say you want to go to the UNESCO site. You'll recognise it by the big UNESCO sign in front of it.
You could easily spend an hour walking around the complex and admiring the architectural styles of the different buildings. It is home to tombs that date back centuries, including the Piryarvali, Nedjmeddin Kubra, Sultan Ali and Metkerim Ishan Mausoleums, as well as the Dash Mosque Museum. These buildings make it a popular destination for pilgrims.
In other parts of the ancient town you'll find other surviving structures like the Kutlug-Timur Minaret, which is 60 meters (197 feet) high; a fortress called Ak-Kala; the 12th-century Il Arslan Mausoleum; and several more mausoleums.
Kunya-Urgench attracts religious locals, pilgrims, and tourists. At any given time, you may be one of only a few international tourists there, so you may be lucky enough to see some locals or pilgrims performing rituals at the site. This can be mesmerising and make your visit all the more fulfilling.
While tourists aren't all that rare in Turkmenistan, locals are still very curious about visitors to their country. If they speak some English, they may well approach you for a photo.
There's very little chance of encountering crowds at the site. That means that even if you don't get to see pilgrims performing their rituals, you'll be able to walk around the complex in quiet contemplation, whilst admiring the shear size and amazingness of buildings from yesteryear.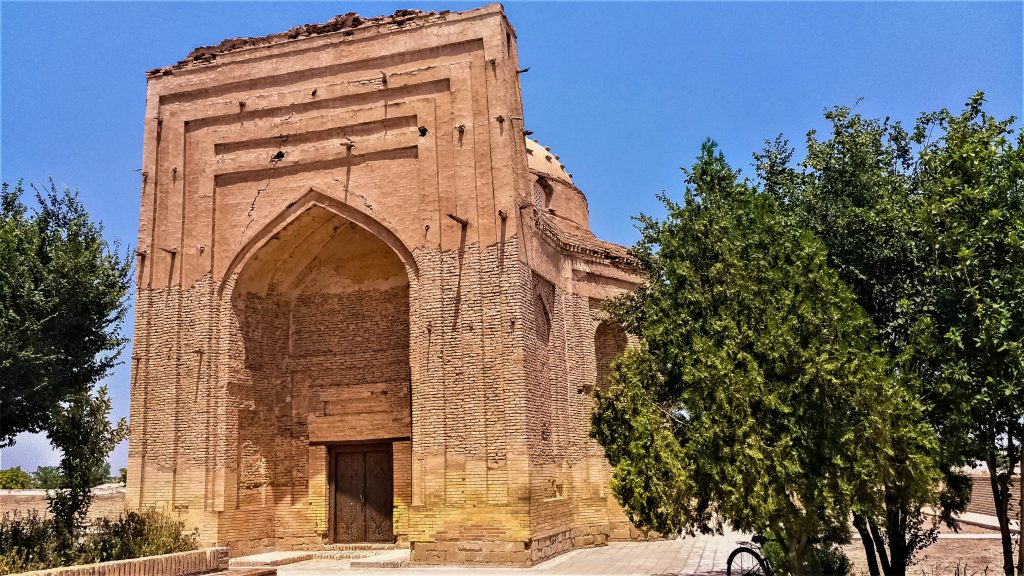 Is Kunya-Urgench worth visiting?
It's definitely worth a visit if you are already planning a trip to Turkmenistan. It can easily be combined with a journey to the infamous Darvaza Gas Crater. You could spend a whole morning wandering around the town and still have enough time to reach Darvaza for sunset. Or you could spend an hour wandering around just the Mausoleum complex and get back into your journey.
If you are exiting Turkmenistan by land into Uzbekistan, it would also be a great last impression of the country.
One of the best things about this site is that there is no entry fee. It also doesn't appear to have any barriers to entry or official opening hours. You could conceivably go there at midnight, if you so wished. However, it's probably better to see it in the light of day.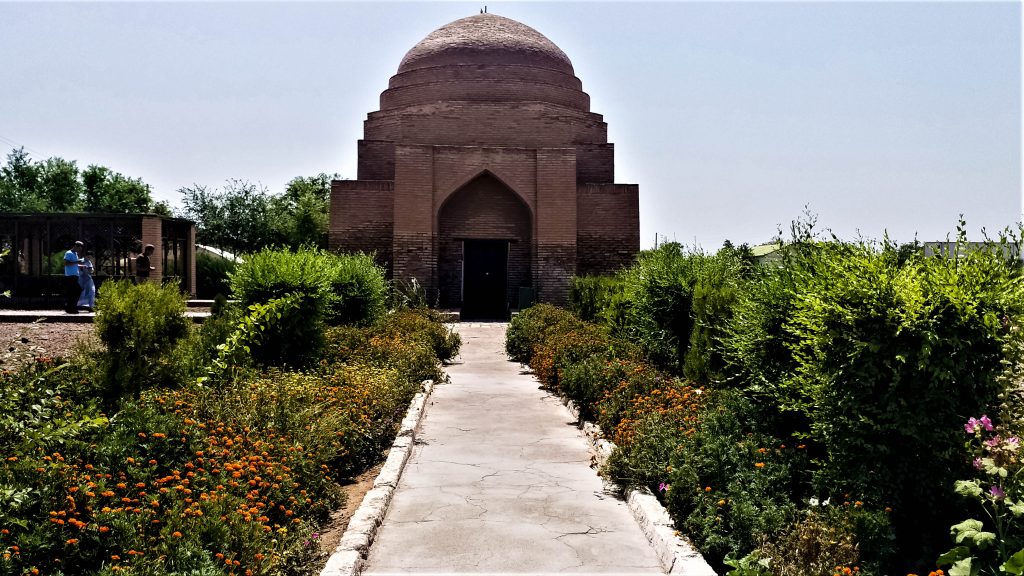 What sorts of travelers would like Kunya-Urgench?
History buffs and admirers of architecture will love Kunya-Urgench, but it's also a site that casual visitors and budget travellers will enjoy.
People who don't like over-touristed and super-crowded sites will also appreciate how low-key this town is.
Tips for visiting Kunya-Urgench
The site is easy to visit and it seems to be well maintained, so you won't need to take anything special with you to get the most out of your time there. Do bear in mind that it is a destination for religious locals and pilgrims, so it might be a good idea to wear more conservative clothing.
Besides that, you may want to factor in what the weather is going to be like when you visit. In winter, you could go at any time of the day, but in summer you might want to make sure to go early in the morning or late in the afternoon. That way you'll avoid the worst of the scorching desert sun. Temperatures often reach 35°C and there is very little shade at the site. Don't forget to bring your sunscreen!
The modern town of Urgench, right over the border in Uzbekistan, is home to another UNESCO site, Itchan Kala, also significant in terms of the history of Islamic architecture.
If you can't see yourself traveling this region independently, consider a tour:
Where is Kunya-Urgench?
If you're using a map app, you can search for Kunya-Urgench UNESCO World Heritage site or type in the GPS coordinates: 42.333; 59.150. Those coordinates are slightly north of the mausoleum complex.
Compare rental car prices here.
The town is around 15 kilometres (9 miles), or a 10-minute drive, from the border with Uzbekistan, (near Nukus). You can easily find taxis at this border to take you to the town for about US$2, but make sure you set the price before you get in the car. All the drivers know the UNESCO site and will possibly take you there by default.
Stay across the border in a hotel in Urgench, Uzbekistan.
Kunya-Urgench is also about 260 kilometres (162 miles), or a 3.5-hour drive, from the Darvaza Gas Crater, or 6 hours' drive and 530 kilometres (329 miles) from the Turkmenistan capital of Ashgabat. Shared taxis operate out of a car park near the UNESCO site, so finding onward transport won't be a problem.
For more information about Kunya-Urgench, see Kunya-Urgench – the heart of Khorezm.
Text and photos provided by Kez of K-in-Motion. Kez is a teacher who spends the school holidays having unique, budget adventures around the globe and getting invited to drink tea.
Have you been to Kunya-Urgench? If so, do you have any additional information or advice about this UNESCO World Heritage site? Please add your comments below!