Cathedral of Notre-Dame, Former Abbey of Saint-Rémi and Palace of Tau, Reims
By Jen Ciesielski
What is Cathedral of Notre-Dame, Former Abbey of Saint-Rémi, and Palace of Tau?
These three structures are closely connected with both the advent of Christianity in France and the coronations of French kings over the course of centuries.
Cathedral of Notre-Dame
The Cathedral of Notre-Dame in Reims is one of the most impressive Gothic churches in France. It is where Clovis, the first King of the Franks, was baptized into Christianity in the 6th century. This majestic structure has also seen the coronation of 33 French kings. The church that stands today was built between 1211 and 1345. Some of its most notable features include its intricate statues and its stained-glass windows.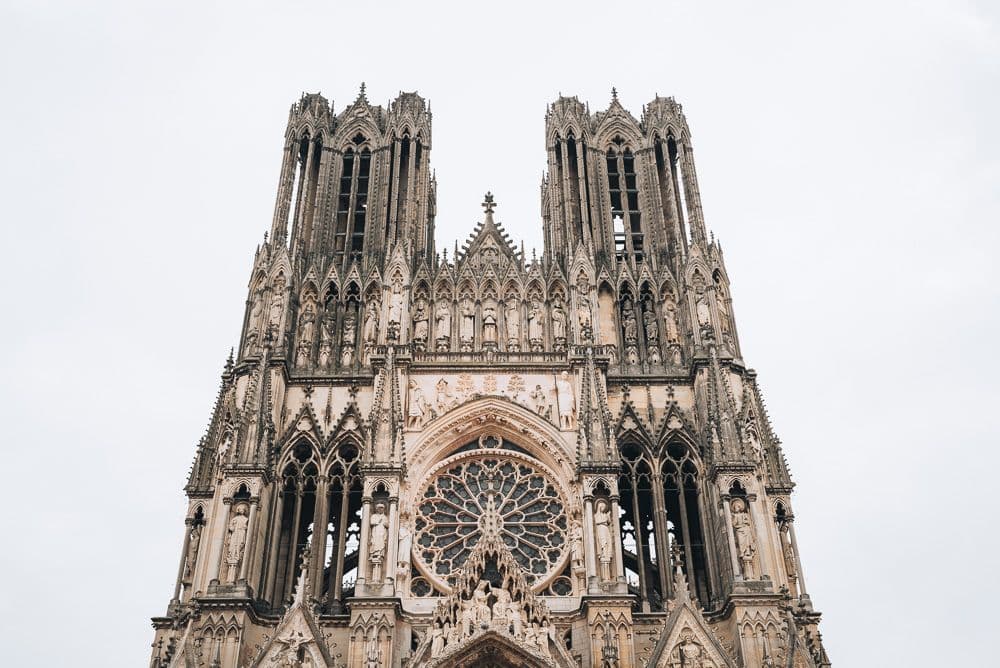 Disclosure: This article contains affiliate links. Making a purchase through an affiliate link will mean a small commission for this website. This will not affect your price.
Former Abbey of Saint-Rémi
The Former Abbey of Saint-Rémi dates to the 11th century. It is named after the former Bishop of Reims, Saint-Rémi, renowned for baptizing Clovis, the King of the Franks, which is the most significant moment in the Christianization of France. Today, the Abbey houses the Musée Saint-Rémi, an archaeology and art museum. Next to the Abbey is the Basilica of Saint-Rémi. This striking Romanesque church is where the remains of Saint-Rémi are preserved.
Palace of Tau
The Palace of Tau is the former archbishop's palace. It's also where the Kings of France celebrated their coronations. Today, the Palace serves as a museum, housing precious artifacts related to the cathedral and the coronation of French kings. Some of its most significant objects include the Coronation Chalice and Charlemagne's talisman.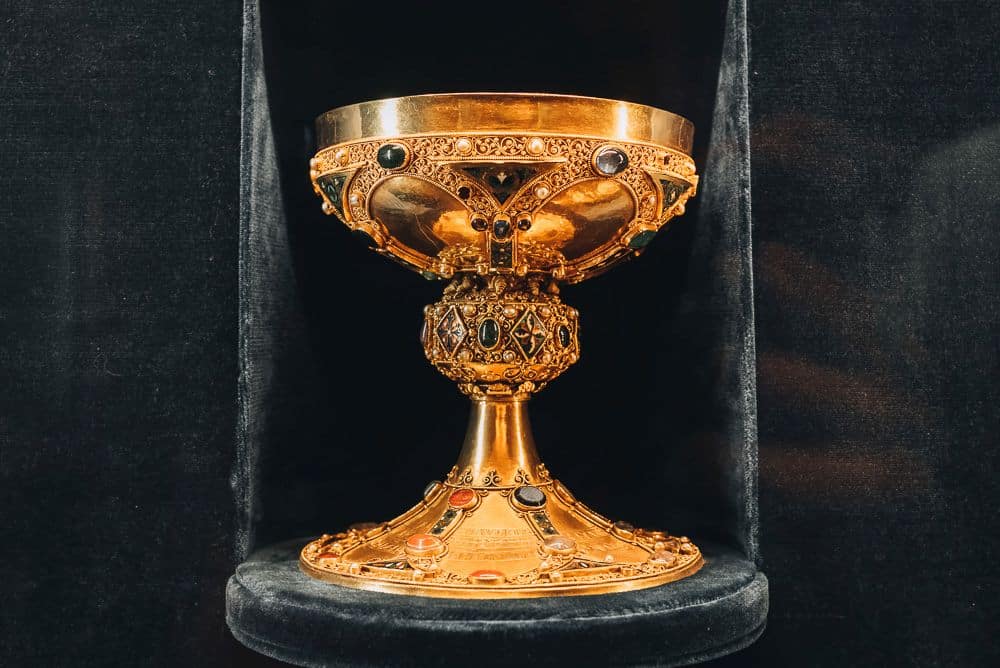 Why are these buildings in Reims a UNESCO World Heritage site?
The Cathedral of Notre-Dame, the Former Abbey of Saint-Rémi, and the Palace of Tau in Reims became a UNESCO World Heritage Site because of their profound historical, architectural, and cultural significance.
The Cathedral of Notre-Dame is a "masterpiece of Gothic art due to the outstanding handling of new architectural techniques in the 13th century and the harmonious marriage of architecture and sculptured ornamentation."
Combined, all three sites were central to French history and played a pivotal role in the French monarchy. Their magnificent architecture also influenced other buildings in Europe.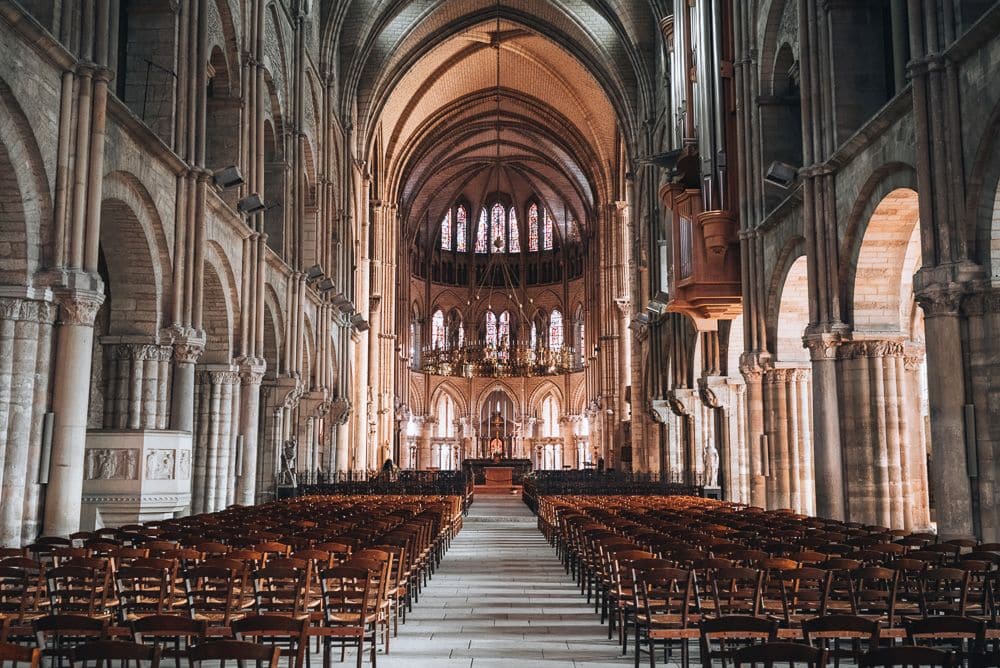 What can you expect on a visit to Reims?
On a visit to Reims, you can expect a mix of fascinating history, stunning architecture, and world-famous Champagne houses.
The city's crown jewel is, of course, the buildings that make up the UNESCO World Heritage site. They live up to their reputation and their magnificence is second to none. The Cathedral of Notre-Dame is larger than the Notre-Dame in Paris and is marvelously ornate, covered with sculptures. The Palace of Tau is closed for renovation right now, but houses a museum focused on the cathedral's history and the history of royal coronations that happened there. The Former Abbey of Saint-Rémi, a 20-minute walk away from the Cathedral, has a beautiful basilica with both Gothic and Romanesque elements. The Benedictine Abbey houses a museum of human history.
But that's not all there is to see in Reims. You'll find a wealth of other museums dedicated to some of the most significant events in European history. In fact, Reims is where Germany surrendered during World War II on 07 May 1945. And you can visit the very room (a.k.a. the Map Room) where this happened at the Musée de la Reddition. It's called the Map Room because this is where Allied troops strategized during the war. And the maps that they used to execute their plans are still on the walls.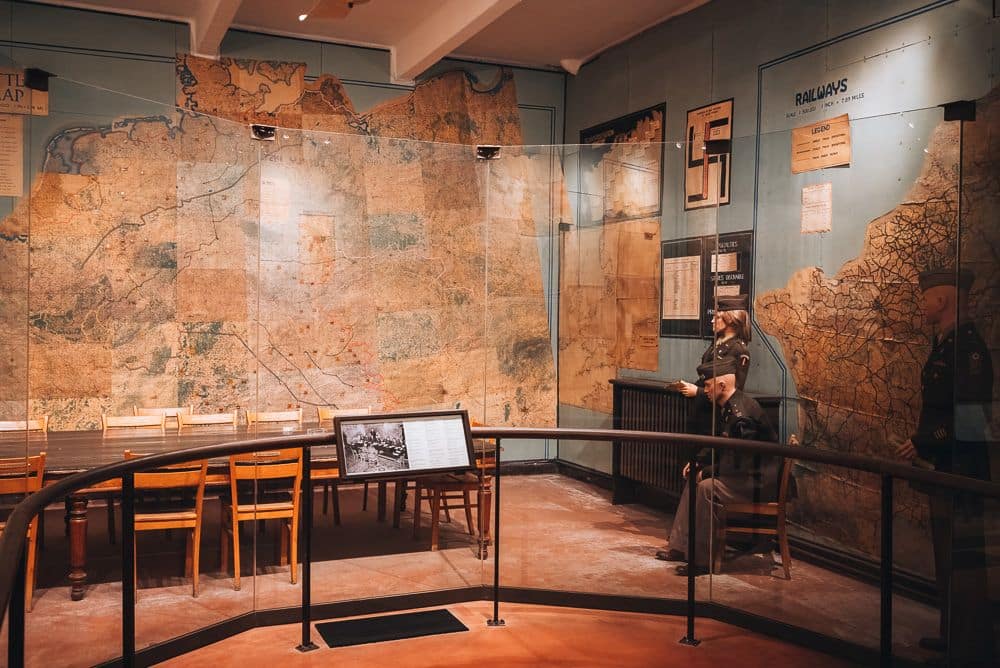 It's a small museum, but I was beyond impressed. Every artifact has been perfectly preserved and there's even a movie that details Germany's surrender. It shows footage from that period so you can see the impact the war had on Reims. It's worth watching if you have the time.
Then, if you love ancient history, you'll find plenty of sites here. Some of the most notable are La Porte de Mars and the Cryptoportique. La Porte de Mars is said to date to the third century. It once served as an entrance to Reims. Cryptoportique is even older and is thought to come from the first century. Its exact purpose remains a mystery, but it's worth checking out. They are both free to visit.
Reims is also home to several Art Deco buildings. The most notable is, undoubtedly, the Carnegie Library, named after Andrew Carnegie himself. The exterior has many characteristics of Art Deco styling while the interior looks like a US library.
Of course, no trip to Reims is complete without taking part in the food and wine scene. It's where you can sample some of the world's finest Champagnes. Not only that but it's also home to the infamous pink biscuit, Biscuits Fossier. This is the oldest biscuit in France and was served at the coronation ceremony of Louis XVI. I tried the original flavor and the salted caramel version. Both are delicious and perfect for anyone who has a sweet tooth.
There are lots of tours available to allow you to taste various Champagnes.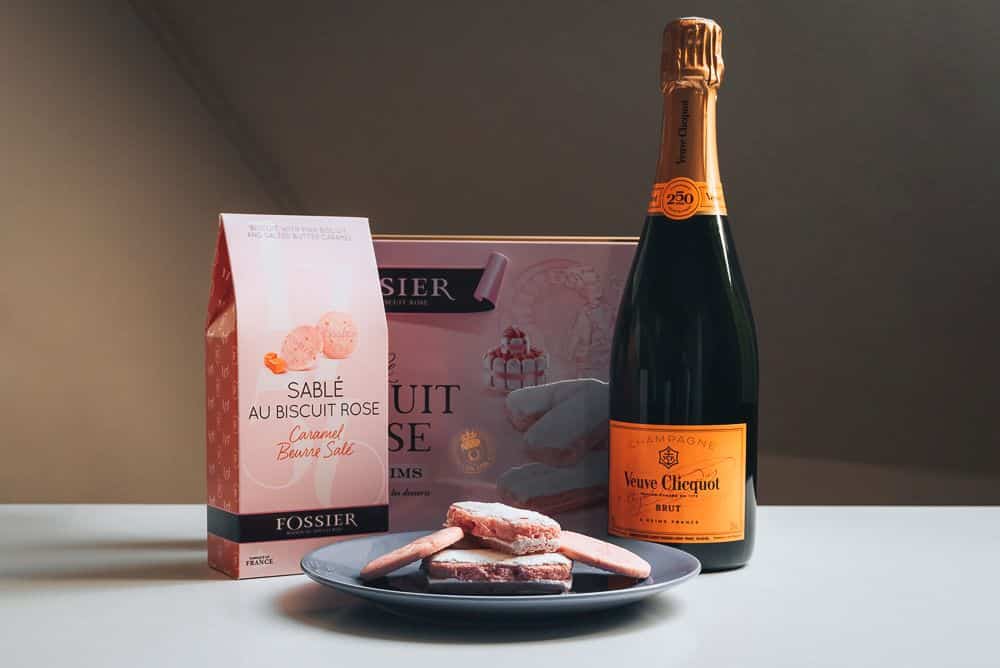 Is Reims worth visiting?
Absolutely, Reims is worth visiting! This city in northeastern France offers a rich blend of history, culture, and culinary delights that cater to a wide range of interests.
If you love history, there are a ton of museums that cover the most significant moments in France's history. Then there are the Champagne houses, perfect for anyone who wants to learn about the production process and sample France's most elegant wine.
Reims is also very accessible by train from Paris, so it's perfect as a day trip. You can see most of the main highlights and even do a tasting. Unless you want to explore other towns in the area, one day is more than enough time. Nevertheless, if you decide to stay and savor Reims at a more relaxed pace, book your hotel here.
What sorts of travelers would like Cathedral of Notre-Dame, Former Abbey of Saint-Rémi and Palace of Tau?
Reims is a popular day trip from Paris. Most people who travel here come for the Champagne tastings.
This Champagne-tasting day trip from Paris to Reims includes a stop at the cathedral.
But I encourage anyone who wants to learn about France's history to spend time downtown visiting the cathedrals and museums. It's a fascinating city that's perfect for any kind of traveler.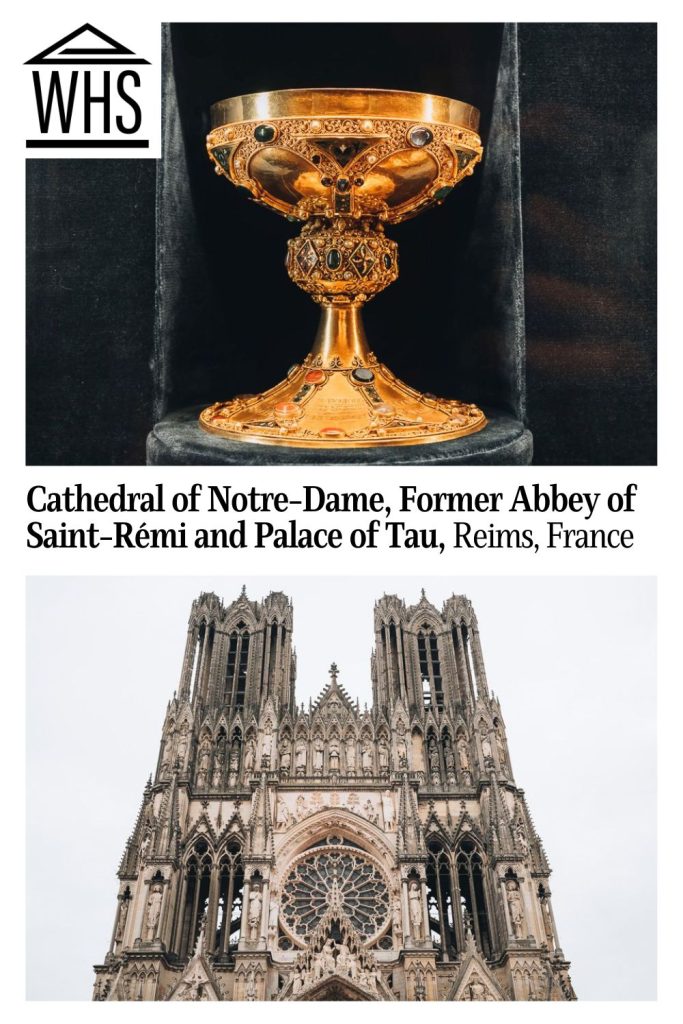 Tips for visiting Reims
Reims is a very walkable city and that's the main way to get around, so good walking shoes are essential. Most of the sites are within 10-15 minutes of each other, but if you prefer, there is one tram line and tons of buses. Both are very efficient ways to travel around town.
The Notre-Dame Cathedral is the most visited attraction here, so if you want to visit it without the crowds it's best to arrive in the morning.
July and August are the busiest times. Avoid these months if you don't like crowds.
Then, if you have extra time, nearby places that are worth visiting include Épernay and Faux de Verzy. Other UNESCO sites in this corner of France are in Nancy and Strasbourg.
Where is Reims?
Reims is in northeastern France and is very easy to get to. It doesn't have an international airport, but its central train station is well-served. From Reims' central station, it's a 12-minute walk to the Cathedral of Notre-Dame and the Palace of Tau on Place du Cardinal Luçon.
The Former Abbey of Saint-Rémi on Rue Saint-Julien is much further than the other two. It's about a 30-minute walk from the train station or a 12-minute bus ride.
The closest major cities are Paris 144 km (89 miles) away and Luxembourg, 233 km (144 miles) away.
Getting there by train: Taking the train from Paris will take 45 minutes to 1 hour 45 minutes, depending on stops. From Luxembourg it will take 3 to 4 hours, depending on stops.
Getting there by car: Traveling by car from Paris takes about 1 hour and 30 minutes and from Luxembourg takes about 2 hours 25 minutes. For €9 you can park your car next to Reims' train station and walk to the UNESCO World Heritage Sites: EFFIA Parking Reims Station – Cr de la Gare.
Compare car rental prices here.
For more information about Cathedral of Notre-Dame, Former Abbey of Saint-Rémi, and Palace of Tau, its opening hours and admission fees, see its official website: Reims Tourisme.
Text and photos provided by Jen Ciesielski of Dabbling in Jet Lag. Based in France, Jen shares her experience as an expat as well as the best things to do around the country. Her goal is to inspire others to get off the beaten path and explore lesser-known places.
Have you been to Reims? If so, do you have any additional information or advice about this UNESCO World Heritage site? Please add your comments below!