Place Stanislas, Place de la Carrière and Place d'Alliance in Nancy
By Jen Ciesielski
What are Place Stanislas, Place de la Carrière, and Place d'Alliance?
Place is the French word for a plaza or square, so these are all historical plazas in the French city of Nancy.
Disclosure: This article contains affiliate links. Making a purchase through an affiliate link will mean a small commission for this website. This will not affect your price.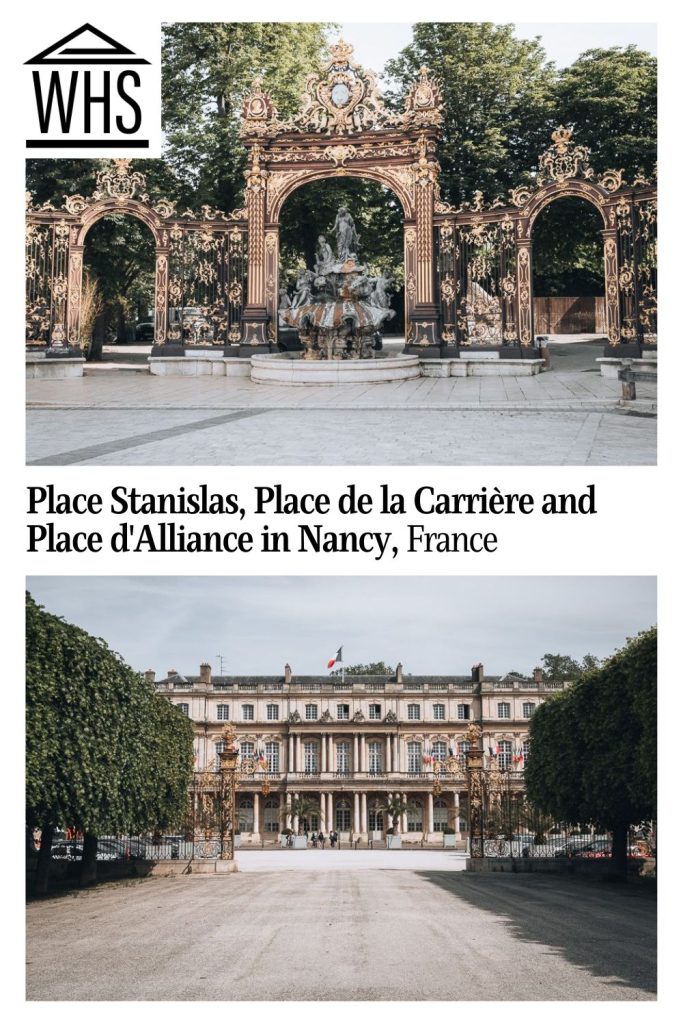 Place Stanislas
Place Stanislas is a large, pedestrianized square. It was built between 1752 and 1756 under the orders of Stanislas Leszczynski, the Duke of Lorraine at the time. He wanted to link the medieval old town of Nancy and the new town. Today, it's most known for its grand classical architecture, adorned with ornate iron gates and fountains. And, in the middle, there is a towering statue of Stanislas.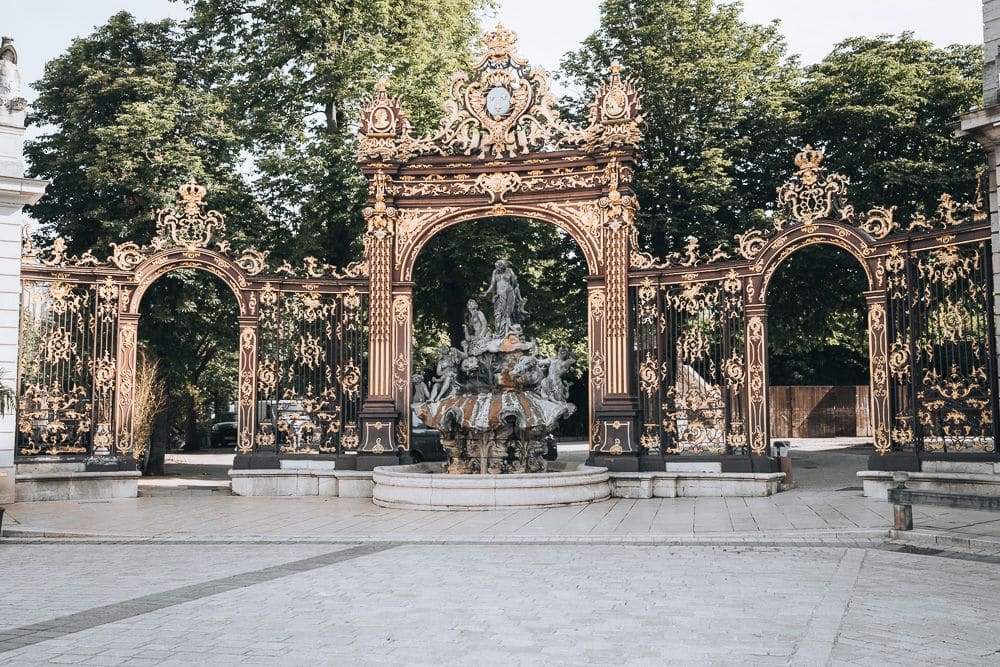 Place de la Carrière
Historically, Place de la Carrière was used for jousting and tournaments. It runs perpendicular to Place Stanislas and extends to the Palais du Gouverneur. Like Place Stanislas, this square is marked by its beautiful 18th-century architecture. And its central platform is lined by two rows of trees and wooden benches. The most notable feature is, however, the detailed iron gates on either end.
Place d'Alliance
Place d'Alliance is the third square in Nancy that forms part of the UNESCO World Heritage Site. The name "Place d'Alliance" refers to the alliance that took place between Austria and France in 1756. Though it is the smallest of the three squares, Place d'Alliance is the most intimate. It features classically styled apartments surrounding the square as well as a small yet inspiring fountain in the middle.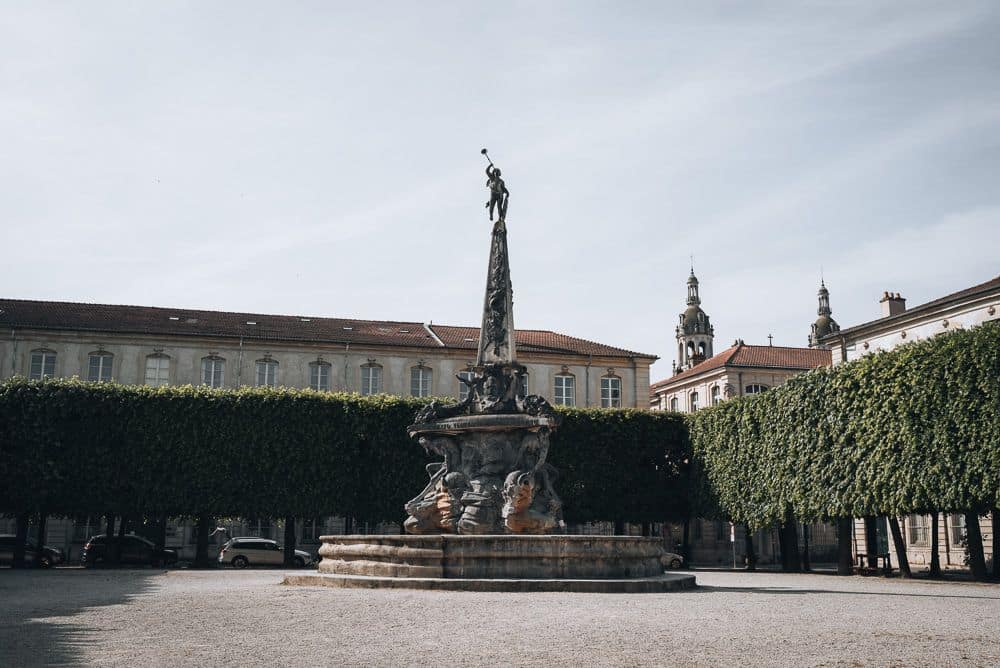 Why are Place Stanislas, Place de la Carrière, and Place d'Alliance a UNESCO World Heritage site?
Place Stanislas, along with Place de la Carrière and Place d'Alliance, was recognized as a UNESCO World Heritage Site in 1983 for "unique artistic achievement." These plazas in Nancy are a remarkable example of town planning and architecture from the 18th century Enlightenment. At that time, it was the most innovative approach to urban design.
Each square is also an exceptional work of art. From statues and fountains to wrought-iron gates, every feature is aesthetically appealing. And it's this blend of artistic and architectural elements that makes these three squares an urban masterpiece.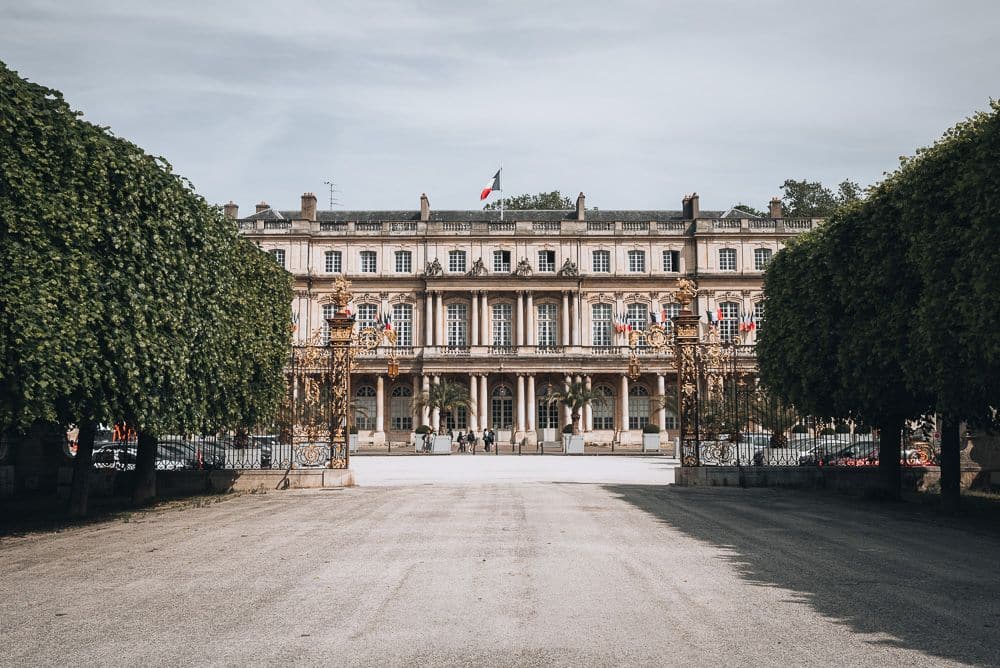 What can you expect on a visit to Nancy?
On a visit to Nancy, you can expect to see a city steeped in rich cultural heritage with tons of things to do.
Within Place Stanislas, there's the Musée des Beaux-Art, for example. It houses a wealth of collections from various artists including those from Nancy. Then there's the Arc Héré. This triumphal arch was designed by Emmanuel Héré de Corny. It's as elegant as the two squares it connects, with intricate stone carvings and statues. After Place Stanislas, this was my favorite site.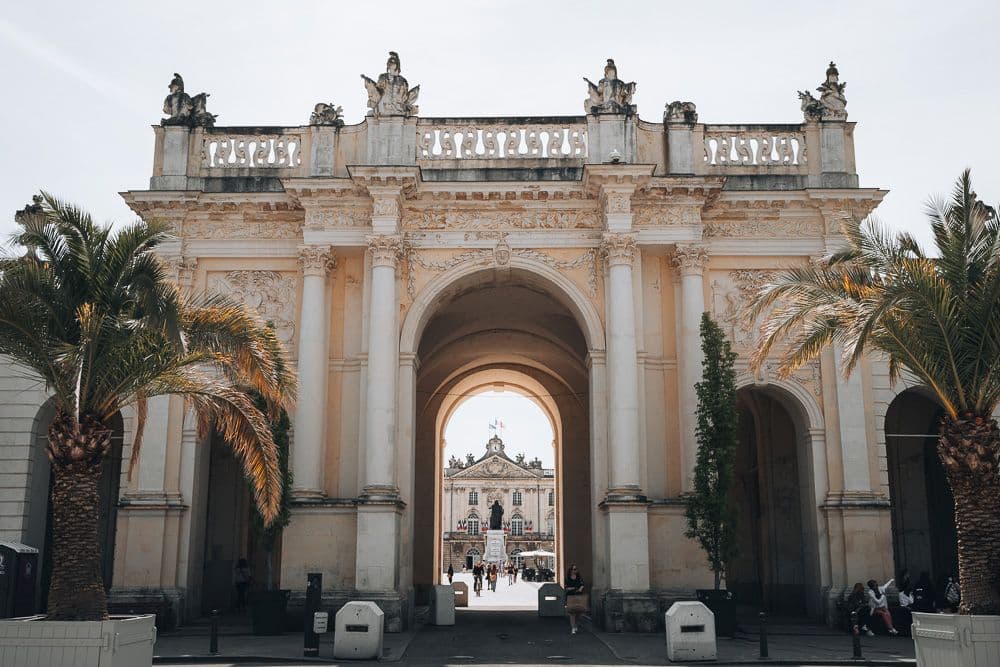 Another historical site worth visiting is the Porte de la Craffe. Not only is it the oldest monument, but it also once served as the main entrance to the city.
For those interested in religious architecture, Nancy is home to several noteworthy churches. Some of the most impressive include Saint-Epvre's Basilica and the Nancy Cathedral.
Of course, no trip to Nancy is complete without visiting the Musée de l'École de Nancy. It's entirely dedicated to the Art Nouveau movement that took place here. From glassware to furniture, it's an impressive collection. And, if you want to see more examples from this period, head to Villa Majorelle. This was the first example of Art Nouveau architecture in the country.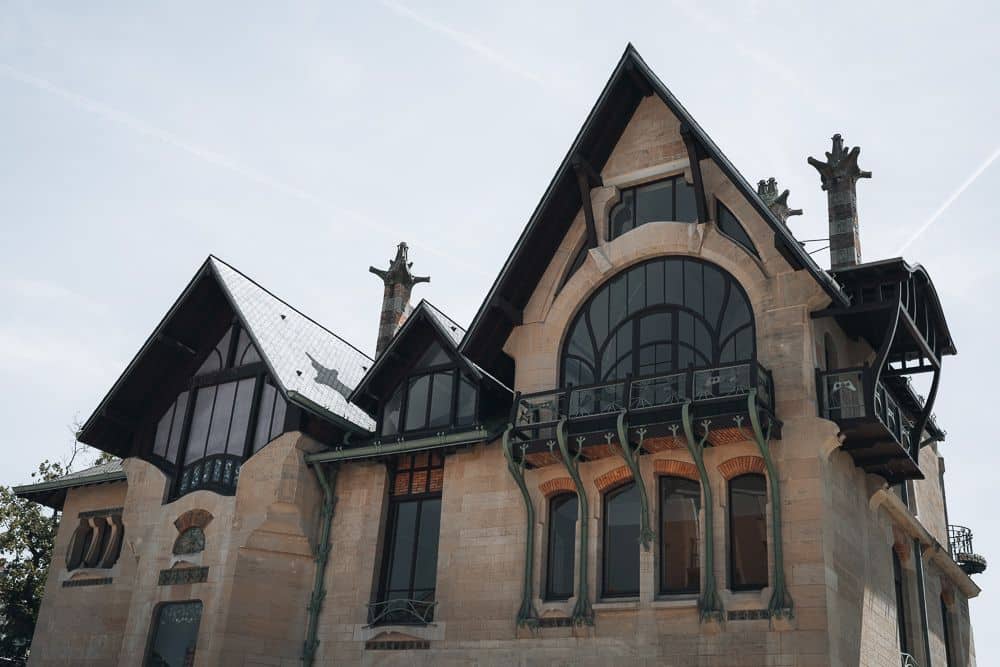 I also enjoyed walking around the area between Musée de l'École de Nancy and Villa Majorelle. I found even more examples of Art Nouveau architecture, many of which were not in any guidebook.
This walking tour of Nancy focuses on art nouveau.
If you're interested in the region's history, the Musée Lorrain is a great place to learn more. Here you'll find a vast collection of artifacts housed in the former Ducal Palace.
Nancy is also known for its local and regional specialties. For savory dishes, Quiche Lorraine is a staple of Lorraine. It's a salty tart filled with heavy cream, tasty cheese, and bacon. If you're vegetarian, non-meat versions are available.
Then, if you have a sweet tooth, the Macarons de Nancy are a must-try. They aren't like the typical macarons you'd find in France. They are made from a secret recipe. Stop by Maison des Soeurs Macarons to try the original ones.
Finally, Nancy is home to several parks and gardens, the largest being Parc de la Pépinière. Here you'll find shaded walking paths and manicured lawns perfect for picnicking. But, for me, the rose garden was the most spectacular.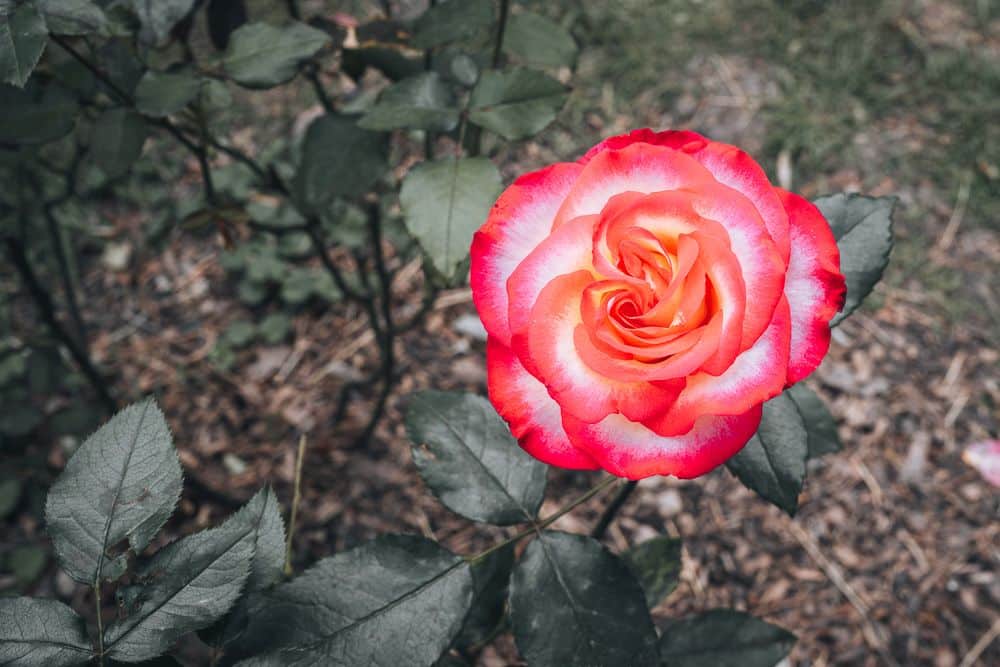 Is Nancy worth visiting?
Yes, a trip to Nancy is worth it.
I thoroughly enjoyed the three UNESCO World Heritage site plazas in Nancy and was impressed with how well-maintained they were. When I visited in late spring, the flowers were starting to bloom and I was also able to explore Nancy's gorgeous parks. I was, however, most surprised by the architecture. While Nancy is well-known for the Villa Majorelle, I didn't expect to find so many beautiful houses. It was impressive, to say the least.
While there are plenty of reasons to visit Nancy, you won't need more than a day or two to see all the main highlights. It's very walkable and most of the attractions are within a 5–10-minute walk of each other.
What sorts of travelers would like Place Stanislas, Place de la Carrière, and Place d'Alliance in Nancy?
Nancy is not your typical tourist destination in France. It's more for people who love history and architecture. If it's your first time visiting France, you probably wouldn't venture out this way. It is, however, perfect for an itinerary that emphasizes eastern France.
Take this walking tour of Nancy.
Tips for visiting Nancy
While in Nancy, you'll be visiting most of the attractions on foot, so good walking shoes are very important. And if you want to experience the UNESCO World Heritage site without the crowds, it's best to arrive in the morning. Finally, be sure to check out the opening times for museums. As an example, several are closed on Tuesdays.
Since it's such a great day trip, you can easily stop over if you're traveling from Paris to Strasbourg (both of which are also UNESCO cities).
Alternatively, stay for a night or two to soak in the ambiance. Use the map below to choose accommodations:
Where is Nancy?
Nancy is in eastern France. It doesn't have an international airport, but it does have a well-served train station that is very easy to get to. Then, from Nancy's central station, it's only an 11-minute walk to Place Stanislas, Place de la Carrière, and Place d'Alliance.
Closest major cities:
Paris: 384 km (238 miles)
Luxembourg: 117 km (72 miles)
Stuttgart: 288 km (178 miles)
Travel by car:
Paris: 4 hours
Luxembourg: 1 hour 25 minutes
Stuttgart: 3 hours 45 minutes
Parking: For €6 you can park your car behind Nancy's train station and walk to the UNESCO World Heritage site.
Parking Indigo Nancy Saint Léon – 5 Rue Saint-Léon
Travel by train:
Paris: 1 hour 45 minutes to 2 hours 45 minutes, depending on stops.
Luxembourg: 1 hour 30 minutes
Stuttgart: 3-4 hours, depending on stops.
For more information about Place Stanislas, Place de la Carrière, and Place d'Alliance, as well as other sights in Nancy, see the city's official website.
Text and photos provided by Jen Ciesielski of Dabbling in Jet Lag. Based in France, Jen shares her experience as an expat as well as the best things to do around the country. Her goal is to inspire others to get off the beaten path and explore some lesser-known places.
Have you been to Nancy? If so, do you have any additional information or advice about this UNESCO World Heritage site? Please add your comments below!