Archaeological Site of Mystras
By Rachel Heller
What is the Archaeological Site of Mystras?
Mystras is the remains of a Late Byzantine fortified town dating from 1249 AD. Originally built by the Franks, the Byzantines captured it in 1262, and it became the governmental seat of the Byzantine Empire in the Greek Pelopponese. In 1460, the Turks captured it, followed by the Venetians, but it was abandoned in 1832. It includes ruins of fortifications, a Byzantine palace, several churches, a Frankish castle, and various dwellings and other town buildings, all perched picturesquely around and on a hilltop.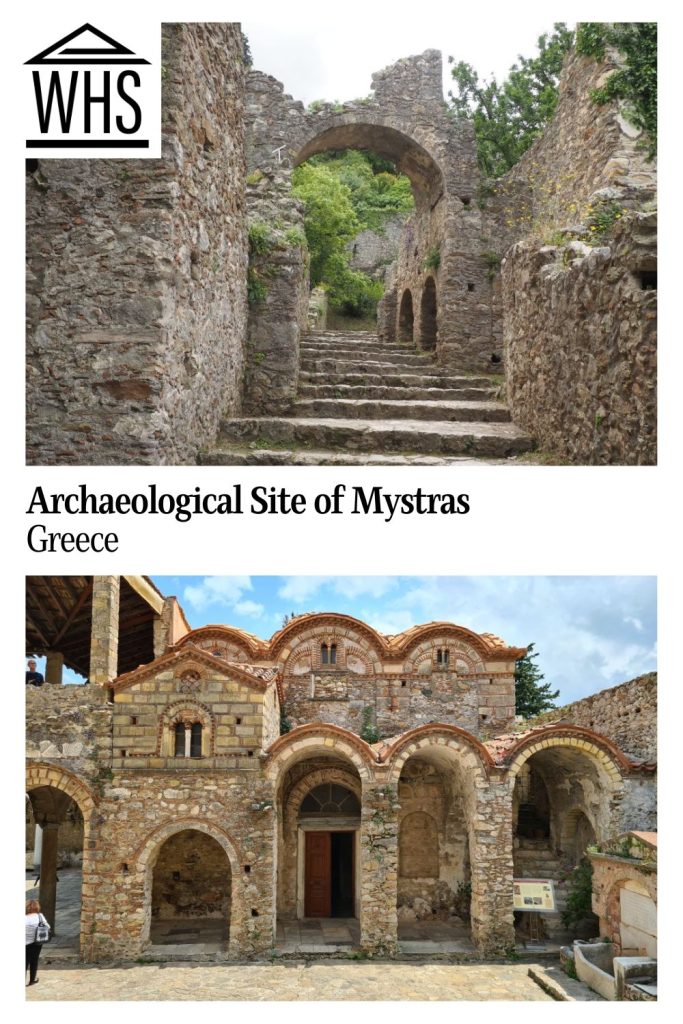 Disclosure: This article contains affiliate links. Making a purchase through an affiliate link will mean a small commission for this website. This will not affect your price.
Why is Mystras a UNESCO World Heritage site?
Mystras is a UNESCO site for several reasons. According to UNESCO, "Mystras constitutes a medieval city whose art, the fruit of the so-called Palaeologan Renaissance, influenced the development of Late Byzantine and Post-byzantine art." Mystras is a prime example of a Byzantine city, a "flourishing urban society within the late Byzantine Empire." It is also a great illustration of Byzantine life in cities, with its fortress on a hill, fortified areas below the hill, palaces, homes, churches, monasteries, and all the other necessities of cities such as a water supply and craft workshops.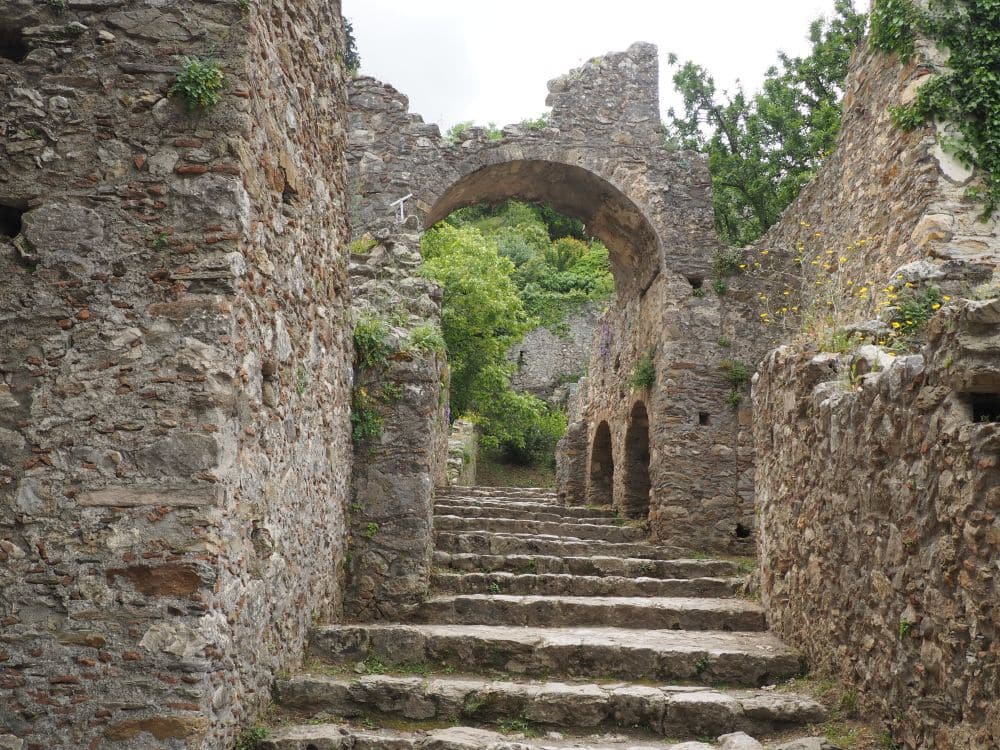 What can you expect on a visit to the Archaeological Site of Mystras?
The buildings of Mystras are in various stages of ruin and are scattered all up and down the hill – divided, more or less, into an upper city and a lower city. At the top is the citadel or castle ruin, with the houses, palaces and churches below. While most of the houses have decayed to just broken walls, the streets remain. It's an atmospheric walk among the ruins of this abandoned town.
Many of the churches, however, are more or less intact and absolutely worth entering – some have colorful frescoes from the Byzantine period on their inner walls and ceilings.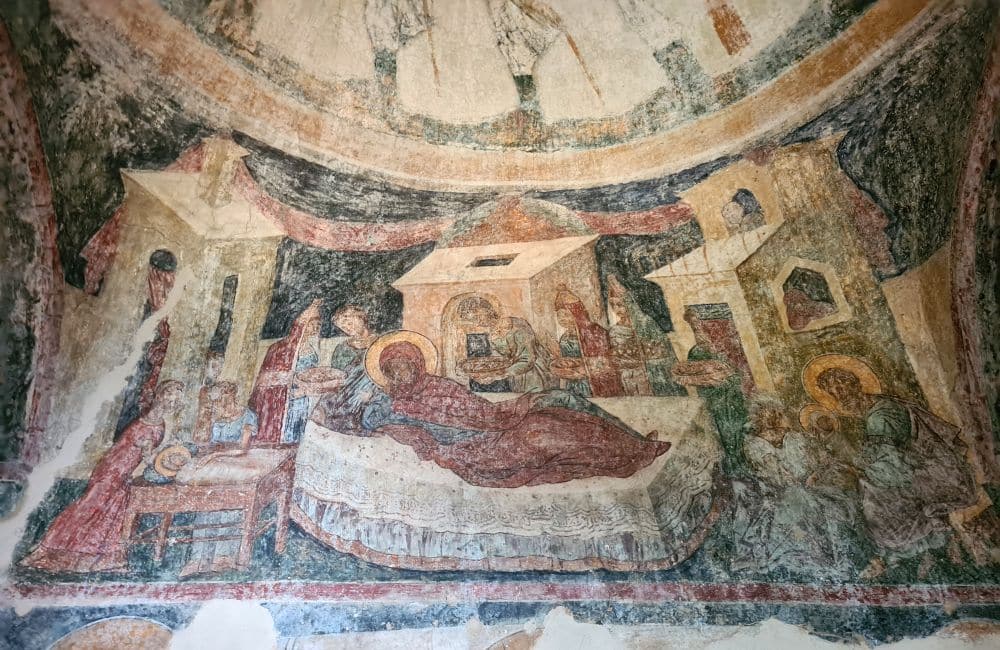 One of the churches – Panagia Pantanassa – is still a convent with a few nuns in residence. It's the one with the tall square tower. That's where you can most clearly see architectural influences from outside the Byzantine Empire.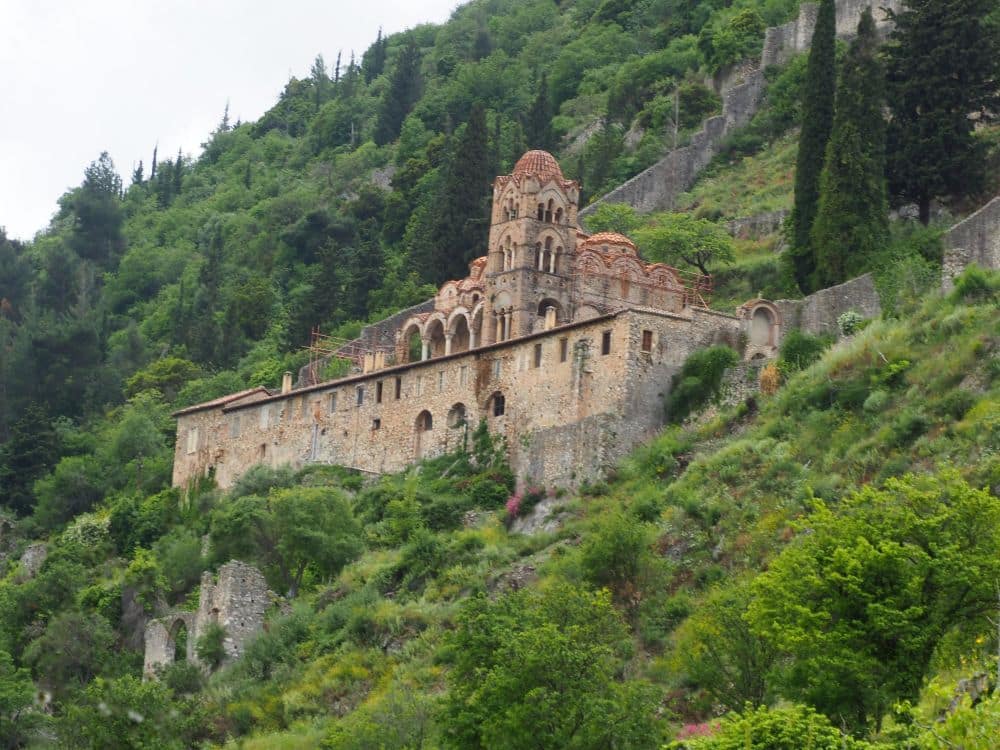 The large palace – called the Despot's Palace – was undergoing renovation when I was there, but it's worth a look if you can go in. There's also a museum on site. I didn't get to see it, but it has various objects that have been excavated at Mystras.
To see all of it, including climbing to the top of the 620-meter (2,034 ft) hill to see the fortress on top – will take a few hours. You don't have to climb all the way to the top, though, to take in the amazing views over the valley below. The city in the valley is Sparta. That's where the residents of Mystras went when they abandoned their town in the 19th century. While most of Sparta today is new – it was established as recently as 1834 – you can also visit a few relics of ancient Sparta on the edge of the city.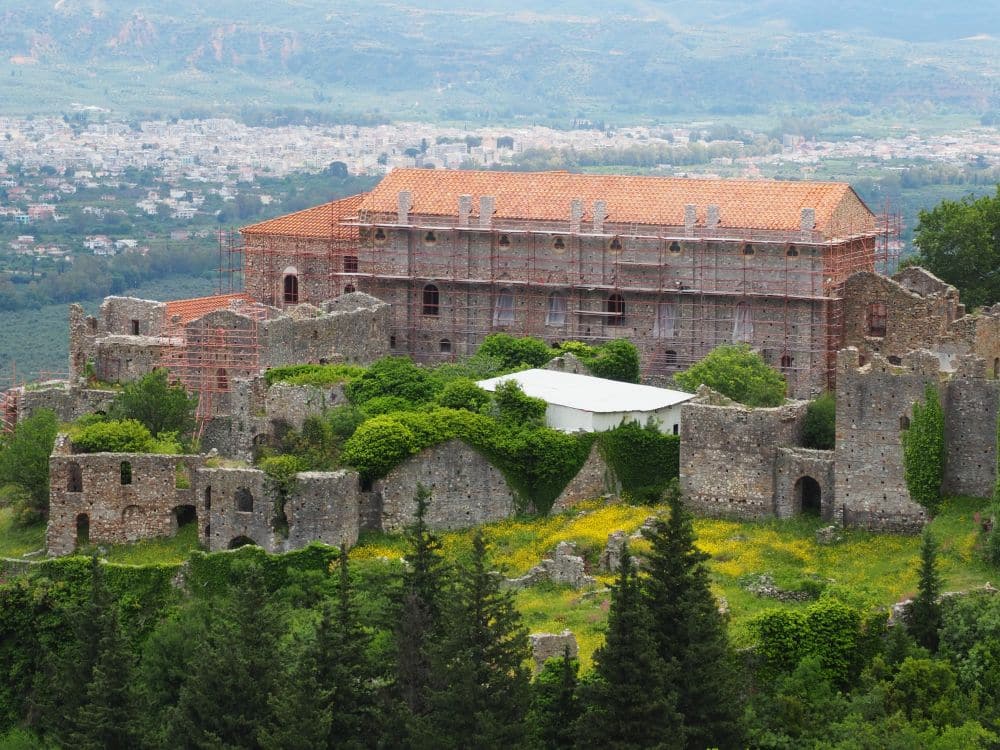 Is Mystras worth visiting?
If you're in the Pelopponese, this site is the best place to see Byzantine history in the region. The rest of the UNESCO sites in the Pelopponese – Epidaurus, Olympia, the Temple of Apollo Epicurius, and Mycenae/Tiryns – are all related to Ancient Greece – or even earlier in the case of Mycenae and Tiryns. But Greece has history after the ancients, and it's worth seeing too.
What sorts of travelers would like the Archaeological Site of Mystras?
Anyone interested in Byzantine history, of course, would like this site, or if you have an interest in Byzantine architecture and/or frescoes. As for children, it would depend: if they are the kind who would enjoy exploring the maze of little streets and "discovering" the citadel at the top, bring them along. If hiking uphill would be a problem, they might cramp your style.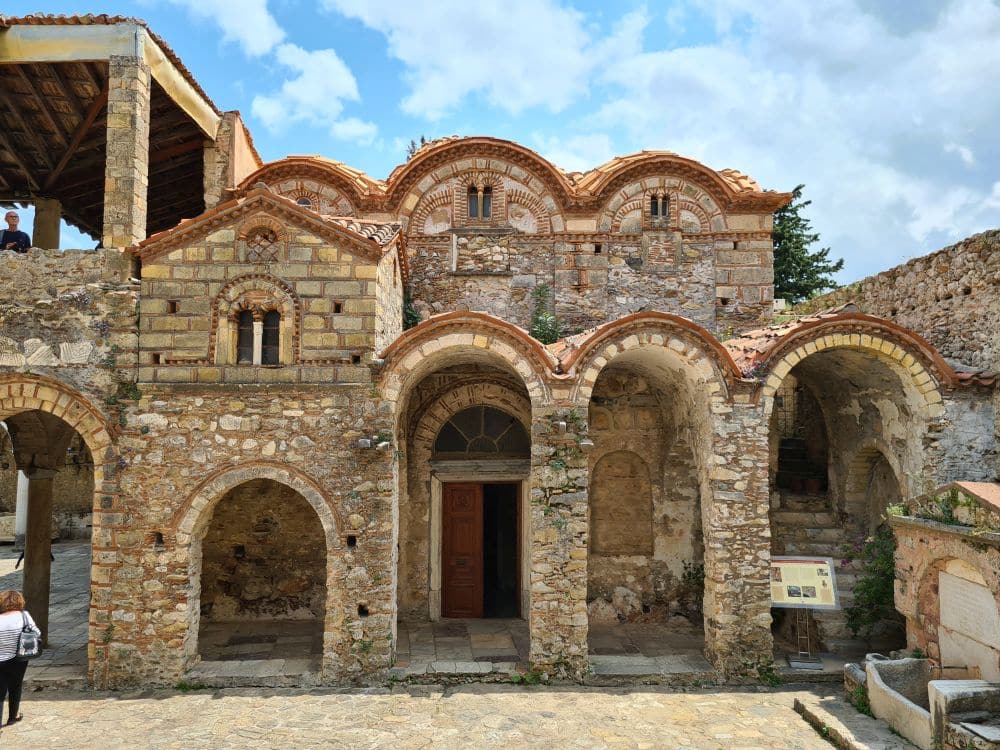 Tips for visiting Mystras
Be prepared for quite a bit of uphill and downhill walking, either on slopes or stairs. Wear sturdy walking shoes. There are no services that I saw, so bring water and food along, as well as a sunhat and sun lotion. Especially in the summer, it can get painfully hot, so get there early in the day so you can leave before it really heats up.
The site is not at all wheelchair accessible.
There are two entrances to Mystras: one entrance to the lower city and one to the upper city. You can park and pay your entry fee at either one, or even drive between the two to save yourself some climbing. It is open every day, but closes earlier in the winter months.
If you don't want to drive, there are plenty of tour options. You could take a private tour, most of which include other stops like Sparta, or a group tour that usually include several other stops at places like Korinth, Epidaurus and/or Nafplio.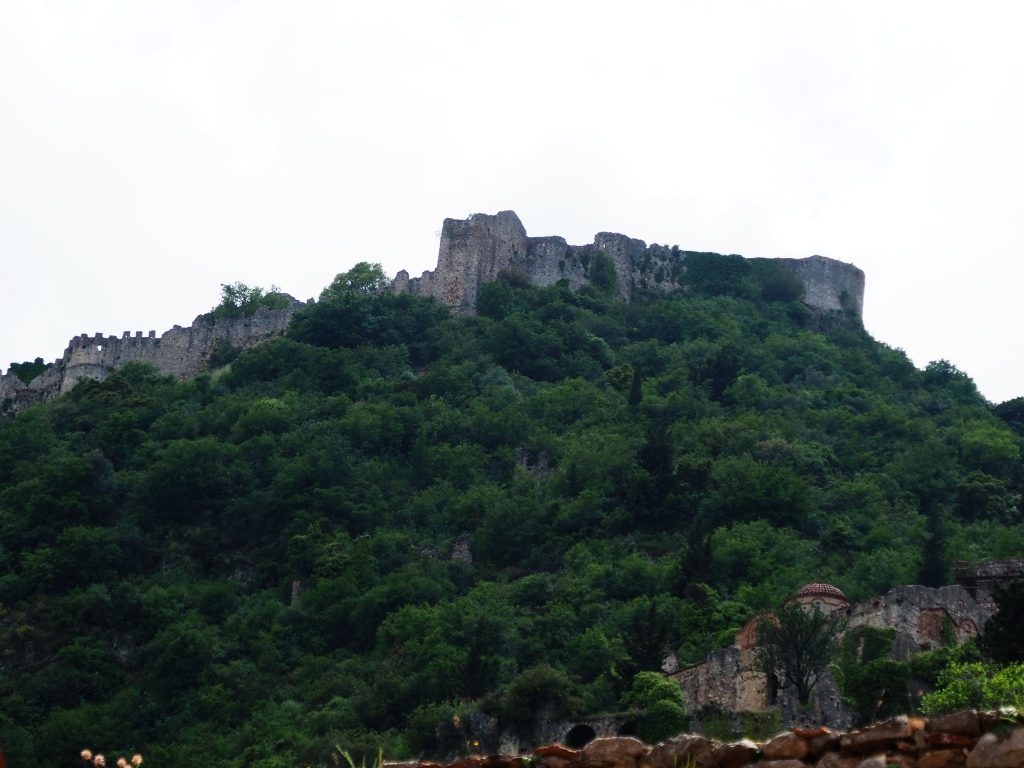 As far as where to stay, I was sponsored by Euphoria Retreat. It's right under the Mystras site and is absolutely fabulous. There are plenty of other options, of course, both nearby in Mystras town and further away in Sparta.
Where is the Archaeological Site of Mystras?
Mystras is in the Pelopponese, near the city of Sparta.
By car, Mystras Archaeological Site is about 2.5 hours from Athens or under 2 hours from Nafplio. From Sparta it's only 5 kilometers or 3 miles. There is a bus from Sparta as well, though it'll be much slower. In mainland Greece it's almost always easier to get around by car.
Use this link to compare rental car prices.
For more information about Mystras, its opening hours and admission fees, see the Visit Greece website.
Text and photos provided by Rachel Heller of Rachel's Ruminations, a travel blog focusing on historical and cultural sights/sites for independent travelers. Rachel is also the owner of this website.
Have you been to Mystras? If so, do you have any additional information or advice about this UNESCO World Heritage site? Please add your comments below!