Jewish Quarter and St Procopius' Basilica in Třebíč
By Rachel Heller
What is the Jewish Quarter and St Procopius' Basilica in Třebíč?
This UNESCO site, despite its name, is actually three sites:
The Jewish Quarter in Třebíč is an area of small houses clustered together along cobbled streets beside the river. For over a hundred years it was the only place in town where Jews were allowed to live.
St. Procopius Basilica stands on a hill above the town of Třebíč. Originally a Benedictine monastery and dating to the 13th century, it is an early example of Western European influence on Central European architecture, according to the UNESCO website.
The old Jewish cemetery, also up a hill above the town, dates to the 17th century, and includes some Baroque-style gravestones.
Disclosure: This article contains affiliate links. Making a purchase through an affiliate link will mean a small commission for this website. This will not affect your price.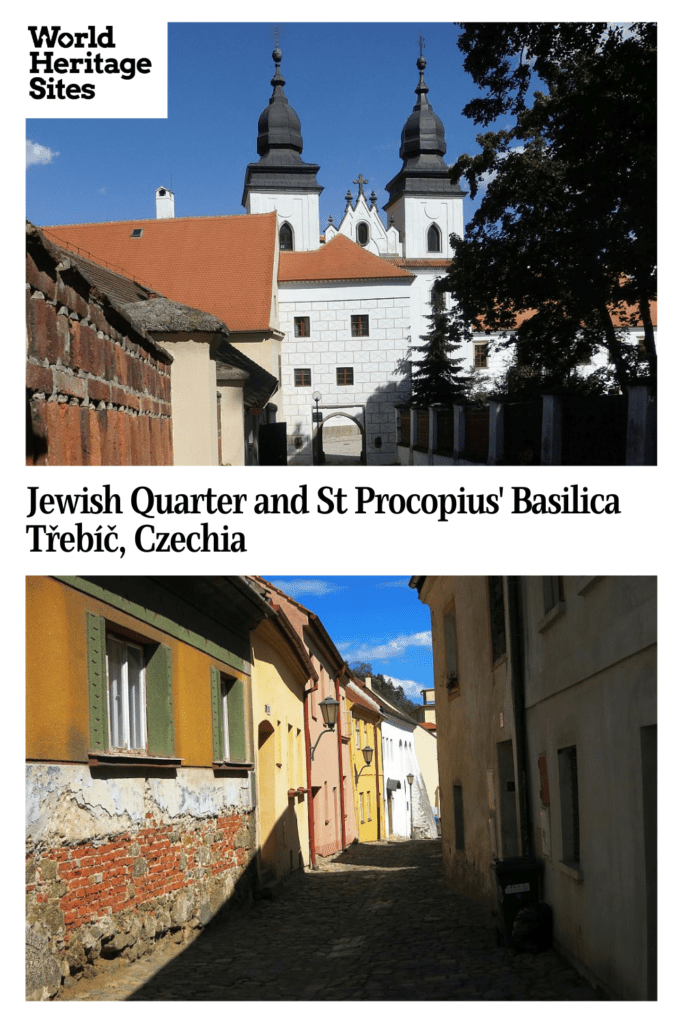 Why are these three sites a UNESCO World Heritage site?
Despite the period when Jews were limited to one neighborhood in Třebíč, for most of its history from the Middle Ages until World War II, Třebíč was an example of peaceful co-existence between Jews and Christians, according to UNESCO. Additionally, the Jewish Quarter is "an exceptional testimony to the cultural traditions related to the Jewish diaspora in central Europe."
What can you expect on a visit to
Třebíč

?

In the Jewish Quarter of Třebíč you'll see charming narrow cobblestone roads with small houses crowded along them. Two original synagogues still stand, one of which can be visited. One house has been turned into a museum to illustrate pre-war life in the Jewish Quarter.

The Basilica is walking distance uphill from the Jewish Quarter and can also be visited inside. The old Jewish cemetery, like the Basilica, is on a hill above the town: a peaceful wooded place.

In addition, the center of town on the other side of the river that divides the town is quite beautiful, with stately painted or sgraffito-covered buildings.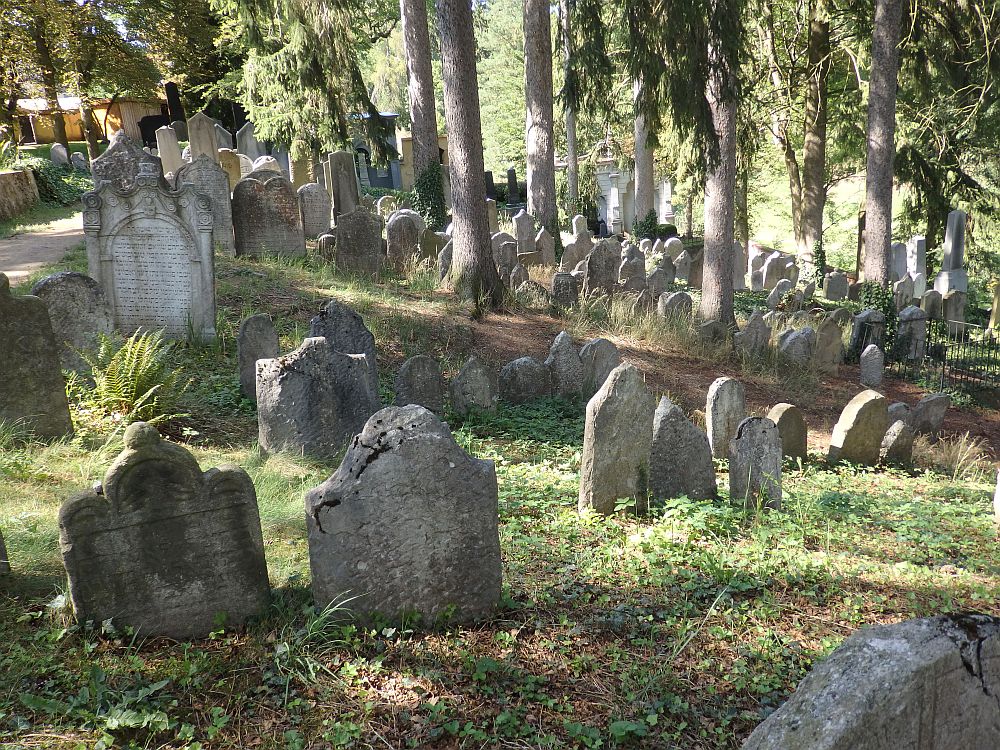 Is
Třebíč

worth visiting?

If you're interested in the history of the Jewish diaspora, then it's definitely worth a visit, since it lends insight into daily Jewish life in a typical Central European town. Otherwise, it's worth a stop if you are on your way between Prague and Brno, at least for a short visit, but perhaps not a special trip. Don't visit if you're looking for excitement; it's a quietly interesting place to take a stroll and soak up the historical atmosphere.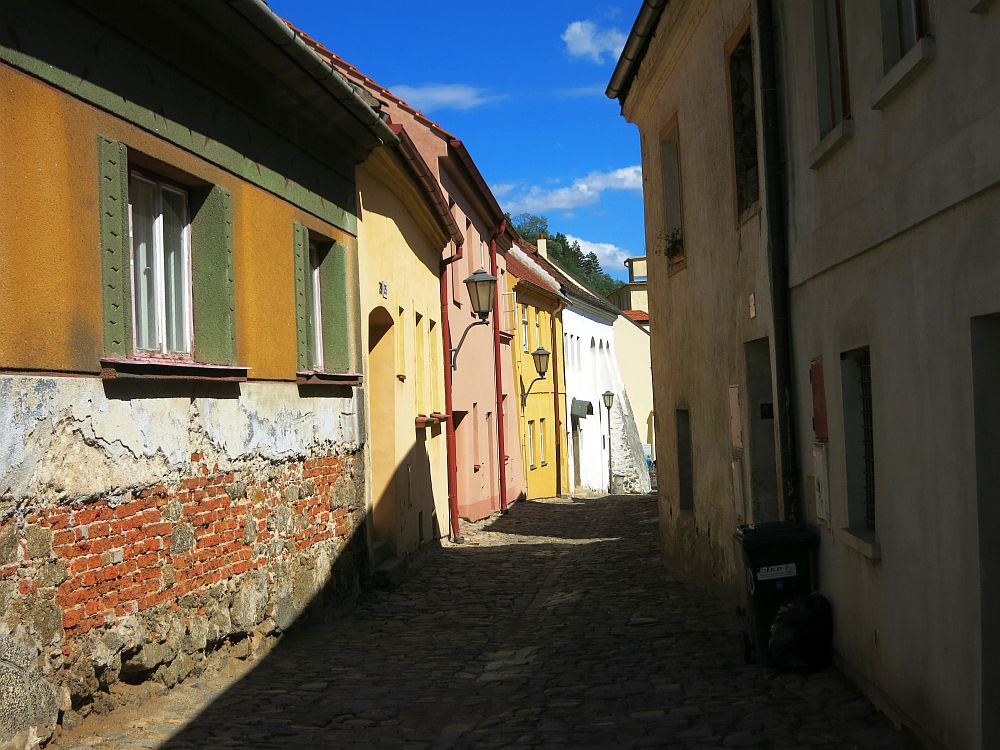 Tips for visiting
Třebíč
Walk the whole length of the Jewish Quarter to the end where you'll see the ruins of the leather works that employed much of the local Jewish community.
If anyone has left a door open in the Jewish Quarter, peek in to see the vaulted stone ground-floor spaces that were originally used for businesses. Residents access their apartments today through these halls.
Make sure to see the inside of the Rear Synagogue.
Book your accommodation in Třebíč here.
Don't forget to cross the river to the main square in the center of town, Karlovo Square, which dates to the 14th century and has lots of historical buildings with ornate decorations.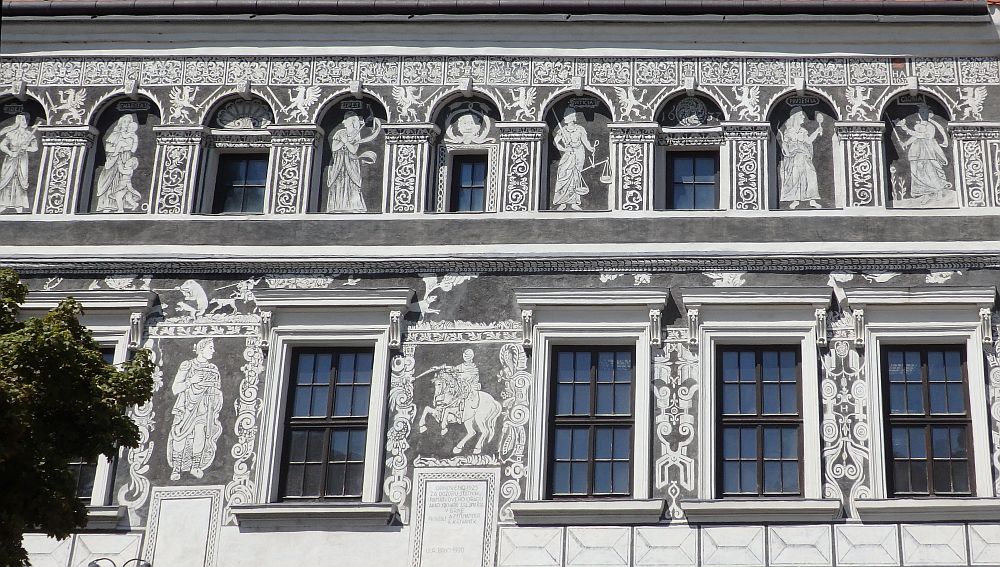 If you're traveling by car, you could combine a visit to Třebíč with a stop at Telč, another UNESCO site not too far away.
Where is
Třebíč

?

Třebíč is between Brno and Prague. It's a bit more than an hour from Brno by car and about two hours from Prague. By bus from Prague, go first to Jihlava, then change there to Třebíč. From Brno you can take a bus straight there from UAN Zvonařka station.

Walking the streets and visiting the cemetery are free, but fees are charged for the synagogue, the museum and the Basilica. For more information about Třebíč, opening hours and admission fees, see its official tourism website.

Text and photos provided by Rachel Heller of Rachel's Ruminations, a travel blog focusing on historical and cultural sights/sites for independent travelers. Rachel is also the owner of this website.

Have you been to Třebíč? If so, do you have any additional information or advice about this UNESCO World Heritage site? Please add your comments below!