Town Hall and Roland on the Marketplace of Bremen
By Rachel Heller
What is the Town Hall and Roland on the Marketplace?
The gothic-style Town Hall (Rathaus) in Bremen dates to the early 15th century, when Bremen joined the Hanseatic League, an association of market towns and merchant guilds across western and central Europe. The hall was renovated in the 17th century in Weser Renaissance style, which added a large bay and high gable in the middle front.
Disclosure: This article contains affiliate links. Making a purchase through an affiliate link will mean a small commission for this website. This will not affect your price.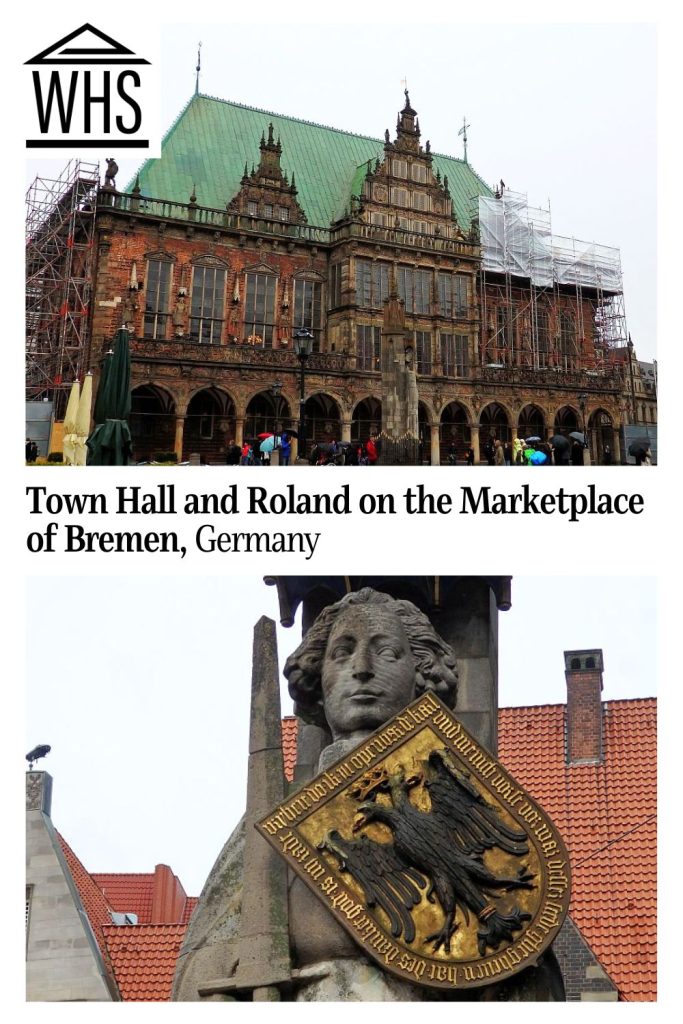 The Town Hall is two storeys tall and holds a large hall on both floors. The basement is similarly large and was once a wine cellar but now holds a restaurant. Some of the statues on the exterior are original, and other decorations were added with the 17th-century remodeling.
The Roland statue is one of many examples across Germany. It shows a mythological figure, Roland, who represents market rights and freedoms. This particular one dates to 1404 and is the largest in Germany at over five meters tall.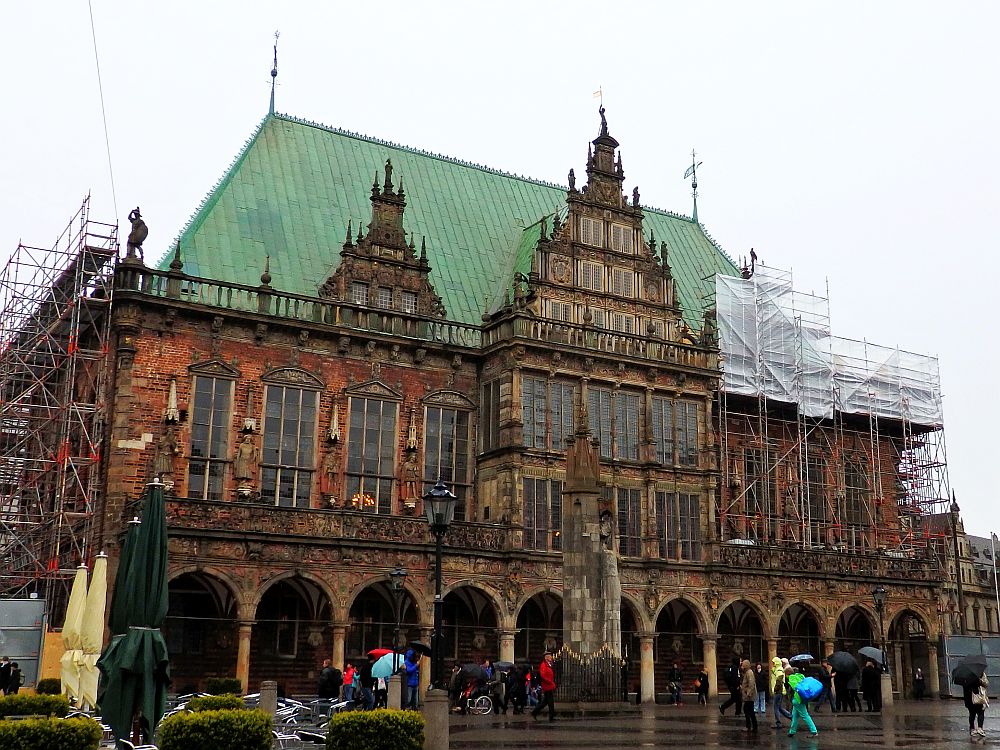 Why are Bremen Town Hall and the Roland statue a UNESCO World Heritage site?
Both the Town Hall and Roland "bear an exceptional testimony to the civic autonomy and sovereignty, as these developed in the Holy Roman Empire," according to the UNESCO listing. The Town Hall itself contains imagery symbolizing this idea of civic autonomy and market freedoms that the Hanseatic League membership offered. It is also an excellent example of both the medieval Saalgeschossbau-type of hall construction and Weser Renaissance style.
What can you expect on a visit to Bremen?
Bremen is a pleasant place to spend a weekend and has more to see besides the Town Hall and the Roland statue. Do take a close look at the imagery on the Town Hall and take a look inside if it's open. Seeing them both won't take very long, but fortunately there are other things to see in Bremen as well.
Is Bremen worth visiting?
If medieval and Weser Renaissance architecture interest you, it's worth visiting, but I doubt it's worth a special trip, since so much of the city was destroyed in the war. If you happen to be nearby – say, you've arrived in Bremerhaven by ship or you're driving between Hamburg and the Netherlands – then by all means stop for a night to see the highlights of Bremen.
Book your accommodation by clicking on the map below:
What sorts of travelers would like Bremen?
Architecture mavens primarily, or just anyone looking for a pleasant place for a short city trip.
Tips for visiting Bremen
Next to the Town Hall you'll find the popular statue of the Town Musicians of Bremen, based on the Grimm fairy tale.
Also explore St. Petri Dom, the medieval church next door. The guildhall is beautiful, and the Böttcherstraße is worth a stroll. Check out the charming medieval Schnoor district too.
Probably the best time to visit Bremen is in late November to early December, when their excellent Christmas market takes place on the marketplace.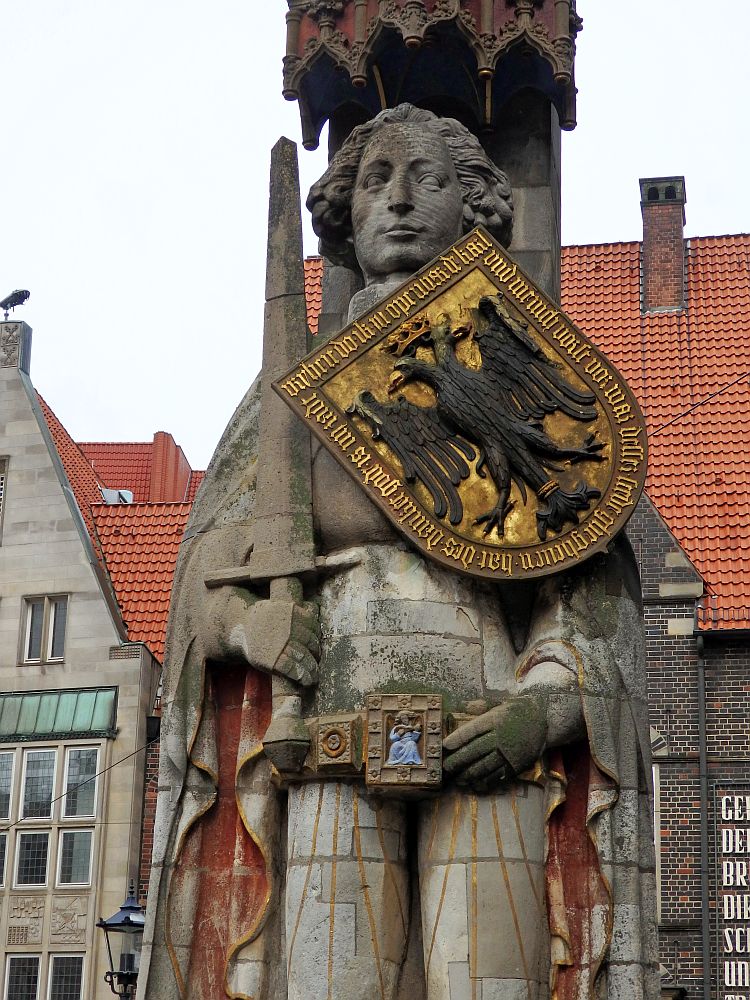 Where is Bremen?
Bremen is in northwestern Germany. By train or car it's about an hour from Hamburg and about three and a half hours from Berlin. The roads are excellent and so is the train system. I'd recommend taking the train.
For more information about Town Hall and Roland on the Marketplace of Bremen, see their official website.
Text and photos provided by Rachel Heller of Rachel's Ruminations, a travel blog focusing on historical and cultural sights/sites for independent travelers. Rachel is also the owner of this website.
Have you been to Bremen? If so, do you have any additional information or advice about this UNESCO World Heritage site? Please add your comments below!