By Melinda
What is León Cathedral?
León Cathedral is in the center of the city of León, Nicaragua. It is one of America's oldest Catholic cathedrals and Central America's largest. Built by a Guatemalan architect starting in the 18th century, the cathedral is a respected building for merging Baroque and Neoclassical architecture. Its basement holds seven tunnels and a crypt with 27 tombs, including clergy, Nicaraguan poet Rubén Darío, and others.
Disclosure: This article contains affiliate links. Making a purchase through an affiliate link will mean a small commission for this website. This will not affect your price.
Why is León Cathedral a UNESCO World Heritage site?
León Cathedral holds mostly architectural value. According to UNESCO, it "materially encapsulates the social, religious and artistic syncretism of the new Latin American society appearing during the 18th century."
What can you expect on a visit to León Cathedral?
The cathedral is prominently placed in León's main square and one of the most popular sites in the region. The interior artwork is varied and interesting, including the lion on Darío's grave and the stations of the cross by Nicaraguan artist Antonio Sarria.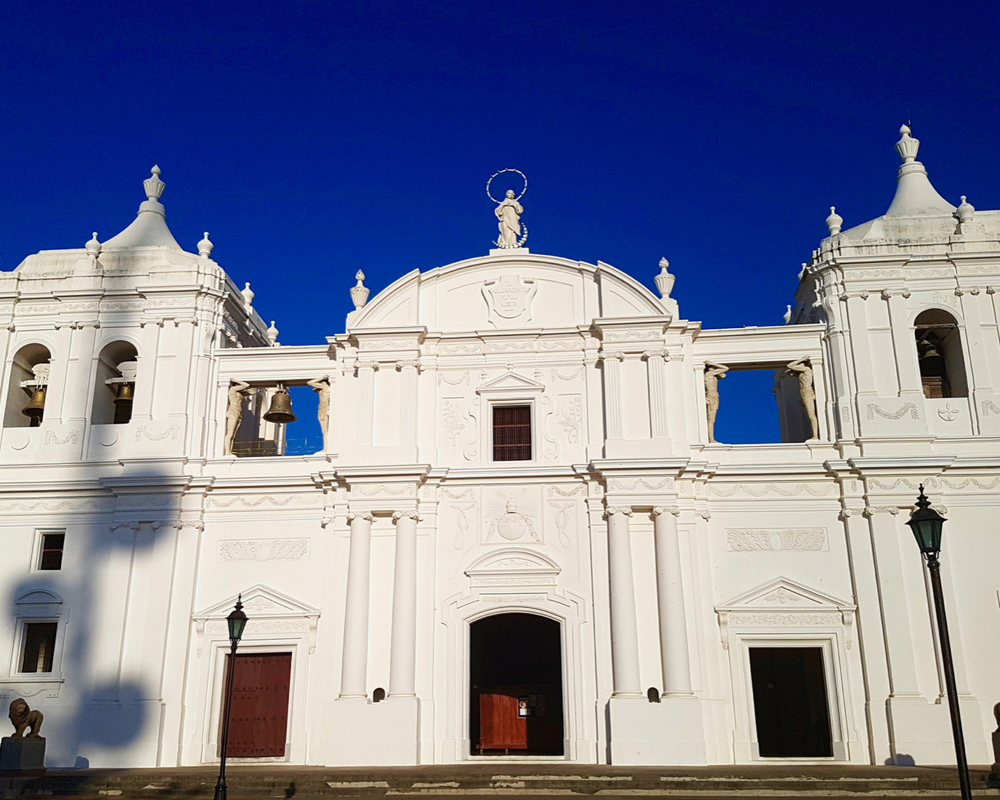 In addition to the main building, the roof is open to visitors and a must to include in a visit. The rooftop is an immaculate white, which makes it very popular for photos. To keep the roof white, all guests must remove shoes before entering the rooftop.
Is León Cathedral worth visiting?
Walking along the rooftop of a cathedral barefoot is a unique experience! Plus, Leon is worth a visit if you're in Nicaragua. Stop at the cathedral, the nearby UNESCO site of Leon Viejo, and the volcanoes, whether you want to go volcano boarding or hiking.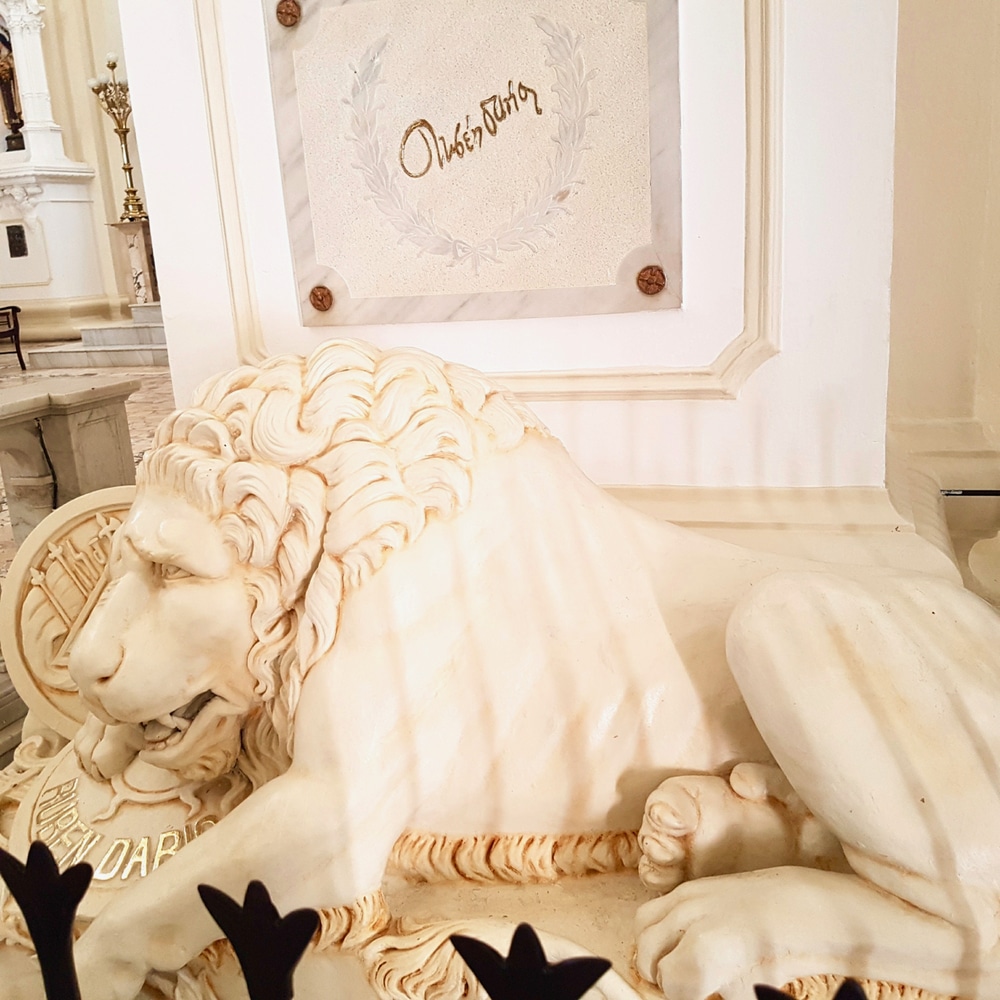 What sorts of travelers would like León Cathedral?
The cathedral is primarily interesting for its architecture, particularly the combination of European and regional influences. But there are many other reasons to visit Nicaragua, so if you are in the vicinity, it's worth the small time investment to see it.
Tips for visiting León Cathedral
The cathedral is open daily and entry is free, but there may be small fees ($2-$3) to visit the roof or cellar, if open. When visiting religious sites, dress conservatively and cover your shoulders and legs above the knee.
Take a tour of Leon, including the cathedral.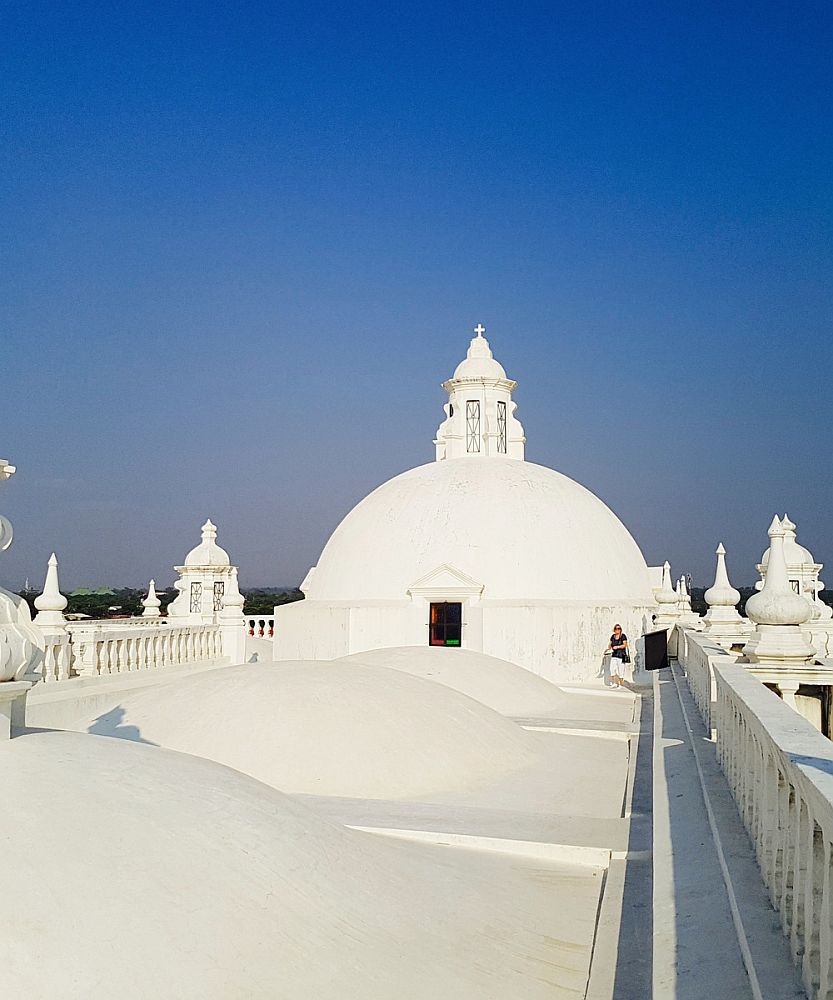 Where is it?
León Cathedral is at Calle Rubén Darìo, Av. Central Nte., León, Nicaragua. By car, it takes two hours from Managua International Airport, the main point of entry into the country.
Alternatively, buses, minivans and luxury vans run to León city center from major Nicaraguan cities and Costa Rica. Prices range from USD $2 for the public bus to $18 for minivans and up for private car service. Once you arrive in León, the cathedral is centrally located and easy to find.
Use the map below to book your accommodations in León:
You can read more about León Cathedral on Wikipedia.
Text and photos provided by Melinda of Mel on the Go. Melinda is in her third year living on a 46 foot sailboat traveling the world. She writes about adventures on her boat and wherever she stops to explore.
Have you been to León Cathedral? If so, do you have any additional information or advice about this UNESCO World Heritage site? Please add your comments below!