Mill Network at Kinderdijk-Elshout
By Rachel Heller
What is Kinderdijk?
Kinderdijk is famous for its picturesque rows of windmills dating to the mid-1700s, but the area goes much further back. It is essentially a man-made environment, since the windmills, dikes, sluices and other structures were all built to aid in creating polders. Polders are land that is reclaimed from the sea by pumping the water out.
Disclosure: This article contains affiliate links. Making a purchase through an affiliate will mean a small commission for this website. This will not affect your price.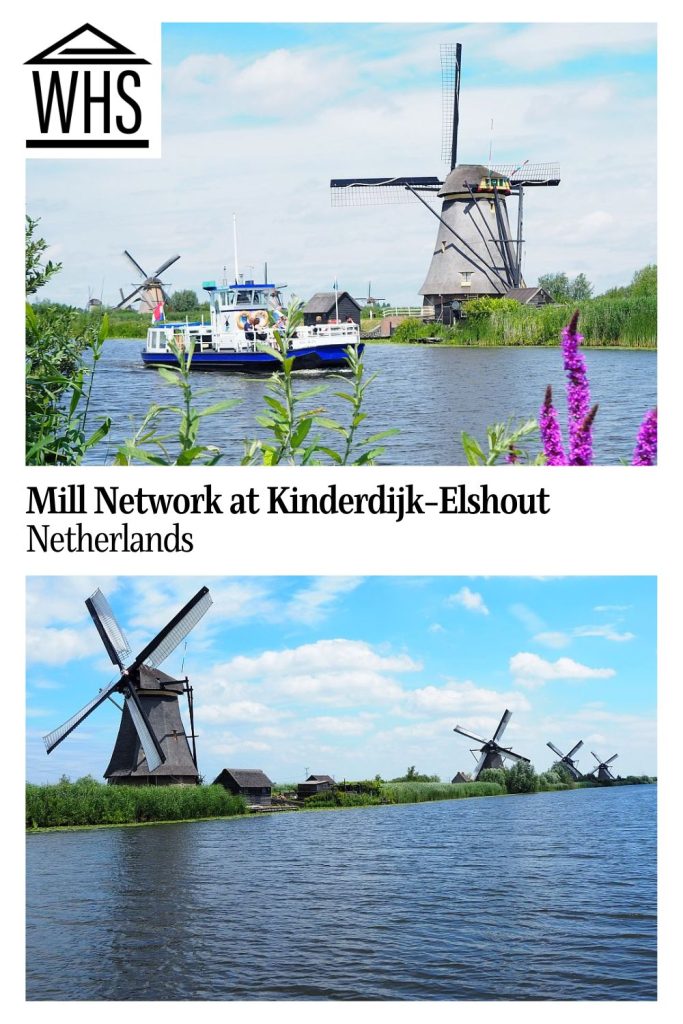 Today there are 19 windmills in two rows along both sides of a canal, all beautifully preserved, with people living in some of them. The windmills are still on call to help if the modern pumps that replaced them fail. There's also a single hollow post mill that dates to 1630.
A couple of the mills are open to the public, and small boats ply the canal carrying visitors from one end of the rows to the other.
Why is Kinderdijk a UNESCO World Heritage site?
Kinderdijk is a great example of how the Dutch created the landscape of the Netherlands. UNESCO's description says the "outstanding contribution made by the people of the Netherlands to the technology of handling water is admirably demonstrated by the installations in the Kinderdijk-Elshout area."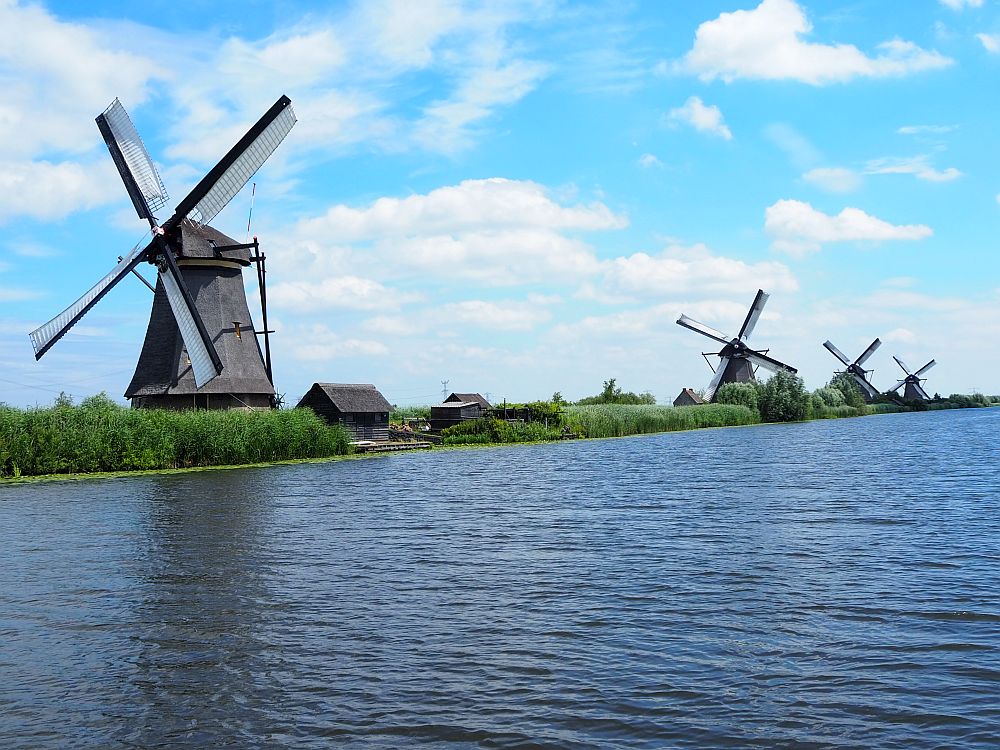 What can you expect on a visit to Kinderdijk?
Kinderdijk is very pretty and very photogenic. It's a fascinating idea that the Dutch shaped their environment to suit their needs for so many centuries, and this is a great place to see how that worked and still works. The windmills are set quite far apart, so it's a pleasure to walk along the canal or else to take a boat and see the mills from the water.
Having said that, it's also good to be aware that Kinderdijk is very popular as a tourist destination and many tours stop here. The mills that are open to the public can be extremely crowded if tour buses have arrived.
Is Kinderdijk worth visiting?
It is definitely worth visiting if you want some great shots of some very picturesque windmills and if you are interested in how the Dutch have shaped the landscape. I would say it's not worth a special trip from far away if it's not a particular interest of yours.
I would also add that another assemblage of windmills at Zaanse Schans might be of interest as well as or instead of Kinderdijk. Zaanse Schans is an open-air museum, but it has a bigger range of different types of windmills. You can read a comparison of the two here.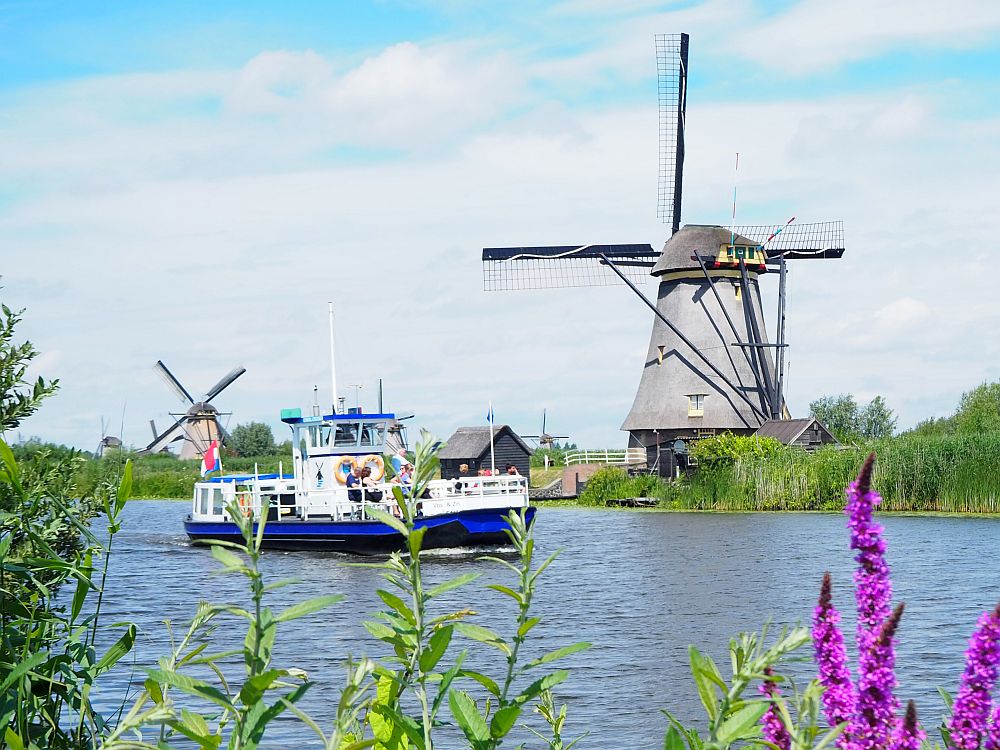 Tips for visiting Kinderdijk
Get there early, when they first open, to avoid the worst of the crowds, or visit well off-season.
Walking down the path along the canal away from the entrance will take you away from the worst of the crowds.
If you can be there in the "golden hour" on a clear day, you can get stunning pictures.
Take a boat along the canal; it'll give you some great views of the windmills.
If you're traveling to Kinderdijk from Rotterdam, you might want to combine your trip with a quick visit to the Van Nelle factory, also a UNESCO site.
Use the map below to book accommodations near Kinderdijk:
Where is it?
By car: Kinderdijk is about an hour and a half's drive from Amsterdam, if there's no traffic, and about a half hour from Rotterdam. Park in Alblasserdam (paid parking) and take the shuttle to Kinderdijk.
By public transportation: From Rotterdam Central Station, take Metro D to Zuidplein. Then from there, take bus 190 to Kinderdijk. In the summer you can take the Waterbus from the Erasmusbrug in Rotterdam. The rest of the year, take the Waterbus to Ridderkerk and take the Driehoeksveer ferry from there.
Plenty of tours go to Kinderdijk as well, if you prefer.
For more information about Kinderdijk, its opening hours and admission fees, see its official website.
Post and photos contributed by Rachel Heller of Rachel's Ruminations, a travel blog primarily focused on historical and cultural sights/sites for independent travelers. Rachel also owns this website.
Have you been to Kinderdijk? If so, do you have any additional information or advice about this UNESCO World Heritage site? Please add your comments below!