By Rachel Heller
What is Tugendhat Villa?
Tugendhat Villa is a family home in Brno, Czechia that was completed in 1930. Designed in a Functionalist, Modern style by Ludwig Mies van der Rohe, famous from the Bauhaus school in Germany, it was commissioned by Grete and Fritz Tugendhat. They gave Mies van der Rohe carte blanche as far as the cost went. That allowed him to fully realize his Modernist vision in both the house's design and the furniture within it.
The Tugendhats only lived in the house until 1938, when, as Jews, they had to flee the country as war approached.
Disclosure: This article contains affiliate links. Making a purchase through an affiliate link will mean a small commission for this website. This will not affect your price.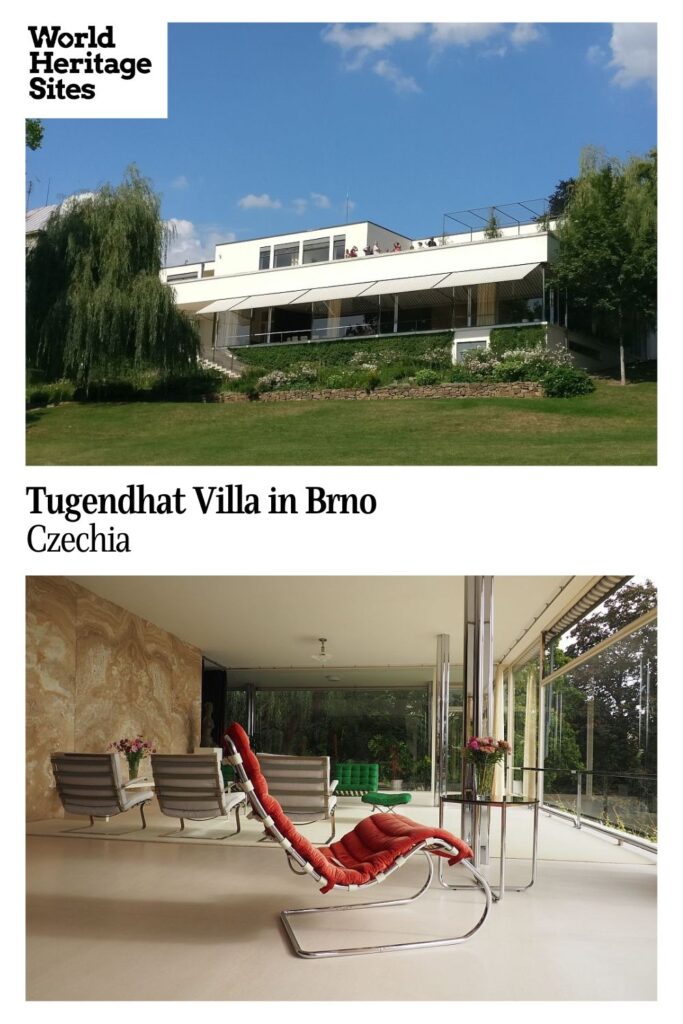 Why is Tugendhat Villa a UNESCO World Heritage site?
Tugendhat Villa is, according to UNESCO, "an outstanding example of the international style in the modern movement in architecture as it developed in Europe in the 1920s. Its particular value lies in the application of innovative spatial and aesthetic concepts that aim to satisfy new lifestyle needs by taking advantage of the opportunities afforded by modern industrial production."
What that means is that modern industrial manufacturing allowed Mies van der Rohe to design the house in such a way that the bulk of the structure's weight is on a number of steel columns. That allows much larger windows than most houses – in this case fully floor to ceiling – because the outer walls are not weight-bearing.
An emphasis on function over form and an admiration of the open, flexible and unadorned spaces of factories led Mies van der Rohe to design the main floor to be large and airy. Each space – living room, library, dining room, etc. – is open and flowing into the next space. Visually the living spaces flow right out into the garden, which slants downwards, allowing views over the city of Brno. There's no decoration on the walls because as far as the designer was concerned, the beauty was in the architecture itself.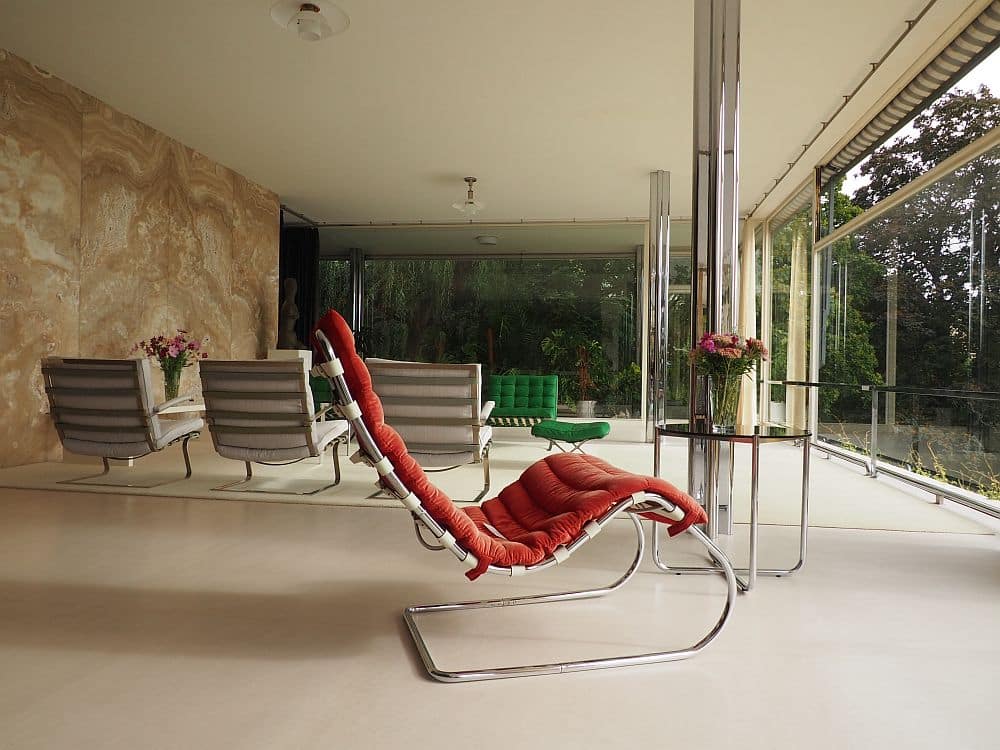 In UNESCO's words, Mies van der Rohe applied these concepts of modernism "triumphantly," revolutionizing architecture worldwide.
What can you expect on a visit to Tugendhat Villa?
From the street in this residential neighborhood, Tugendhat Villa is a single-story boxy white shape: something you'd probably overlook entirely. Since the house sits on a sloping plot of land, only one of its three stories shows from the road. Instead, the house faces away from the street and toward the view of the city of Brno.
As you tour the house – which is only possible on a scheduled tour – you'll become a fan of this purely Modern architecture. The third floor is where you enter the house, so you'll see the bedrooms first. The second floor is the large open-plan living area, and it's beautifully large and airy.
As you walk through the space, the tour guide will point out some of the impressive details of the house, such as the onyx wall with its visible grain separating the living space and the work space. If you happen to visit on a sunny winter's day in the morning, you might be lucky enough to see how the sun shines through the onyx, lighting its grain red.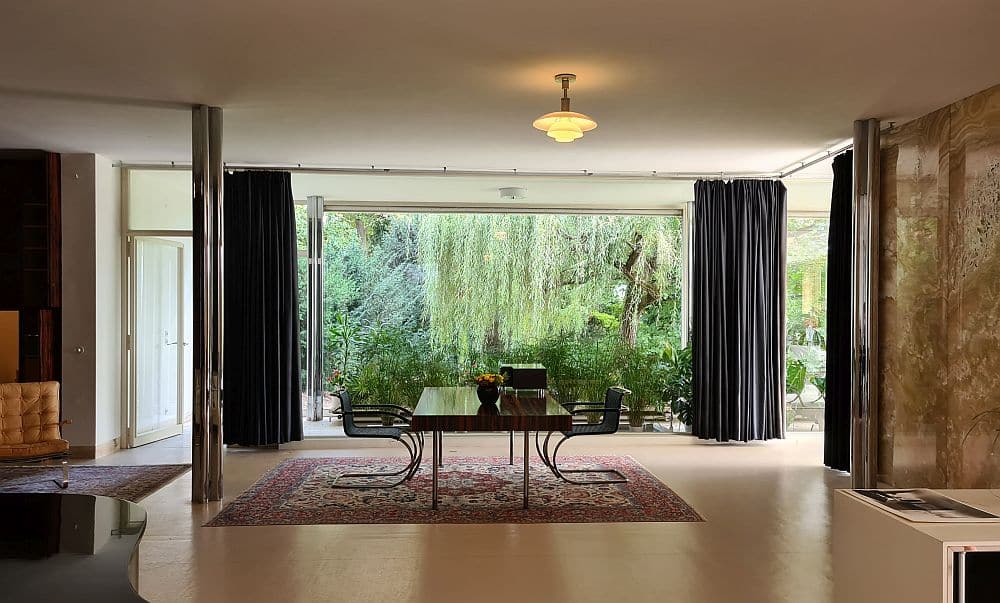 You'll also see the semi-circular wall of ebony marking the dining room space, as well as the matching round table it encircles.
Notice, too, how the floor-to-ceiling windows visually bring the garden inside. They can do more than that: machinery in the basement allows the windows to be rolled down into a slot in the floor. With the windows down, the living room becomes literally part of the outdoors.
On the side wall you'll see floor to ceiling windows as well. In this case, though, there are two layers of windows. Between them is a long narrow room lined with tall plants. This makes it hard, from the living or work space, to see where the inside stops and the outside begins.
The furniture is classic Modern style, designed specifically for this house by Mies van der Rohe himself along with Lilly Reich.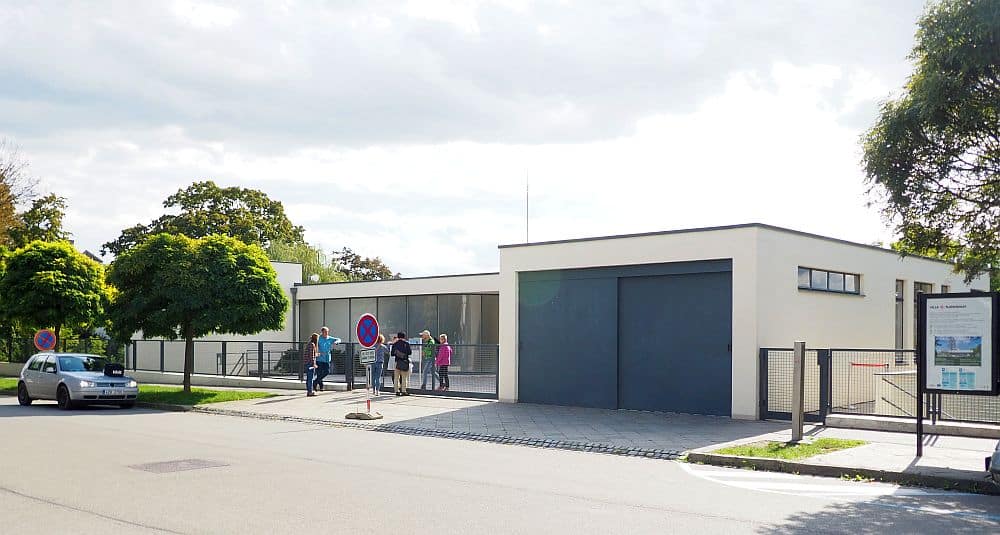 Is Tugendhat Villa worth visiting?
Tugendhat Villa is certainly worth visiting for anyone interested in Modern architecture, the history of architecture, or furniture design. Both this house and the Rietveld Schröder House in Rotterdam, the Netherlands, are a must for anyone studying the architectural movements of the 1920s.
For others, it might not be worth visiting. It certainly isn't a place to take children, since tour rules forbid touching anything or even leaning against a wall. It also does not appear to be wheelchair accessible: while you might manage the third floor, accessing the second floor requires walking a flight of stairs.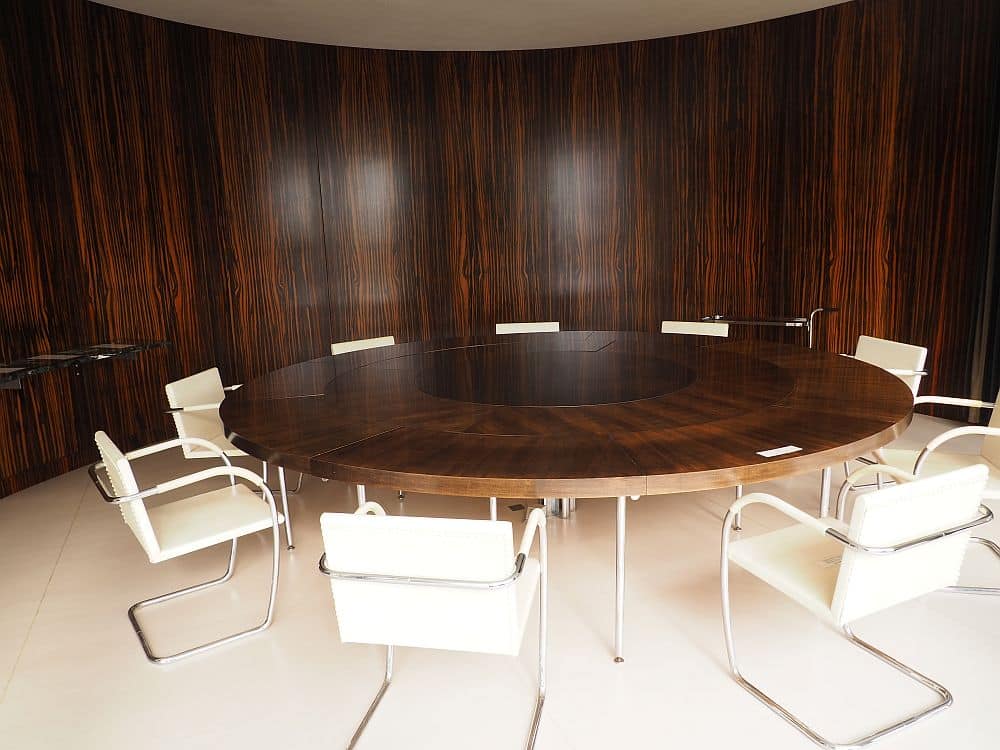 Tips for visiting Tugendhat
Only a limited number of visitors are admitted each day, so tickets book up months in advance. Check the website starting as many months as you can ahead of time; the tickets are released two or three months ahead. Depending on your level of interest, you can buy tickets to a basic tour or a longer tour that includes the technical facilities on the bottom floor.
Don't wear pointy heels or bring any luggage along – you won't be allowed in.
Down at the bottom of the garden you can visit Villa Löw-Beer, which belonged to Greta Tugendhat's family. It dates to the early 20th century and houses a part of the Museum of the Brno Region.
Another villa in Brno you might want to see if this period interests you is Villa Stiassni, designed in 1927
There are plenty more things to see in Brno, so don't just stop at Tugendhat Villa and then move on.
Book your accommodations in Brno.
Especially if you're traveling by car, it's easy to fit lots of UNESCO sites into your itinerary near here. Lednice-Valtice, Olomouc, Třebíč, and Kroměříž are all within an hour's drive.
Compare rental car offers here.
Where is Tugendhat?
Tugendhat is in a residential area outside of Brno, Czechia, which is a 2.5-hour train ride from Prague. To get to to the villa from the train station, take bus 9 to Tomanova stop or bus 67 to Schodova stop. Then walk the rest of the way: about five minutes. Or you can take a taxi, of course.
If you're traveling by car, you should be able to find a parking space nearby on the street.
For more information about Tugendhat Villa, its opening hours and admission fees, see its official website.
Text and photos provided by Rachel Heller of Rachel's Ruminations, a travel blog focusing on historical and cultural sights/sites for independent travelers. Rachel is also the owner of this website.
Have you been to Tugendhat Villa? If so, do you have any additional information or advice about this UNESCO World Heritage site? Please add your comments below!