Lednice-Valtice Cultural Landscape
By Cindy Carlsson
What is the Lednice-Valtice Cultural Landscape?
The Lednice-Valtice World Heritage site covers 280 sq km (100 sq mi) of landscaped grounds and includes two castles (summer country homes) and their supporting buildings, churches, walking and carriage paths, formal gardens, and landscaped grounds with pavilions and other structures. It was created by the dukes of Liechtenstein between the 17th and early 20th century as they rebuilt and landscaped around two castles. The UNESCO site includes the centerpieces of the estate, Lednice and Valtice castles, with many original interior and exterior features and furnishings.
Disclosure: This article contains affiliate links. Making a purchase through an affiliate link will mean a small commission for this website. This will not affect your price.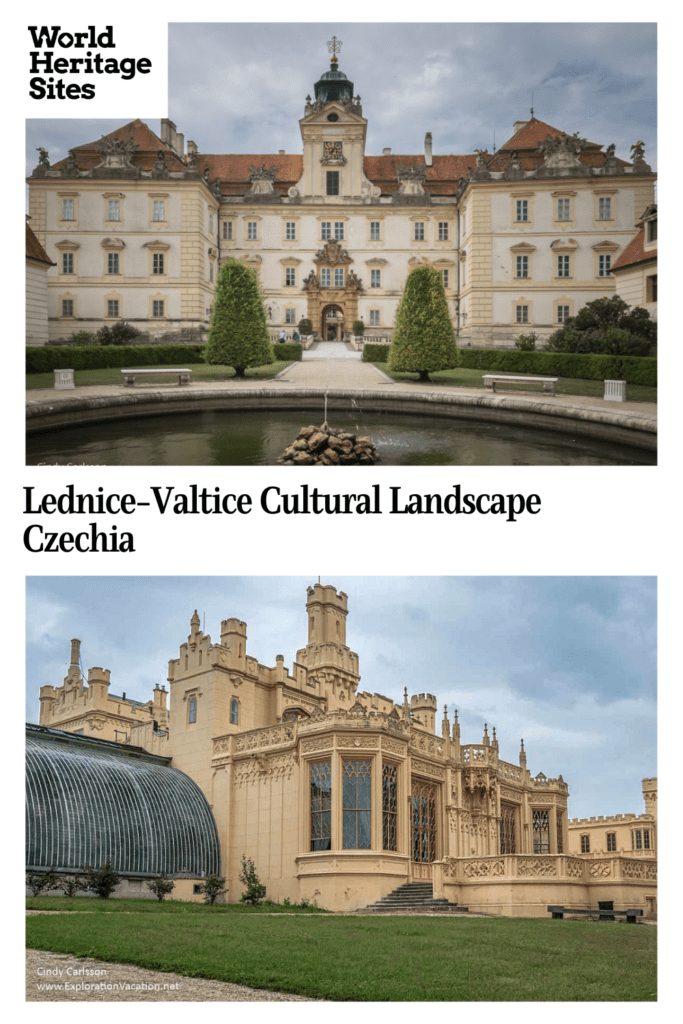 Why is Lednice-Valtice a UNESCO World Heritage site?
Lednice-Valtice is one of the largest examples of a unified artificial landscape in Europe. It's also a particularly fine one, as the landscape design and architecture of the entire property, including the castles, many other structures, gardens, and even "natural" areas, form a harmonious whole.
UNESCO explains that the site is unique "because of how architectural, biological and landscape features have been shaped over time." It is also described as "an exceptional example of a designed cultural landscape, which is made particularly impressive by the number and variety of cultural and natural elements that it contains."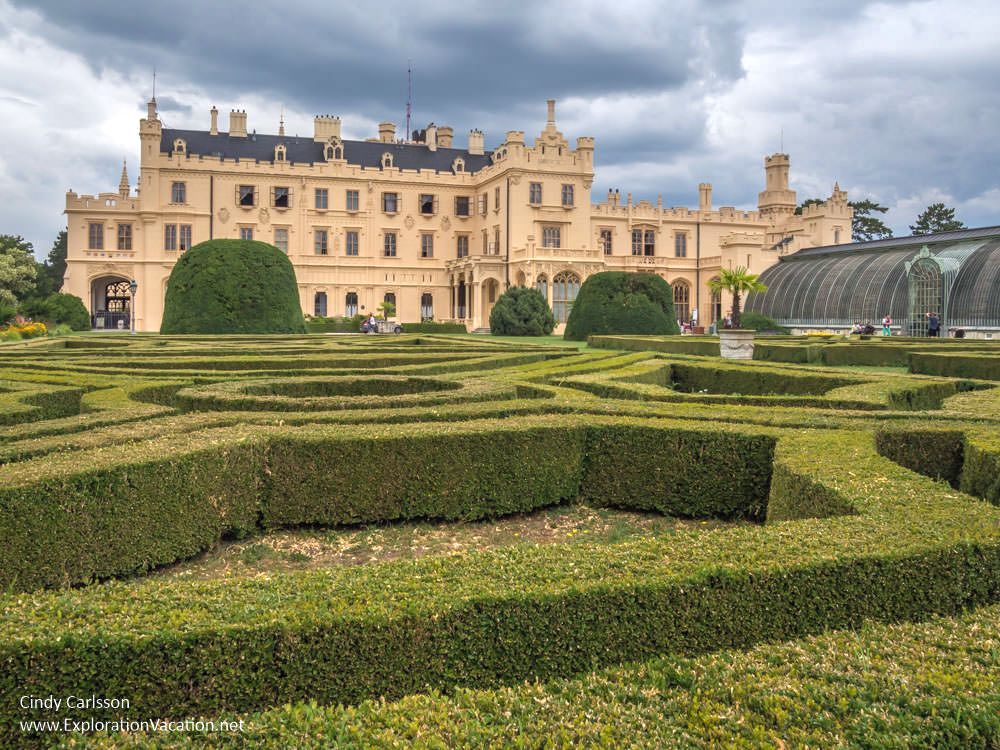 What can you expect on a visit to Lednice-Valtice Cultural Landscape?
Although linked through landscaping, paths, and roads, the UNESCO site operates largely as two separate sites centered on the two castles.
Lednice Castle's elegant Neo-Gothic faux-English castle appearance only dates back to the 19th century – earlier versions included a Baroque summer palace and a Renaissance villa. It seems to be beautifully preserved both inside and out. The grounds immediately around the castle include the 17th-century Baroque garden and riding hall (now a museum and event center) and the 19th-century parish church and palm conservatory. It's all quite lovely and you can wander the grounds for free.
The park-like landscaped grounds continue far beyond this area, extending into the countryside and around neighboring Valtice Castle. This highly sculpted "natural" landscape also includes many historic structures. These range from sculpture and small pavilions to cottages and banquet halls, all of which are connected to the rest of the site by paths and roads (former carriageways) that provide access through man-made meadows, gardens, parks, forests, and vineyards.
The Baroque-style Valtice Castle you see today was under construction for almost a century before it was completed in the 18th century. Like Lednice, the interior has many finely decorated and furnished rooms. It also retains the original Baroque chapel and (heavily-restored) theater. And the estate's 15th-century wine cellar offers wine tasting programs. Like Lednice, visitors are free to wander the grounds and visit a couple of exhibits about the property, but tickets are otherwise required to tour any of the buildings, including some of the pavilions and follies in the surrounding area.
Take a closer look at what you can see and do at Lednice-Valtice here.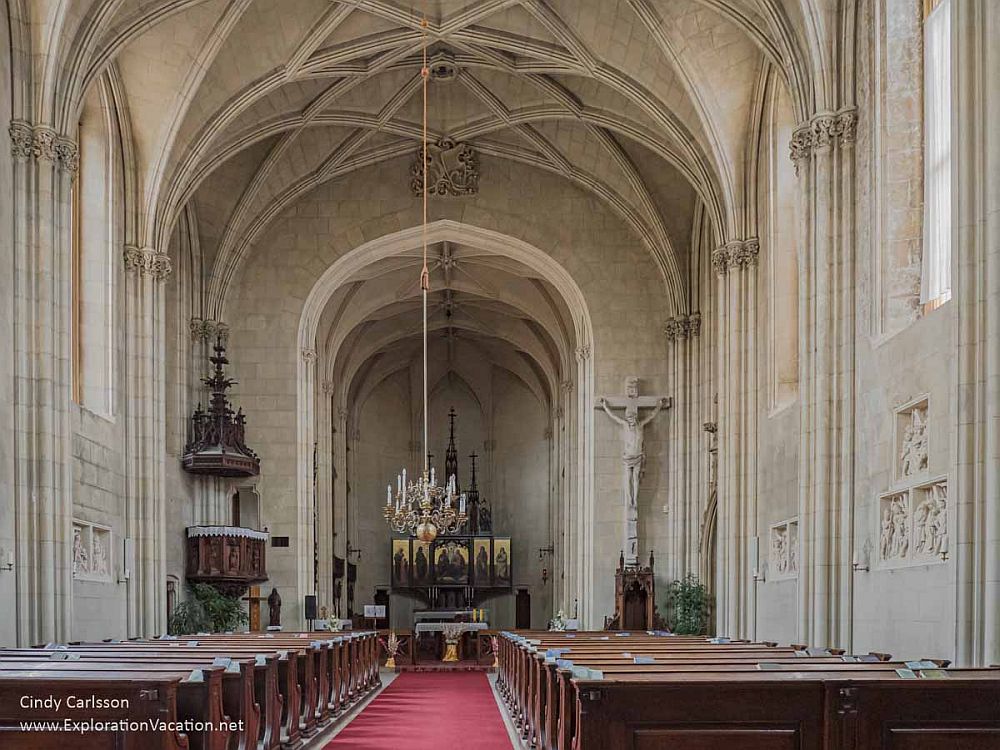 Is Lednice-Valtice worth visiting?
While this isn't a site to travel across the world to see, it's definitely worth adding to your itinerary when you are in the region. That's especially true for fans of gardens and castles.
Although there is much more for adults than families, the mix of historic architecture, cultural activities, wine tastings, and lots of options for biking and other outdoor activities ensures there is something here for almost everyone. And all of that makes Lednice-Valtice a great destination for a weekend getaway or other short vacation. It's a relaxing counterpart to much bigger and busier places like the historic centers of Prague or Vienna.
If your time is limited, spend an hour or two touring one of the castles and wandering through the landscaped grounds. That will be enough to give you a sense of why the Lednice-Valtice Cultural Landscape is a UNESCO World Heritage site.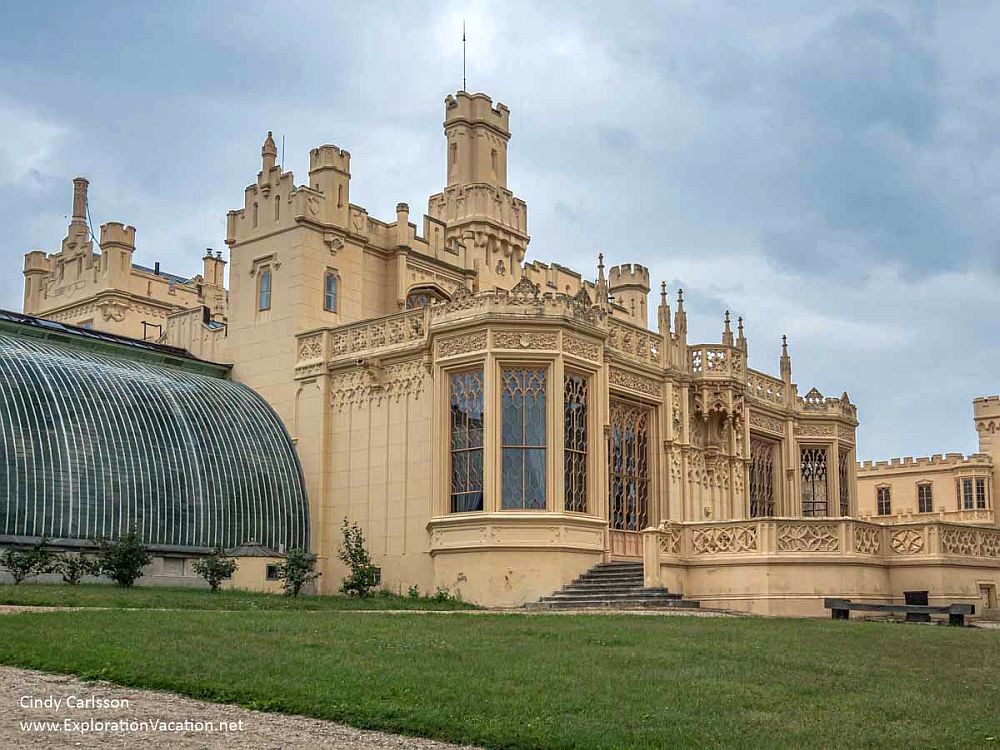 Tips for visiting Lednice-Valtice
This is a warm season destination. Most of the Lednice-Valtice UNESCO site is only open on weekends in the winter, if at all.
Besides the sites right within the UNESCO area, there are other historic buildings and museums related to it right next door in Břeclav.
The wine cellar at Valtice Castle has a tasting menu and sells wine by the glass or bottle.
Short carriage tours of the Lednice-Valtice area are sometimes available.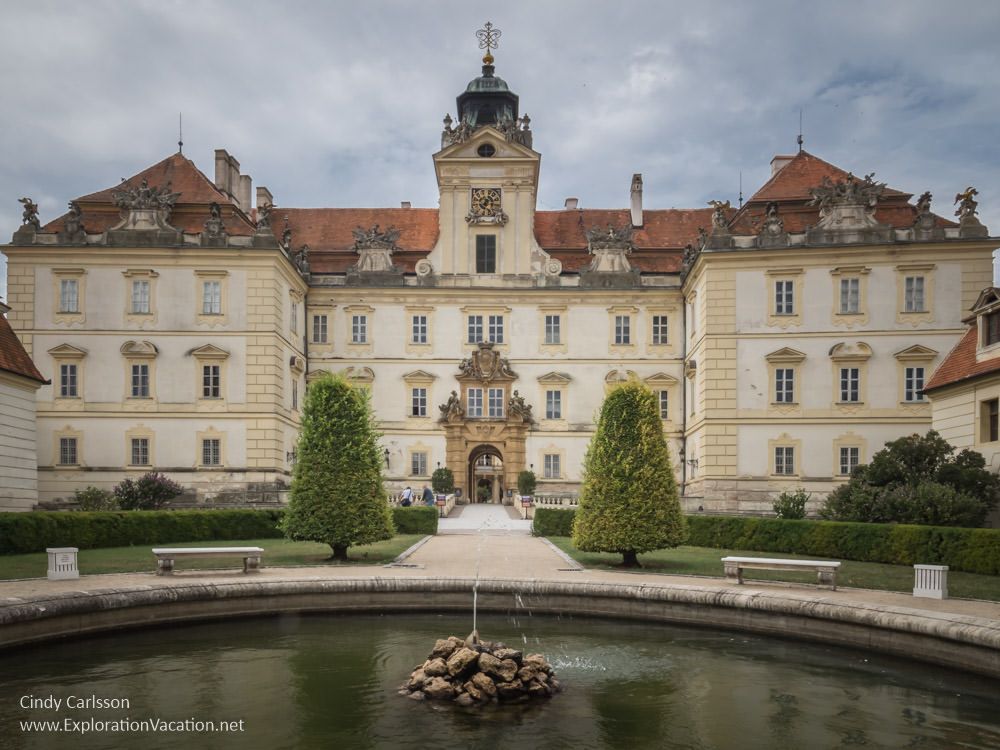 This is a great area for biking, with many bicycle and pedestrian paths through the landscaped areas and vineyards around the two castles.
Want some more strenuous exercise? The adjacent Lower Morava UNESCO Biosphere Reserve preserves the limestone cliffs, steep slopes, and steppes of the Palava Hills.
Architecture fans should make a quick trip to see Mies van der Rohe's Tugendhat Villa in Brno.
Use the map below to find accommodations near Lednice-Valtice Cultural Landscape:
Where is the Lednice-Valtice Cultural Landscape?
Lednice-Valtice is located in southwest Czechia. It's very near the borders with Austria and Slovakia. The site's two castles are about four miles apart.
Driving distances:
Vienna, Austria, is about 100 km (60 miles) from the UNESCO site and a little over an hour's drive.
Brno is about 60 km (40 miles) away and less than an hour's drive.
Prague is about 260 km (160 miles) away and at least a 2½-hour drive.
Paid parking at Valtice castle is available in the main square near the castle, on city streets, and in other nearby parking areas. At Lednice, paid parking is available in parking lots and along streets just outside the castle grounds.
There are train stations in Lednice, Valtice, and Břeclav. However, very few trains serve Lednice or Valtice. Taking a bus or taxi from the Břeclav station is usually faster than taking the train the entire way. Travel time by train from Brno to Břeclav is about 30 minutes. From Prague it's at least 3½ hours via Brno. You can travel from Vienna to Břeclav in about an hour.
Taking the bus to Břeclav from either Brno or Vienna should take only slightly longer than the train. The bus from Prague can add an hour or more to your travel time.
From Břeclav, local bus service can take you to Lednice and from there on to Valtice. Or rent a bike. This whole area is well set-up for bike touring.
For more information about the Lednice-Valtice Cultural Landscape, opening hours and admission fees for both parts of the site, see the Lednice and Valtice official websites.
Text and photos provided by Cindy Carlsson, the always-curious traveler and photographer behind the website ExplorationVacation. Cindy loves diving deep into the places she visits and sharing her discoveries with other curious travelers. Visit the website, Facebook, or Instagram for more travel inspiration.
Have you been to Lednice-Valtice Cultural Landscape? If so, do you have any additional information or advice about this UNESCO World Heritage site? Please add your comments below!