Central Zone of the Town of Angra do Heroísmo
By Cindy Carlsson
What is the Central Zone of the Town of Angra do Heroísmo?
Angra do Heroismo is a historic port city on the Portuguese island of Terceira in the Azores. Its mid-Atlantic location made it a crucial stop-over for merchant ships sailing between the Americas, Europe, and Africa from the 15th to 19th centuries.
The city's central zone includes two fortresses, harbors, churches and other religious buildings, gardens, and a variety of other public and private buildings. Although severely damaged in a 1980 earthquake, the town center was almost completely rebuilt to replicate its historic form.
Disclosure: This article contains affiliate links. Making a purchase through an affiliate link will mean a small commission for this website. This will not affect your price.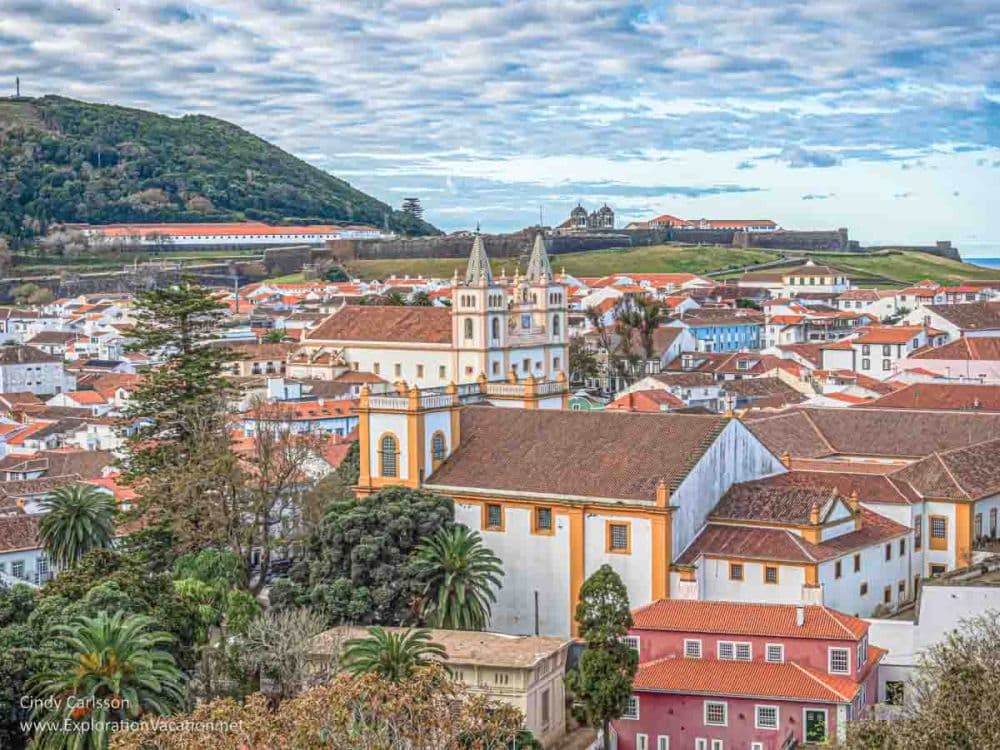 Why is the Central Zone of Angra do Heroísmo a UNESCO World Heritage site?
Angra do Heroísmo became a UNESCO World Heritage site in 1983 because of its role in maritime exploration and as an outstanding example of a built environment developed to support that activity.
UNESCO describes the site as "an outstanding example of a creation linked to the maritime world, within the framework of the great explorations." They add that "Angra do Heroísmo is directly and tangibly associated with an event of a universal historic significance: the maritime exploration which permitted exchanges between the great civilizations of the Earth."
However, the "exchanges between the great civilizations" that UNESCO describes were in reality less "exchanges" and more exploitations, with Western nations enslaving people and seizing land and raw materials throughout Americas and Africa.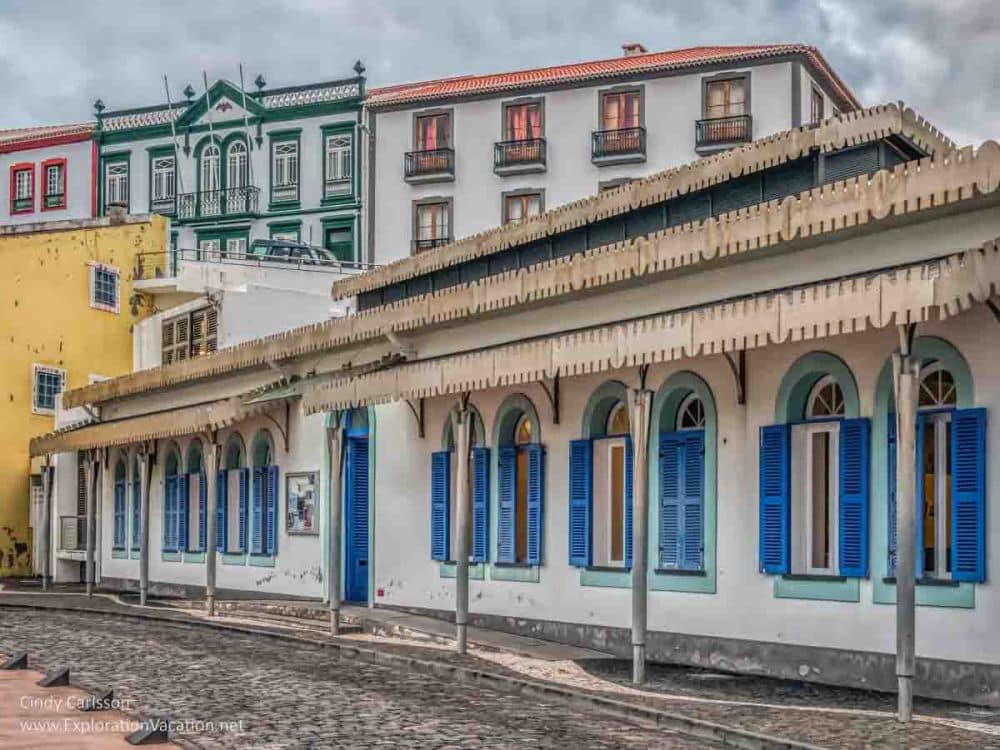 What can you expect on a visit to Angra do Heroísmo?
Most of Angra has a consistently historic streetscape, with either original historic buildings or restored ones. It's a lovely place just to wander past colorful historic façades and lush gardens.
For the best view from above the city, head up to the 19th century Monumento da Memória (the Monument of Remembrance), and then work your way down into the heart of the city through the Jardim Duque da Terceira (the Duke of Terceira Garden). Step into the rebuilt Sé de Angra (the cathedral) or the robin's-egg blue Igreja da Misericórdia (the Church of Mercy). For a deeper dive into the history of the Azores in general and Angra in particular, visit the Angra do Heroísmo Museum. There you'll find a large modern museum housed in the former Convent of São Francisco – complete with the convent's beautifully preserved Baroque church! Or just walk along the ramparts of Fore de São Sebastião and enjoy the view across the harbor.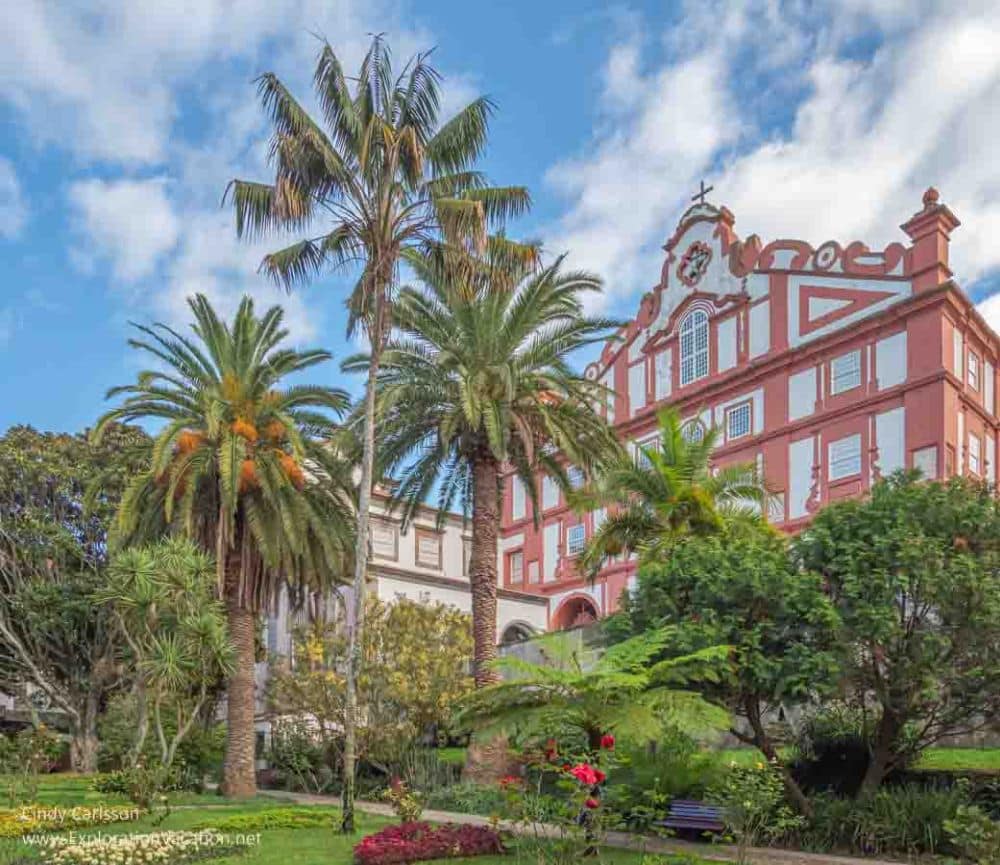 The Angra do Heroísmo UNESCO World Heritage site also includes Mount Brasil on the peninsula beyond the city itself. All of this area was fortified as part of the Castelo de São João Baptista to protect the city, its riches, and the port's treasure-laden ships from pirates. Parts of the historic fort are still used by the military. However, many areas are open to the public. Several historic buildings in the military base can be toured. And much of the rest of the area is now a park with hiking and biking trails that offer great views, lots of nature, military ruins, and a few monuments and historical exhibits.
Is Angra do Heroísmo worth visiting?
Yes, Angra do Heroísmo is worth visiting, either as an easy and quick get-away from Europe or North America or as part of a longer vacation.
Anyone who loves historic cities will love Angra. Travelers who aren't fans of big cities, should be delighted to discover that charming Angra packs a lot of history into a small space. And it's surrounded by the sea, rugged natural areas, and rural farms. Not only that, but many natural sites on Terceira are part of the Açores UNESCO Global Geopark. That makes it easy to explore internationally important historic and natural sites in one visit.
A full day of touring is enough to give you a sense of what's here, but allow another day or two if you want to do more than run through a couple of historic sites and overlooks. And there's enough to do on Terceira to keep busy for at least four or five days.
Find and compare accommodations in Angra do Heroísmo.
Angra makes a great stop-over on your way to or from mainland Portugal. Or combine your visit with a trip to another island in the Azores to see the Landscape of the Pico Island Vineyard Culture UNESCO World Heritage site.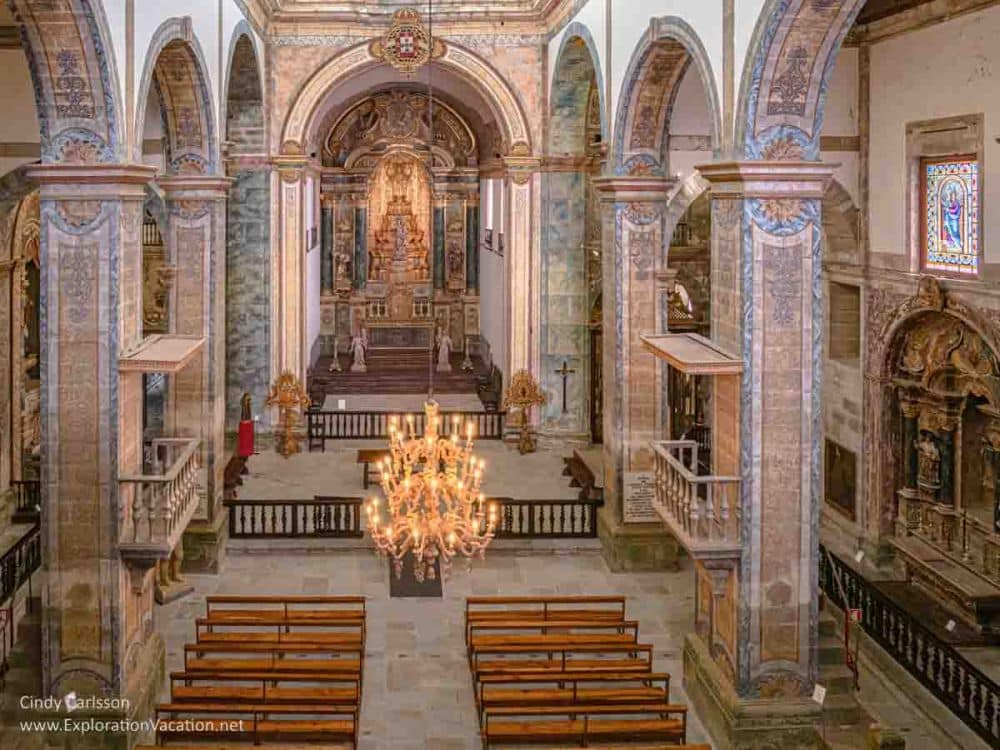 Tips for visiting Angra do Heroísmo
Angra is built into very steep hills. To save energy for more exploring, take a cab to the monument at the top of the hill above the city for the great views, then walk down through the city to the harbor.
Or take a guided walking tour of Angra.
Despite the hills, Angra do Heroísmo is very walkable. You don't need, or want, a car to tour the city itself. However, a car or bike is very useful when visiting Mount Brasil or other parts of the island.
Take an e-bike tour to Mount Brasil.
The cut-stone sidewalks in town are gorgeous, but they are very slippery when wet.
Azores Airlines offers fly and stay packages that let you bundle airfare, hotel, tours, and/or a rental car. They also offer flights that allow a stop-over on Terceira for up to 7 days enroute between Portugal and North America or Europe.
Angra is filled with gardens and green spaces, so it's easy to have a picnic right in the city.
If you aren't up for a long hike uphill, you can drive up Mount Brasil – just note when the military closes the gate across the road in the evening. Better yet, take a cab to the top and then walk down.
Where is Angra do Heroísmo?
Angra do Heroísmo is the main city on the island of Terceira in Portugal's Azores. The Azores are located in the Atlantic Ocean about 1,658 km (1,030 mi) west of Lisbon or 3,900 km (2,400 mi) from the USA's East Coast. Flight time from Lisbon is about 2½ hours. Flights from Boston take about 4½ hours.
Terceira's Lajes International Airport (TER) can be reached via direct flights (some only seasonally) from Boston, New York City, and Oakland in the USA; Toronto and Montreal in Canada; London's Heathrow and Stansted airports; Amsterdam and Rotterdam in the Netherlands; and from a number of airports on the Portuguese mainland and other islands in the Azores. Most flights are operated by SATA/Azores Airlines, but TUI, Ryanair, British Airways, and TAP Portugal also offer a few flights. SATA also offers service between the islands.
Ferries run between the Azores islands, but not all islands have year-round service and distances between islands can be long.
Once on Terceira, it's a 15-20-minute taxi ride from the airport to Angra. Bus service is also available, but takes considerably longer.
Angra itself is very walkable and is easy to tour on foot. Taxis and buses are also available and inexpensive. There are a few pay-to-park areas at the edges of the historic area, but it's fast and easy to take a taxi into the city from almost anywhere in the surrounding area. Driving and parking in the city center is a hassle and best avoided.
For more information about Angra do Heroísmo, its opening hours and admission fees, see its official website.
Text and photos provided by Cindy Carlsson, the always-curious traveler and photographer at ExplorationVacation. Cindy is an independent traveler who loves diving deep into the world and its wonders. Check the website, Facebook, or Instagram for more travel tips and inspiration.
Have you been to Angra do Heroismo? If so, do you have any additional information or advice about this UNESCO World Heritage site? Please add your comments below!