The Sassi and the Park of the Rupestrian Churches of Matera
By Katy
What are the Sassi and the Park of the Rupestrian Churches of Matera?
Matera is a picturesque Italian city that is filled with ancient cave dwellings known as Sassi. Thought to be among the first human settlements in Italy, the Sassi date back thousands of years. The dwellings are carved out of the limestone rock along a ravine created by the Gravina River.
The Park of Rupestrian Churches is located across the river and contains over 100 ancient rock churches. ("Rupestrian" just means done on cave walls: carved or decorated in caves.) The park also boasts an impressive variety of native animals and plants along with hiking trails and spectacular views of the city.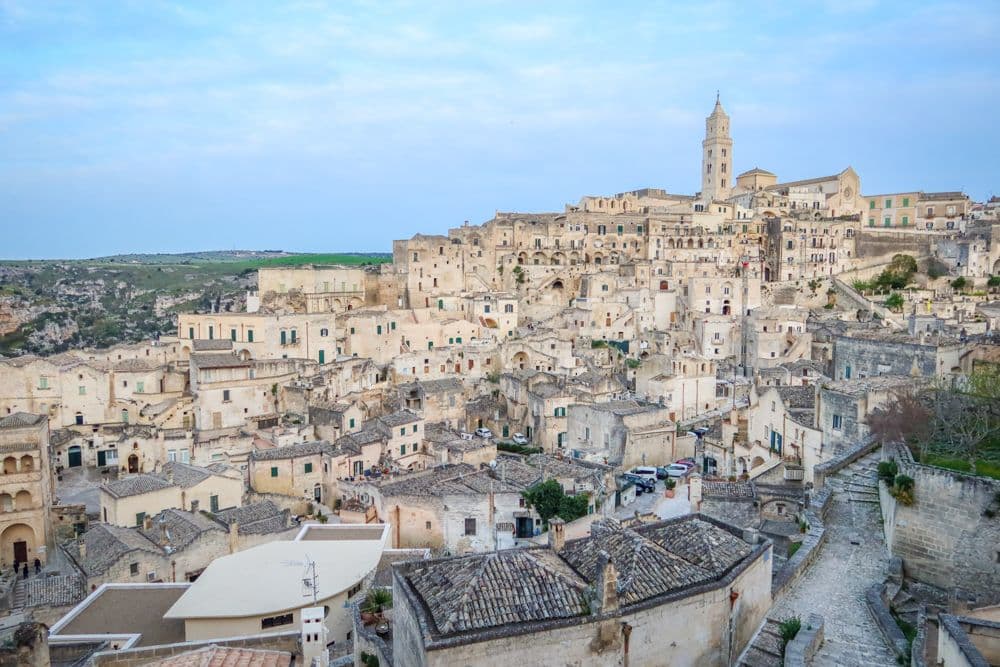 Disclosure: This article contains affiliate links. Making a purchase through an affiliate link will mean a small commission for this website. This will not affect your price.
In the early 20th century, the caves were inhabited by impoverished families living in unsanitary conditions. The Italian government forcefully relocated the population to newer homes in a different part of town in the 1950s. Since that time, the city has undergone a renaissance and become a popular tourist destination.
Why are the Sassi and the Park of the Rupestrian Churches of Matera a UNESCO World Heritage site?
The Sassi of Matera, together with the Park of Rupestrian Churches, were named a UNESCO World Heritage site in 1993. According to the UNESCO website, Matera is "the most outstanding, intact example of a troglodyte settlement in the Mediterranean region, perfectly adapted to its terrain and ecosystem."
Matera was also named as a European Capital of Culture in 2019.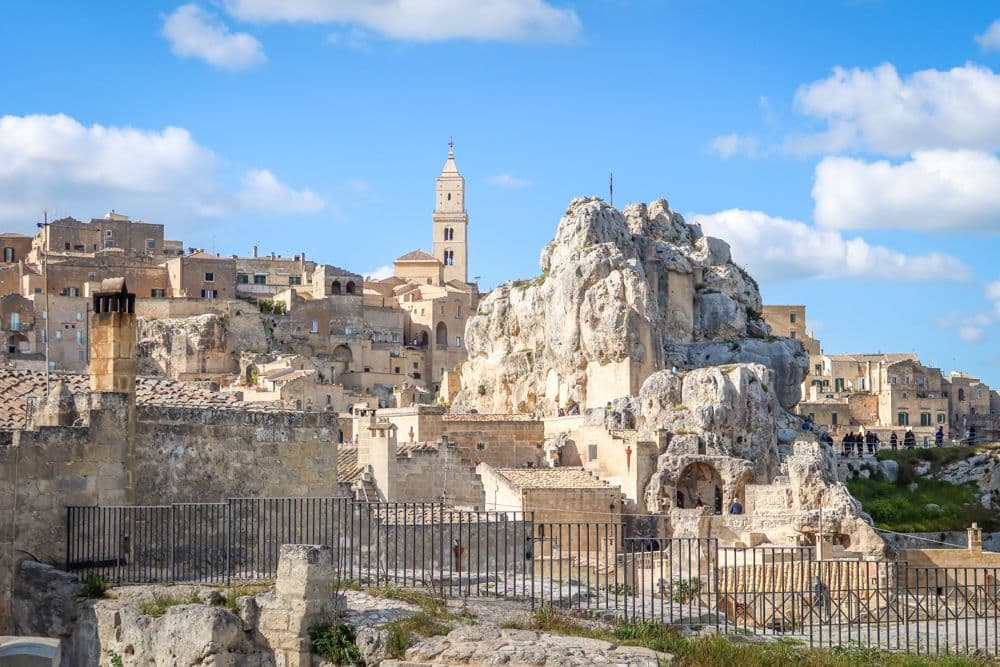 What can you expect on a visit to Matera?
Visitors to Matera can expect to find a stunning ancient city filled with dwellings and other structures carved out of stone. Many hotels and restaurants are located in these incredible dwellings, along with tourist attractions and historic points of interest.
The Cathedral of the Madonna della Bruna is one of these points of interest, located at the highest point of Matera. Historic rock churches such as Santa Maria de Idris feature striking medieval frescoes decorating the stone walls.
The Park of the Rupestrian Churches is accessed via a Tibetan-style suspension bridge over the Gravina River. A short but steep hike on the other side leads to Belvedere Murgia Timone, an overlook with incredible views of the city. Several other important rock churches are located a short walk from the overlook, including the Church of Madonna of the Three Doors.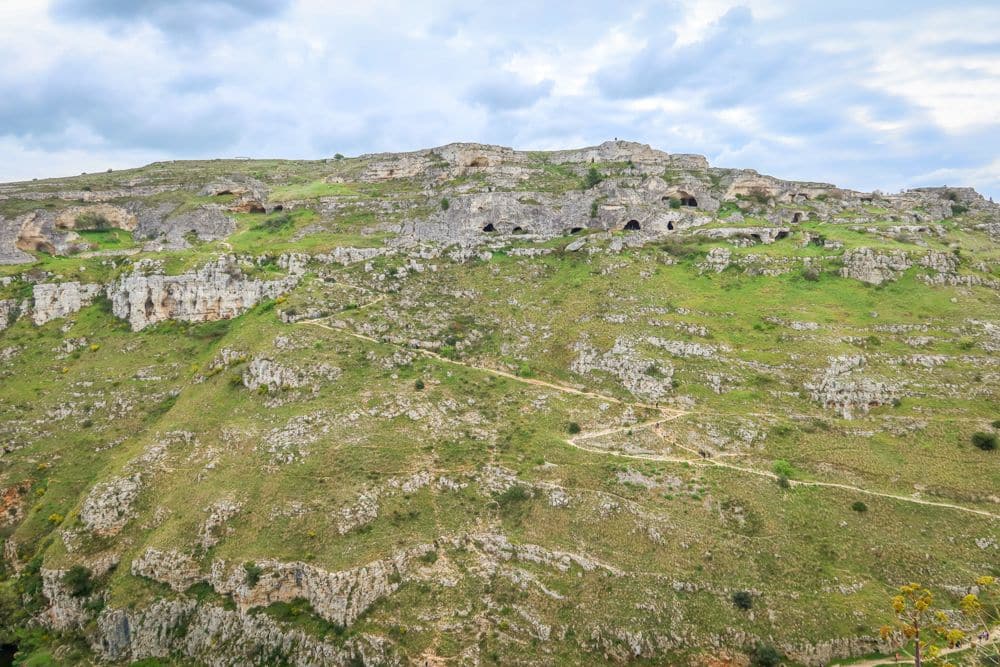 If Matera looks as if it came right out of a movie, it's because it has been used as a backdrop for many films. Notable examples include Mel Gibson's The Passion of the Christ, Wonder Woman (2017) and the 2019 Bond movie No Time to Die.
Is Matera worth visiting?
Matera is absolutely worth visiting for anyone planning a trip to Italy. The city is a must-see for history buffs, film-lovers, and those who enjoy easy access to nature. It is a strikingly gorgeous destination and great for honeymooners or those who enjoy romantic views.
Be sure to plan at least two days when visiting Matera. While it's not particularly near any other major Italian tourist destinations, traveling to the city is well worth the effort. Plus, Matera tends to be less crowded than other Italian tourist sites.
Tips for visiting Matera
Avoid Matera in the middle of summer when it is hot and crowded. Consider visiting in the spring or fall instead. Also avoid Italian holidays when locals flock to Matera.
For an unforgettable experience, stay in a cave hotel (not recommended for those with claustrophobia or those who dislike dark spaces).
Bring a pair of comfortable walking or hiking shoes for trekking to the Park of the Rupestrian Churches.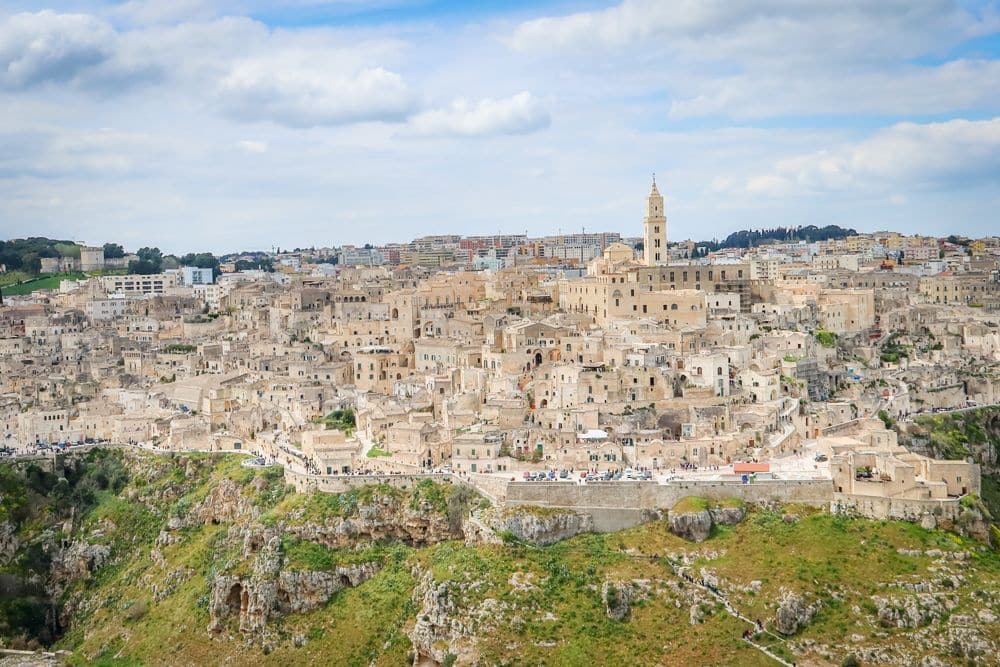 If you like unusual historical architecture, also visit the UNESCO-listed Trulli of Alberobello, about an hour away from Matera by car.
Where is Matera?
Matera is located in the Basilicata region of southern Italy near the "heel of the boot".
By car: Matera is a 50-minute drive from Bari, which is the closest city with an airport. Alternatively, it is 3 hours from Naples or 5 hours from Rome.
By public transportation: Matera is located approximately one hour and 15 minutes away from Bari by bus. Be aware that the FlixBus station is not located in the city center and requires a taxi or a long walk to reach the Sassi. Alternatively, you can take a train from Bari, which is approximately an hour and 45 minutes.
For more information about Matera, including details about the city's best tourist sites, visit the official Matera tourism website.
Text and photos provided by Katy of A Rambling Unicorn, a travel blog focused on hiking and long-term travel.
Have you been to Matera? If so, do you have any additional information or advice about this UNESCO World Heritage site? Please add your comments below!