The Trulli of Alberobello
By Jill
What are the Trulli of Alberobello?
Alberobello is a small, historic town in southern Italy that almost shines with its whitewashed houses. What is truly special about these so-called "Trulli" is the shape of their roofs. They are usually domed, pyramidal, or conical. While these traditional Apulian houses can be found sprinkled across the countryside, Alberobello has the highest concentration of Trulli. Some of them are over 700 years old.
Disclosure: This article contains affiliate links. Making a purchase through an affiliate link will mean a small commission for this website. This will not affect your price.
What is special about the Trulli is not only their shape but also the method of construction. Built using a dry-stone wall technique, the houses in Alberobello are a great representation of this building tradition. So this town makes up a well-preserved historic architectural ensemble.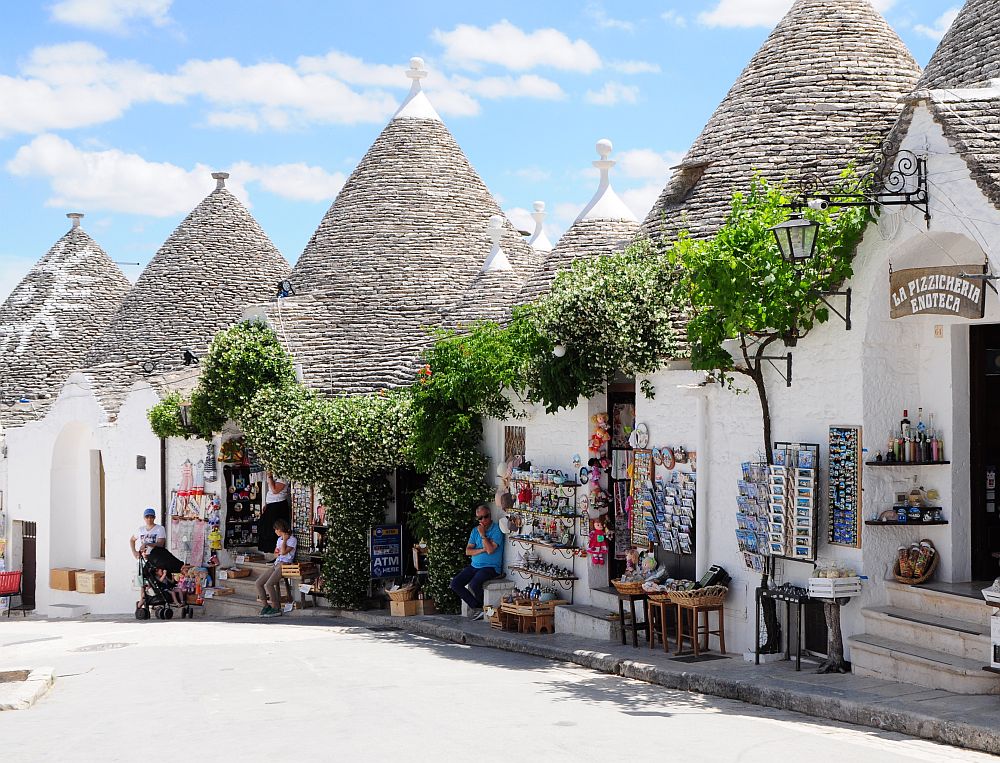 Why is Alberobello a UNESCO World Heritage site?
According to UNESCO's website, parts of Alberobello have been protected since 1909 because the Trulli "illustrate the long-term use of dry-stone building, a technique which has a history of many thousands of years in the Mediterranean region".
Besides, they are an outstanding example of both "a vernacular architectural ensemble that survives within a Historic Urban Landscape context" as well as of a "human settlement that retains its original form to a remarkable extent."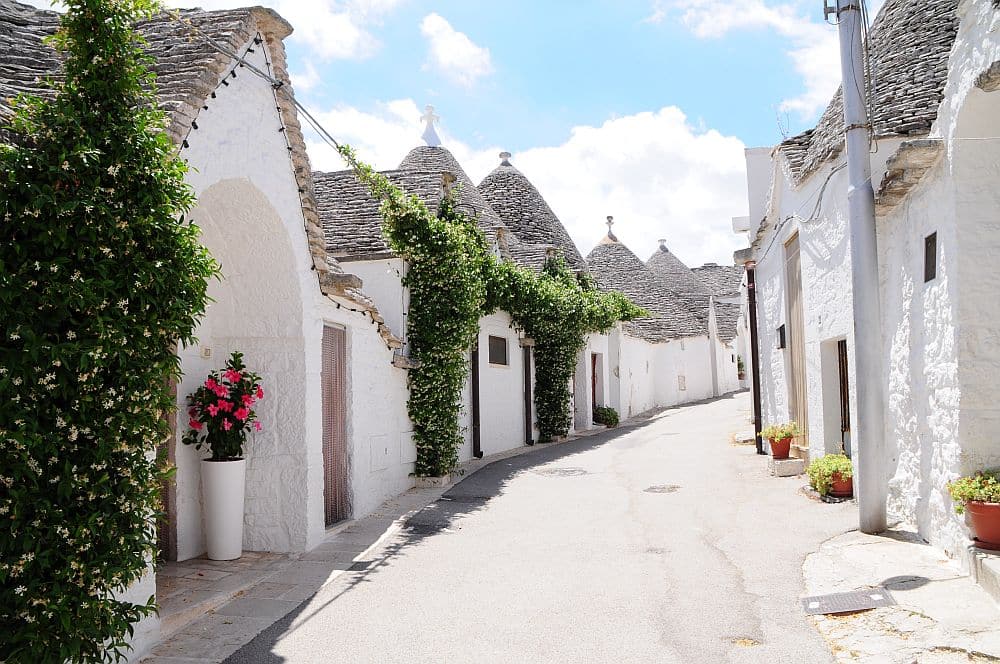 What can you expect on a visit to Alberobello?
The town is exceptionally well-preserved, even though the houses are hundreds of years old. Everything shines in neat white-painted limestone. It almost feels like the location of a fairy tale movie.
Alberobello is one of the most-visited towns in southern Italy and therefore quite touristy. So expect to see a lot of tourist shops along the main strip.
However, if you take the time to stroll through the side alleys you get a feeling of the authentic side of the Apulian way of life. So I highly recommend not only sticking to the main alley but allowing yourself to get lost. It's a beautiful, almost magical area and every Trullo has its own unique details.
Is Alberobello worth visiting?
The small town of Alberobello is definitely worth a day trip, if you're on holiday in Apulia (also known as Puglia), the south of Italy. While you can see many Trulli in the countryside or in other villages, Alberobello is the only place to find a large number of Trulli in one town. You can spend half a day in Alberobello, but I wouldn't stay right in the touristy town. Instead, find accommodation somewhere in the countryside.
Book accommodations in Puglia.
What sorts of travelers would like Alberobello?
If you're interested in historic buildings or architecture, Alberobello is for you! But also if you'd like to gain insight into traditions and local customs, you'd like it. I've never seen another place like Alberobello, so it's really unique.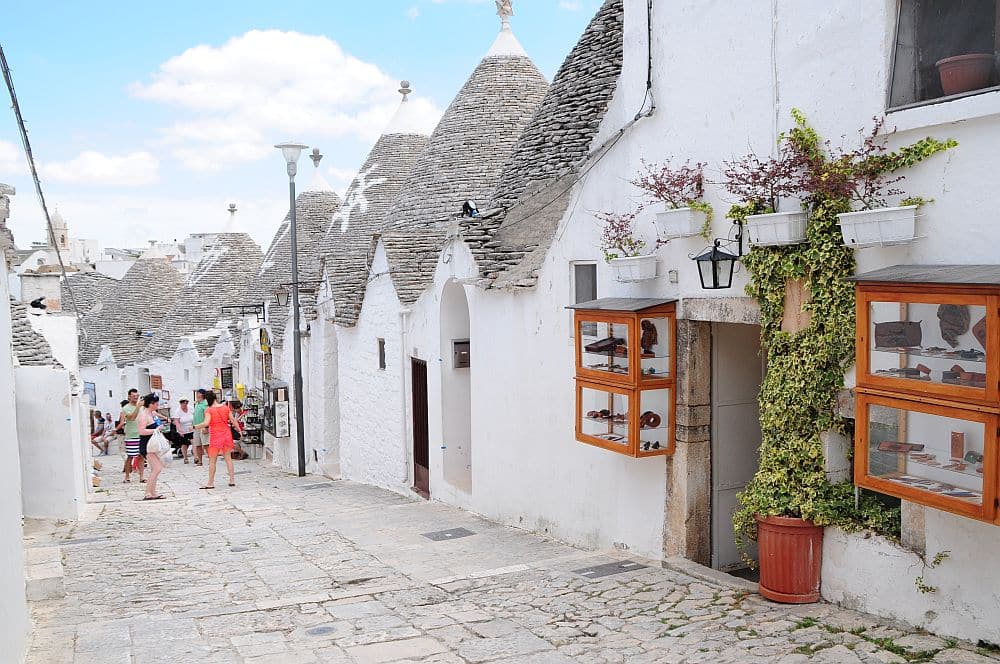 Tips for visiting Alberobello
As a touristy place, I recommend visiting Alberobello either early in the morning or during the late afternoon, not just in order to avoid the tourist crowds, but also because it gets really hot at midday.
Some alleys are a bit steep and could be slippery after a rain shower. But normally, you're fine with sandals. Don't forget a hat and sun protection!
Where is Alberobello?
Located in the south of Italy, in the region called Apulia, Alberobello is around 50 km south of Bari. If you're there with your own car or you've got a rental car, it's a one-hour drive (first on the SS100 towards Casamassima and then the SS172 through Putignano until Alberobello).
You can also reach Alberobello by bus towards Martina Franca. After 1 hour 5 minutes, you can get off in Alberobello.
Alternatively, take a guided tour with transportation from Bari.
For more information about Alberobello, its opening hours and admission fees, see the official website of Alberobello Tourism.
Text and photos provided by Jill of Jill on journey. In her blog, she loves to share tips on how to travel more sustainably and inspiration on travel destinations. While she has traveled to over 50 countries, her mission is to inspire other travelers to experience the beauty of this world in order to learn the importance of protecting it.
Have you been to Alberobello? If so, do you have any additional information or advice about this UNESCO World Heritage site? Please add your comments below!