Medina of Essaouira (formerly Mogador)
By Cindy Carlsson
What is the Medina of Essaouira?
The Medina of Essaouira World Heritage site is a historic fortified town on Morocco's Atlantic coast. The site, as it exists today, dates back to 1765 when a new city was built on the site of an old fort. It combines European and African architectural forms with a European street plan and a French-style fortress. Within its walls, the city included a Kasbah, Medina, and Mellah – the administrative, market, and Jewish quarters – each of which included residences. The UNESCO site also includes the Mogador islands, which have been in use since antiquity, but are now a protected bird sanctuary.
Disclosure: This article contains affiliate links. Making a purchase through an affiliate link will mean a small commission for this website. This will not affect your price.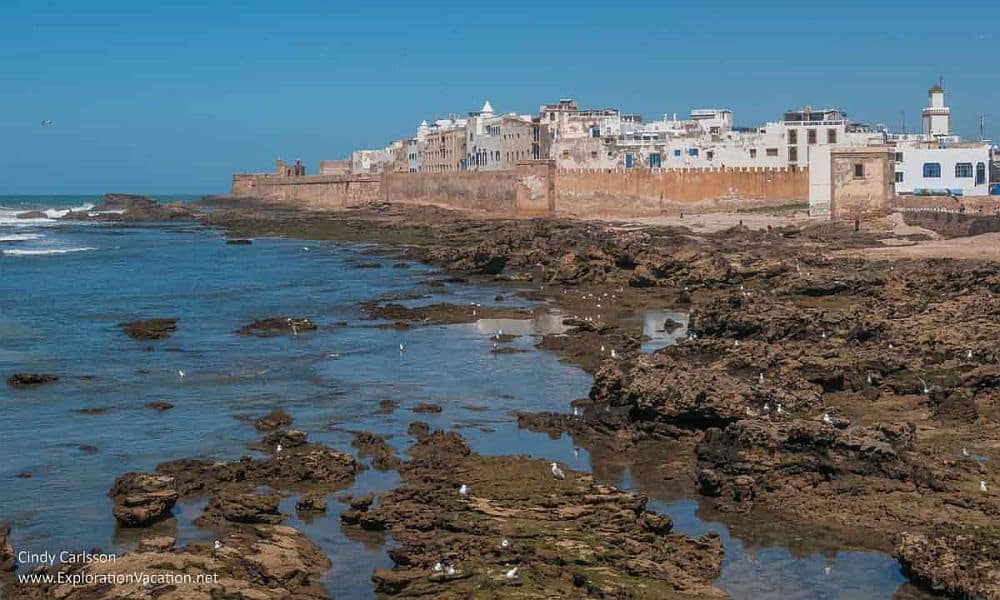 Essaouira (known as Mogador until the 1960s) was designed to serve as Morocco's primary port for transferring goods from Saharan Africa to Europe and beyond. Thus, a small abandoned outpost was reborn as a key port and multicultural city with an international population that included a large and important Jewish presence.
Essaouira remained Morocco's most important trading port for about 100 years. After many years of decline, it was discovered by tourists in the 1960s. Today it is a popular beach and surfing destination.
Why is the Medina of Essaouira a UNESCO World Heritage site?
The Medina of Essaouira is a World Heritage site for its unique mix of European and North African street plans, architecture, and culture. It's also notable as an African example of military architecture based on the work of French military engineer Sébastien Le Prestre de Vauban. (Vauban's fortifications in France have their own UNESCO World Heritage designation.)
UNESCO explains: "Essaouira is an exceptional example of a late-18th-century fortified town, built according to the principles of contemporary European military architecture in a North African context. Since its foundation, it has been a major international trading seaport, linking Morocco and its Saharan hinterland with Europe and the rest of the world."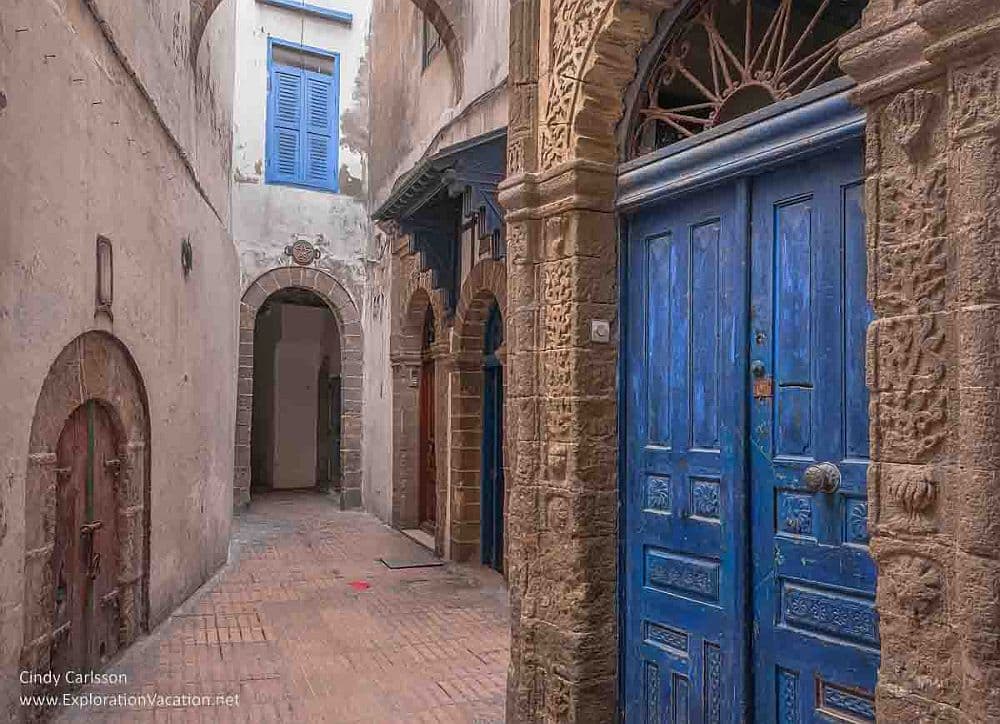 What can you expect on a visit to Essaouira?
Definitely not European, but not fully Moroccan either, not all of Essaouira is particularly well-preserved, but it can be a magical place.
This isn't a place with a lot of museums or must-see sights. You can visit the fortress and spend time at the beach, but visiting Essaouira is more about exploring the old city streets, shopping for local crafts, eating fresh seafood, watching fishermen at work in the harbor, and waiting for the sun to sink into the sea each evening.
The cannon-lined ramparts, tower, and other fortifications that rise above the sea are the city's most important historical site. However, the fishing harbor below the ramparts is the most picturesque. Here traditional blue fishing boats are accompanied by fishermen mending nets as they prepare for the next day's work on the water.
Away from the water, Essaouira is an odd mix of beautifully restored buildings, disintegrating ruins, and everything in between. Some areas are beautifully restored and it's well worth stepping into a fancy riad to see how elaborately these homes were decorated.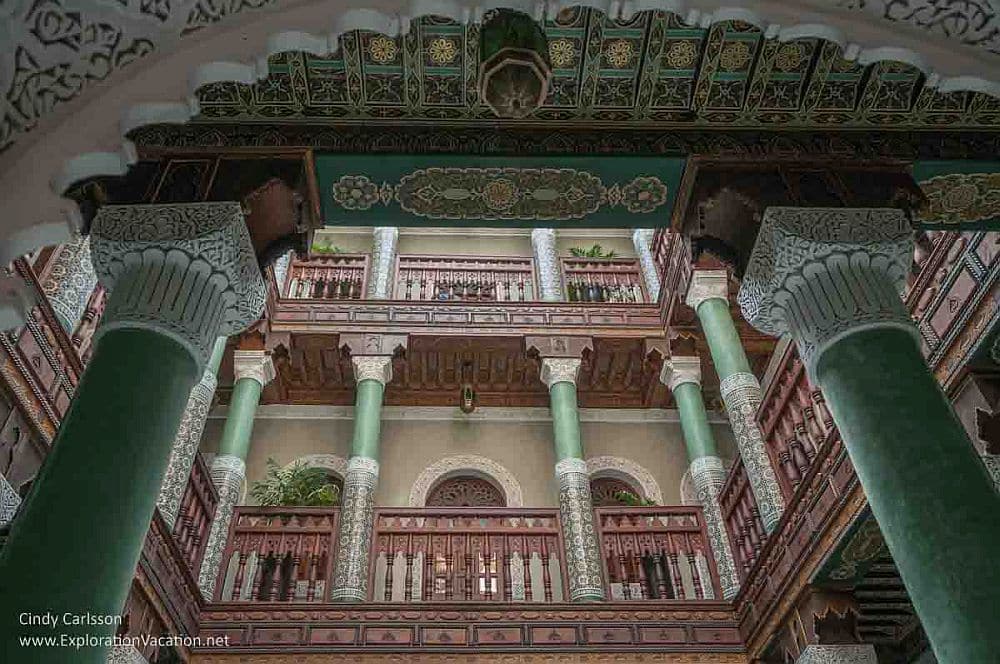 But in other areas, particularly the Mellah (the old Jewish quarter), crumbling buildings still await restoration. Fortunately, even here a few are being restored, including a couple of the 40-some synagogues once located in the city and the Jewish and Christian cemeteries just outside the city gate. And even the most dilapidated buildings often have beautiful doorways with elaborately carved frames.
If you want something more active, Essaouira's winds make the beach a popular spot for all types of surfing. Or you can ride a camel or horse along the beach to more distant ruins.
Is it worth visiting the Medina of Essaouira UNESCO World Heritage site?
If you are going to Marrakesh, Essaouira is very much worth a couple of extra days. (And, if you weren't planning to go to Marrakesh, you should, as the Medina of Marrakesh is also a UNESCO World Heritage site.) Essaouira is quite different from the rest of Morocco. That makes it a nice change of pace no matter where else you are traveling in the country.
You can easily see Essaouira's highlights in a day, and it's easy to visit as a day trip from Marrakesh. However, it's worth spending at least a night because the city is at its most magical very early and very late in the day. But it's also an easy place to just relax and hang out for a few days or a lot longer.
Book your accommodations in Essaouira.
What sorts of travelers would like Essaouira?
The Essaouira World Heritage site will have the most appeal for fans of historic cities, architecture, traditional crafts, and local food. However, with beaches to both the north and south, there's plenty to keep everyone busy. And, of course, surfers of all kinds will usually find plenty of action on and above the water.
Movie fans, as well as fans of a series like the Game of Thrones, will want to seek out filming locations in and around the city.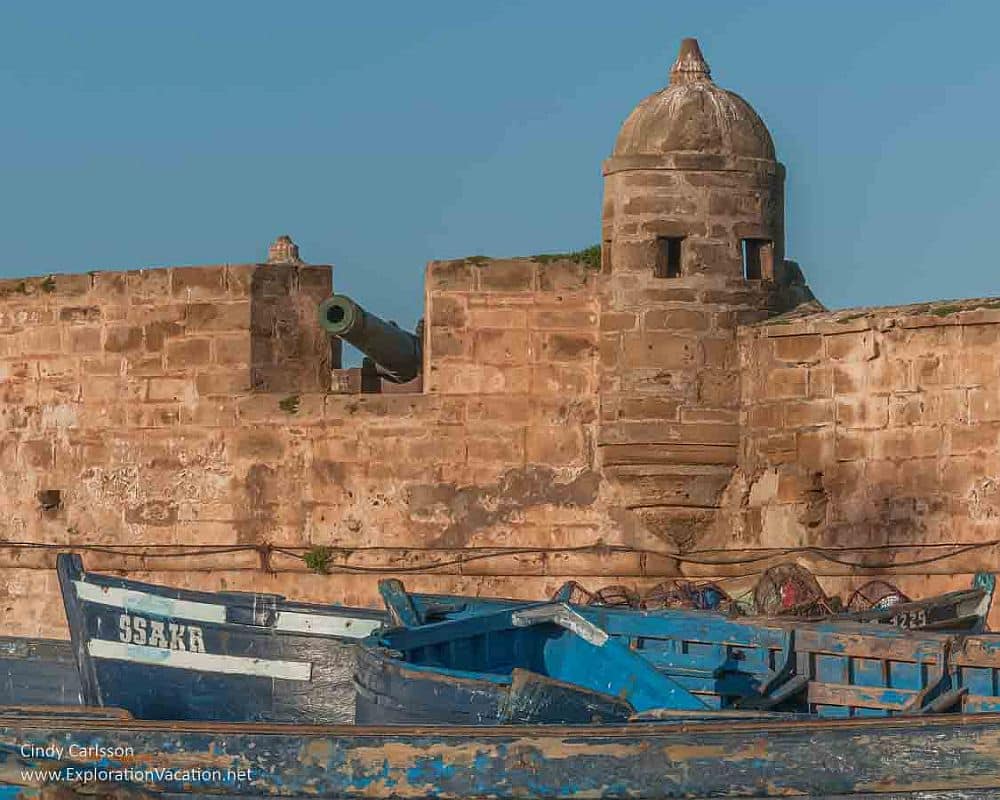 Tips for visiting Essaouira
Essaouira can be unpleasantly windy much of the year. It's particularly windy in summer, when it makes sunbathing and other beach activities miserable. Of course, that wind also makes it a good time for experienced wind and kite surfers to get out on the water. But if you want to explore Essaouira's beaches without being sandblasted, fall is a good time to visit.
Despite the wind, July and August are the busiest months to visit, as school holidays and high temperatures inland draw families from Morocco and beyond. Book well in advance during this period.
Unless you are here to spend time on the beach or in the water, stay in the historic city. You won't find very many modern hotel rooms in the old city itself, but you will find a wide variety of historic riads that range from very basic to exceedingly luxurious.
Book your accommodations in Essaouira.
Inexpensive food stands near the fishing port grill the day's catch almost as soon as it's taken off the boat.
Restoration is a slow but on-going project in the historic city. Keep an eye out for historic buildings that aren't listed in printed or online tourist guides – they may have only recently opened to the public.
Essaouira hosts a Gnawa (Gnaoua) music festival each June. This festival brings in a select group of jazz, rock, pop, and world music performers to create music with the region's Gnawa musicians. (Gnawa cultural practices are inscribed in UNESCO's list of Intangible Cultural Heritage.)
Where is the Medina of Essaouira?
Essaouira is 190 km (120 mi) or about a 2½-hour drive from Marrakesh. It's a straightforward drive. If you don't want to drive yourself, you can hire a car and driver, hire a shared taxi (called a "grand taxi"), or take a bus. Several tourist bus and shuttle companies serve Marrakesh and Essaouira. A tourist bus usually makes the trip in under 3½ hours. Local buses are cheaper and run more frequently, but make more stops and can add up to 90 minutes to your travel time. Essaouira does not have rail service. Parking is located outside the pedestrianized city center.
Direct flights to Essaouira are available seasonally from London, Paris, and a handful of other European cities.
You can easily and cheaply book a day tour from Marrakesh or from Agadir. These range from shuttle services to fully guided tours. Some even include camel rides, quad bike tours (tours using small all-terrain vehicles), spa services, and other activities. All but the most basic tours include a stop at the Argan Women's Cooperative where you learn about this Moroccan product. Tours also may stop to photograph goats in trees. Unfortunately, while goats will climb into argan trees, most of those you see along the road were tied there to assure photo opportunities for fee-paying tourists.
If you want to spend more time exploring Morocco's Atlantic Coast, the drive between Essaouira and Casablanca is about 375 km (235 mi) and takes about 4½ hours – if you don't stop at the Portuguese City of Mazagan (El Jadida) World Heritage site along the way. Traveling by bus takes 6 hours or more.
For more information about the Medina of Essaouira, activities and events, opening hours and admission fees, see its official website.
Text and photos provided by Cindy Carlsson, the always-curious traveler and photographer behind the website ExplorationVacation. Cindy is an independent traveler who loves diving deep into the world and its wonders. Check the website, Facebook, or Instagram for more travel tips and inspiration.
Have you been to the Medina of Essaouira? If so, do you have any additional information or advice about this UNESCO World Heritage site? Please add your comments below!