Würzburg Residence with the Court Gardens and Residence Square
By Julia
What is Würzburg Residence with Court Gardens and Residence Square?
The Würzburg Residence is one of Europe's most important baroque-style palaces. The residence, its square, and the splendid court gardens date back to 1720 and attract visitors worldwide each year.
Disclosure: This article contains affiliate links. Making a purchase through an affiliate link will mean a small commission for this website. This will not affect your price.
Balthasar Neumann, the court architect, working for the prince-bishops Lothar Franz and Friedrich Carl von Schönborn, constructed a palace full of princely magnificence and art in the middle of Würzburg. If you visit Würzburg, you'll barely be able to get around visiting at least some parts of the residence during your stay.
In the following paragraphs, I will give you some more insights on Würzburg's "jewel" and information that comes in handy for your visit.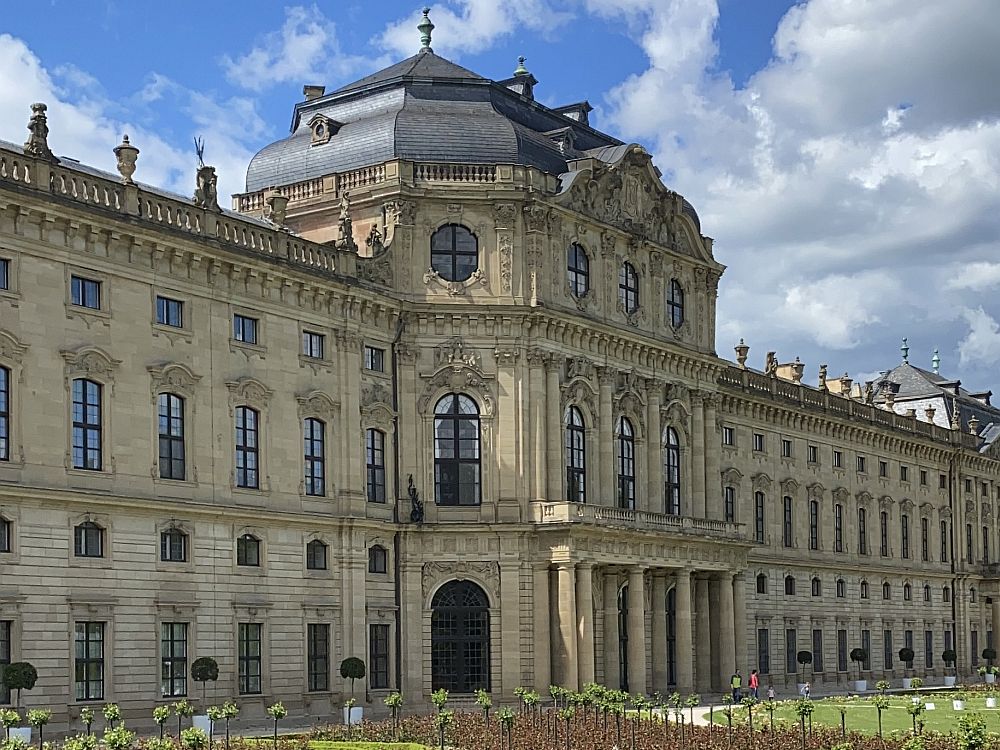 Why is the Würzburg Residence a UNESCO World Heritage site?
Since 1981, the Residence (including the residence square) and its adjacent buildings have been a UNESCO World Heritage site. Why? Because Würzburg Residence is "the most uniform but also unusual of all baroque style palaces." The originality of this palace makes it part of Europe's most significant palaces, especially in the art of rococo.
The residence "gives consummate testimony to the imposing courtly and cultural life of the feudalistic era of the 18th century, but at the same time its varied use today is an example of modern utilisation and preservation as a monument of ahistorical structure."
Regarding Europe, it's also worth mentioning that Würzburg Residence is called a "Synthesis of European baroque" due to the line-up of international artists and architects who worked on its construction.
What can you expect on a visit to the Würzburg Residence?
There are a few different ways to visit Würzburg residence, depending on the time and money you'd like to spend.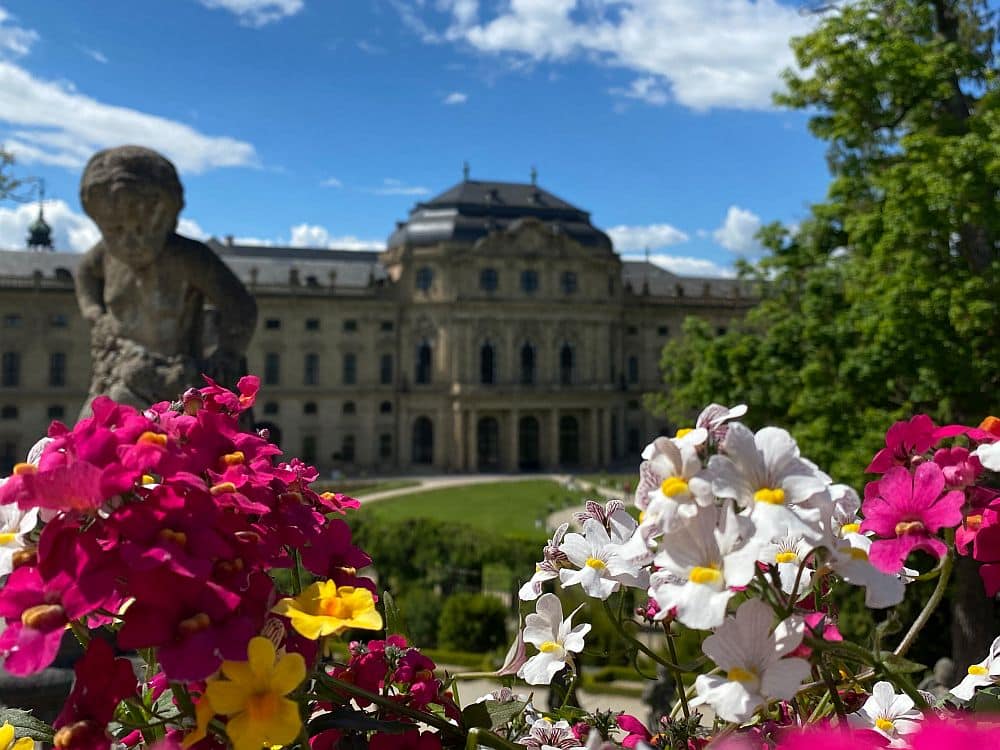 The Court Gardens and Court Church
Walking the court gardens and paying a visit to the court church are free. I'd highly recommend stopping by the court gardens and church since it is such a beautifully designed area. It's very inviting for a long stroll around carefully cut trees and various blooming flowers. You'll be stunned by the rose-gold design and carefully stuccoed pillars in the court church!
The Würzburg Residence
The entry fee lets you access one of the most magnificent palaces in the area. You'll walk through magnificent halls, ornately decorated chambers, and – my favorite – stunning staircases full of frescoes. Make sure not to miss the "Spiegelkabinett." This room is considered to be one of the most valuable of all.
You'll also find a museum in the southern wing of Würzburg Residence. The Martin von Wagner Museum is free to visit and displays collections of antiques and historical paintings.
Is Würzburg Residence worth visiting?
Would I personally take the trip just for the Residence? Unfortunately, no. But since Würzburg is one of the most beautiful cities in the area, I'd highly recommend visiting this charming franconian town at least once.
And since the Residence is one of the main attractions in Würzburg, you simply cannot miss stopping by – at least for a quick stroll through the court gardens.
If you decide to explore the whole Residence and dive deep into the place, I would plan around 2-3 hours. Of course, this estimate doesn't mean you can't do all that in an hour, but it will leave you with a little more time to take it slow, stop and stare for a while.
Or take this walking tour of Würzburg, including the Residence as well as the highlights of the town.
What sorts of travelers would like Würzburg Residence?
The whole area consisting of the Würzburg Residence, the court gardens, and the residence square will offer interesting spots for any traveler.
If you're into history, architecture and art, you'll surely get your money's worth when visiting the Residence.
However, if you're not into history and arts, the court gardens and the court church will provide you with a scenic walk and glimpse into the splendor from the outside.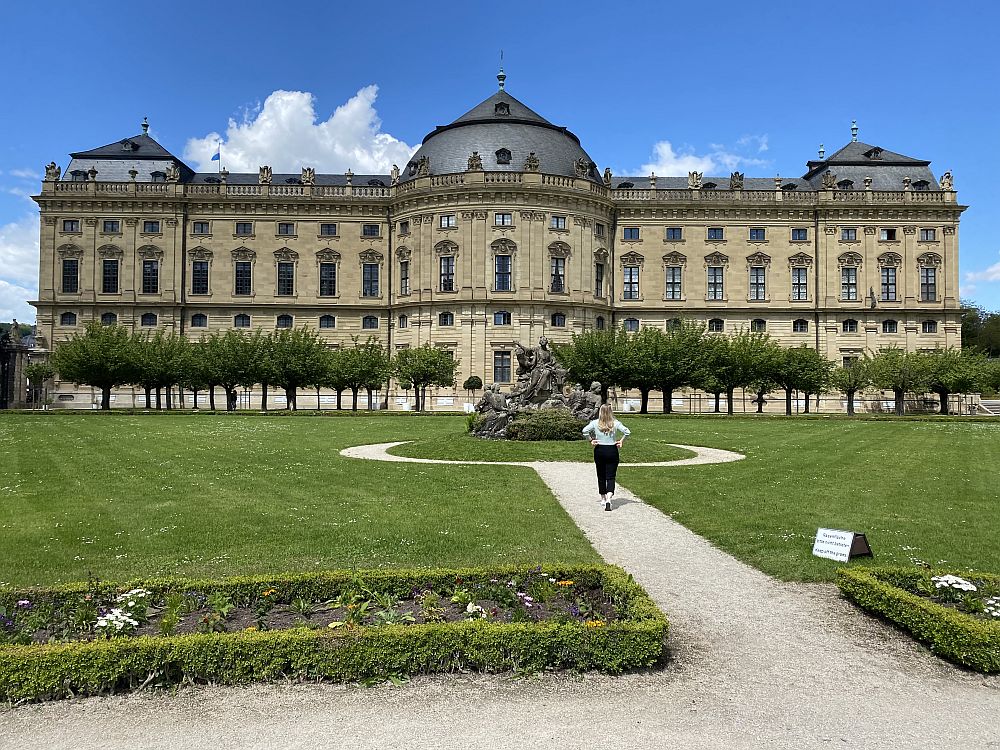 Tips for visiting Würzburg Residence with Court Gardens and Residence Square
Come early! Like most other sights, the early bird also catches the worm in Würzburg Residence. While this site is far from being as crowded as Rome's Trevi Fountain or Santorini at sunset, you might still get into the crowds faster than you'd think. The Residence is a well-known destination for school field trips or group travelers. Avoiding the crowds jumping out of the busses will leave you with a better experience.
Bring a small bag and spare change. You're not allowed to bring large bags or backpacks into the Residence. There are some lockers at the entrance for your bags, which are available for a deposit of 1€.
Taking pictures inside the residence is officially not allowed. You'd need written permission to take photos during your stay. You will find people posting pictures taken inside the Residence on Yelp, Tripadvisor, or social media, but the official way would be to keep your camera inside your bag.
When visiting with small children, you might want to know that you need to swap your stroller for a stroller provided by the Residence. (You can borrow these strollers for free.)
If you also plan to visit the Martin von Wagner Museum, you might want to check opening hours before your arrival, since they go on summer breaks and close the museum early on some occasions.
The enclosed beer garden is good but overpriced. There are multiple beer gardens and cafés all around the old town that offer a way better experience regarding food quality and prices.
Where is Würzburg Residence, the Court Gardens and Residence Square?
Würzburg Residence is located in the center of Würzburg, right at the edge of the old town.
Book your accommodations in Würzburg here.
Getting there by train
Würzburg is incredibly easy to reach by train. The connections to the surrounding areas are quick, easy, and frequent. A train ride from Nürnberg takes less than one hour, for example. The connections to Frankfurt with rides as short as 1.5 hours are also great.
The central railway station in Würzburg is located conveniently in front of the old town and directly connects to the city's trams and busses.
You can either walk to the residence square in 15-20 minutes or hop on bus 12 or 14 and enjoy a quick 10-minute ride to the Mainfranken Theater stop.
Getting there by car
Coming to Würzburg by car will take you a few more minutes than the train; however, it leaves you much more flexibility. For example, a drive from Nürnberg to Würzburg would take around 1.5 hours, around the same time it would take you from Frankfurt.
There is a paid parking lot directly in front of the Residence called "Parkplatz Residenz." It fits around 350 cars and is open 24 hrs.
For more information about The Würzburg Residence, its opening hours and admission fees, see its official website.
Text and photos provided by Julia of JetlagJules: Hi there, nice to e-meet you! I'm Julia, a German travel blogger and flight attendant. On JetlagJules, I take you along my travels and share my experiences and tips. My mission is not only to help you have a wonderful trip but also to share my knowledge when it comes to creating content along with it.
Have you visited the Würzburg Residence? If so, do you have any additional information or advice about this UNESCO World Heritage site? Please add your comments below!