By Megan
What is the Town of Bamberg?
The Town of Bamberg is an excellently preserved medieval town in southern Germany, on the river Regnitz. Bamberg's town center and the nearby Gardener's District make up the UNESCO World Heritage site. Bamberg is also regularly recognized as one of the most beautiful towns in Germany.
Disclosure: This article contains affiliate links. Making a purchase through an affiliate link will mean a small commission for this website. This will not affect your price.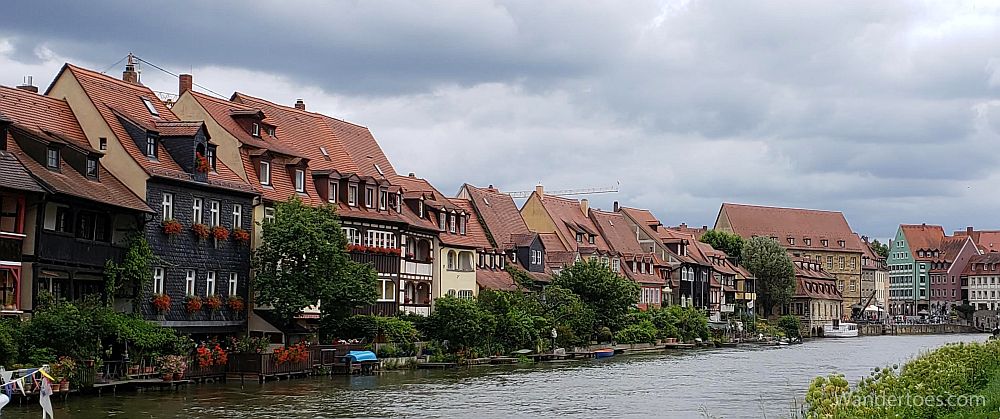 Why is the Town of Bamberg a UNESCO World Heritage site?
The Town of Bamberg became a UNESCO World Heritage site in 1993 because it is, according to UNESCO, an "outstanding and representative example" of an early medieval town, and because its layout and architecture had a strong influence on central Europe.
The layout of the Town of Bamberg is significant to its inclusion on this list. Bamberg was laid out according to medieval planning rules: as a cross with the churches of St. Michael's, St. Stephen's, St. Gangolf's, and St. Jacob's as the four points of the cross. Within this area, the Town of Bamberg's large number of protected historic buildings have preserved its architectural integrity. Old, winding, medieval lanes, and hundreds of historic structures have avoided significant alterations over the centuries. Today visitors in Bamberg walk the same streets and frequent shops and restaurants in the same buildings that Europeans did 1000 years ago.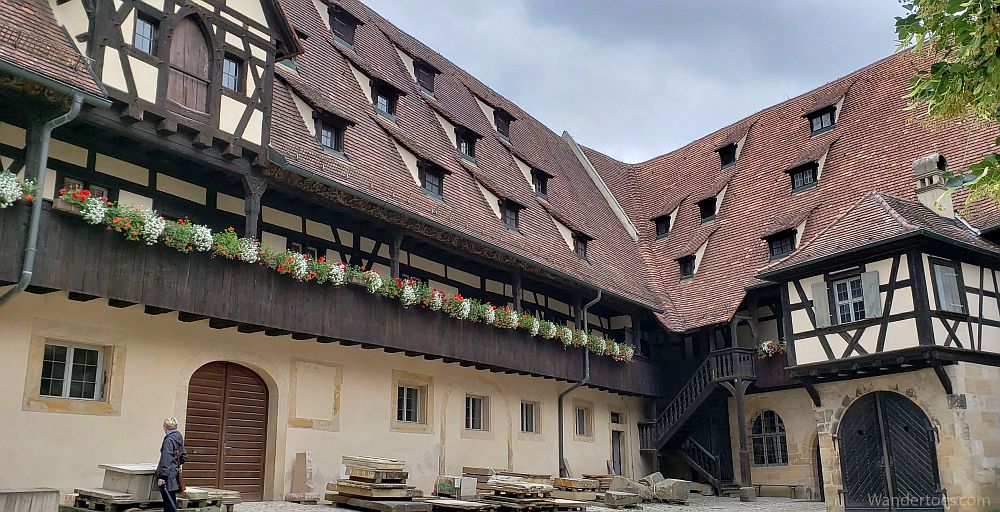 Bamberg was home to the Counts of Babenberg, followed by Duke Henry II. Henry II went on to become King of Germany and Holy Roman Emperor. As the prominence of Bamberg's ruler grew, so did the prosperity and influence of the town on the surrounding area. The architecture and urban planning of the home of the Holy Roman Emperor was echoed throughout central Europe.
Included in the UNESCO World Heritage Site in Bamberg is the Gärtnerstadt, or Gardener's District. This district is one of the first examples of urban farming. The trade of seeds, licorice, and other produce was a major contributor to the economy of the town. The central area of the Gärtnery, a larger area of urban agriculture dating from the Middle Ages, still exists today.
What can you expect on a visit to the Town of Bamberg?
Because the Bamberg historic center is a UNESCO site, the town is extremely well-maintained. Additionally, much of the town center is pedestrianized, so it is completely walkable. It is very easy to arrive by train, walk out of the station, and in one kilometer (2/3 mile) be in the center of all that makes Bamberg worth exploring.
If you like historic architecture, you will never stop taking in your surroundings. There are over 1000 buildings, churches, and old medieval lanes in Bamberg's center that are registered as historic landmarks. You can explore the town from the famously unique Old Town Hall, to more historic churches than you can possibly see in one day, to the Neue Residenz royal palace with beautiful gardens and view of the city.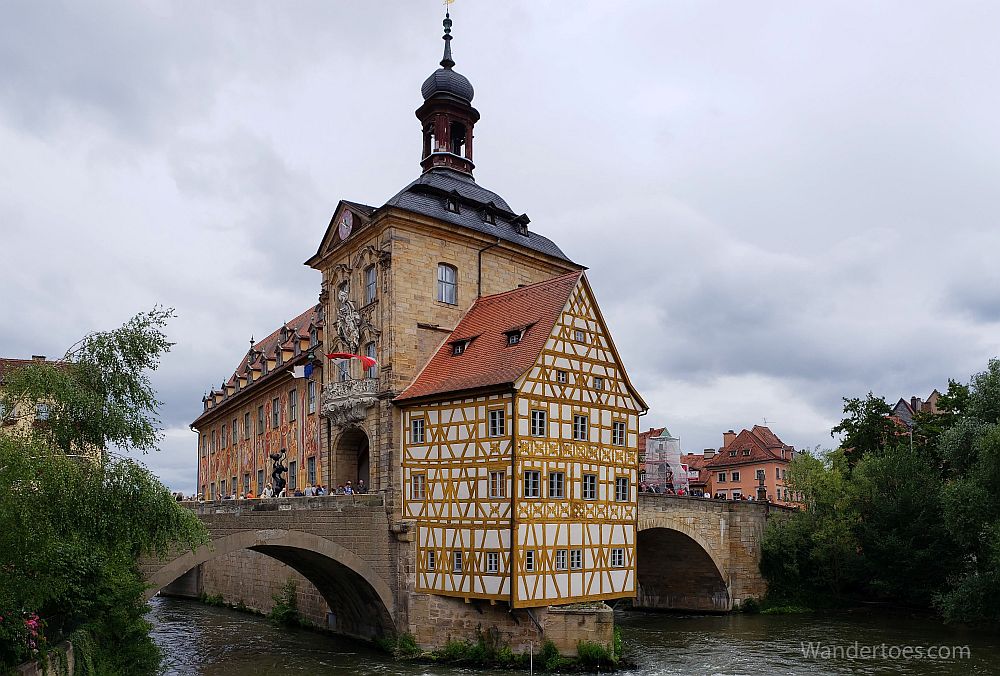 Part of what earned Bamberg's place as a UNESCO World Heritage Site is its rich urban-agricultural history. The Gärtnerstadt is located on the opposite side of the train station from the historic town center and is equally important. There is a Gardner & Vintner museum located inside an 18th-century stable house. Visitors can learn about the living conditions and history of Franconian gardeners and winegrowers. The gardens and yard of the museum showcase the working environment, methods, and implements of the agricultural part of Bamberg's history.
Is the Town of Bamberg worth visiting?
In my opinion, absolutely. The Town of Bamberg is not just a historic site, but an entire town center of historic monuments to explore plus historic urban agriculture area. Whether you want to spend one day in Bamberg to take in the highlights, or two or three days to really tour all the sites the town has to offer, it will fill your time. Beyond the official UNESCO-listed sites, there are many restaurants, brewery pubs, shopping, and a daily produce market.
Use the map below to choose accommodations in Bamberg and compare prices:
What sorts of travelers would like the Town of Bamberg?
The travelers that will most enjoy Bamberg are ones who love European history and architecture. Shutterbugs will likely wear out their camera arm. Also, a traveler interested in sustainable and urban agriculture or in beer culture would definitely have a lot to keep them entertained. Bamberg has a thousand years of history in both.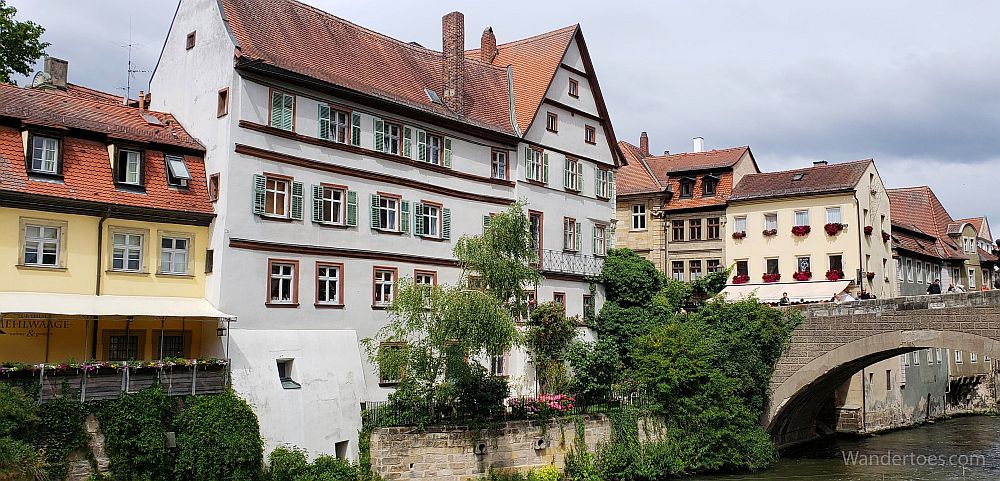 Tips for visiting the Town of Bamberg
Bamberg is made for exploring on foot. Wear some good walking shoes and remember to take breaks at the cafés and beer cellars. The seven hills Bamberg is situated on are not figurative. The historic center is also heavily pedestrianized, and has many winding, cobblestone streets. If walking is difficult, Bamberg will be quite challenging.
Where is the Town of Bamberg?
Bamberg is in southern Germany, in northern Bavaria. It is located approximately 220 km (137 mi) east of Frankfurt and 230 km (143 mi) north of Munich. The closest sizeable city, Nuremberg, is 64 km (40 mi) south of Bamberg.
Time to reach Bamberg by car:
Nuremberg – 45 minutes
Munich – 2 hours 15 minutes
Frankfurt – 2 hours 15 minutes
There is a large underground parking garage, Tiefgarage Geyerswörth City-Altstadt Tiefgarage, beneath the Tourism Information Center at Geyerswörthstrasse 5, 96047 Bamberg. From there it is less than 10 minutes' walk to the Altes Rathaus at the center of Bamberg's historic area.
Time to reach Bamberg, Germany by train:
Nuremberg – 30 minutes to 1 hour
Munich – 1 hour 45 min to 2 hours 30 minutes
Frankfurt – 2 hours 15 minutes to 3 hours, shortest time requires train transfer.
For more information about the Town of Bamberg, see its official website.
Text and photos provided by Megan of Wandertoes. Megan is a traveler "of a certain age" who fell in love with day-tripping her way from one home-base city to another across Europe by train. She hopes her emptying nest means more time to pursue this passion and share it with her readers. Find her on Instagram, Twitter or Facebook.
Have you been to Bamberg before? If so, do you have any additional information or advice about this UNESCO World Heritage site? Please add your comments below!