By Suzanne Fluhr
What is Masada?
Masada is a 2,000-year-old fortified palace complex atop a striking mesa in the Judaean Desert southeast of Jerusalem, overlooking the Dead Sea. King Herod ordered its construction, which was completed in approximately 30 B.C. It was fortified to be able to withstand a siege, containing storerooms and water cisterns.
Disclosure: This article contains affiliate links. Making a purchase through an affiliate link will mean a small commission for this website. This will not affect your price.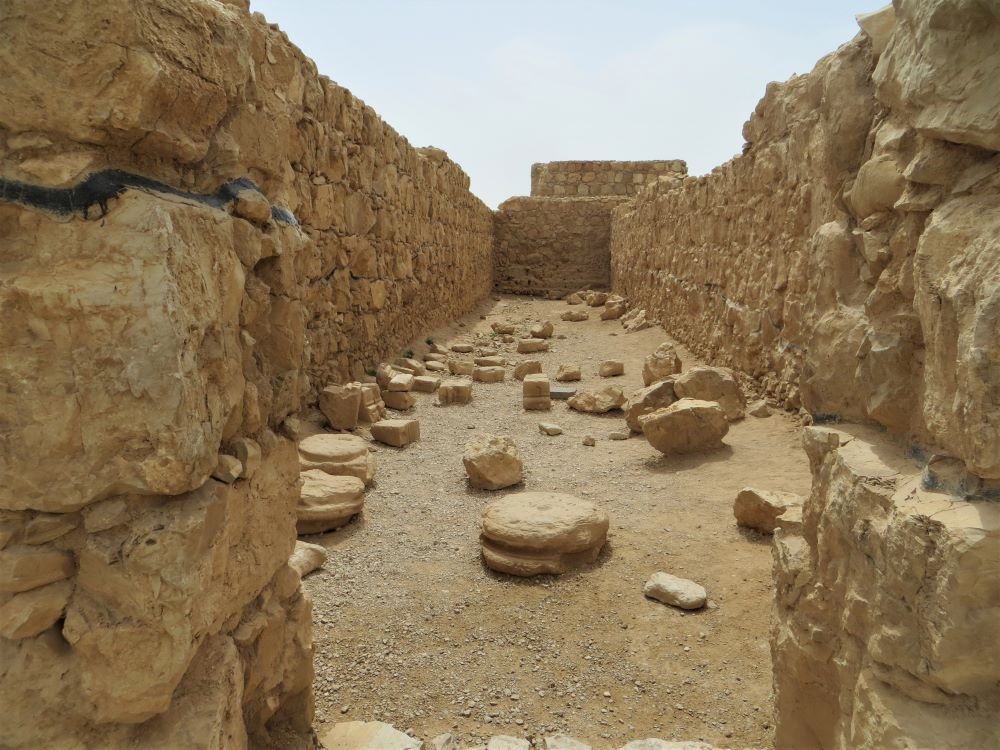 Masada figures prominently in the history of the Jewish people. After King Herod's reign, Rome tightened its grip on Jerusalem, the holy city of the Jews. Unhappy with their treatment by the Romans, in 66 A.D. the Jews violently rebelled. In 72 A.D., Masada became a refuge for some 960 Jewish rebels, including their families. They were able to rely on King Herod's water storage system and food King Herod had stored some 100 years previously.
An estimated force of about 10,000 Roman soldiers besieged Masada, but soon realized they would be unable to starve the Jews into submission. They were able to construct a ramp up the side of the Masada mesa and from there breached the wall of the fortress. According to a roughly contemporaneous account, when the Jews realized they faced impossible odds, the men killed their own families and then drew lots to determine who would slay their compatriots before committing suicide.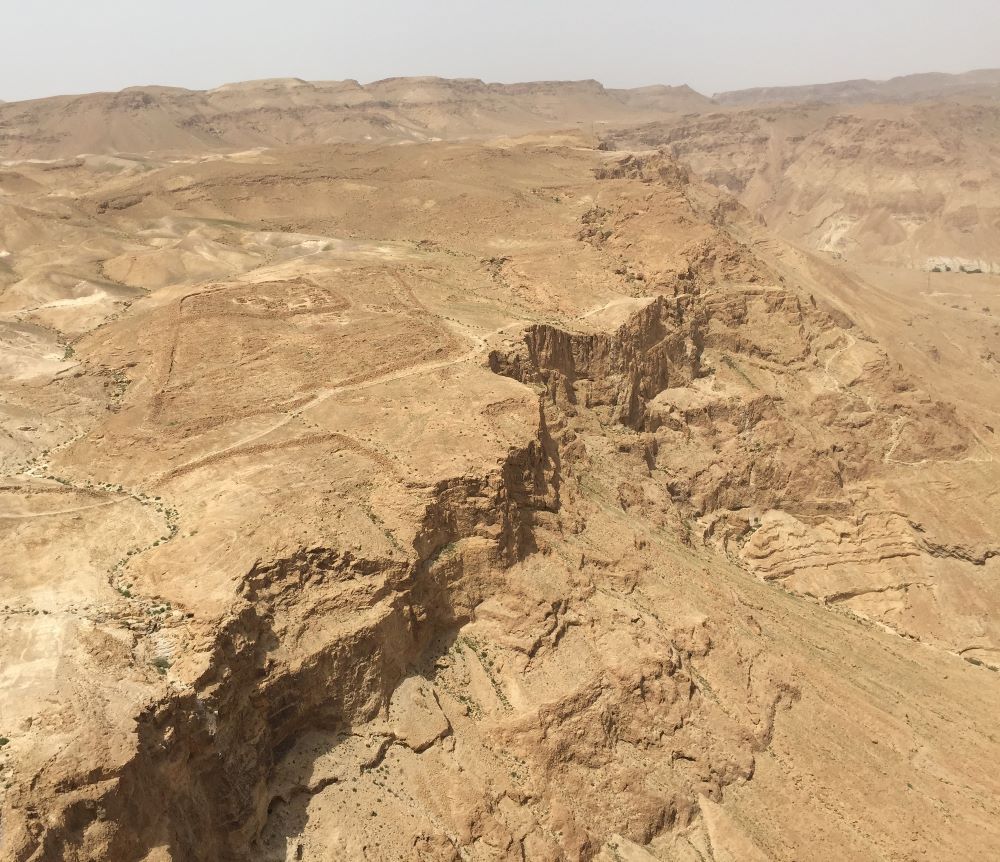 Why is Masada a UNESCO World Heritage site?
Masada was Israel's first recognized UNESCO World Heritage Site in 2001 because of its unique natural beauty and because of its significant historical and archeological value. The UNESCO website explains:
"Masada is a rugged natural fortress, of majestic beauty, in the Judaean Desert overlooking the Dead Sea. It is a symbol of the ancient kingdom of Israel, its violent destruction and the last stand of Jewish patriots in the face of the Roman army, in 73 A.D."
Masada is also "an outstanding example of a luxurious villa of the Early Roman Empire" as well as having the most complete remains of Roman siege works.
What can you expect on a visit to Masada?
There are explanatory signs in English throughout the Masada site, but we were glad we rented audio guides that provided additional information about the history and the ruins.
Some visitors choose to ascend to the ruins by undertaking a one-hour hike up the switchbacks and stairs of the Snake Trail on the eastern side of the site, often starting before dawn to witness the sunrise and to avoid the hottest part of the day. A shorter hike up to the top of the mesa and the Masada ruins is available from the west side of the site by climbing the ancient Roman siege ramp. (Note: You need to choose how you wish to enter the site ahead of time since the east and west entrances are not conveniently connected by road.)
There is a Visitors' Center with a food court, gift shop and a museum also on the east side of the mesa next to the Snake Trail. Prior to visiting the Masada site itself, the museum is an excellent introduction to the story of Masada, combining archeological artifacts and audio-visual presentations.
For those not wanting or not able to ascend the Snake Trail, there is a cable car available for a quick ride to the top of the mesa and the return trip, but it does not operate early enough to catch the sunrise.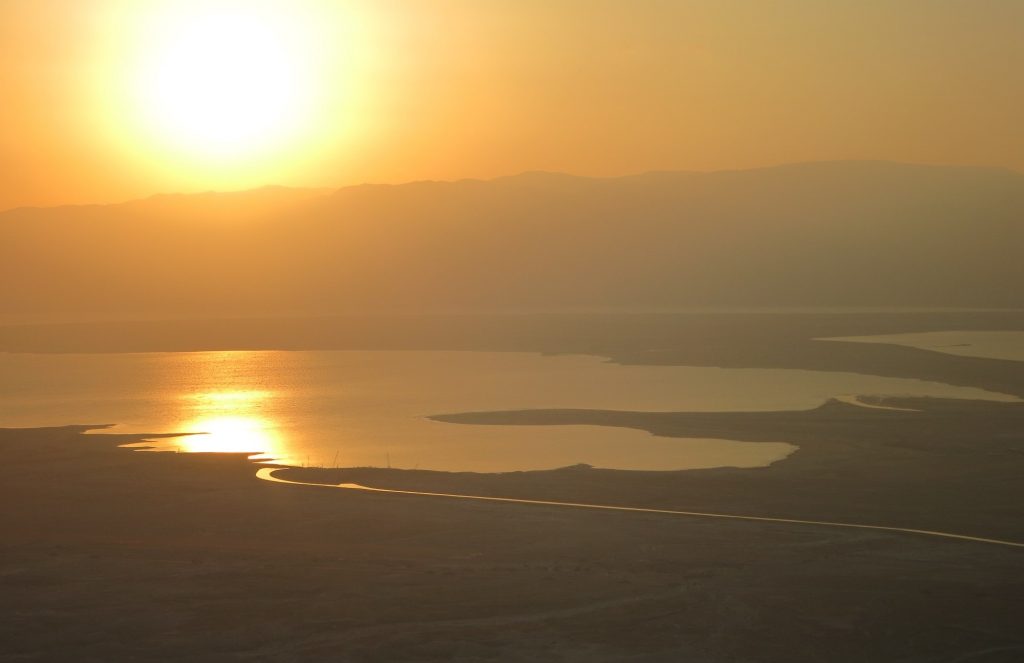 Is Masada worth visiting?
Masada figures very prominently in the history of the Jewish people and remains an important symbolic site for modern Israelis. It is well worth a visit. In addition to its historical and archeological significance, it is in a striking natural desert setting. We considered our Masada visit to be one of the highlights of our travel in Israel.
Masada is also very close to the Dead Sea such that a visit to both is possible in the same day from Jerusalem or Tel Aviv. You should allocate at least 2 to 3 hours to visit the Visitors' Center and the actual site on top of the mesa. Those planning to hike to the top of the mesa via the Snake Trail, should add at least another hour.
Tips for visiting Masada
Official website: It is important to visit the Masada National Park website in order to check for up-to-date information on opening and closing times and to be able to pre-book the date and time you want to visit.
Accessibility: The Masada Visitor Center complex, including the excellent museum, are accessible for people using wheelchairs or walkers. Much of the ancient site itself can be traversed by people using wheelchairs and other assistive devices along paved paths. However, there are some portions that are not suitable.
Dress in light breathable clothing, wear a hat and sunblock, and bring water: We visited Masada in March. It was really hot and there is very little shade up at the historic site nor on the Snake Trail.
Sunrise hike: If you are planning to hike the Snake Trail in time for sunrise, it would be best to book accommodations nearby for the night before. The nearest accommodation is a hostel/2 star hotel located in walking distance of the eastern entrance to Masada. If you stay there, you're likely to be able to join with a group of people to climb up for the sunrise. Bring a flashlight, since you'll be walking in the dark at first, and also a bottle of water.
Staying overnight: Besides the hostel/2 star hotel located in walking distance, there are many hotels along the Dead Sea within 10 miles of the Masada site, if you have a car. Use the map below to find and compare accommodations:
Where is Masada?
Masada is south of Jerusalem and east of Beersheva. It overlooks the Dead Sea.
By Car: Driving from Jerusalem should take about an hour and a half. We were fortunate to have relatives who picked us up in Tel Aviv to drive us to Masada and the Dead Sea. Masada is about a 160 kilometers' drive (99 miles) from Tel Aviv and 100 kilometers (62 miles) from Jerusalem. Depending on political tensions between Israelis and Palestinians on any given day, you may want to decide whether to drive to Masada via the West Bank, which usually takes less time. Some rental car agencies will not allow you to travel through the West Bank.
By Bus: It is possible to travel by bus to Masada from Jerusalem and from Tel Aviv. The bus trip from Jerusalem is about 2 hours. If you are coming from Tel Aviv, you must first take a bus to Jerusalem, adding at least another hour to the trip.
On a Tour: Depending on your budget, the best way to combine a trip to Masada with a visit to the nearby Dead Sea would be to take a tour, most of which include admission charges. Here are some tours to Masada, mostly from Tel Aviv or Jerusalem.
If you are not on a tour, it is possible to arrange a day pass to use the facilities of a Dead Sea hotel, including the beach and changing facilities. If you have any open cuts, you may want to reconsider entering the very salty water of the Dead Sea since open cuts can become quite painful in Dead Sea water. Everyone should avoid getting Dead Sea water in their eyes. Most visitors take a quick dip to experience the extreme buoyancy of the water and to perhaps slather on some Dead Sea mud which is supposed to have salubrious effects on skin.
For more information about Masada, its opening hours and admission fees, see its official website.
Text and photos (except where noted) provided by Suzanne Fluhr, a Philadelphia, Pennsylvania based blogger who writes about travel and other topics at Boomeresque: Travels for the Body and Mind.
Have you been to Masada? If so, do you have any additional information or advice about this UNESCO World Heritage site? Please add your comments below!