From the Great Saltworks of Salins-les-Bains to the Royal Saltworks of Arc-et-Senans, the Production of Open-pan Salt
By Leyla Alyanak
What are these places?
This is actually two distinct sites, separated by a 20-minute drive, but both revolve around salt.
Disclosure: This article contains affiliate links. Making a purchase through an affiliate link will mean a small commission for this website. This will not affect your price.
The oldest is the Great Saltworks of Salins-les-Bains, which was active for at least 1200 years before finally ceasing its activity in the 1960s. Using the naturally-salted water found underground, this industrial site produced salt by heating and evaporation. Today, the complex contains an evaporation room, a salt storage facility, and galleries in which a giant waterwheel is part of a pumping system that is still in working order. The salt was once used to fuel the thermal baths for which the town was known but these days, it helps makes winter roads more navigable.
The other site, not far away, is the Royal Saltworks of Arc-et-Senans or Saline Royale. It is a semi-circular set of buildings designed by Claude Nicolas Ledoux, a renowned Parisian architect whose designs involve geometry and hierarchy. It was built when Louis XVI decided new saltworks were needed because the country had outgrown those at Salins-les-Bains. The royal site never achieved its commercial and industrial goals and was long considered a failure. It was left to crumble and parts were even destroyed until restoration began in 1930.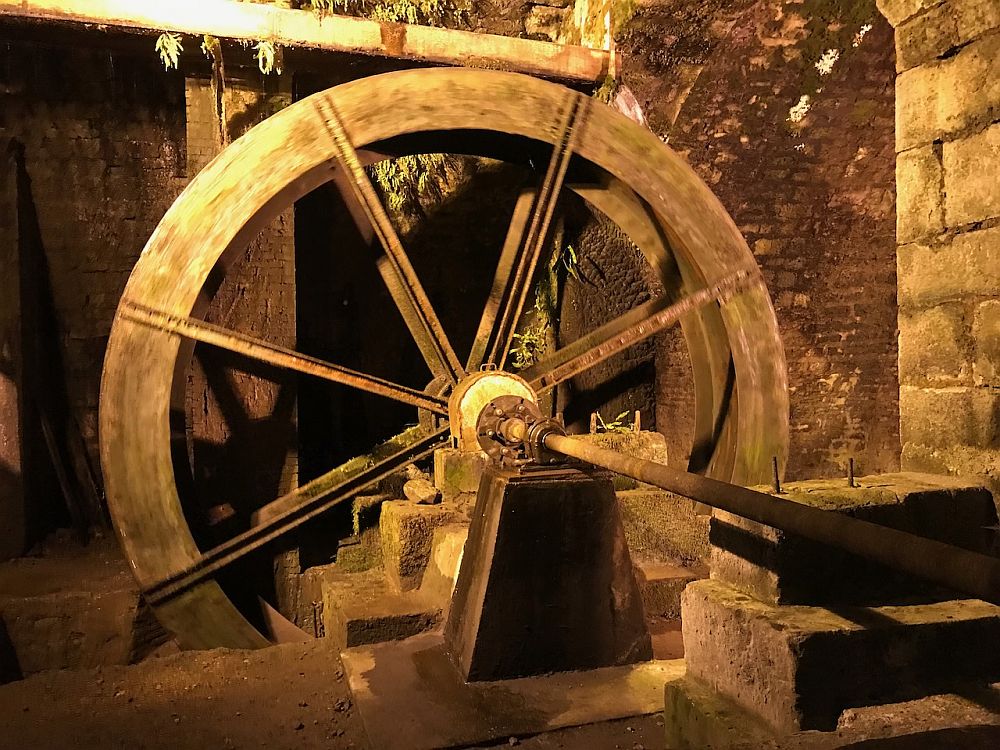 Why are these saltworks a UNESCO World Heritage site?
The two sites may both have to do with salt, but they couldn't be more different. The Great Saltworks at Salins-les-Bains – in operation for 12 centuries – includes an underground gallery and boiler house, whereas the Royal Saltworks of Arc-et-Senans was, according to UNESCO, "the first major achievement of industrial architecture, reflecting the ideal of progress of the Enlightenment".
What can you expect on a visit to Salins les-Bains and Saline Royale?
Both sites were completely unexpected. The saltworks at Salins-les-Bains are in the center of a town that has seen better days. You can't see the saltworks from the street, but you can see the museum building, which traces the saltworks' history and that of salt in the region. The visit itself requires a guide and involves walking down a number of steps into the heart of the saltworks, where old equipment is still kept in working order.
The Salines Royales at Arc-et-Senans is a semi-circular set of buildings that mirror one another and frame a delightful park from which you can admire the architecture. Some buildings are so modern they might have been designed in the 21st century, not in 1775. Inside the museum, other works by Ledoux are on display in miniature, some of them avant-garde constructions that sought their inspiration in Enlightenment thinking.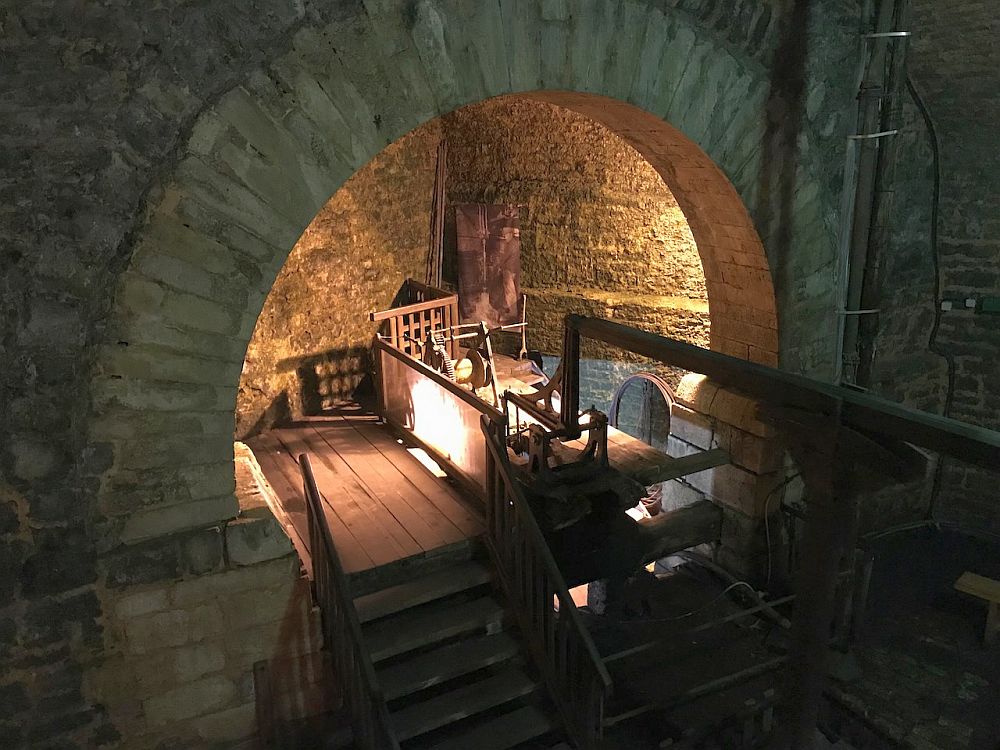 Are Salins-les-Bains and Saline Royale worth visiting?
The two sites are off the beaten track, hidden away in a part of France few international tourists ever reach, but if you happen to be in the Jura Mountains or visiting the city of Besançon, it would be a shame not spend a day learning all about salt.
A short drive separates the two sites, and you can visit Salin-les-Bains in the morning (1.5 hours if you visit the museum) and the Saline Royale in the afternoon (2 hours), when you have enough time to see both museums and exhibits. If your time is limited, both can be visited in an afternoon. If you happen to be an engineer or fascinated by old mines or a fan of industrial architecture, consider setting aside extra time to take it all in.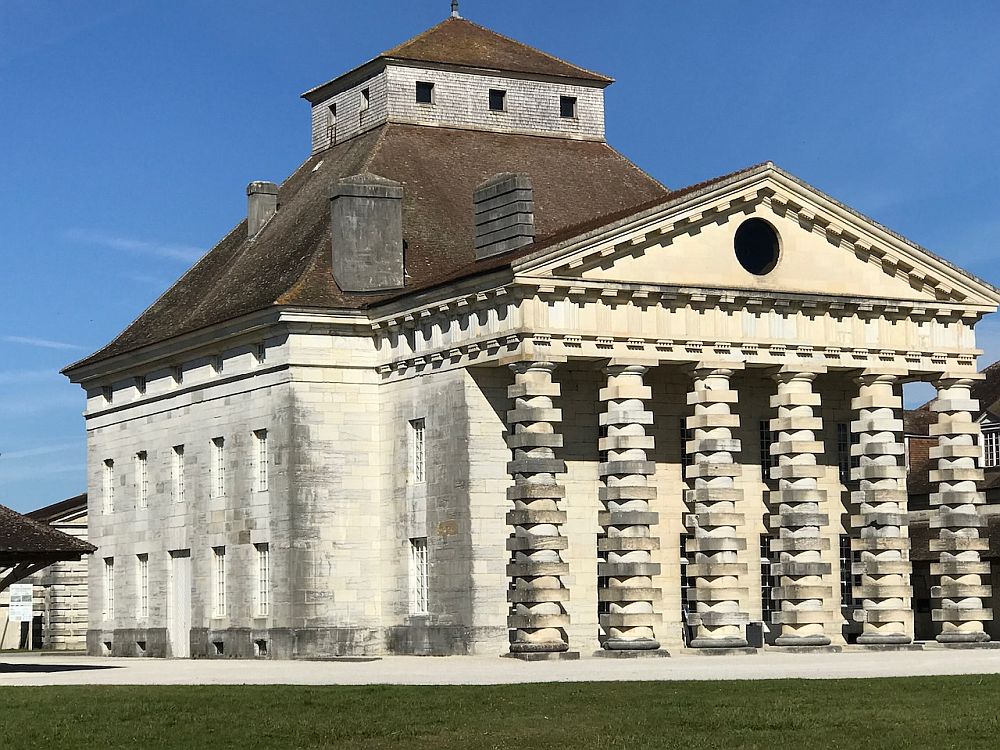 Tips for visiting Salins-les-Bains and Saline Royale
You can get a single ticket for both attractions at either one.
Wear non-slip shoes for Salins-les-Bains because the salt mine is humid and underground.
Click to find accommodations in Besançon, Salins-les-Bains or Arc-et-Senans.
Where are these two saltworks?
Salins-les-Bains saltworks is in the center of the town of Salins-les-Bains, on Place des Salines. Its coordinates are N46 56 15 E05 52 35.
The Saline Royale is in the center of Arc-et-Senans, and impossible to miss. Its coordinates are N47 01 59.6 E05 46 39.4
Both sites have plenty of parking and are best reached by car. It's a 40-minute drive from Besançon to Salines-les-Bains, after which you can backtrack to Arc-et-Senans in less than 20 minutes.
They can also be reached by train. For the Salines Royales, you can take the train from nearby Besançon or further afield from Lyon and get off at Arc-et-Senans. For Salins-les-Bains, it's the same train but you keep going to Mouchard, where there is a regular bus to town that takes around 10 minutes.
Go to the two sites' official websites – Salins-les-Bains and Saline Royale d'Arc-et-Senans – to see their opening hours and admission fees.
Text and photos provided by Leyla Alyanak of Offbeat France, discovering the less-visited destinations of France.
Have you been to the Salin-les-Bains and/or Saline Royale saltworks before? If so, do you have any additional information or advice about this UNESCO World Heritage site? Please add your comments below!