By Molly Scott
What is Derwent Valley Mills?
Derwent Valley Mills, situated in Derbyshire in central England, is a series of 18th and 19th-century cotton mills that are of intense historical interest. They are widely regarded as some of the first modern factories in the world.
Disclosure: This article contains affiliate links. Making a purchase through an affiliate link will mean a small commission for this website. This will not affect your price.
There are multiple locations to the Derwent Valley Mills World Heritage site. The River Derwent snakes 15 miles (24 miles) from Matlock Bath and Cromford in the north, through Belper, Milford and Darley Abbey and into the City of Derby.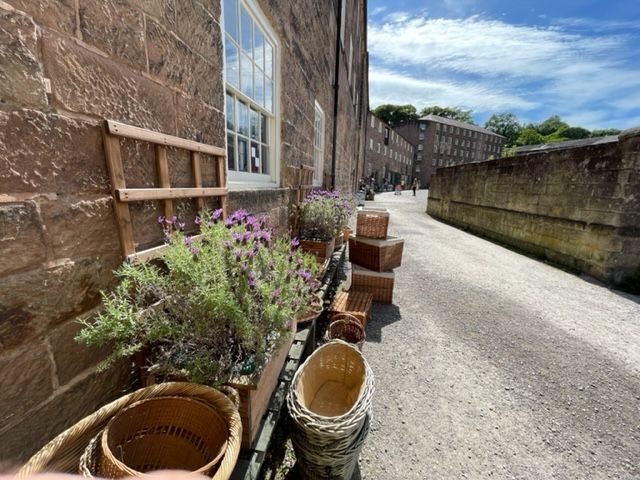 Why is Derwent Valley Mills a UNESCO World Heritage site?
Derwent Valley Mills is a UNESCO World Heritage site because of its historical significance. Regarded as some of the first modern factories in the world, the site is described as the birthplace of the factory system at the start of the Industrial Revolution.
Factories set in rural landscapes created a need for workers' housing, leading to the "creation of the first modern industrial settlements," according to UNESCO.
What can you expect on a visit to the Derwent Valley Mills?
Firstly, there are several locations to visit, and each has a slightly different character. What unites them is the historical mills and the riverside setting.
A logical place to start would be at Cromford since this is regarded as the birthplace of the modern factory system. The atmospheric Cromford Mills is free to visit and just wander around, or you can pay to do a tour. There are shops and a coffee shop and you can do lovely canal side walks.
Belper Mills is also currently open for visiting, although sadly this is expected to finish soon as the current owners seek to redevelop the site. This is less of a tourist destination than Cromford, and I wouldn't necessarily advise international travellers to visit Belper specifically, but if you are in the local area it is worth a visit.
Some interesting buildings can also be seen in Milford – but this isn't open for visiting and not specifically worth a visit in itself.
The mill complex at Darley Abbey is now home to a plethora of different businesses. The mill itself is an exclusive wedding venue nowadays (I actually got married here myself!) and is not open for general visiting – but you can very much enjoy the exterior of the buildings and its beautiful riverside setting. There is a very small garden opposite the mill which is a lovely place to sit and enjoy a view of the mill across the river. Darley Abbey is also a good place for eating and drinking. There are a couple of upmarket bistros and a wine bar nestled in the historic mill buildings.
Derby Silk Mill in the city of Derby is now named the Museum of Making. This is a creative, inspiring space that tells the story of Derby's 300-year history. General admission to the museum is free. As well as the fascinating museum, there is a café and shop.
Is Derwent Valley Mills worth visiting?
Absolutely! You could spend a whole week visiting the entire site. Or a very packed day. Alternatively, focus on just one site.
Cromford Mill is worth visiting for anyone interested in the industrial history of Britain. It is also very family friendly.
Derby's Silk Mill (the Museum of Making) is also worth visiting. Derby is less of an obvious tourist destination but is a wonderful example of a typical British city, and there is lots going on.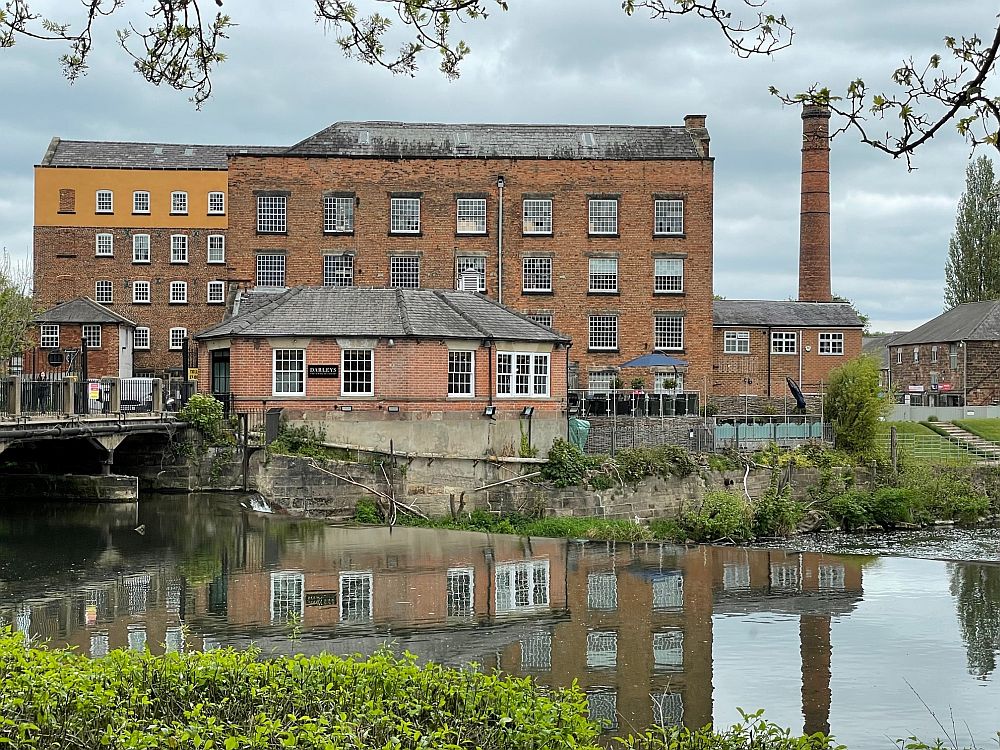 Tips for visiting Derwent Valley Mills
Cromford (or indeed any of the Derwent Valley Mills) could easily be combined with a visit or stay in the Peak District, a national park boasting stunning scenery and excellent hiking and biking.
The accommodations map below is centered on Duffield, which is about halfway along the 15-mile stretch of the Derwent River that comprises the UNESCO site. Move the map to find other places to stay along the river.
Where is Derwent Valley Mills?
Derwent Valley Mills is situated in Derbyshire in the East Midlands in central England. There are various sites to explore since the site snakes along 15 miles (24 kilometers) of the Derwent Valley.
Derby Silk Mill is located in the city of Derby which is well served by the train network. It's approximately a 20-minute walk from the train station to the Silk Mill or you can take a bus or taxi. There are a range of city centre car parks, e.g. the Assembly Rooms. Discounted parking is available if you validate your parking card at the museum.
Cromford is about a 30-minute drive from Derby. If travelling by car, drive along the A6, which pretty much follows the River Derwent and goes right past the Milford and Belper mills.
For more information about Derwent Valley Mills, their opening hours and admission fees, see the UNESCO site's official website.
Text and photos provided by Molly Scott of Lovely Local Indie. Molly blogs about fabulous places to eat, drink and stay in Derbyshire and is a big champion of independent, small businesses. Find her on Instagram, Facebook or Twitter.
Have you been to the Derwent Valley Mills? If so, do you have any additional information or advice about this UNESCO World Heritage site? Please add your comments below!