Pontcysyllte Aqueduct and Canal
By Kieren
What is Pontcysyllte Aqueduct and Canal?
Pontcysyllte Aqueduct (pronounced pont-ker-sulth-tay) is one of the most notable canal structures in the world. Built by the renowned British engineer, Thomas Telford, it carries the Llangollen Canal over the River Dee in North Wales.
With 18 arches spanning more than 1000ft (307 m), it is the longest aqueduct in Great Britain as well as the highest canal aqueduct in the world, standing at 126ft (38m).
Disclosure: This article contains affiliate links. Making a purchase through an affiliate link will mean a small commission for this website. This will not affect your price.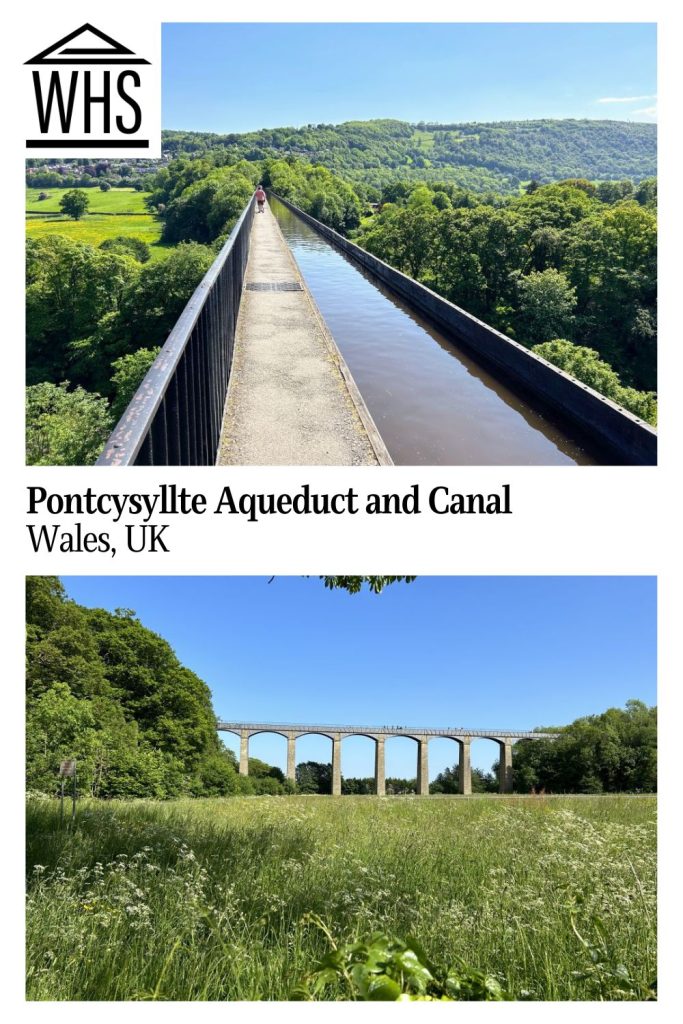 Why is Pontcysyllte Aqueduct a UNESCO World Heritage site?
The aqueduct was built as part of a wider plan to build a canal connecting Shrewsbury and Liverpool, running through the coal mining towns of North Wales. The full project was never completed as it didn't generate enough revenue. Eventually, the introduction of trains provided a more efficient transport network for the region.
However, the stretch between Llangollen and Ellesmere, including the Pontcysyllte Aqueduct and the Chirk Aqueduct, was completed. It provided a substantial economic boost for towns along its route, most notably, Llangollen itself.
The stretch of canal from Horseshoe Falls (the weir which feeds water into the canal) in Llangollen up to Pontcysyllte Aqueduct was inscribed as a UNESCO World Heritage site in 2009 for being such a monumental civil engineering project in its age. It is innovative, especially when you consider it dates to the early 19th century: a demonstration of the achievements of the Industrial Revolution. Its metal arches using cast and wrought iron produce an elegant effect.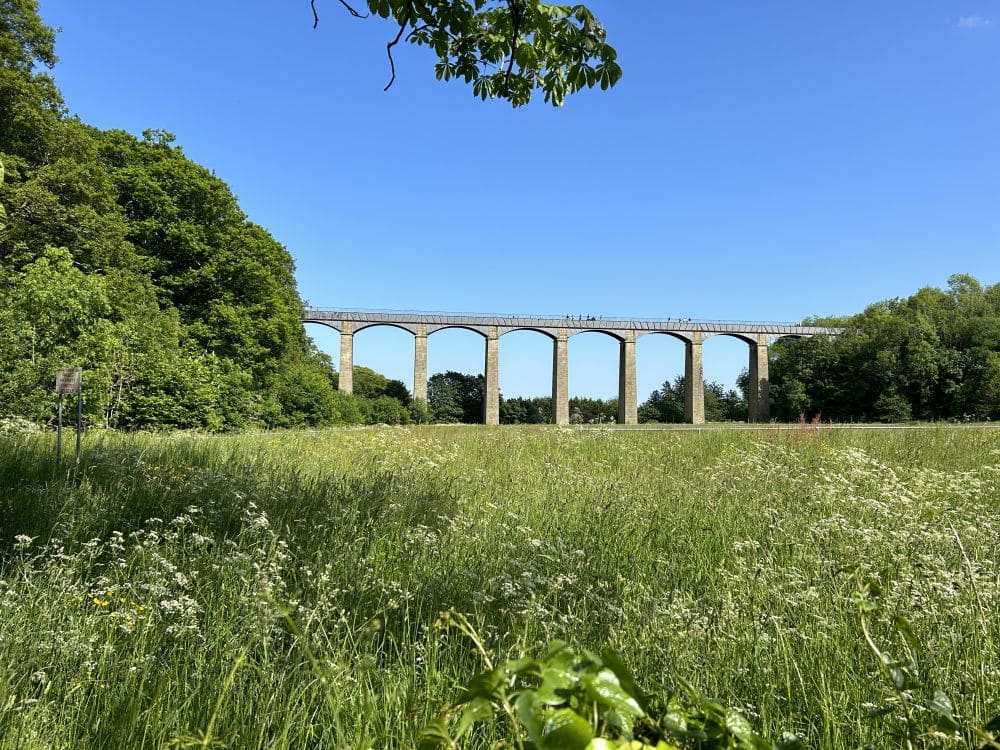 What can you expect on a visit to Pontcysyllte Aqueduct?
Being from Wales myself, I've visited the aqueduct several times and never tire of the beautiful views you get from the top. You can also expect canal boats and kayaks to pass along the canal right next to you, which is a great experience.
There's a narrow walkway alongside the canal which is free to access and offers an excellent vantage point for photos.
Next to the aqueduct, there's a free visitor centre with information about the site. I have visited the small exhibition inside and, although it's small, it's worth stopping by if you enjoy learning about the history of the area and the aqueduct.
As well as being able to walk across the aqueduct, you can take a canal boat across, with some starting at the wharf near the canal and others offering longer trips from Llangollen. You can also choose to take a guided canoe tour or rent a canoe.
Check this full guide for up-to-date information about public and self-drive boat trips across Pontcysyllte Aqueduct.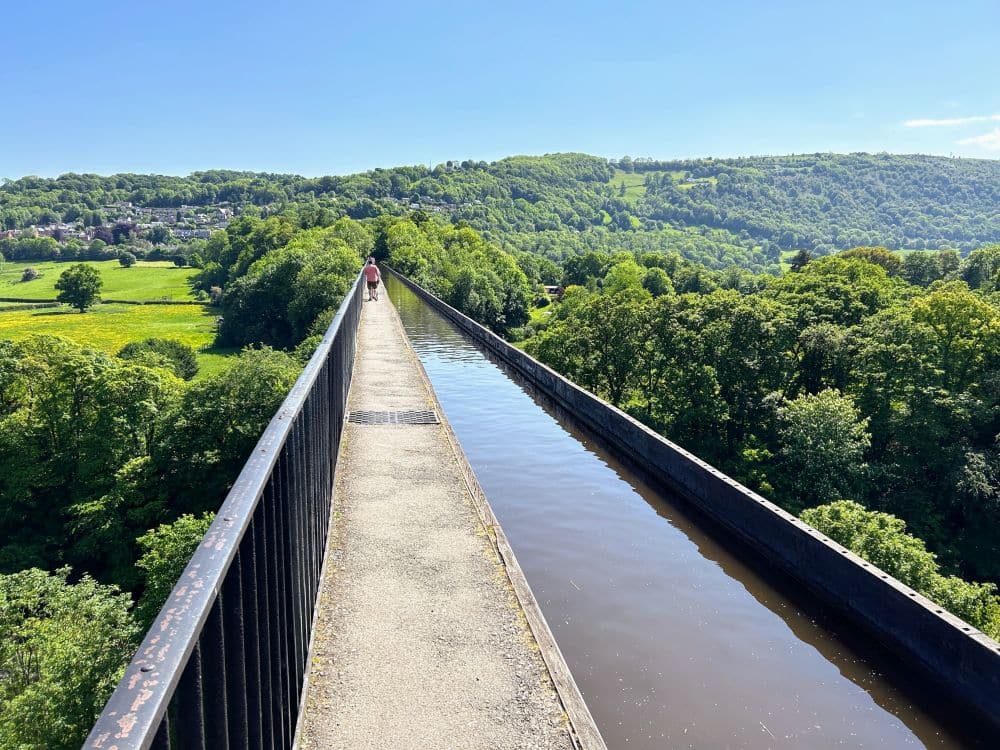 Is Pontcysyllte Aqueduct worth visiting?
Yes, if you are already in the area, then Pontcysyllte Aqueduct is worth stopping by to enjoy.
What sorts of travelers would like Pontcysyllte Aqueduct?
Pontcysyllte Aqueduct is an attraction that will appeal to everyone. You can tailor the trip to suit you by walking further along the canal or taking a canal boat across instead of walking.
The trip is great for families too. Dogs are welcome and the path across the aqueduct alongside the canal is just wide enough for prams and wheelchairs too.
There are large railings alongside the path so there is no chance of falling off the aqueduct. However, remember that there will be an open canal right next to you so make sure to keep dogs on a leash and closely supervise your children.
Use the map below to find accommodations near the aqueduct:
Tips for visiting Pontcysyllte Aqueduct
If you are planning to walk across the aqueduct and see the visitor centre, I would recommend allowing about an hour for your visit. This includes 20 minutes of walking to the car park and back. There's also a tiny café and some public toilets between the car park and visitor centre.
If you have a little longer, taking a canal boat across the top is a good experience too. There are canal trips from Llangollen which take 2 hours, or shorter trips starting near the visitor centre.
The car park near the aqueduct itself is reserved for disabled visitors with a Blue Badge. Everyone else should park at the official car park which is on the other side of the village. See it here on Google Maps. From the official car park to the aqueduct is about a 20-minute walk each way.
Being an outdoor activity with stunning views, the aqueduct is busiest when the weather is good and crowds tend to peak during the early afternoon. Still, having visited several times, it's never been too overcrowded.
Of course, being on the aqueduct means you can't get a good photo of the aqueduct itself. There's a small layby just after Pontcysyllte Old Bridge which is an excellent photo spot.
I recommend combining a visit to the aqueduct with exploring the market town of Llangollen. Here, you can walk up to Castell Dinas Bran, visit the National Trust-owned Plas Newydd House, and walk along the canal to Horseshoe Falls. Find out more about things to do in the town in this guide.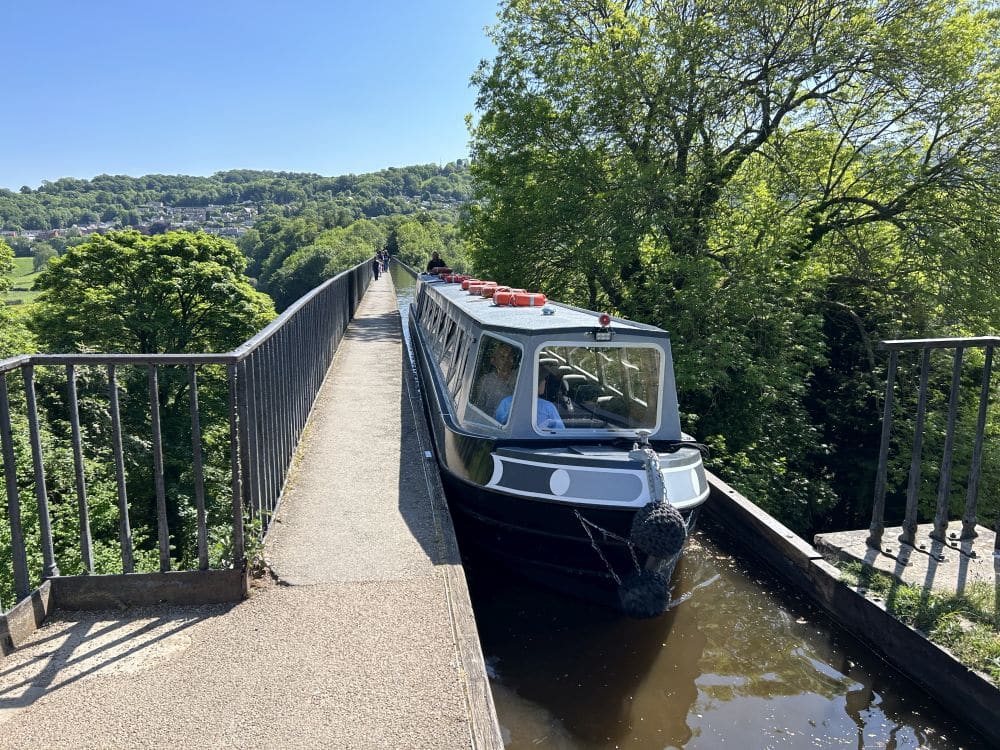 Other UNESCO sites in Wales are the Slate Landscape of Northwest Wales and the Castles and Walls of King Edward in Gwynedd.
Where is Pontcysyllte Aqueduct?
Pontcysyllte Aqueduct is located near the small village of Trevor in North Wales. By car, the aqueduct is about 10 minutes from the popular town of Llangollen and 15 minutes from Wrexham.
To visit by public transport, you'll need to take a bus from Llangollen which stops in Trevor. Travelline Cymru is a great resource for planning public transport in Wales.
For more information about Pontcysyllte Aqueduct, its opening hours and admission fees, see its official website.
Text and photos provided by Kieren of Got My Backpack, a travel blog about his adventures across the world from his home country of Wales to South East Asia and West Coast America.
Have you been to Pontcysyllte Aqueduct? If so, do you have any additional information or advice about this UNESCO World Heritage site? Please add your comments below!