Ancient Thebes with its Necropolis
By Cindy Carlsson
What is Ancient Thebes with its Necropolis?
Thebes (within the modern city of Luxor) was the capital of Egypt at the height of its wealth and power more than 3000 years ago. The Ancient Thebes UNESCO site includes temples and ancient burial sites in and to the west of Luxor. The highlights of this UNESCO site relate to pharaonic Egypt. However, the designation also includes components from Roman and early Christian periods, as well as the mid-20th century New Gourna Village.
Disclosure: This article contains affiliate links. Making a purchase through an affiliate link will mean a small commission for this website. This will not affect your price.
Karnak and Luxor temples
Within the city of Luxor, the highlights of ancient Thebes are the temples of Karnak and Luxor. These large complexes were modified and expanded over many hundreds of years.
Luxor Temple was constructed around 1400 BC. It was dedicated to the renewal of kingship and may have been where Egypt's New Kingdom pharaohs were crowned.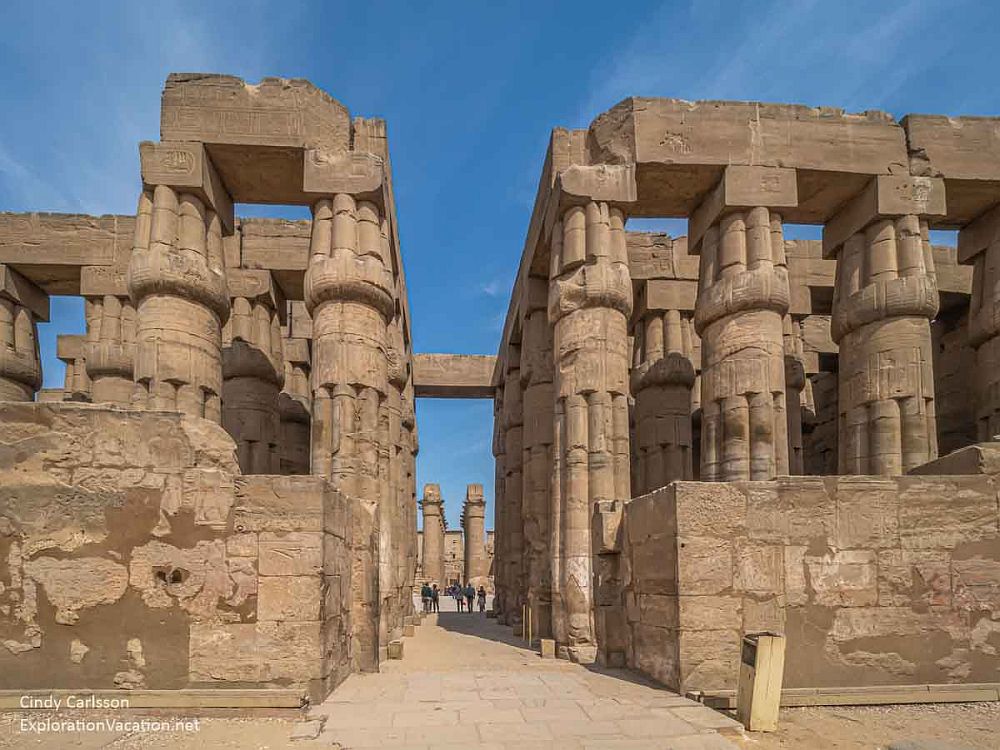 The original Karnak temple was built around 1900 BC, but Karnak grew to become a huge complex of temples as it was repeatedly modified, rebuilt, and expanded almost up to the Roman era. However, most of what remains today dates to the New Kingdom (1600-1100 BC), including the spectacular Great Hypostyle Hall.
Luxor's West Bank
Often referred to as the Valley of the Kings, that is actually just one of the ancient sites on Luxor's West Bank. While the tombs in the Valley of the Kings are the largest and most elaborate, you'll also find interesting and beautifully painted tombs in the valleys of the Queens and Nobles and in the village where the workers who built the tombs lived. Tomb paintings include depictions of daily life, but most illustrate religious beliefs. Most of these tombs were constructed between around 1540 and 1075 BC and, while the discovery of King Tut's tomb was the most dramatic, tombs are still being discovered today.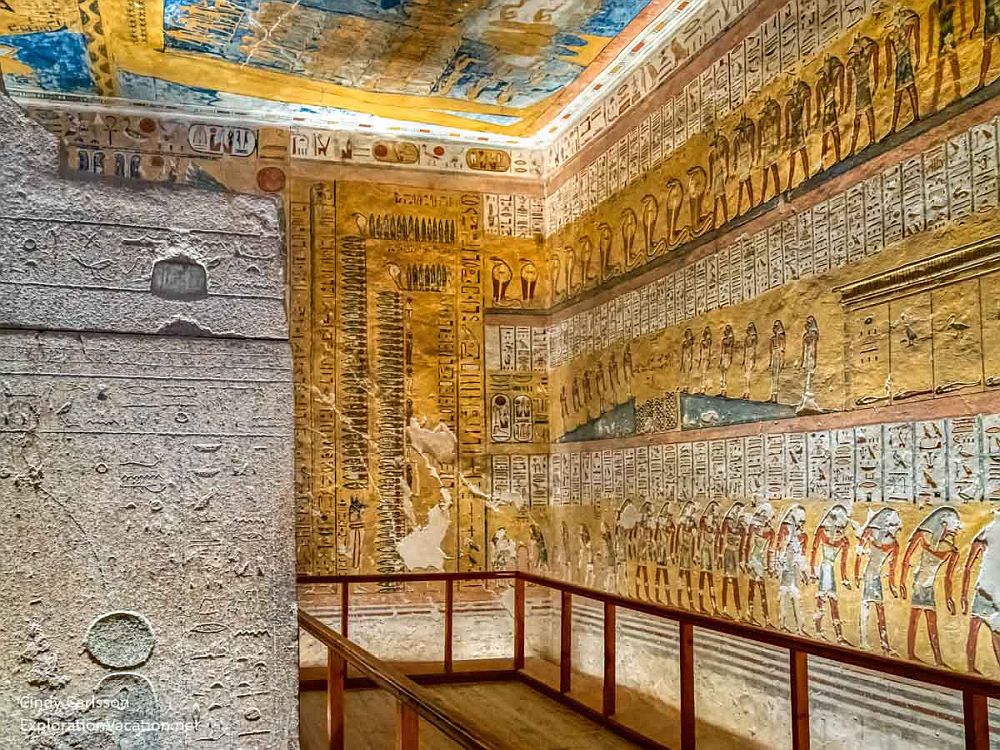 But Luxor's West Bank has more than tombs. The burial place of the pharaohs was supposed to be secret, so mortuary temples were constructed to preserve their memory. The ruins of several of these remain, and a few are quite spectacular.
Why is Ancient Thebes a UNESCO World Heritage site?
Visitors come to Luxor to marvel at the size and artistry of the ancient pharaonic temples and tombs, but these sites are significant for more than their grandeur and beauty. As UNESCO documentation explains:
"The monumental and archaeological complex of Thebes with its temples, tombs, and royal palaces; its villages of artisans and artists; its inscriptions; its innumerable figurative representations, as valuable from an aesthetic as from a documentary point of view, constitute the material witness of the aggregate history of the Egyptian civilization from the Middle Kingdom to the beginning of the Christian era. Moreover, the texts and the paintings are the source of information concerning the people and cultures of neighboring countries. . . ."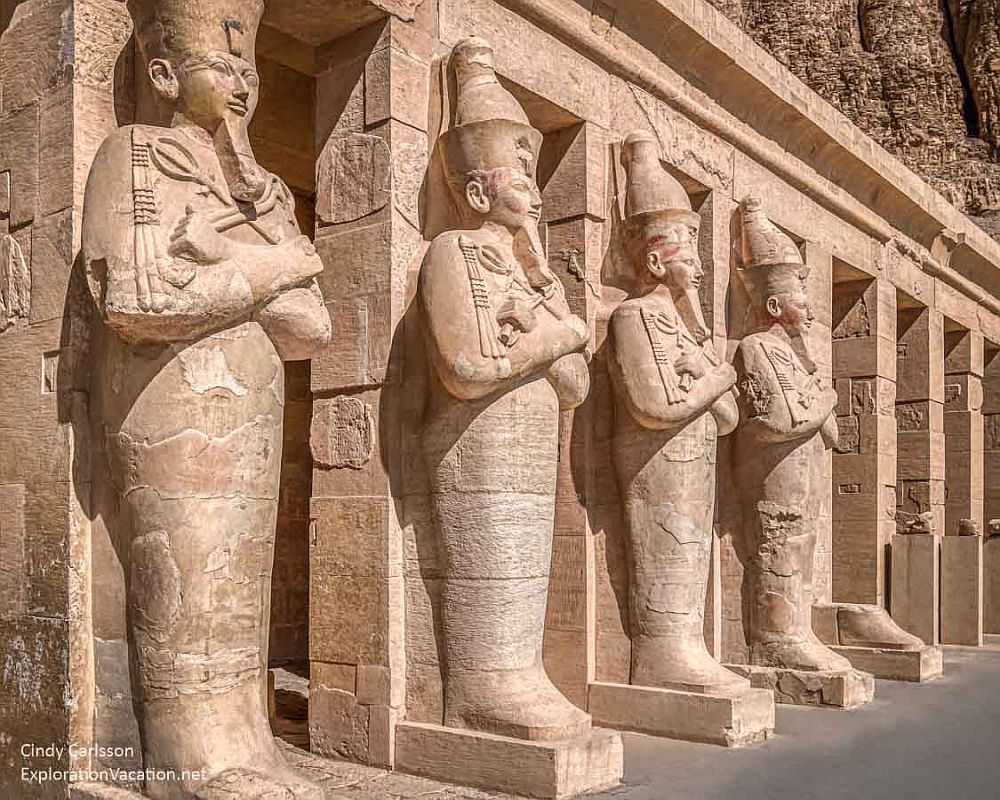 What can you expect on a visit to the Ancient Thebes sites?
Ancient Thebes is overwhelming. Not only are there a lot of archaeological sites, but most are large and filled with intricate artwork that begs to be deciphered. There's just a lot to see. And most tours take visitors through it at a pace that will leave you drained and not quite sure what you've seen. That's too bad, because Luxor itself is a pleasant city and a great place to explore at a relaxed pace.
Karnak is a huge, complex site. While a few areas have good colors, the architecture and sculpture are the highlights – especially the Hypostyle Hall. It's worth the price of admission just to marvel at that hall!
The map below shows the locations of all the main sights:
Luxor Temple is located right in the heart of the city and has a large park-like plaza on one side and a mosque perched on top. (The temple was buried in dirt and debris after being abandoned, which is how the mosque ended up on top of it.) While Karnak gets top billing, Luxor has some impressive ruins and is in some ways a more enjoyable place to visit. It is also lit at night and open to visitors until fairly late, making it a great after dinner activity.
Across the Nile, the West Bank is surprisingly green and agricultural until you get into the wadis where the tombs are. It would be an interesting area to explore on foot or bike, but most of the ancient sites are in very hot, dry areas.
While the word "tomb" may conjure up images of dark, cramped spaces, the finest tombs are extremely large, brilliantly painted, and (usually) well-lit. They really do look exactly like the pictures and there's no need to crawl through small spaces to see them. However, that's not the case for all tombs. For example, the tombs the workers created for themselves are brightly painted and very interesting, but require maneuvering down makeshift stairs and through cramped, slightly claustrophobic passageways. The trade-off is that they are quite different from the royal tombs and there won't be many other people down there with you!
You can read more about the Valley of the Kings here.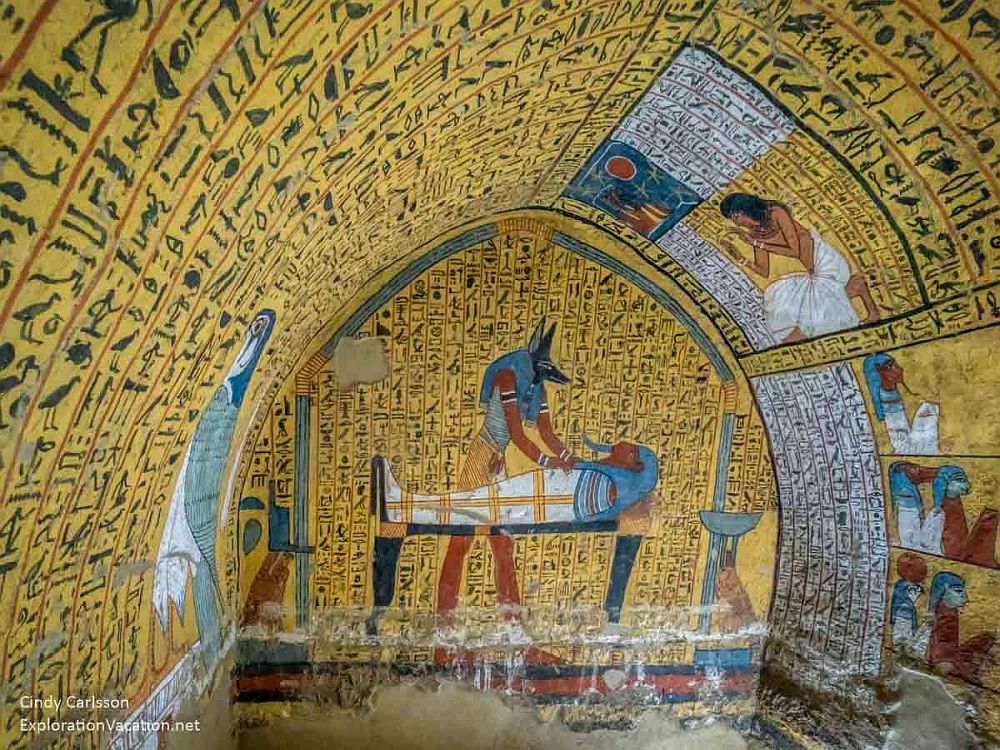 All tours visit the spectacular temple of Hatshepsut and a pair of enormous statues known as the Colossi of Memnon. Most people just take a few selfies at these sites, but Hatshepsut's temple has artwork that raises interesting questions about ancient Egypt's female queen. Most tours skip Medinet Habu, the temple built by Ramesses III, but it has some of the best-preserved paintings in any of the temples.
Is Ancient Thebes worth visiting?
Everyone should see Luxor's ancient pharaonic sites if they can. They are amazing.
Many package tours rush through Luxor in a day. They begin in the morning with Karnak, cross the Nile for the Valley of the Kings and the temple of Hatshepsut with a quick stop at the Colossi of Memnon, and then head back to Luxor for dinner.
This is a reasonable mix of sites. But one day is not enough to absorb even a fraction of what you will see. To avoid being totally overwhelmed and exhausted, see Luxor's sites over at least two days. That lets you spend a little more time at each and gives you the option of adding a couple of others.
If you really can only spend one day in Luxor, try this tour.
Of course, if you are very interested in ancient Egyptian history, Luxor has enough to keep you busy for many, many days.
Stay a few days in Luxor! You can book your accommodations using the map below:
Tips for visiting Luxor's sights
The earlier you get to Karnak and the Valley of the Kings, the smaller the crowds. These sites also tend to be less crowded late in the afternoon. However, the total number of tourists allowed in each tomb per day is limited, so an early morning visit to the Valley of the Kings assures you can see the most interesting tombs.
Bring sunscreen, water, and a hat. There is virtually no shade at any of these sites and the Egyptian sun can be brutal. Even when visiting tombs, you'll spend more time in the hot sun than you will in the (sometimes equally hot) tombs.
Photography is currently allowed at most, but not all tombs. Some require a separate (expensive) photography ticket and some do not.
Usually, cell phone photography does not require a separate ticket, but even that isn't allowed in all tombs. Ask before you shoot to avoid a fine.
Tripods and selfie-sticks are strictly prohibited at many sites – you can't even carry them in.
An admission ticket is required at all sites.
You cannot purchase a ticket at every site that requires one. Have your ticket or know where to get it before heading to a site.
Only a few tombs are open at any one time and you can only enter three of them on a single admission ticket. Several, including that of King Tut, require a separate ticket. Ticket prices for these extra tombs vary greatly.
Ticket offices don't always have a working credit card machine. If you are purchasing passes or other expensive tickets, be prepared to pay with crisp dollars or Euros.
Don't miss the Luxor Museum, which displays only the very finest pieces from ancient Thebes.
If you are interested in the Roman or early Christian history of sites within the UNESCO designation, look for a guide with expertise in that area. Most focus strictly on pharaonic Egypt.
You don't have to stay in downtown Luxor. There are plenty of accommodations on the West Bank. These are less expensive and make it easy to split your West Bank sightseeing over a couple of days. Staying on the west side of the Nile is particularly recommended if you plan to do a balloon tour.
Where is Luxor?
Luxor is over 600 km (400 miles) south of Cairo. Both bus and rail options are available and each will take 10-12 hours. Fortunately, you can fly between the two cities in an hour.
Once in Luxor, the sites connected with ancient Thebes are located near the Nile in, or across from, the heart of the modern city. If you are staying at an upscale hotel along the Nile, Luxor Temple may be just a short walk from your room. Likewise, if you are taking a Nile cruise, your boat may be docked just below it. (River boats dock in several areas on both sides of the Nile, but all provide transport into the city.) Luxor has a pleasant corniche if you choose to walk between sites and taxis are always available.
Entrance tickets can be purchased outside both Luxor Temple and Karnak.
Luxor's West Bank is connected to the city proper by two bridges. Both are notable for their traffic jams. That means the most interesting, quickest, and cheapest way to reach the West Bank is via the local "baladi" ferry. They dock near Luxor Temple. You may need to wait a bit for the ferry to fill before departing. Private launches are also available and, while they cost considerably more than the baladi ferry, there's no waiting and they will be cheaper than a taxi. These small motor launches can be found all along the river bank. Once you reach the West Bank dock, you can hire a cab for the day. You can also bring or rent a bike, as the distances between sites isn't very far. And, of course, tours usually include your transportation to and around the West Bank.
The main ticket office on the West Bank is at the Valley of the Kings.
For more information about Ancient Thebes and its Necropolis, including opening hours and admission fees, use the search feature on the Egyptian Tourism Authority's Egypt Travel website.
Text and photos provided by Cindy Carlsson, the always-curious traveler and photographer behind the website ExplorationVacation. Cindy loves diving deep into the places she visits and sharing her discoveries on the website, Facebook, and Instagram.
Have you been to Ancient Thebes? If so, do you have any additional information or advice about this UNESCO World Heritage site? Please add your comments below!