Megalithic Jar Sites in Xiengkhuang – Plain of Jars
By Cindy Carlsson
What are the Megalithic Jar Sites in Xiengkhuang (the Plain of Jars)?
More commonly known as the Plain of Jars, the Megalithic Jar Sites in Xiengkhuang (Xieng Khuang) UNESCO World Heritage site is a collection of enigmatic stone jars and quarries believed to date back at least to 500 BCE. These jars, which can weigh several tons, were hauled from mountainside quarries to the sites where they were used for burials and/or funerary rituals.
Disclosure: This article contains affiliate links. Making a purchase through an affiliate link will mean a small commission for this website. This will not affect your price.
The Xiengkhuang Plateau has more than 2,000 of these jars in more than 80 sites. However, the World Heritage site itself includes only 1,325 jars grouped into 15 components at 11 sites. Five sites include a quarry area where the stone was mined and formed into jars. One site seems to have been used to finish carving the jars after they came from the quarry.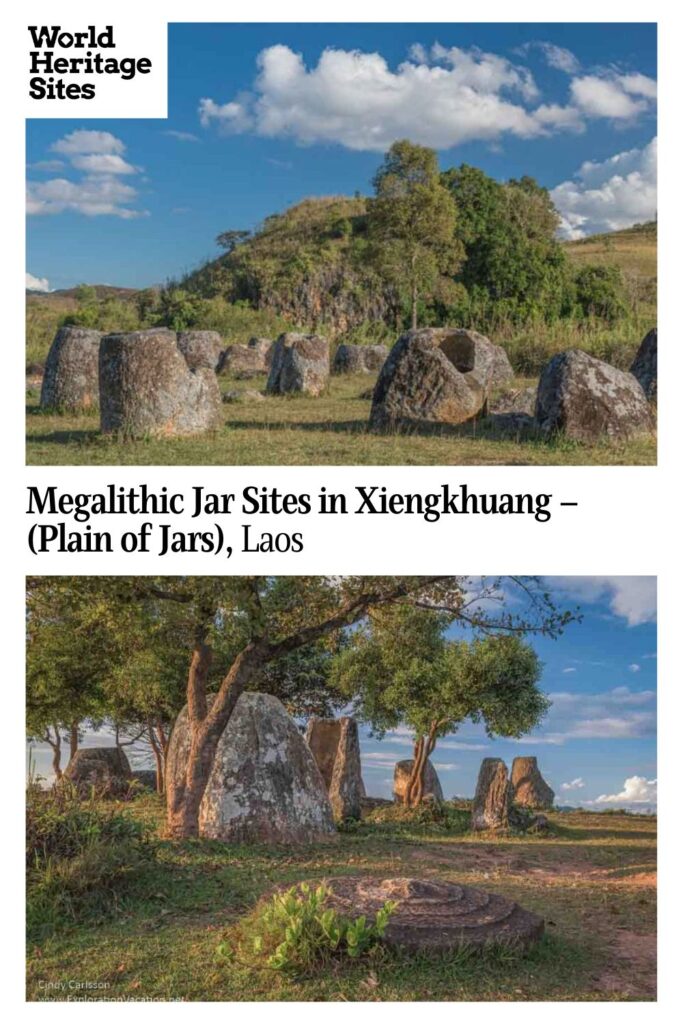 Why is the Plain of Jars a UNESCO World Heritage site?
UNESCO World Heritage sites generally recognize places that are outstanding examples of geological, archaeological, or historical events in the development of the planet and/or the people who have inhabited it over time. The Plain of Jars presented a conundrum for UNESCO in that regard: it's clearly a remarkable site, but there's little understanding of (or agreement on) who created and used it, when, why, and how. And then there was the problem of unexploded ordinance (UXO or "bombies" in local parlance) that long made most of the area unsafe for tourists and researchers alike.
With so many questions still unanswered, UNESCO sticks to research from the 1930s: "The ancient jar sites contain extensive and remarkable evidence of funerary practices, and are the outstanding evidence of the Iron Age civilization which created the sites." Adding, "The size of the megalithic jars, and their large number and wide distribution within the Province of Xiengkhuang is remarkable, and the serial property of 15 components contains a range of sites that can attest to the quarrying, manufacturing, transportation and use of the funerary jars over this lengthy period of southeast Asian cultural histories."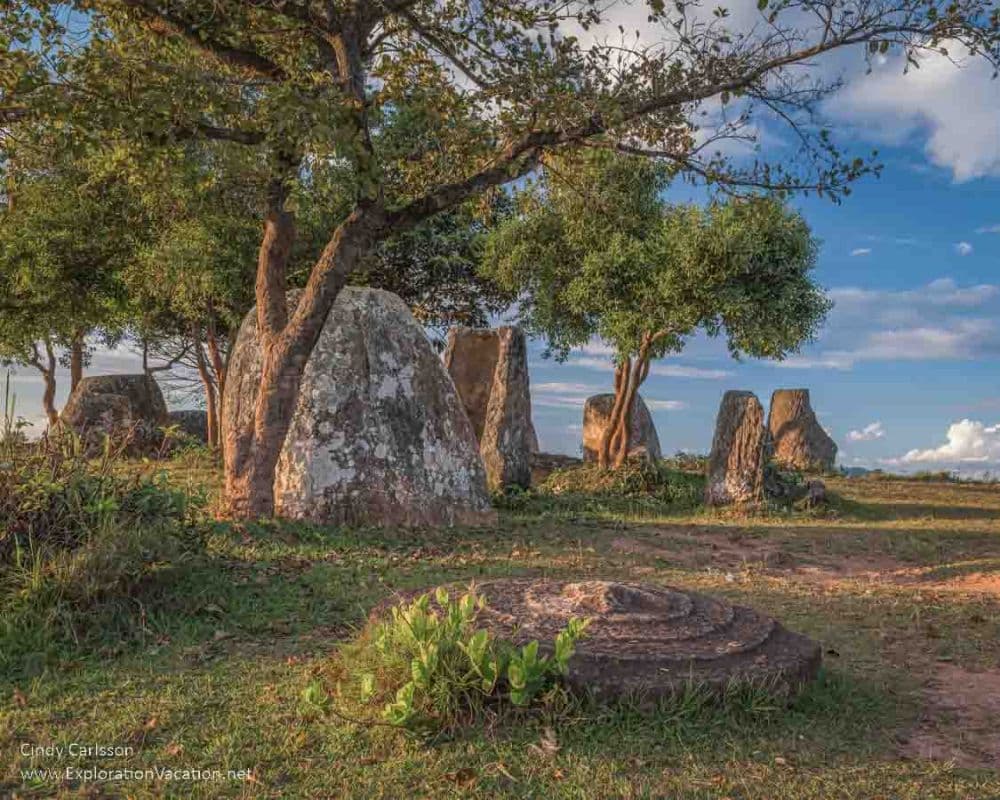 What can you expect on a visit to the Plain of Jars?
In preparation for the Plain of Jars becoming a World Heritage site in 2019, UNESCO helped fund both UXO clearance and research on the site. The research may have raised more questions than it answered. But at least visitors to the areas in the UNESCO site need not fear stepping on a buried explosive during their visit. (Just don't go wandering outside designated areas.) Meanwhile, work continues to clear all the buffer areas around the designated sites, as well as the other 70-some known, but little-studied, sites that are not included in the UNESCO designation.
Despite its name, most of the Plain of Jars isn't flat, and jar sites are often located on slopes or hills overgrown with trees, but with panoramic views over the countryside.
Each site included in the World Heritage designation has at least one jar. Some sites have hundreds; a few have just one or two.
The jars are carved from stone, usually sandstone, but some sites have jars carved from granite or other types of stone. Measured in terms of an average adult, the smallest jars stand about mid-thigh to hip height and are too wide to reach around. The largest is 3 meters/10 feet tall with a similarly massive circumference.
Most sites have a mix of unbroken and broken jars and a least one or two discs or lids. (Archaeologists aren't sure about the original purpose of the discs. Some are burial markers, but others seem like they were designed to cover a jar.) Some groups also have other stones that are known to mark burials in the ground around the jars. The quarry sites have a mix of finished, unfinished, and broken jars.
Most visitors only see Sites 1-3 and maybe the quarry at Site 21. All these sites have at least basic visitor facilities. Other sites in the UNESCO designation were only recently fully cleared of UXO, are generally more difficult to access and lack visitor facilities. It seems access improvements are planned for all sites, but for the time being, most of the more remote sites are best visited with a guide who knows the area well.
Site 1
Site 1 (Na O/Ban Ang) is the largest site under the UNESCO designation and has five distinct groups of jars located in close proximity to each other. Altogether, Site 1 has more than 300 jars, including the only known decorated jar. There are also 30 discs and 300 stone markers. This is where the most research has been done and it's clear the site was used for burials at some point in time.
Much of Site 1 is spread across a flat plain, although part sits on a low hill. The jars here range considerably in size and condition, with a significant number of broken ones. Broken jars are not a surprising find, as this area was also the focus of military activity during the American-Vietnamese war. Grass-filled trenches, foxholes, bomb craters, and other signs of active warfare remain amid the jars.
Site 1 is the busiest site, popular with both tourists and local residents. It's not unusual to find family groups picnicking and playing around and on the jars. For them, it's the neighborhood park: one of the few open, grassy areas where they haven't had to worry about bombies for many years. However, because it is busy and the site itself is largely flat, treeless, and relatively close to development, it's probably the least evocative of the UNESCO Plain of Jars sites. It can feel more like visiting a local park than an ancient and mysterious archaeological site.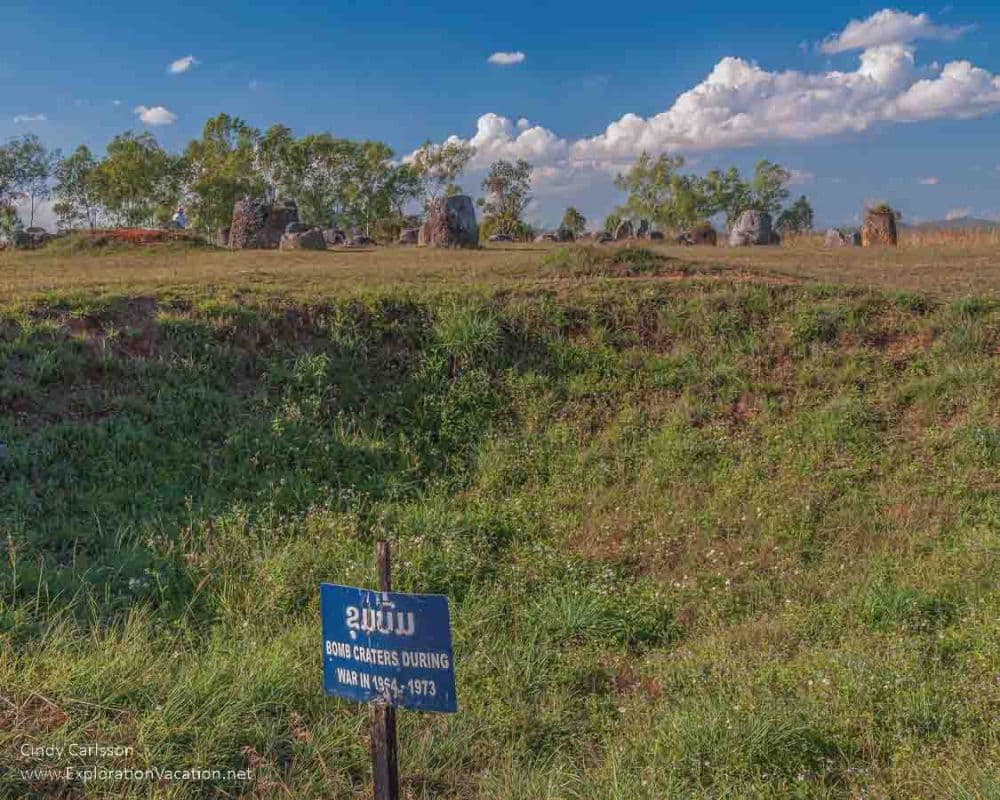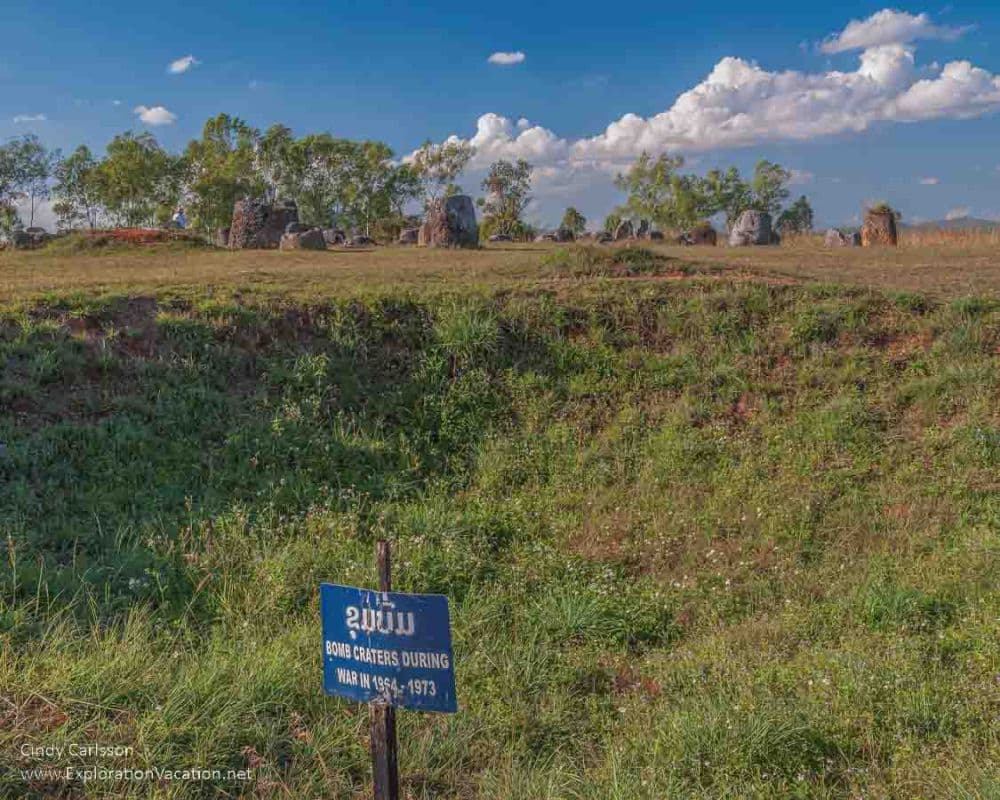 Sites 2, 3, and 8
Both Sites 2 (Ban Na Kho) and 3 (Ban Xiengdi) are located amid trees on hills. Trees cause a lot of damage to stone jars, but they create an intriguing landscape. Both sites also offer panoramic views over the surrounding rural countryside.
Site 2 has about 90 jars in three groups located on two hills. There are also more than a dozen discs here, including decorated ones.
Site 3 is located near Site 2. Although there are six groups of jars here, only five are part of the UNESCO site. These vary from a dense grouping of almost 160 jars to a group with just two, some found in a relatively flat, open area, while others are in wooded areas on and along the hills.
Site 8 (Ban Xiengdi village) is the quarry thought to have produced the jars at Sites 2 and 3. It's located above Site 3. Access to the quarry may be limited.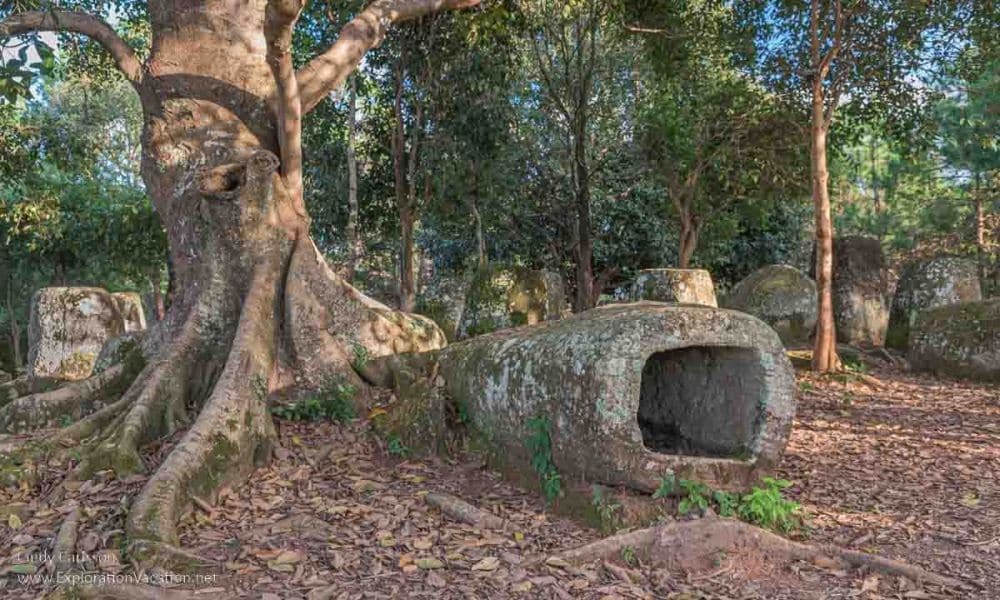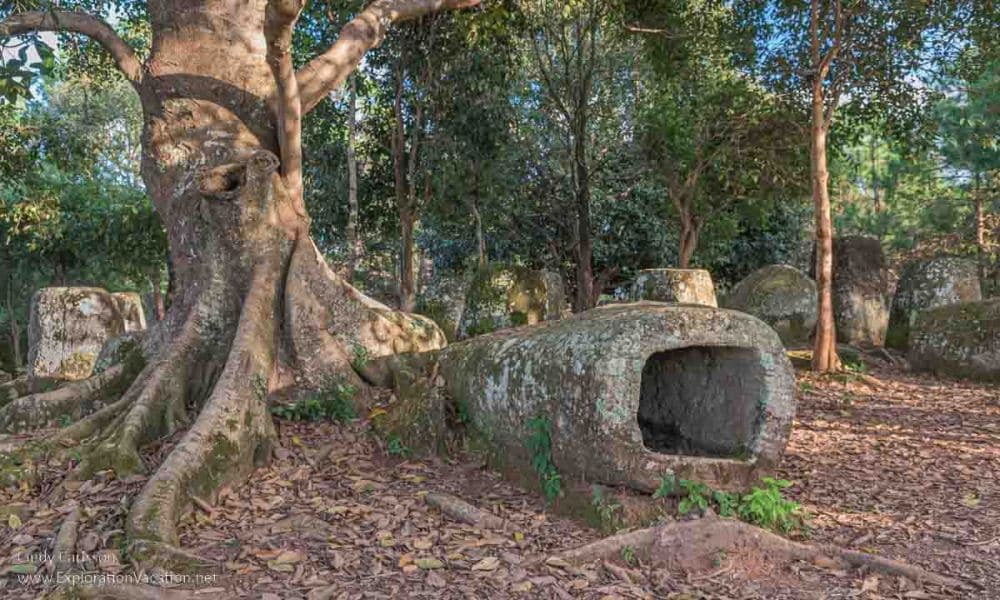 Site 21
Site 21 (Khangnongluang or Phoukeng) is the quarry that produced the jars seen at Site 1. At Site 21, jars at all stages of completeness are found on the lower slope below the quarry. The quarry area is along steep slopes toward the top of the low mountain. It can be reached by climbing many, many, many steps, but the view from the top is spectacular.
This site also has a tunnel and other historically significant wartime features.
Other sites in the UNESCO designation
The remaining sites included in the UNESCO designation are generally in fairly remote locations and currently lack visitor facilities. (Access and facilities are likely to improve over time.) Areas immediately around the specified UNESCO sites have been cleared of UXO. However, that may not be true for non-UNESCO jar groups at some sites, access routes, or the surrounding area.
Site 12 (Ban Phakeo) is in a remote location. It has 30-40 jars, many of which are either unfinished or broken. Originally identified as a quarry, it's now thought to be a manufacturing site used to finish jars quarried elsewhere.
Site 23 (Ban Namhom) has fewer than 30 jars and a quarry.
Site 25 (Khum Songhak) has two groups with 33 jars included in the UNESCO designation. Two other small groups near the road and village are not part of the UNESCO site.
Site 28 (Ban Nakhuan) has one enormous jar and mountain views.
Site 42 (Phou Xang) is both a jar and quarry site with more than 100 jars in four groups. Unlike most other sites, the jars here are carved from red sandstone quarried at the site.
Site 52 (Ban Phakeo) is a major site with over 400 jars, although many have been smashed. Quarry sites were also found here in 2017. Contemporary Hmong graves are located among the jars.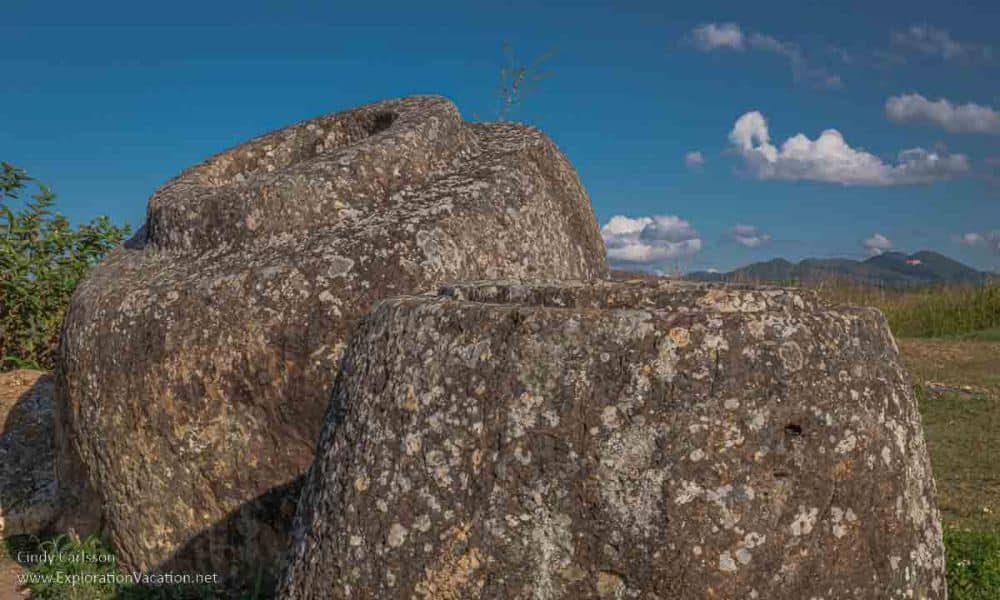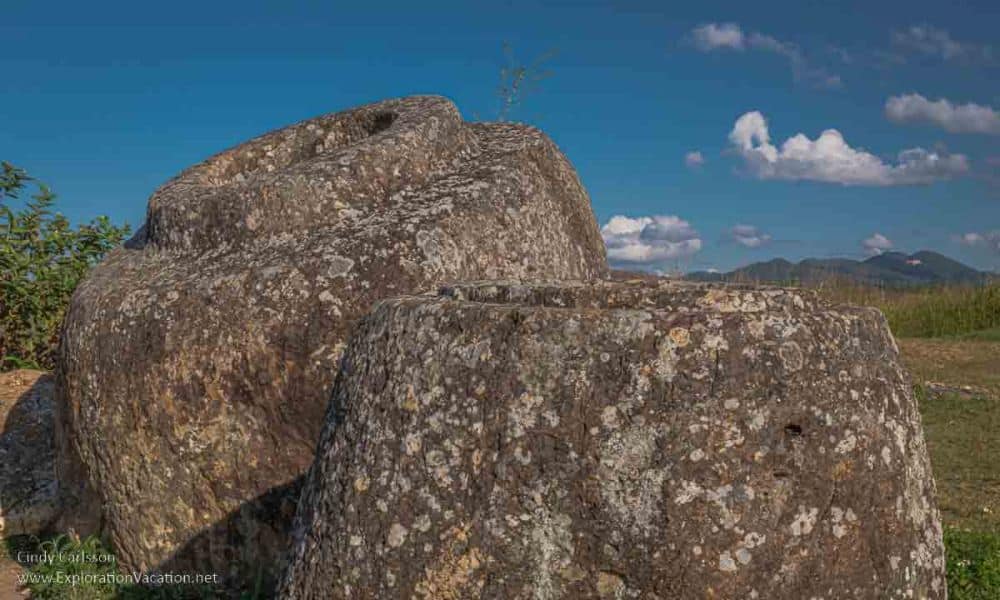 Is the Plain of Jars World Heritage site worth visiting?
While the Plain of Jars is thought to have once been a cultural crossroads, today it is very far from any main route. This is a place you'll only visit if you really want to go there. It isn't close to other tourist attractions and it isn't particularly easy to get to.
But this site is still one of the world's great mysteries. If you're interested in archaeology, enigmatic ancient cultures, surreal landscapes, or just seeing a place few others will ever visit, this is the site for you.
Unless you fly in, you'll have to overnight in the area just because it is so remote.
Book your accommodations in Phonsavon.
One night gives you time to visit Site 1 and one other site. While you can get a sense of the place just by spending an hour or two at Site 1, you really need a half day (or part of an afternoon and the next morning) to visit at least a couple of sites to get a good feel for it. And keep in mind that even getting from Phonsavan to any site other than Site 1 can take up to an hour. Visiting more remote sites requires even more time and patience.
This full-day tour from Phonsavan includes sites 1, 2 and 3.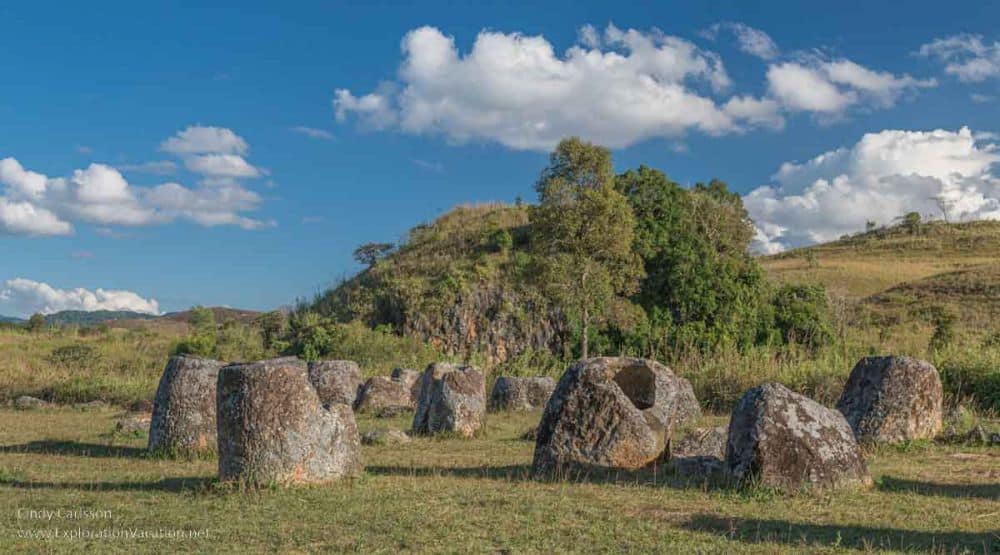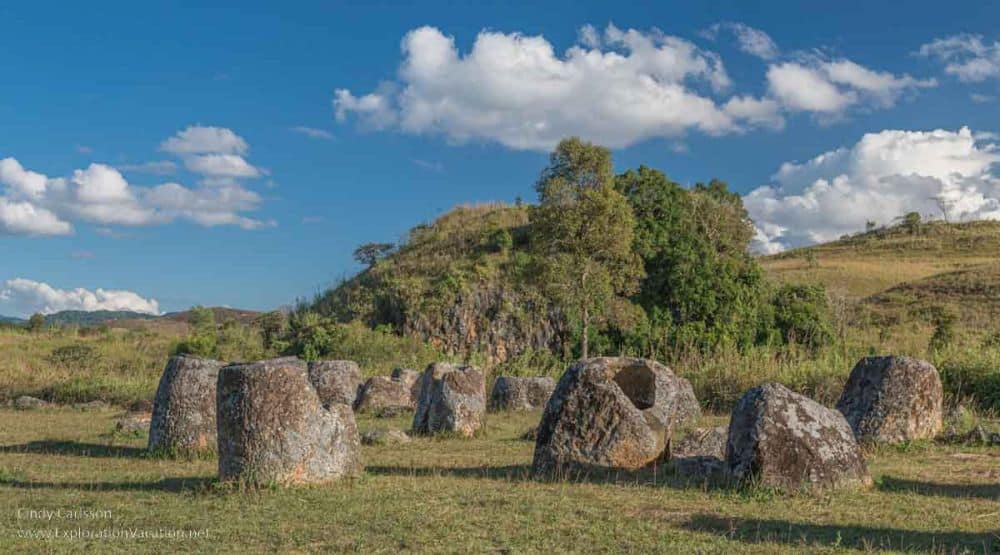 Tips for visiting the Plain of Jars UNESCO World Heritage site
Stay in designated areas and don't go wandering off on your own! While the specific areas included in this UNESCO World Heritage Site were cleared of UXO, that's not true of all surrounding areas. When in doubt, look for red and white markers on the ground and stay on the WHITE side of them. Where you can't find markers, stay on well-trodden paths and don't step even the slightest bit off them. There's still tons of UXO hidden under the soil and it will kill you if it explodes. (American visitors, in particular, may want to donate to one of the groups working to rid Laos of this deadly menace.)
Speaking of UXO, the international Mines Advisory Group (MAG) is a Nobel Peace Prize holder with an interesting (and rather depressing) visitor center in Phonsavan. It's worth a stop even if you think you already know all about UXO and/or America's war in Vietnam and its impact on neighboring countries.
Do not believe your own or Google Maps' estimated travel times. Road conditions in Laos are improving, but travel times are still usually much longer than you might expect.
Tours like this one and this one generally only take visitors to Sites 1-3. They do not always allow time to visit Site 3, so be sure to ask what's included. (Most also include a couple of local attractions.) Both group and private tours can be arranged in town or through many hotels. Note that some group tours may require a minimum number of participants.
The Plain of Jars can be colder than expected.
Local residents like to picnic at Site 1. If you want a quieter, less crowded visit, visit at the very beginning or end of the day and avoid public holidays.
Most of the UNESCO sites at the Plain of Jars are managed by the village where they are located. They handle tickets and site maintenance, but they also act as guides for the site they manage.
The Luang Prabang World Heritage site isn't exactly near, but if you're already in Luang Prabang, the Plain of Jars isn't that much further!
This 3-day, 2-night tour starts in Luang Prabang, includes Sites 1, 2 and 3, and ends in Vientiane.
Where is the Plain of Jars?
The Plain of Jars is near the city of Phonsavan in a relatively remote part of northern Laos. But it's an area that is getting less remote all the time. New high-speed train service on the Laos-China Railway and on-going road improvements have cut travel times considerably. Still, unless you fly, getting to Phonsavan involves some time on marginal mountain roads. That is changing rapidly, but be prepared.
A regularly scheduled flight from either Luang Prabang or Vientiane is by far the fastest and most comfortable way to get to Phonsavan.
Long popular with backpackers, Vang Vieng is a 4- to 5-hour drive or bus ride from Phonsavan. Vang Vieng doesn't (yet) have an airport, so a road trip via private vehicle or bus is the only option to get to Phonsavan from here.
Vientiane is at least a 6-hour drive from Phonsavan, and up to 10 hours on a regular bus route. Instead, take the high-speed train from Vientiane to Vang Vieng. From there take a bus, hire a car and driver, or rent a high-clearance vehicle and drive to Phonsavan yourself. The entire trip will still take 4 to 5 hours, but it's the quickest option if you don't book a flight.
Luang Prabang is 260 km/160 mi from Phonsavan. It's a drive that takes at least 4 hours and can take up to 8 hours on a regularly scheduled bus. Luang Prabang also has high speed train service these days, but only to Vang Vieng. It takes about 1½ hours to reach Vang Vieng, but you still have to get to Phonsavan from there. If you are relying on the bus, it may make sense to go through Vang Vieng. Otherwise a take a private mini-bus, car, or multi-day tour.
Once you get to Phonsavan, Google Maps and road signs should get you to Site 1. It's about 10 km/6 mi from central Phonsavan and can be reached by car, bike, or motorbike. (The other main sites are accessed by roads that can get wet and dangerous for bikes and motorbikes.) The visitor center near Site 1 can provide up-to-date information on the other sites and how to get to them. A paid parking area and small visitor center are available at sites 1, 2, and 21.
Site 2 is located about 20 km/12 mi from town along a rough and often muddy road. Travel by motorbikes generally isn't recommended unless you are very experienced with travel on unmaintained roads.
Site 3 is a 30-minute walk from Site 2 via a small village. The path is relatively easy, but can be very wet. You can also drive there; it's about 35 km/22 mi from the city.
Site 21 is located about 15 km/9 mi from the city.
The Plain of Jars World Heritage website has GPS coordinates for all the sites. Keep in mind that those are tagged to the geographical center of a site and won't necessarily take you to an access point – and northern Laos is not the place to go bushwhacking.
Check in at the visitor center in Phonsavan for more information about the Megalithic Jar Sites in Xiengkhuang – Plain of Jars UNESCO World Heritage Site, its opening hours, admission fees, and directions.
Text and photos provided by Cindy Carlsson, the always-curious traveler and photographer at ExplorationVacation. Cindy is an independent traveler who loves diving deep into the world and its many wonders. Check the website, Facebook, or Instagram for travel tips and inspiration.
Have you been to any of the Field of Jars sites? If so, do you have any additional information or advice about this UNESCO World Heritage site? Please add your comments below!