By Cindy Carlsson
What is the Ksar of Ait-Ben-Haddou?
The Ksar of Ait-Ben-Haddou (or Aït Benhaddou) in Morocco is a village of earthen buildings within a defensive wall. It is located along what was once an important trade route between Marrakesh and the Sahara. Current structures are believed to date back as far as the 17th century, but there has been a village of this type on the site since about the 11th century. Today the ksar is mostly just a tourist site. Visitors can take a look inside the homes of a couple of the families that still live here, the old mosque, and a few tourist shops while walking through the complex.
Disclosure: This article contains affiliate links. Making a purchase through an affiliate link will mean a small commission for this website. This will not affect your price.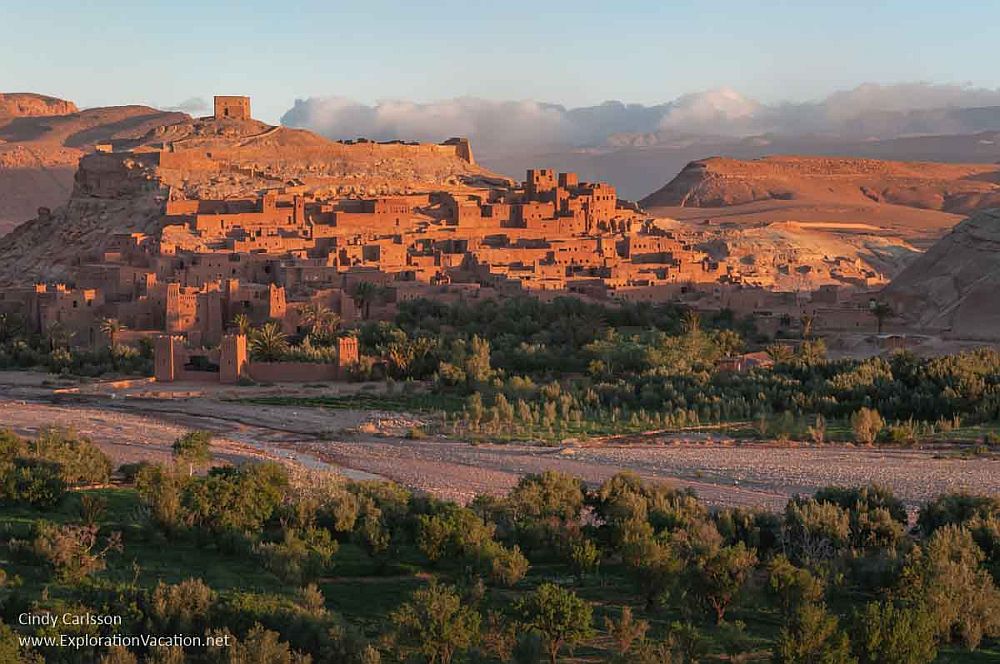 Why is the Ksar of Ait-Ben-Haddou a UNESCO World Heritage site?
A ksar is a traditional North African fortified village. Once found throughout southern Morocco, few ksour remain in their original form because they are so difficult to maintain using traditional materials. That's what makes the Ksar of Ait-Ben-Haddou unique: it's a reasonably well-preserved example that includes almost no modern building materials. It also includes examples of all of the structures once found in villages of this type. As such, UNESCO describes it as "a perfect synthesis of earthen architecture of the pre-Saharan regions of Morocco."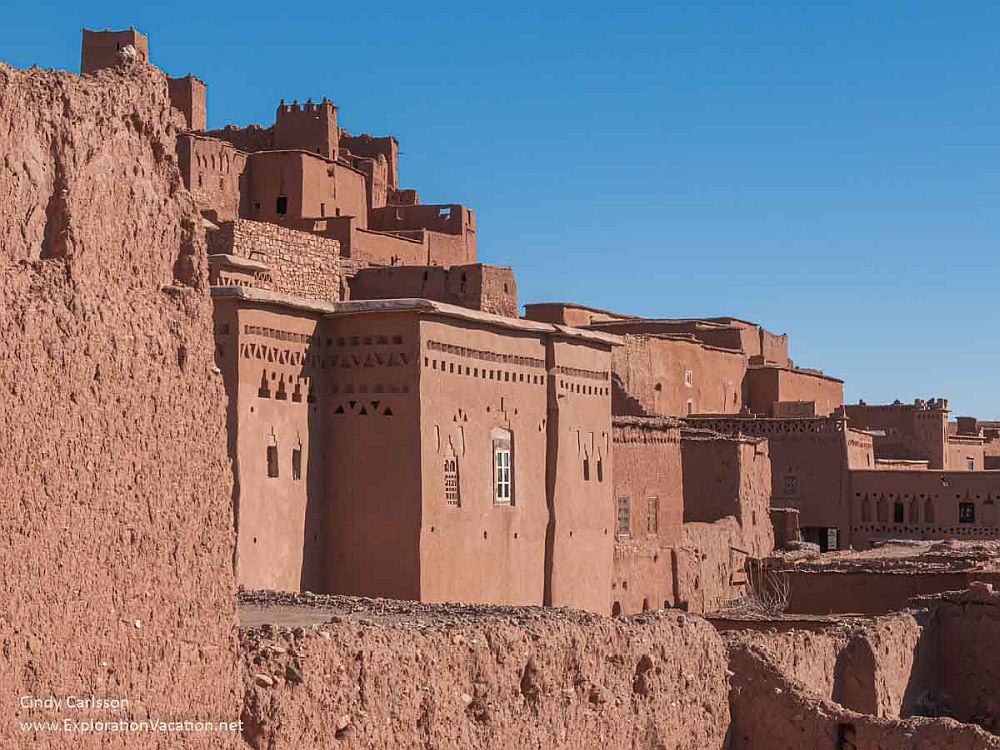 What can you expect on a visit to Ait-Ben-Haddou?
While not exactly a maze, Ait-Ben-Haddou is a rather confusing collection of alleyways, plazas, and stairs. Some parts are well-maintained; others are ruins. If you're not on a schedule, it's a great place to just wander and see what you find. Plazas and streets near main access points often house shops and street artists. The few family homes that remain are scattered throughout the site.
Many of the few families that still live here give tours of their homes for a small fee. Most are very basic homes, but they provide a lot of insight into modern life in old Moroccan villages. (You'll also likely see lots of movie posters from the Gladiator, one of the many movies shot here since the 1960s.) It's also worth finding the old mosque where someone is usually available to take you inside. The granary at the very top of the hill is also worth visiting for great views into the ksar and of surrounding countryside.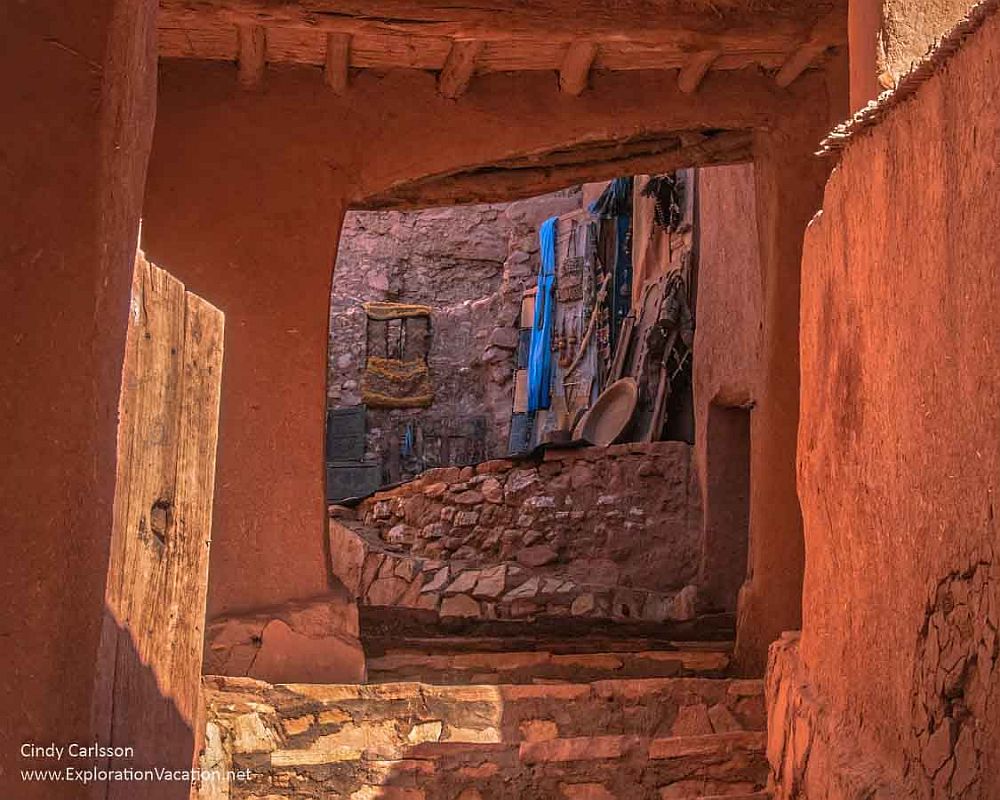 Is the Ksar of Ait-Ben-Haddou worth visiting?
Every visitor to Morocco should have Ait-Ben-Haddou on their itinerary, but not just to see this UNESCO site. Southern Morocco is riddled with ksour and kasbahs (a palace or the home of a wealthy person that may or may not be within a ksar). Although many are either badly neglected or updated using modern materials, they still say "Morocco" like few other buildings. Take time to visit a few to see how this old form of living is being transformed to meet modern expectations.
Day trips from Marrakesh often only allow an hour here. That's enough time to make a quick run through a good portion of the site.
Fans of traditional architecture and other visitors who want more time at the site can travel independently and spend the night in the modern town here; stay in nearby Ourzazate and take a taxi or book a tour from there; or book a multi-day tour with an overnight stop in the area. These options also allow time to visit other ksour and kasbahs in the area.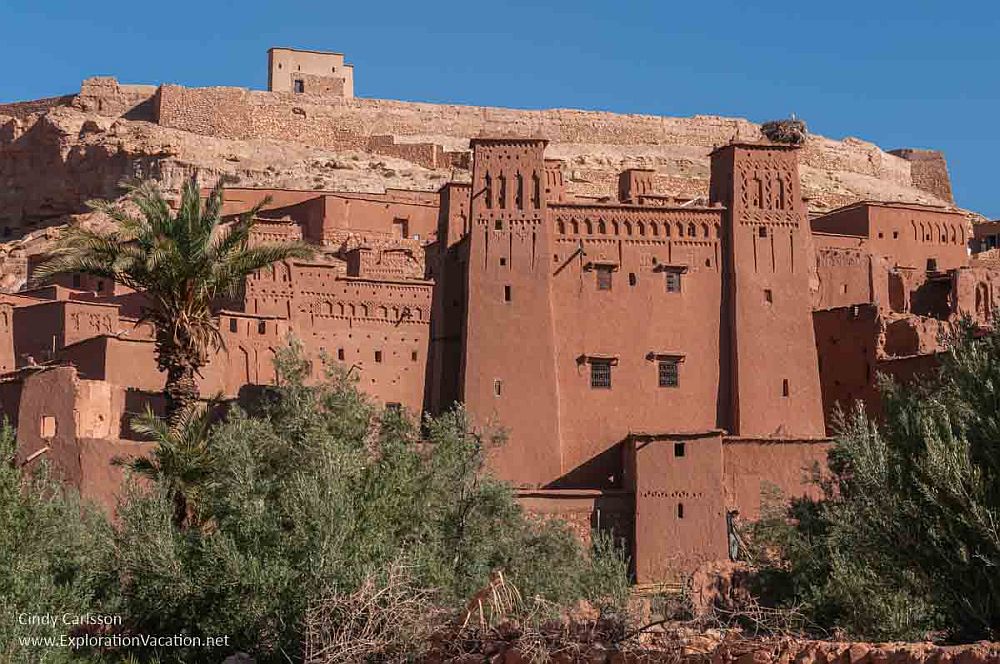 Film buffs will want to visit Ourzazate, where both a fully restored kasbah and the Atlas Film Studio offer tours.
Besides the traditional kasbahs and ksour in this area, the High Atlas Mountains between the Marrakesh UNESCO World Heritage site and Ait-Ben-Haddou offer some dramatic scenery. Farther southwest you'll find the Valley of a Thousand Kasbahs, the Dades Gorge, and the Valley of the Roses. All are well-worth time on your itinerary.
Tips for visiting Ait-Ben-Haddou
Spend a night in the modern town of Ait-Ben-Haddou. That lets you see the ksar glowing orange above the fields and groves below as the sun rises. It also lets you visit before most other tourists arrive.
Use the map below to book accommodations in Ait-Ben-Haddou:
The traditional way to get from the modern town to the ksar is by crossing the river via sandbag stepping "stones." But now there is also a pedestrian bridge.
There are at least two entrances to the UNESCO site. A local family may or may not charge an entrance fee depending on when and where you enter. If they do, it's only about a dollar.
Local artists use saffron and tea to make paintings of the ksar while you watch. They make inexpensive souvenirs that are unique and don't take much space in your luggage.
Where is the Ksar of Ait-Ben-Haddou?
Ait-Ben-Haddou is about a 180-km (110-mile) drive southwest from Marrakesh. This is a good, paved road that winds up and over the 2,260 meter (7,415 ft) Tizi n'Tichka Pass. Driving times can vary based on truck traffic along this route. Coming from the south or west, the nearest sizable town is Ourzazate. It's also on the main highway and is about 30 km (less than 19 miles) from Ait-Ben-Haddou.
Once in Ait-Ben-Haddou, both free and paid parking is available in town. From there it's just a short walk across the river to the UNESCO site.
There is no regular bus service from either Marrakesh or Ourzazate to the town of Ait-Ben-Haddou. However, buses from Marrakesh serve both Agouim to the north and Ourzazate to the south. Taxis are available in both towns.
Text and photos provided by Cindy Carlsson, the always-curious traveler and photographer behind the website ExplorationVacation. Cindy loves diving deep into the places she visits and sharing her discoveries with other curious travelers. Visit the website, Facebook, or Instagram for more travel inspiration.
Have you been to the Ksar of Ait-Ben-Haddou? If so, do you have any additional information or advice about this UNESCO World Heritage site? Please add your comments below!