Ha Long Bay – Cat Ba Archipelago
By Cindy Carlsson
What is Ha Long Bay?
Ha Long Bay is an area in Vietnam's Gulf of Tonkin famous for towering limestone formations. These create over 1,600 islands and islets, very few of which are inhabited. It's a landscape that is generally considered among the most beautiful in the world.
Disclosure: This article contains affiliate links. Making a purchase through an affiliate link will mean a small commission for this website. This will not affect your price.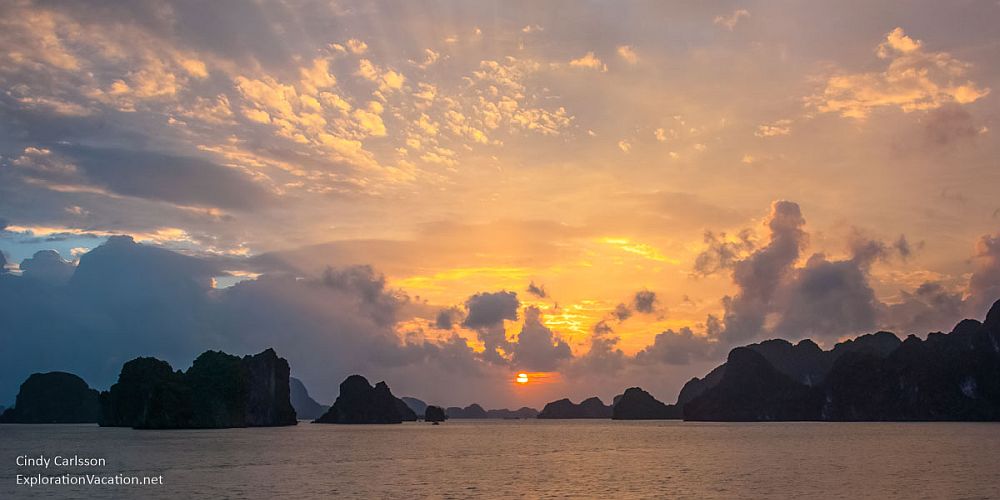 NOTE: Since this article was written, the UNESCO designation has been enlarged to include the Cat Ba Archipelago as well.
Why is Ha Long Bay a UNESCO World Heritage site?
Ha Long has UNESCO World Heritage status because of its geologic features and natural beauty – not its cultural significance: "Comprised of a multitude of limestone islands and islets rising from the sea, in a variety of sizes and shapes and presenting picturesque, unspoiled nature, Ha Long Bay is a spectacular seascape sculpted by nature. The property retains a high level of naturalness, and despite its long history of human use, is not seriously degraded. Outstanding features of the property include the magnificent towering limestone pillars and associated notches, arches and caves, which are exceptionally well-developed and among the best presented of their type in the world."
Thus, it's important as "an ideal model of a mature Karst landscape developed during a warm and wet tropical climate. The property's exceptional scenic beauty is complemented by its great biological interest."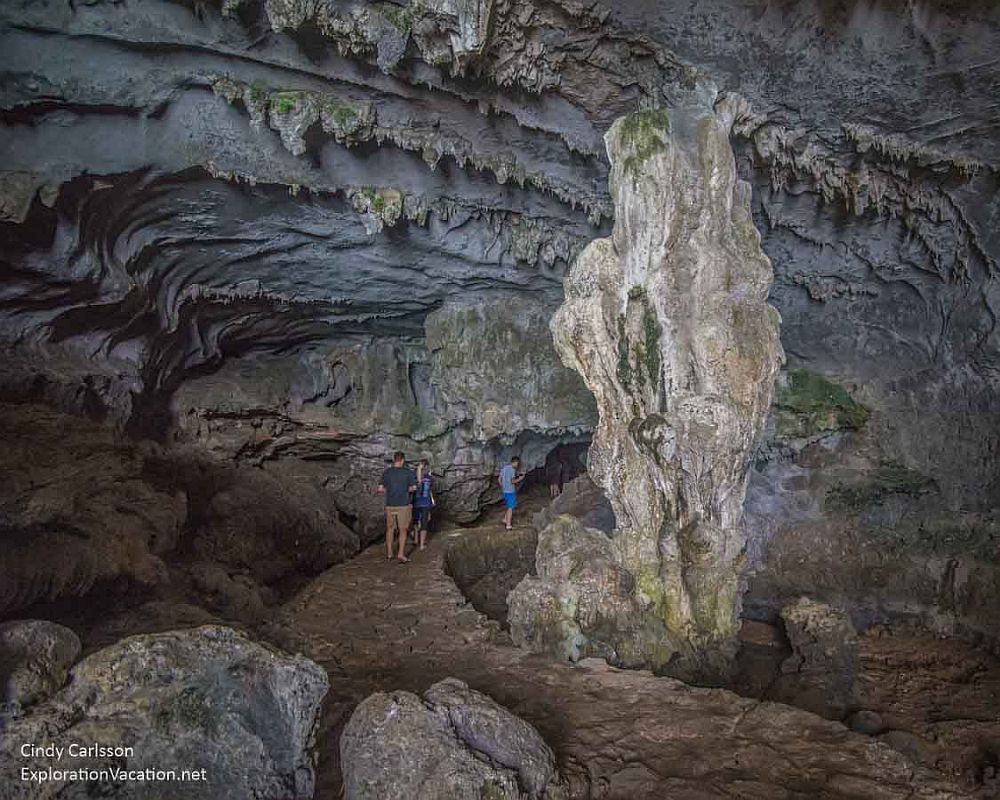 What can you expect on a visit to Ha Long?
Most cruises depart from Ha Long City where hundreds of boats await some 6 million or more annual visitors drawn by the bay and/or the casinos and other attractions located nearby. Boats that cruise Ha Long Bay (traditionally called junks) vary in size from about 8 cabins to 50, so none are huge by modern cruise ship standards. There's just a lot of them.
Almost all boats sail the same route and anchor in groups wherever they stop. Most offer visits to both a cave and a fishing village. While the cave tours usually involve mobs of people, the caves themselves are usually huge, lit, and pretty impressive. On the other hand, these days the "fishing village" stop is at one of the handful of traditional floating fishing villages allowed to remain as tourist sites – the families who once lived there were relocated to dry land. Besides these two stops, ships usually have a variety of onboard activities, sometimes including cooking classes.
Overnight cruises usually anchor for the night in large groups. In the morning one-night cruises (and many two-night ones) may make the second stop on the itinerary before heading back to port. Passengers on board for two nights are transferred to a day boat that takes them into a quieter part of the bay for a day of kayaking, hiking, swimming, and touring caves as a small group. They rejoin the larger junk later in the day for the remaining activities and final night on board. Better two-night cruises may travel into a different part of the bay, but larger boats will also use a day boat to access areas larger boats can't reach.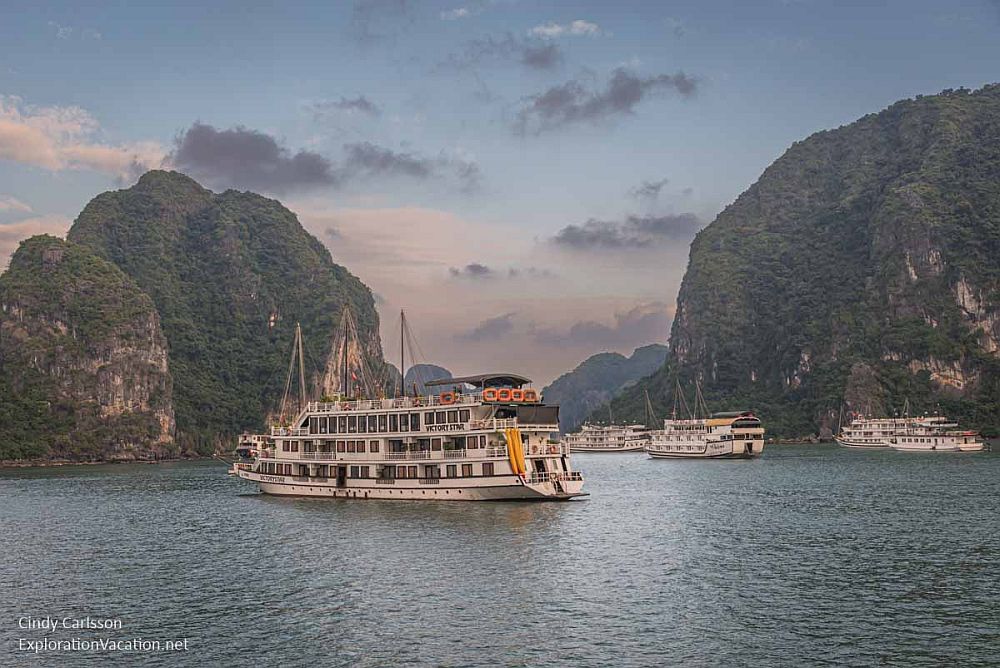 Is Ha Long Bay worth visiting?
Ha Long Bay is definitely worth visiting while in Southeast Asia, but keep your expectations in check. If you get the right weather (either glorious sunshine or filtered sunlight), Ha Long is one of the most beautiful places you will ever see. On a dark, dreary day it's just an interesting landscape or just shadowy shapes in the rain.
A day cruise might be enough if you just want to see it, take a couple pictures, and say you've been there. However, if you want the best chance of seeing Ha Long at its most beautiful, spend at least a couple of days on the water. And, if you want to take more time to explore privately or in a very small group, add time on Cat Ba Island and/or book a cruise that visits either Bai Tu Long or Lan Ha Bay. Both of these bays are connected to Ha Long and have the same geology – just less of it. But they also have far fewer tourists.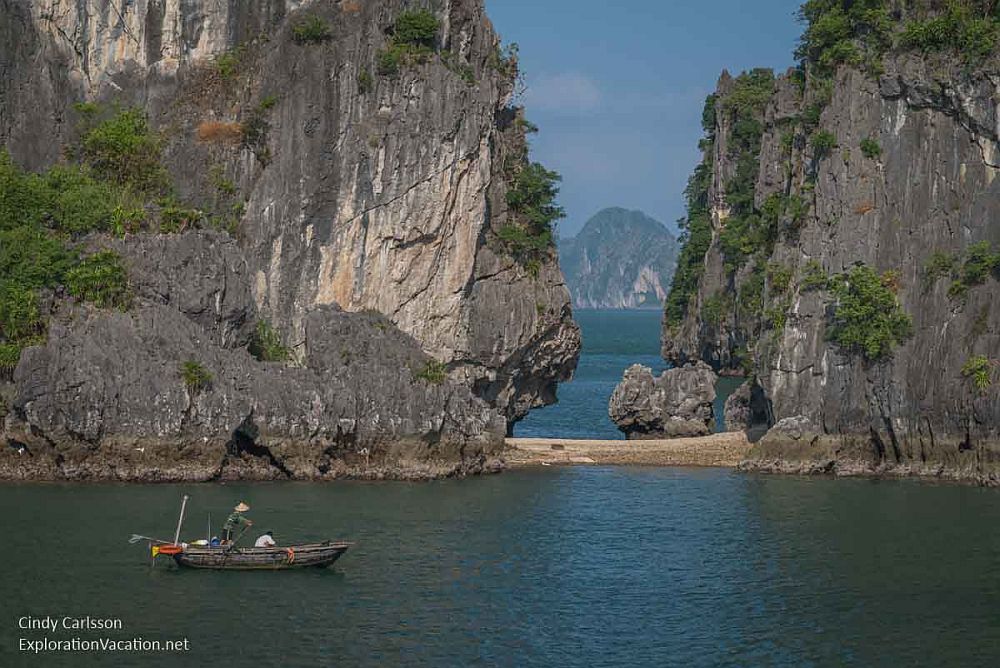 What sorts of travelers would like Ha Long Bay?
There are cruises suitable for families, honeymooners, girlfriend groups, photographers, rock climbers, and pretty much anyone else. You just have to find the right one for you.
Tips for visiting the Ha Long Bay UNESCO World Heritage site
Choose your cruise carefully, as there are big differences not only in ship size, amenities, language, and food, but in the activities available.
Two-night cruises can take you farther into the bay to less-crowded areas. But know what you are getting. Many two-night cruises are just the one-night cruise done twice, with part of the second day based on a day boat while the rest of the cruise sails back to port to drop off passengers and pick up a new batch. There's time to visit a beach, kayak, and check out a cave from the day boat, but you are not getting very far from the crowds.
Book a Ha Long Bay cruise or tour.
On either the way out or back most cruises pass through a major commercial shipping route with heavy industry on one side and stunningly beautiful karst pillars rising above the water on the other. You only go through this area once on the cruise. If you see this industrial port area as you depart, plan to maximize your scenery-watching time (instead of showering or packing) on the return trip to port because that is when you'll see some of the best scenery of the entire cruise.
An older junk can be just as luxurious as a modern ship, it all depends on the ship's features and maintenance.
Know exactly where you are meeting your ship. Ha Long Bay cruises depart from three ports: Tuan Chau, Hon Gai, and Got Pier.
Adventure travelers should consider staying on Cat Ba Island. It's a good base for hiking, kayaking, and rock climbing and there are plenty of boats to take you out on the water for a day or two.
Use the map below to find accommodations on Cat Ba Island:
Where is Ha Long Bay?
Ha Long Bay is located 160 km (100 miles) from Hanoi. The easiest way to get there from Hanoi is by private car, tourist shuttle, or the cheap but slow public bus. It's also possible to fly from Hanoi to one of the cruise ports via sea plane. (It's not cheap, but the sightseeing can be spectacular.) The train is the slowest and least convenient option.
Some cruise companies will include a land transfer from Hanoi as part of a package, but check the cost carefully.
If you are traveling from somewhere other than Hanoi, the airport nearest Ha Long Bay is located 50 km (30 miles) north in Quang Ninh. The next closest is 65 km (40 miles) away in Hai Phong. However, the only direct flight to Ha Long Bay from within Vietnam is the 2-hour one out of Ho Chi Minh City. (All other internal flights to Ha Long require a layover in HCMC.) From the airport you'll need to get a bus, taxi, or private driver to take you to the cruise port or Cat Ba Island.
You can find more information at Visit Halong Bay.
Text and photos provided by Cindy Carlsson, the always-curious traveler and photographer behind the website ExplorationVacation. Cindy loves diving deep into the places she visits and sharing her discoveries with other curious travelers. Visit the website, Facebook, or Instagram for more travel inspiration.
Have you been to Ha Long Bay? If so, do you have any additional information or advice about this UNESCO World Heritage site? Please add your comments below!