Jiuzhaigou Valley Scenic and Historic Interest Area
By Carole Terwilliger Meyers
What is Jiuzhaigou Valley Scenic and Historic Interest Area?
The Jiuzhaigou Valley Scenic and Historic Interest Area is filled with 114 lakes, 47 springs, 17 groups of waterfalls, 11 rapids, and 5 tufa shoals. Wooden walkways circle each of the main lakes, allowing for full exploration.
Disclosure: This article contains affiliate links. Making a purchase through an affiliate link will mean a small commission for this website. This will not affect your price.
Why is Jiuzhaigou Valley a UNESCO World Heritage site?
According to UNESCO, "The jagged Jiuzhaigou valley reaches a height of more than 4,800 m [15,700 ft], thus comprising a series of diverse forest ecosystems. Its superb landscapes are particularly interesting for their series of narrow conic karst land forms and spectacular waterfalls. Some 140 bird species also inhabit the valley, as well as a number of endangered plant and animal species, including the giant panda and the Sichuan takin." UNESCO praises it as a "fairyland landscape" of outstanding natural beauty.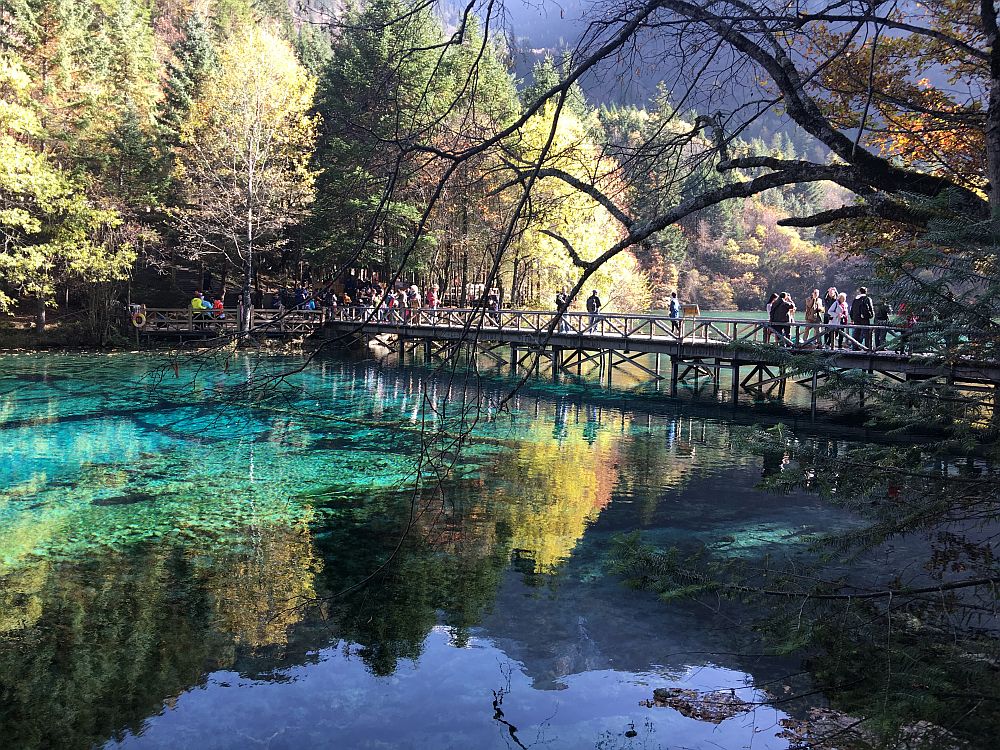 What can you expect on a visit to Jiuzhaigou Valley?
The number of gorgeous lakes here is amazing. Nuorilang Waterfall, which drains into Mirror Lake, is the widest highland waterfall in China and is this park's symbol. The lakes are filled with clear water, allowing you to see through to the bottoms. This park is extremely popular with the Chinese and is very crowded, which surprised me since it is so difficult to reach. Many Chinese come here to have wedding pictures taken, so there are also quite a few gorgeous brides brightening up the scene.
Is Jiuzhaigou Valley worth visiting?
This valley is definitely worth the long trip to reach. And there are plenty of other things you can see while here, including a cultural show in a gigantic theater, a Tibetan village, and a yak or two. Two full days here allows seeing the sights.
What sorts of travelers would like Jiuzhaigou?
Travelers who enjoy the clear fresh air found at high altitudes, and who enjoy alpine scenery, will get the most out of a visit here. The area will also be of interest to those who enjoy the traveling-to-the-end-of-the-world experience. I definitely did enjoy that aspect and also that there were so few westerners here. Visiting the Jiuzhaigou Valley takes focused planning, so you won't find yourself in the area by chance.
Zoom out just a bit on the map below to find accommodations near the valley:
Tips for visiting Jiuzhaigou Valley
While here, do take time on a second day to visit the nearby Huanglong Scenic and Historic Interest Area to see what UNESCO describes as "spectacular limestone formations, waterfalls and hot springs. The area also has a population of endangered animals, including the giant panda and the Sichuan golden snub-nosed monkey."
The altitude in the Jiuzhaigou Valley ranges from 8,000 to 16,000 feet (2440-4880 meters). Altitude sickness is a definite possibility, so pack along medications prescribed by your doctor. Oxygen canisters can be rented throughout the area. Take your time and do not over exert.
Pack your hiking boots.
Shuttle buses stop at each lake, but it is best to bus to the top of the valley and then walk down.
Expect the exotic on menus. You'll find local Sichuan and Tibetan dishes as well as yak butter tea.
Also expect some of the worst toilets in China. I came across one that was so bad the women on my tour bus mutinied. We refused to go! The urgency left us when we saw and smelled the terrible stench. Terrible. Though the driver protested, he did lose and took us to another squatter that was cleaner.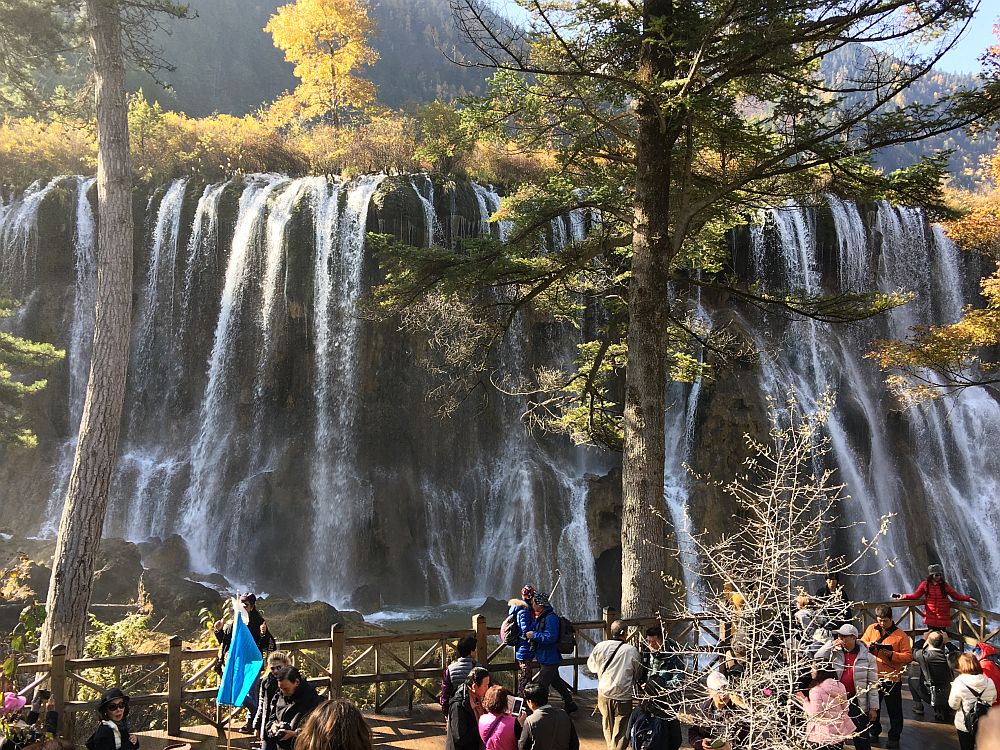 Where is Jiuzhaigou Valley?
The Jiuzhaigou Valley is located in the north of Sichuan Province in Nanping County, 280 miles (450 km) north of Chengdu. Part of the Min Mountains, it is situated on the edge of the Tibetan Plateau. Though it is possible to drive, perhaps the best way to get here is via tour bus, which allows seeing the sights in this vast, scenic area. Traveling by bus takes about 9 hours from Chengdu. Flying is also an option.
For more information about the Jiuzhaigou Valley Scenic and Historic Interest Area, its opening hours and admission fees, see its official website.
Text and photos provided by award-winning travel writer Carole Terwilliger Meyers of Travels with Carole.
Have you been to Jiuzhaigou Valley? If so, do you have any additional information or advice about this UNESCO World Heritage site? Please add your comments below!