Temple of Heaven: an Imperial Sacrificial Altar in Beijing
By Carole Terwilliger Meyers
What is the Temple of Heaven?
Located in Beijing, the Temple of Heaven was built circa 1406 to 1420 and is China's largest ancient religious complex. Four times as big as the Forbidden City, this massive site was once the site of animal sacrifices.
Twice a year the entire Imperial household through the Ming and Qing dynasty periods would pick up and move here from the Forbidden City to pray, offering separate sacrifices to heaven and to earth.
Disclosure: This article contains affiliate links. Making a purchase through an affiliate link will mean a small commission for this website. This will not affect your price.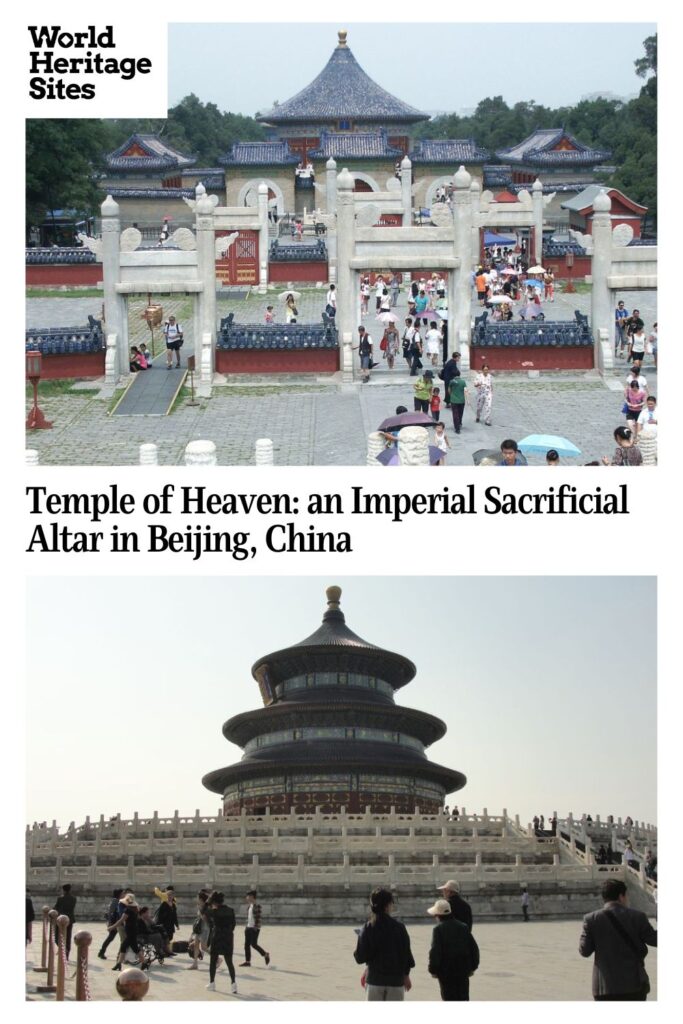 Why is the Temple of Heaven a UNESCO World Heritage site?
The Temple of Heaven, according to UNESCO, "is a dignified complex of fine cult buildings set in gardens and surrounded by historic pine woods. In its overall layout and that of its individual buildings, it symbolizes the relationship between earth and heaven – the human world and God's world – which stands at the heart of Chinese cosmogony, and also the special role played by the emperors within that relationship."
The complex's design is considered a "masterpiece of architecture and landscape design" and has greatly influenced architecture across Asia for centuries.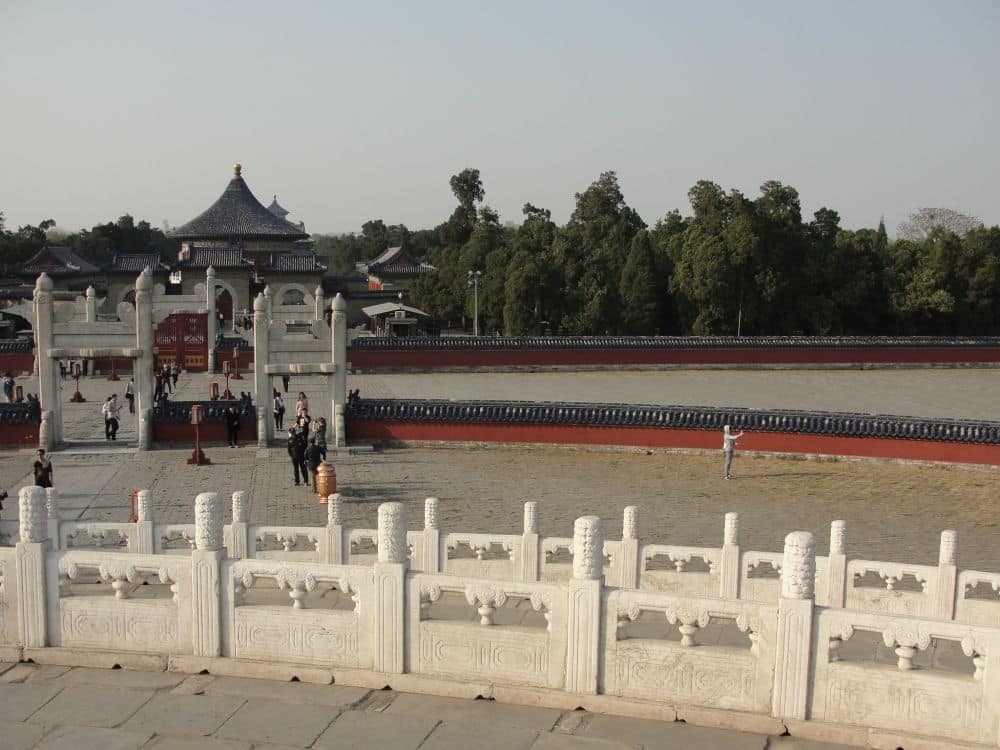 What can you expect on a visit to the Temple of Heaven?
Though ancient emperors came here just one day each year, and then to pray for a good harvest, currently older area residents come here regularly to play card games and just hang out. Mornings tend to be most popular with the locals, but all day you'll see them placing their hands on gnarly juniper trees in an attempt to receive powers.
Set in a park, this complex is made up of many buildings, 92 in total. Three of them were most important for the purpose of prayer:
The 15th-century circular Hall of Prayer for Good Harvests is where the Emperors sent their prayers to heaven asking for a good harvest. Featuring triple gables, it is a 19th-century rebuild of a wood building on a marble base, made without any nails.
A smaller circular building with just a single gable, the Imperial Vault of Heaven is encircled by a smooth Echo Wall that was designed to assist prayers on to heaven.
The Circular Mound Altar is an empty round platform dating to 1530 but rebuilt in 1740. It is decorated with elaborately carved dragons and was where the emperor prayed for good weather on a raised center stone that helped lift his voice directly to heaven. Animal sacrifices took place here as well.
Among the rest of the buildings were many with very specific purposes, such as the Stables for Sacrificial Animals and the Hall of Abstinence, where the Emperor fasted.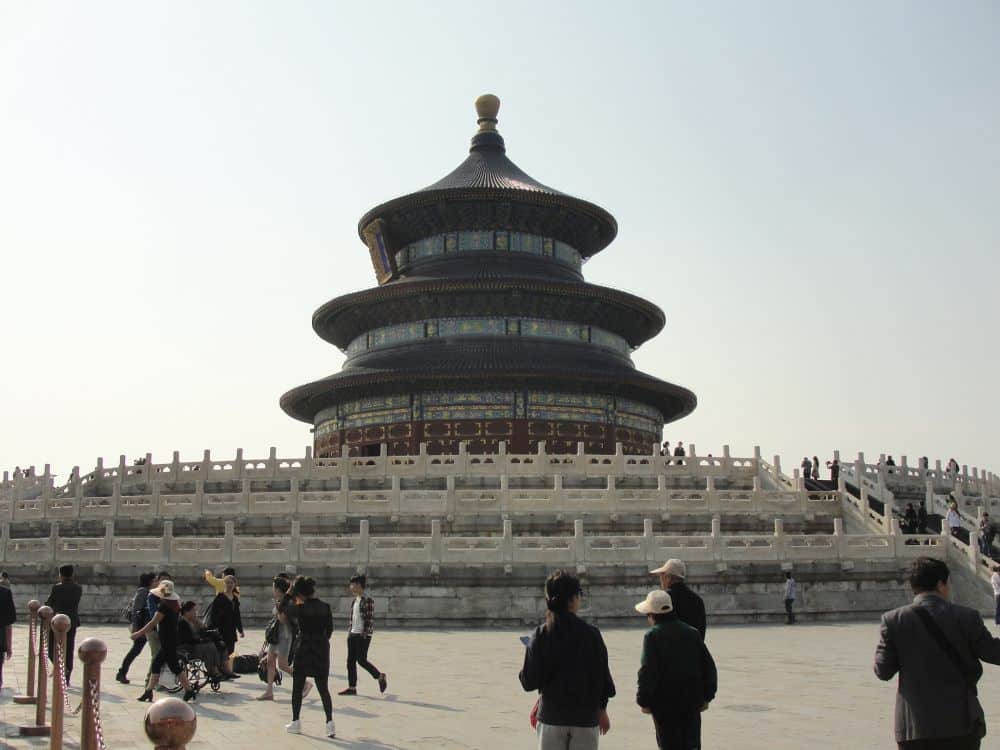 Is the Temple of Heaven worth visiting?
This important site is a must-see on any trip to China and is worth a two- to three-hour visit.
Book your Beijing accommodations. Use the map function to choose the area you want to stay in.
What sorts of travelers would like the Temple of Heaven?
Visitors who are interested in historic sites and unusual buildings will find the Temple of Heaven intriguing. So will anyone interested in Chinese religion and decorative arts. It is a large, wide-open site so enjoying walking is important.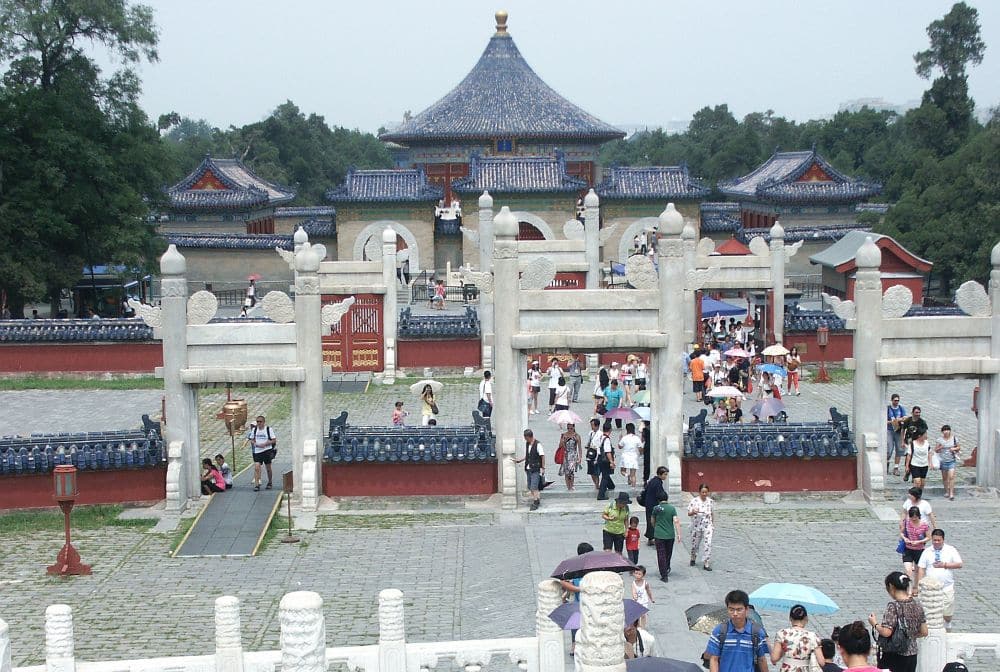 Tips for visiting the Temple of Heaven
A guided tour or illustrated guide book to the site in your native language will greatly enhance enjoyment.
Wear comfortable walking shoes.
If you're going on your own, take subway line 5 to Tiantandongmen Station (Exit A). To avoid waiting in line – this a very popular destination – buy your admission ticket ahead so you can just scan the QR code. Another option is to book a walking tour, which includes hotel pick-up and the entrance fee. There are also many other options for tours that combine the Temple of Heaven with other sights like the Forbidden City and the Summer Palace.
Where is the Temple of Heaven?
The Temple of Heaven is located in the southern Dongcheng District in the southeastern part of central Beijing.
As you're planning your trip, consider other UNESCO sites in the region.
For more information about the Temple of Heaven, its opening hours and admission fees, see its Wikiwand page.
Have you been to the Temple of Heaven? If so, do you have any additional information or advice about this UNESCO World Heritage site? Please add your comments below!
Text and photos (except where noted) provided by award-winning travel writer Carole Terwilliger Meyers of Travels with Carole.