By Carole Terwilliger Meyers
What is Rapa Nui National Park?
Rapa Nui is the Polynesian island known more familiarly in the West as Easter Island. The UNESCO World Heritage site referred to as Rapa Nui National Park actually makes up almost all of the small island, which is just 13 miles long by 10 miles wide.
Disclosure: This article contains affiliate links. Making a purchase through an affiliate link will mean a small commission for this website. This will not affect your price.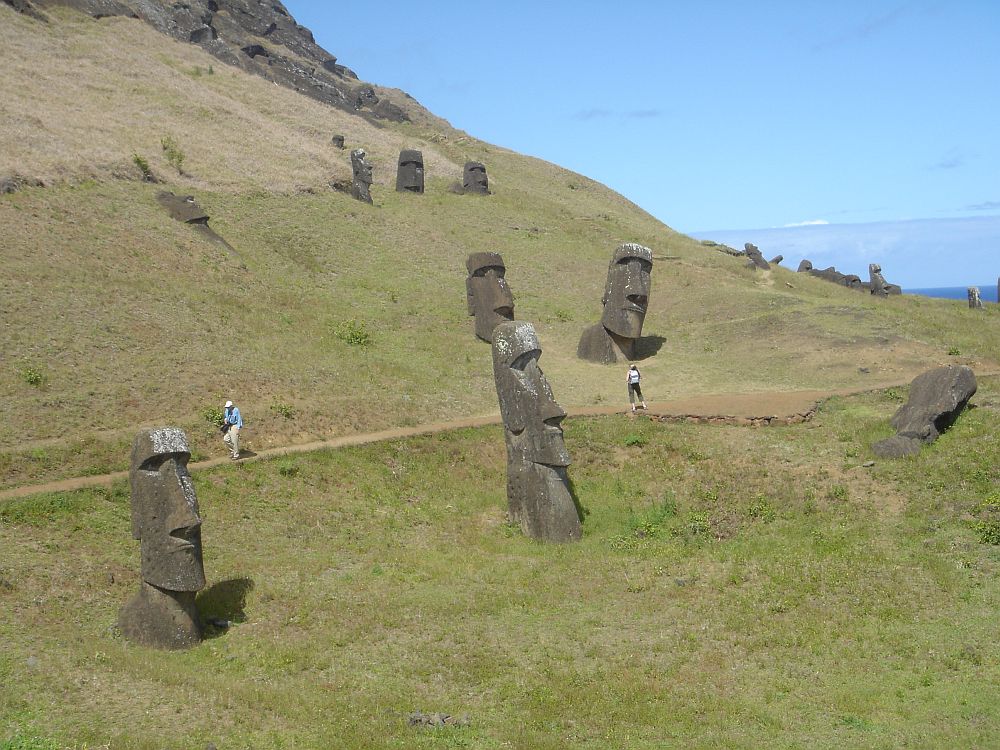 Why is Rapa Nui a UNESCO World Heritage site?
Rapa Nui's claim to fame consists of nearly 1,000 inland-facing stone statues, or "moai," that are found throughout the island. According to its UNESCO listing, "A society of Polynesian origin that settled there c. A.D. 300 established a powerful, imaginative and original tradition of monumental sculpture and architecture, free from any external influence. From the 10th to the 16th century this society built shrines and erected enormous stone figures known as moai, which created an unrivalled cultural landscape…"
What can you expect on a visit to Rapa Nui?
The island's population peaked back in 1500, when 20,000 people lived here. Now it is more like 7,500. And it is estimated that almost as many horses – nearly 6,000 – roam freely on the island.
The island is not lush. The islanders are infamous for destroying their forests – the last indigenous tree bit the dust in the 1960s – and the native birds are also long gone.
A visit here feels like stepping back to a simpler time. Many hotels are vintage motel-simple, and meals where I stayed were served family-style in a communal dining room. Evening entertainment is a choice of a small-scale Polynesian cultural show or perhaps watching a film outside under the stars.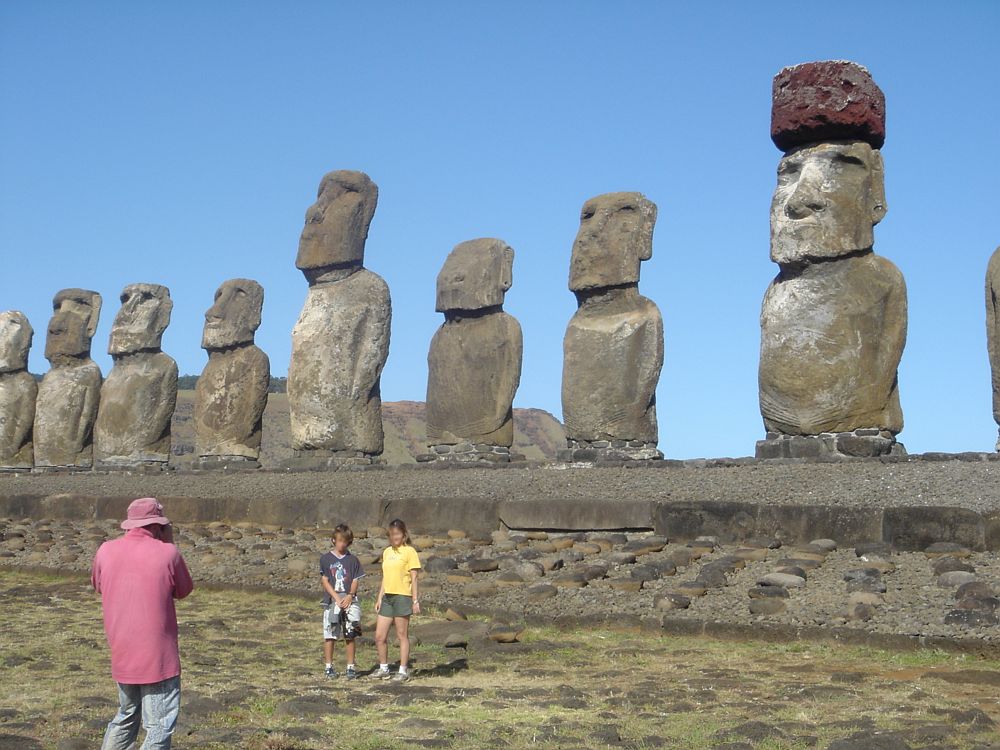 Is Rapa Nui worth visiting?
Because getting here is not easy, most people will find themselves on this island only after focused planning. Flights are limited and originate only in Chile or Tahiti. I tied my visit in with a trip to Chile, allowing five days, two of which were taken up with flight time and settling in and out. Two full days is plenty to see most island sights.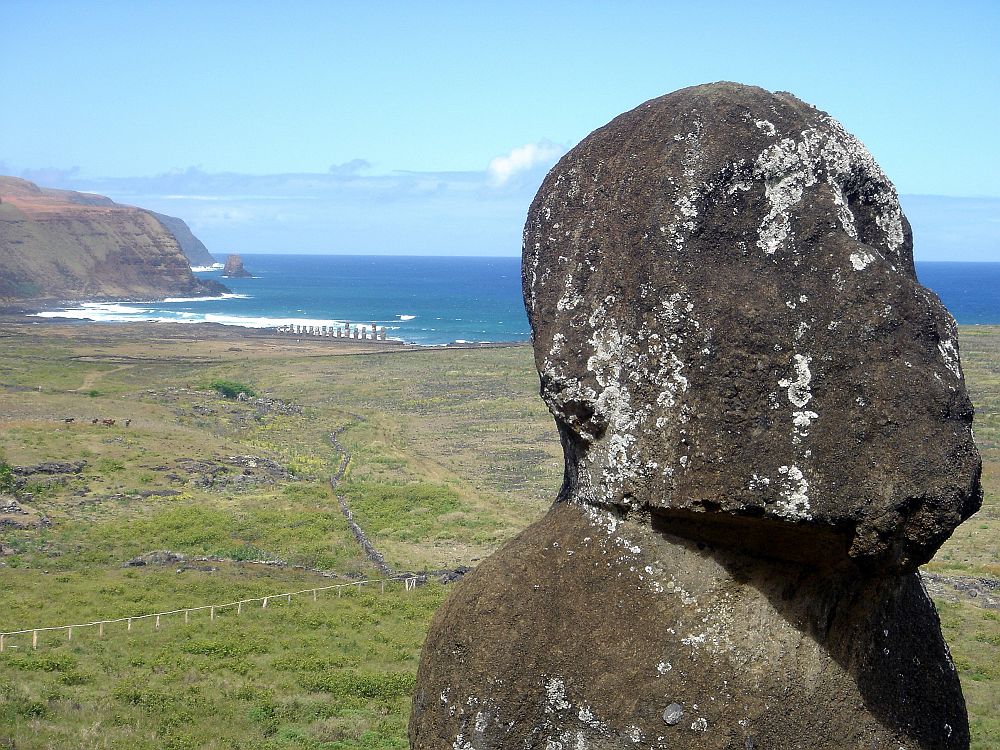 What sorts of travelers would like Rapa Nui?
Adventurous travelers will enjoy Rapa Nui. Note that luxury is hard to come by. Seeing sights requires some hiking up and down hills, though much of the terrain is level. Almost all island activities are related to visiting National Park sights.
Use the map below to find and book accommodations on Rapa Nui. (Zoom out to see the whole island.)
Tips for visiting Rapa Nui
Bring your hiking boots.
Plan to take a general tour of the island. It is also worth spending a day on your own. Car rentals and taxis are available.
Be brave. You could encounter a roach or two. I saw one as big as any I've ever encountered in NYC. Fortunately, my travel companion charged after it with her hefty paperback novel and knocked that sucker right out and flushed him away.
U.S. dollars are accepted everywhere.
Where is Rapa Nui?
Situated midway between Tahiti and Chile – Santiago is 2,300 miles to the east and Polynesia begins 1,300 miles to the west – Rapa Nui is out there. Indeed, it is the most remote inhabited island in the world. Personally, I especially enjoy traveling to places like this that seem to be at the end of the earth.
For more information about Rapa Nui National Park, its opening hours and admission fees, see the Easter Island Foundation website.
Text and photos provided by award-winning travel writer Carole Terwilliger Meyers of Berkeley and Beyond.
Have you been to Rapa Nui? If so, do you have any additional information or advice about this UNESCO World Heritage site? Please add your comments below!