Singapore Botanic Gardens
By Cindy Carlsson
What is the Singapore Botanic Gardens World Heritage Site?
The Singapore Botanic Gardens is a collection of gardens, conservatories, arboretums, native forest, historic buildings, research and plant breeding facilities, and more. It mixes historic gardens and structures with contemporary plantings, conservation areas, exhibits, and state-of-the-art facilities.
Disclosure: This article contains affiliate links. Making a purchase through an affiliate link will mean a small commission for this website. This will not affect your price.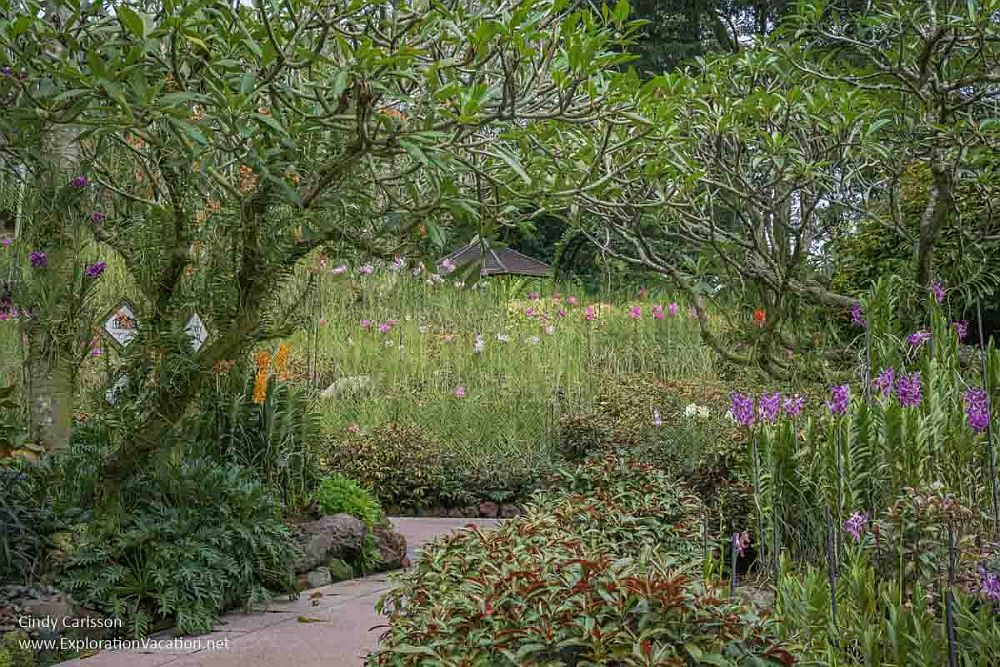 Why is the Singapore Botanic Gardens a UNESCO World Heritage site?
The Singapore Botanic Gardens is a UNESCO World Heritage site because its landscape and historic buildings show how it has evolved over more than two centuries.
As UNESCO explains, ". . . the site demonstrates the evolution of a British tropical colonial botanic garden that has become a modern world-class scientific institution used for both conservation and education. The cultural landscape includes a rich variety of historic features, plantings and buildings that demonstrate the development of the garden since its creation in 1859."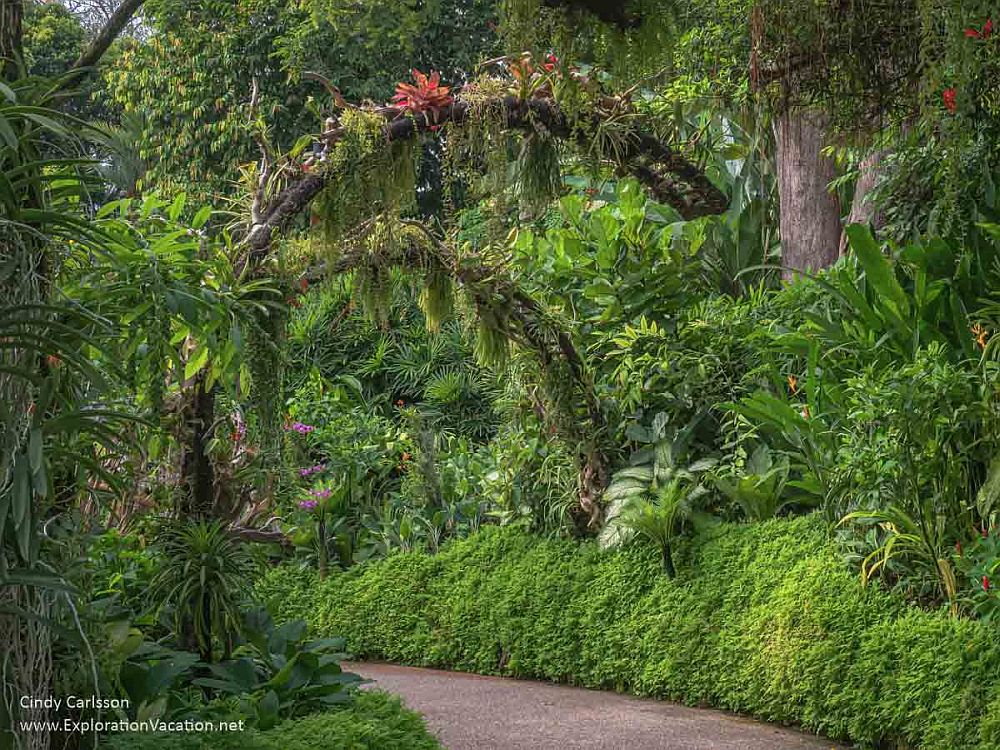 What can you expect on a visit to the Singapore Botanic Gardens?
At 82 hectares (200 acres) this is a big place. However, some areas are of interest mostly to local residents as green space for outdoor recreation. Visitors interested in seeing what makes the Singapore Botanic Gardens a World Heritage site should focus on the specialty and heritage gardens, arboretums, historic buildings, museums, and scientific facilities and displays.
The most well-known of the gardens is the National Orchid Garden, a collection of gardens and state-of-the-art conservatories that house over 60,000 orchids. These include rare native species, as well as hybrids developed at the garden. Other gardens at the Singapore Botanic Gardens focus on gingers, wetland plants, palms, fragrant plants, and more. There are even trails that run through a rare bit of native rainforest.
No matter how much you might love gardens, there's more at the Singapore Botanic Gardens than anyone can really take in in a single visit. Instead of rushing through the entire garden, pick a few areas of particular interest and take your time exploring them.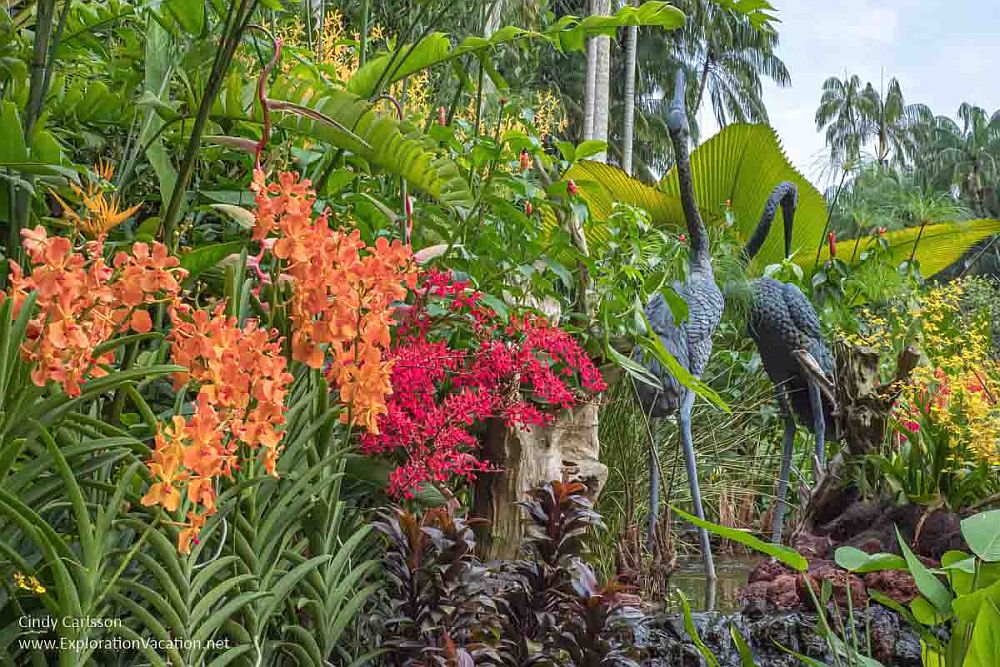 Is the Singapore Botanic Gardens worth visiting?
Especially when combined with Singapore's other wonderful gardens, garden fans will find the Singapore Botanic Gardens well worth traveling a long way to see. Allow at least a half day to see a small selection of gardens. A full day is enough to visit the most significant gardens and visit a few art or science exhibits.
Even those who aren't gardeners or big garden fans will find plenty to keep them busy here for at least a couple of hours. After all, besides the gardens, there is quite a range of botanical themed art, exhibits of various types, children's activities, and even a forest walk on an elevated boardwalk.
Use the map below to book your accommodations in Singapore:
Tips for visiting the Singapore Botanic Gardens
Singapore is extremely hot and humid. Plan to go slow, take plenty of breaks, and drink lots of water!
Beat the heat by visiting the garden early in the morning or after dark when it's cooler. Just keep in mind that the National Orchid Garden and many buildings have shorter hours than the rest of the garden.
If your time is limited, choose your entry point based on what you'd most like to see, as it is a fairly long walk between different parts of the garden.
There's a fee to visit the National Orchid Garden, but it's a truly spectacular garden.
A wide variety of options are available if you wish to dine in the garden. But do check reviews and consider making a reservation for some of the fine dining restaurants.
Supplement your visit to the Singapore Botanical Gardens with a visit to the Cloud Forest Conservatory at the Gardens by the Bay.
Where is the Singapore Botanic Gardens?
The Singapore Botanic Gardens is near major highways in the center of Singapore. The address is 1 Cluny Road, but there are a number of entrances. Which one you should use depends on how you are getting to the garden and what part of the garden you want to visit.
Several bus routes serve different parts of the gardens. There's also a garden stop on the yellow and blue train lines. Parking and taxi drop-off areas are also available in each of the garden's major zones. There is a charge to park a car in the garden. However, free bicycle parking is available at all entrances.
For more information about Singapore Botanic Gardens, its opening hours, maps, admission fees, and detailed information for getting there, see its official website.
Text and photos provided by Cindy Carlsson, the always-curious traveler and photographer behind the website ExplorationVacation. Cindy loves diving deep into the places she visits and sharing her discoveries with other curious travelers. Visit the website, Facebook, or Instagram for more travel inspiration.
Have you been to Singapore Botanic Garden? If so, do you have any additional information or advice about this UNESCO World Heritage site? Please add your comments below!