Cultural Landscape of Bali Province: the Subak System as a Manifestation of the Tri Hita Karana Philosophy
By Cindy Carlsson
What is the Cultural Landscape of Bali World Heritage site?
Bali's only World Heritage designation includes five sites that cover 195 sq km (75 sq mi). Two sites are individual temple complexes, one is a lake, and two are agricultural landscapes where irrigated rice fields and water temples are cooperatively managed by local farmers.
Disclosure: This article contains affiliate links. Making a purchase through an affiliate link will mean a small commission for this website. This will not affect your price.
These cooperatively-managed irrigation systems and associated temples are part of Bali's traditional subak system. Each subak is tied to a specific irrigation system. Its members are farmers who benefit from that irrigation system. These subak members are responsible for managing and maintaining the irrigation system itself, performing religious rituals, and maintaining temples dedicated to water-related gods and goddesses.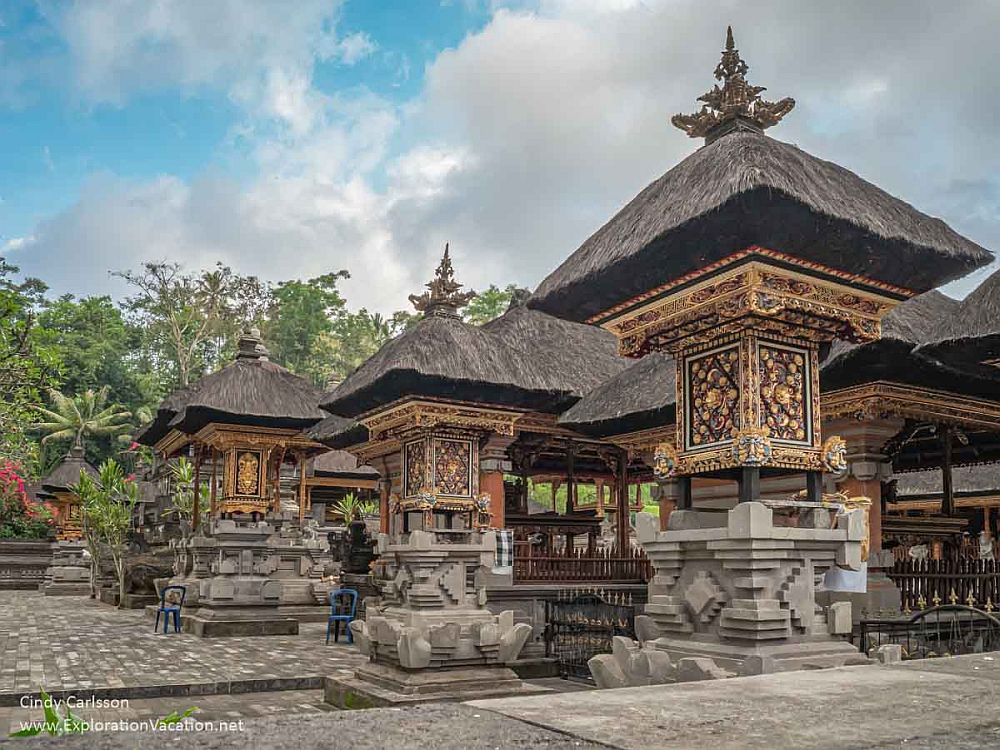 The subak is the practical application of a philosophy called Tri Hita Karana. This is the belief that humans must maintain harmonious relationships with the gods, nature, and other humans in order to prosper and enjoy a good life. This philosophy has shaped Bali's physical landscape through the construction of rice fields and the irrigation systems that serve them.
Here are the components of this UNESCO site:
The Supreme Water Temple Pura Ulun Danu Batur
Pura Ulun Danu Batur is dedicated to the supreme water goddess and is one of the most important temples in Bali. It was moved and reconstructed in 1926 after a volcanic eruption destroyed most of the original temple.
The Royal Water Temple Pura Taman Ayun
Pura Taman Ayun is another of the island's most important temples. Also considered one of the most beautiful temples in Bali, it is surrounded by canals and filled with gardens. It truly lives up to its name, which means "beautiful garden."
Lake Batur
Lake Batur is revered in Bali because it is the main source of water used to irrigate the island's rice paddies. It covers half of Mount Batur's caldera. Only the lake itself is included in Bali's Cultural Landscape UNESCO site. However, much of the area around Mount Batur, including the lake and 15 small villages, is part of the larger Batur UNESCO Global Geopark.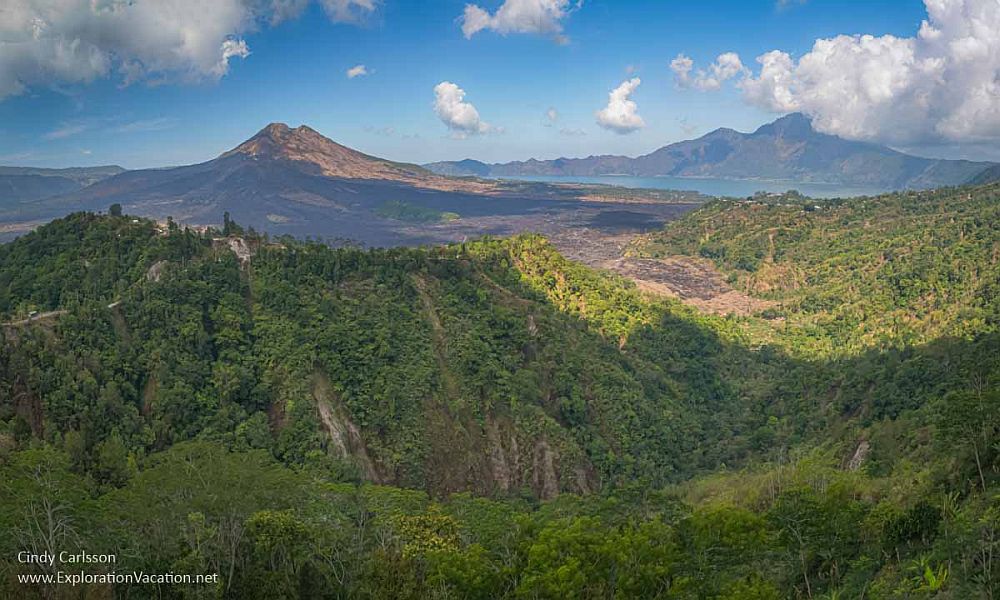 The Subak Landscape of Pekerisan Watershed
The Pekerisan Watershed covers a very small area, but features three very different sites: the Pura Tirtha Empul water temple with its large pool for ritual purification, the Gunung Kawi temple's royal shrines carved out of a riverbank, and the popular Tegallalang Rice Terrace.
Subak Landscape of Catur Angga Batukaru
Catur Angga Batukaru, the "four temples of Batukaru," is by far the largest component of Bali's UNESCO World Heritage site. It covers more than 170 sq km (65 sq mi) and includes forests, lakes, and 20 subaks and temples. Although subaks maintain many temples here, the UNESCO designation only applies to Pura Luhur Batukaru and its four supporting temples. This is also where the Jatiluwih Rice Terrace is located.
Why is the Cultural Landscape of Bali and its Subak system a UNESCO World Heritage site?
UNESCO explains: "Rice, the water that sustains it, and subak, the cooperative social system that controls the water, have together shaped the landscape over the past thousand years and are an integral part of religious life."
This system of communal management of land, water, and religious ceremonies exists to varying degrees throughout Bali. However, while Bali still has many subaks, the World Heritage designation is limited to "five sites that exemplify the interconnected natural, religious, and cultural components of the traditional subak system, where the subak system is still fully functioning, where farmers still grow traditional Balinese rice without the aid of fertilizers or pesticides, and where the landscapes overall are seen to have sacred connotations."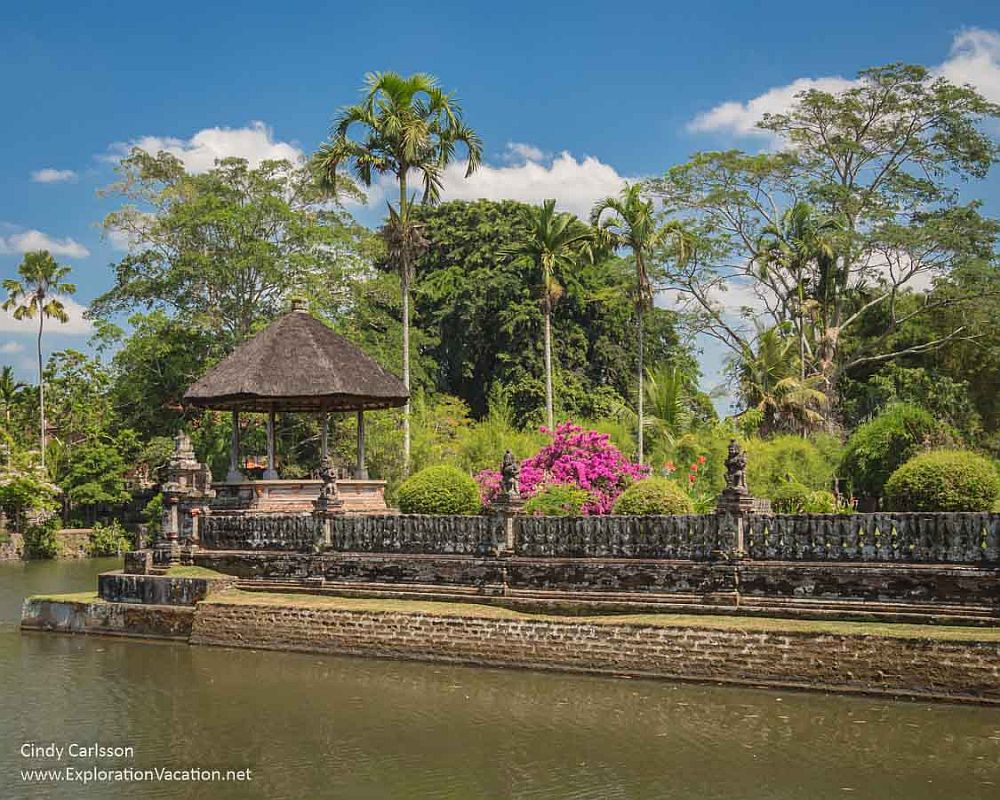 What can you expect on a visit to the Cultural Landscape of Bali UNESCO sites?
Visitors to Bali who venture inland from coastal resorts will discover the island's heart has a seemingly endless array of temples amid a lush landscape of forests and terraced rice fields. While these elements seem independent of each other, most are linked components of various subaks.
Most of this begins with Lake Batur. The area around the lake is very scenic. It's popular with hikers and outdoors enthusiasts and almost every tour stops at an overlook to take in the scenery. But it's also the source of almost all water used to irrigate Bali's rice. This gives the lake an important place in the island's spiritual beliefs.
Some of Bali's most interesting and beautiful temples are water temples dedicated to deities that assure water is available for the rice paddies. As such, these temples tend to have a lot of gardens and elaborate water features. Almost every introductory tour of Bali includes a stop at one or more water temples. That means the best-known of them, especially Pura Tirtha Empul, can get very crowded with tourists. But Balinese temples are large, elaborate complexes – there are always a lot of architectural details, sculpture, and quiet corners to enjoy no matter how crowded it is.
Bali doesn't have much flat land. Terraced rice fields allowed generations of Balinese farmers to support the island's relatively large population. The UNESCO site includes the rice paddies of Instagram star Tegalalang Terrace, as well as the larger and less famous Jatiluwih Terrace. Both areas have basic tourism infrastructure, including parking and formal paths. However, Tegalalang is near Ubud, making it far more crowded and touristy (shops, cafes, and swings over the terraces) than Jatiluwih.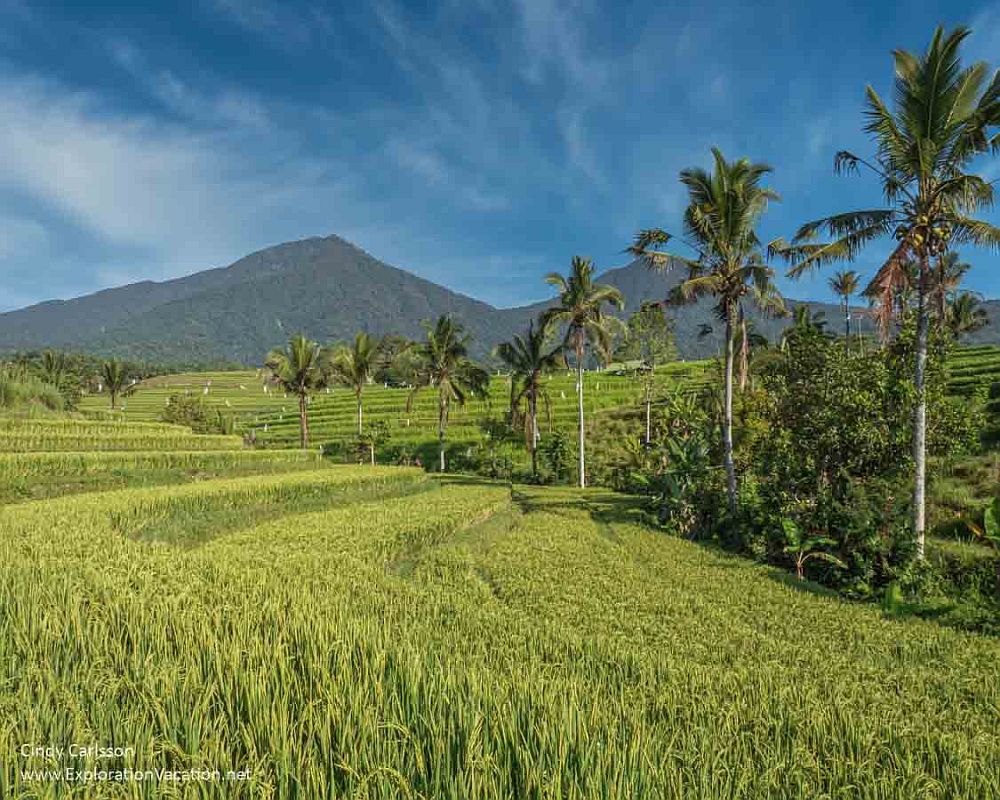 Is the Cultural Landscape of Bali World Heritage site worth visiting?
Bali is one of the most beautiful and culturally rich places in the world. As such, it would earn a high spot on any travel dream list even without a World Heritage site! But some of the island's finest temples and most beautiful landscapes are included in the UNESCO designation, making this a World Heritage site well worth even a very long trip. It is simply one of the most beautiful cultural sites in the world. And it's just part of what the island offers.
What sorts of travelers would like the Cultural Landscape of Bali's Subak system?
Between temples and gardens, natural areas, and scenic agricultural terraces, it's hard to imagine anyone who wouldn't find something to love in some part of this world heritage site.
Tips for visiting the Cultural Landscape of Bali
The temples in the UNESCO designation are all active places of worship with very specific rules for clothing, behavior, and more. Check with your guide, driver, or hotel for restrictions before you set out.
Keep in mind that "a temple" is actually a complex that includes a variety of structures, sculptures, monuments, courtyards, and (usually) water features. Major temples can be quite large.
Allow more time than you think you need. Heat and humidity can sap your energy. Travel times are generally much slower than you might expect. And there's always the possibility of having to wait for a passing religious procession. Slow down and you're more likely to see the island's rich culture come to life.
If time is short, most general day tours of Bali include at least one temple under the UNESCO designation, an overlook with a view of Lake Batur, and a chance to see a rice terrace. Lots of general tours as well as more specialized options are available. Tours can be booked in advance, but it's easy to book a day tour after you arrive in Bali.
The image below will link you to lots of tour options in Bali:
To see exactly what interests you at your own pace, hire a car and driver/guide who speaks your language. It's not much more expensive than a good group tour.
Scooters are popular with travelers in Bali, but know what you are doing. You'll be sharing narrow winding roads with animals, pedestrians, bikes, cars, trucks, and buses.
The sun is intense in Bali, so bring water, sunscreen, a hat, and sunglasses.
Click on this link to find and compare accommodations in Bali.
Where is the Cultural Landscape of Bali?
All components of Bali's World Heritage site are located in the island's interior. And all but Taman Ayun are north of Ubud.
Lake Batur is a large body of water with many access points and overlooks.
Both Pura Ulun Danu Batur and Pura Taman Ayun are popular, easy-to-find tourist sights.
The two subak landscapes include multiple features. Those specifically identified in the UNESCO designation are identified on the map below:
All of these are active religious sites or agricultural areas. A few charge a set fee to enter, but others simply request a small donation. If a specific fee is required, there should be a notice at the entrance. Where established parking areas exist, there will also be a small fee to park.
Text and photos provided by Cindy Carlsson, the always-curious traveler and photographer at the website ExplorationVacation. Cindy loves diving deep into the places she visits and sharing her discoveries with other curious travelers. Visit the website, Facebook, or Instagram for more travel inspiration.
Have you been to Bali and visited any of the elements of this UNESCO site? If so, do you have any additional information or advice about it? Please add your comments below!