Collegiate Church, Castle and Old Town of Quedlinburg
By Sandra Ans
What is the Collegiate Church, Castle and Old Town of Quedlinburg?
The Old Town of Quedlinburg is a unique, well-preserved medieval European town with more than 2,000 timber-framed houses. It also holds one of the most important Romanesque buildings in Europe: the Collegiate Church and Castle. In the 10th century, Quedlinburg was the capital of the East Franconian German Empire and in the 15th century, it became a member of the Hanseatic League. It was a very important trading town in the Middle Ages and remains an outstanding example of Medieval history and architecture.
Disclosure: This article contains affiliate links. Making a purchase through an affiliate link will mean a small commission for this website. This will not affect your price.
The Collegiate Church of St. Servatius and Quedlinburg Castle are unique Romanesque-style landmarks located in the Old Town of Quedlinburg on a sandstone cliff. Nowadays, this building complex is called the Castle-Hill. This place was founded in the early 10th century by the first German king, Henry I, and later became his burial place. The Collegiate Church, with its towers, is an especially famous and historically important monument.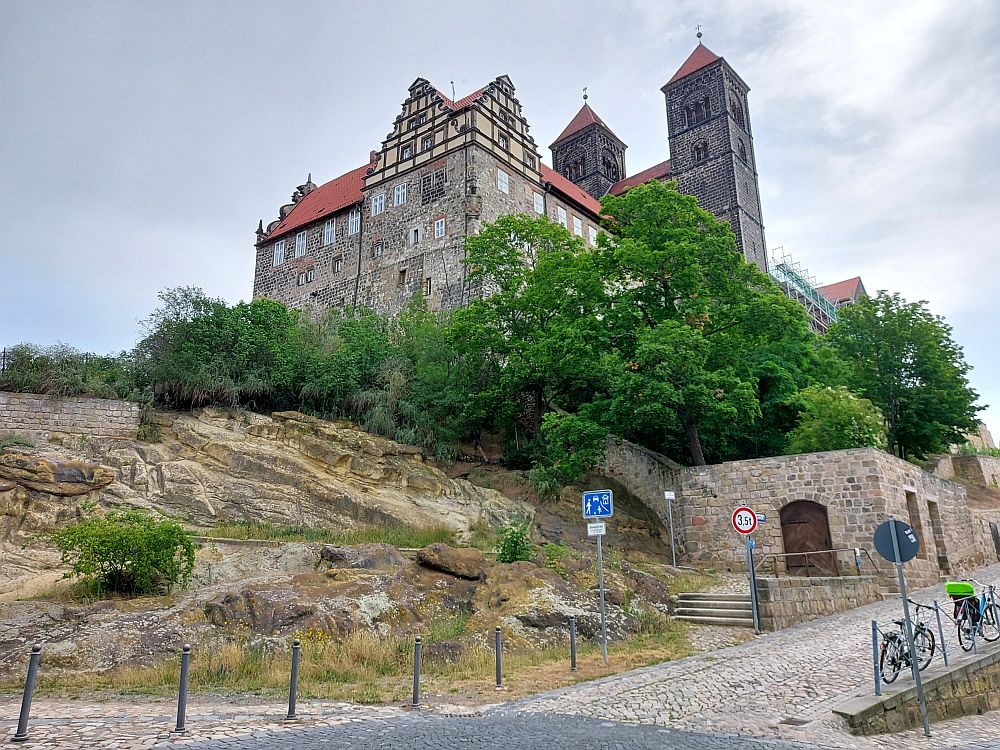 Why are Collegiate Church, Castle and Old Town of Quedlinburg a UNESCO World Heritage site?
The Collegiate Church, Castle and Old Town of Quedlinburg have been uniquely preserved since the Middle Ages. Almost untouched and authentic buildings, the church and castle complex at the top of the hill and the old cobbled streets present indescribable value.

UNESCO's description says: "Quedlinburg is an outstanding example of a European town with medieval foundations, which has preserved a high proportion of timber-framed buildings of exceptional quality. The Collegiate Church of St Servatius is one of the masterpieces of Romanesque architecture."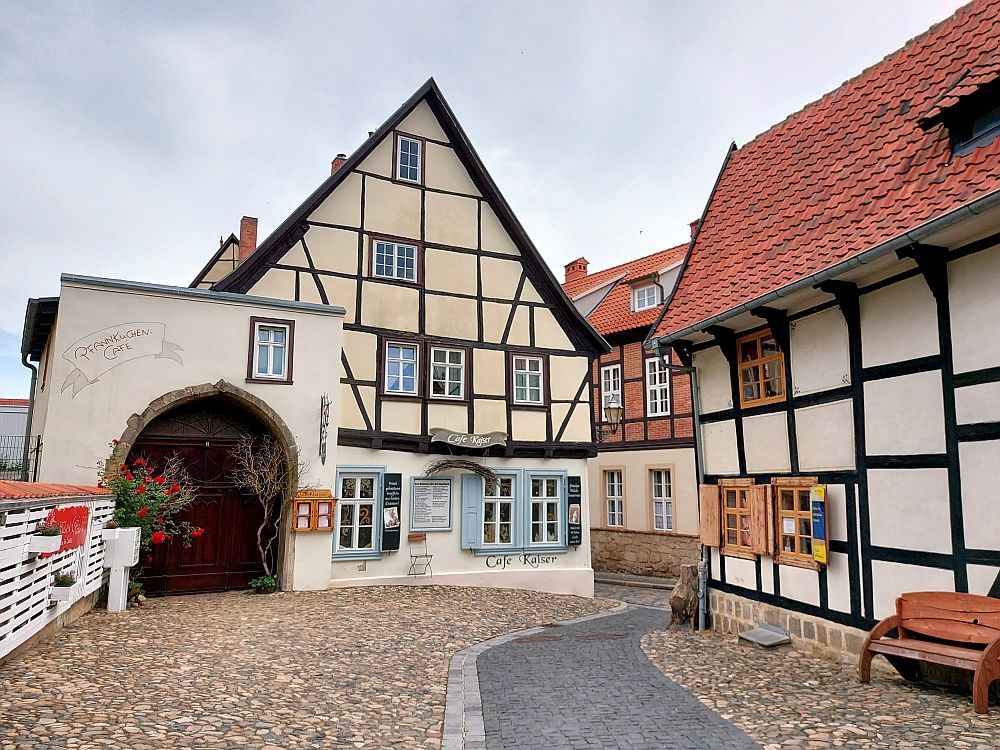 What can you expect on a visit to Quedlinburg?
In the Old Town of Quedlinburg, every building is unique and authentic. You'll see many sloping walls, strange windows, extra small entrance doors, bright colors, tiny stairs, and various design elements of wood. It's not possible to write a list of places worth seeing, because everything is special there. Not without reason, the whole Old Town of Quedlinburg is protected as a monument and in 1994 was included in the UNESCO World Heritage List.
Are Collegiate Church, Castle and Old Town of Quedlinburg worth visiting?
Yes, yes, and yes! The Collegiate Church, Castle, and Old Town of Quedlinburg are definitely worth visiting and I would recommend them to everyone. Quedlinburg, with its timber-framed houses, tiny streets, and castle hill in the middle, makes such a unique atmosphere. All buildings have undergone little or no modification over the centuries and that's truly unimaginable. Quedlinburg is a place that needs to be visited at least once in your lifetime.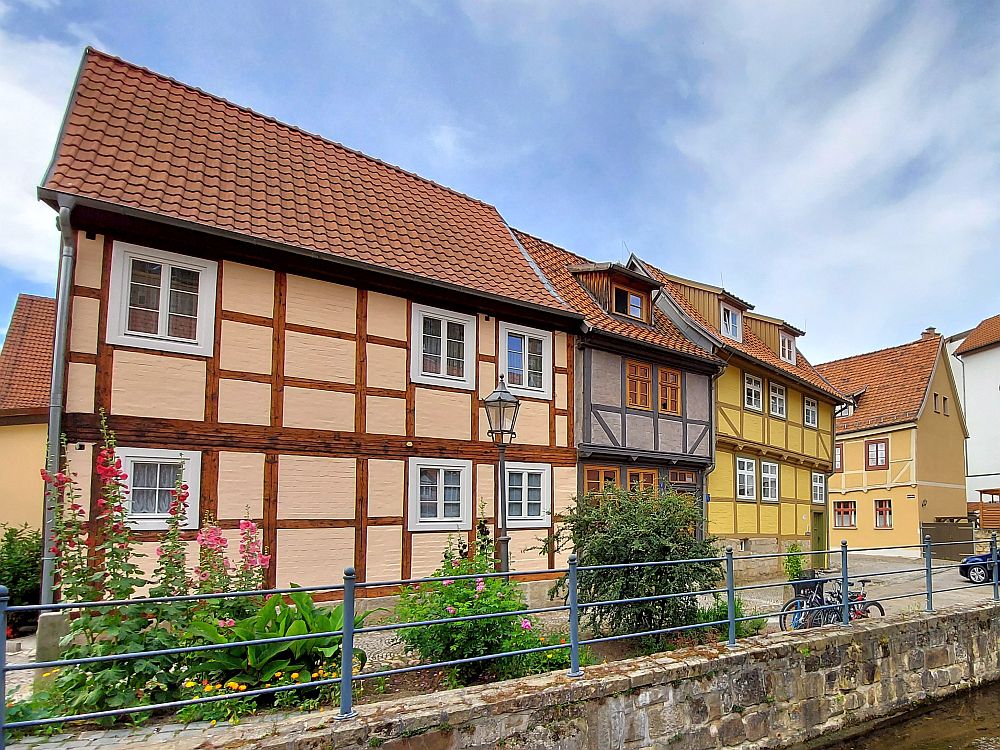 What sorts of travelers would like Quedlinburg?
Quedlinburg will be interesting for city explorers, medieval fans, timber-framed house admirers, history lovers, and people who like to explore unique European towns. Whether you go with your children, wife or husband, friends, grandparents, colleagues, or travel buddy, Quedlinburg is interesting for everyone.
Unfortunately, I can't recommend Quedlinburg for people with limited mobility. Most of the streets are bumpy cobblestones, and there are many ups and downs and stairways.
Tips for visiting Quedlinburg
Plan a least one full day for this wonderful town. To get the most out of it, stay there overnight. Go for a night walk and admire the old medieval houses, enjoying the whole Old Town of Quedlinburg. Wear comfortable walking shoes and, if you are a huge photography lover, be sure that your phone/camera battery is full, or take a portable charger with you. There is a lot to explore!
Use the map below to compare prices for accommodations in Quedlinburg:
Where is Quedlinburg?
Quedlinburg is located in central Germany, Saxony-Anhalt federal state, in the district of Harz, and the Collegiate Church and Castle you can find in the middle of the Old Town on a sandstone cliff (Address: Schloßberg 1, 06484 Quedlinburg). You can get there in two ways:
By car: As Quedlinburg is located pretty centrally, it's a well-reachable destination. It is situated only 130km (81mi) from Leipzig, 150km (93mi) from Hanover, and 220km (137mi) from Berlin. You can park your car just outside the Old Town and explore the center on foot, because cars are not allowed everywhere in the Old Town.
If you're traveling by car, it wouldn't be hard to visit other UNESCO sites nearby too, like the Historic Town of Goslar, the Garden Kingdom of Dessau-Wörlitz, Naumburg Cathedral, and Classical Weimar.

By public transportation: From all of the above cities you can get to Quedlinburg by public transport – bus or regional train. The central station of Quedlinburg is only a 10-minute walk away from the Old Town and a 15-minute walk away from the Collegiate Church and Castle. Unfortunately, getting there by public transport can take twice as long as by car.
For more information about the Collegiate Church, Castle, and Old Town of Quedlinburg, its opening hours and admission fees, see its official website.
Text and photos provided by Sandra Ans of My Small Travel Guide. She is a travel blogger, marketing communication manager, dog owner, and open-minded person based in Germany. In her blog, Sandra shares her tips and adventure stories on how to travel through Europe better, cheaper and smarter. You can also follow her on her Instagram and Facebook.
Have you been to Quedlinburg? If so, do you have any additional information or advice about this UNESCO World Heritage site? Please add your comments below!