By Cindy Carlsson
What is the Antequera Dolmens Site?
The Antequera Dolmens UNESCO World Heritage site includes three megalithic tombs and two natural features. These are located near each other in four different locations.
The Menga and Viera dolmens are large stone tombs built between 3500-3000 BC.
The Tholos of El Romeral is a beehive-shaped tomb with masonry walls built about 2500 BC.
La Peña de los Enamorados is a limestone outcrop that some see as having the profile of a man's face.
El Torcal de Antequera is a mountainous area with unusual weathered limestone formations.
Disclosure: This article contains affiliate links. Making a purchase through an affiliate link will mean a small commission for this website. This will not affect your price.
These elements are grouped together as one UNESCO site because of their relationship to each other. Menga Dolmen and El Romeral not only align with La Pena and El Torcal, but these natural features seem to be an integral aspect of the entire site. El Torcal is also an important natural area, but that is not why it is included in this World Heritage designation. This is a cultural site, not a natural one.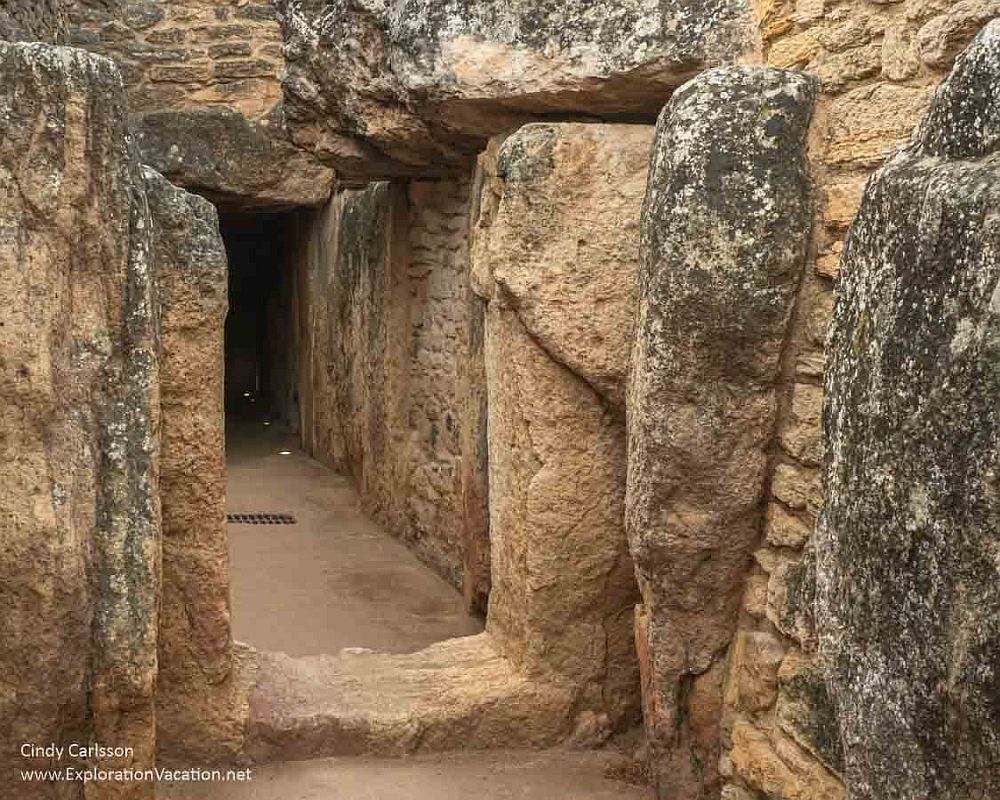 Why is the Antequera Dolmens Site a UNESCO World Heritage site?
Due to the size and number of stones used in their construction, UNESCO describes these tombs as among the "most important engineering and architectural works of European Prehistory." The Antequera Dolmens site is also significant because it "provides an exceptional insight into the funerary and ritual practices of a highly organized prehistoric society of the Neolithic and Bronze Age in the Iberian Peninsula." The site is also notable for its unusual orientation and the relationship between natural and man-made elements.
What can you expect on a visit to the Antequera Dolmens World Heritage site?
The Antequera Dolmens visitor center is located below the Menga and Viera dolmens. It provides an engaging multi-media introduction to history and use of the dolmens, their construction, the relationship between the site's elements, and ongoing research.
Outside the visitor center, a winding path leads up and around the large burial mound to the entrances. Viera Dolmen is the smaller of the two dolmens located here. It's a long tunnel-like room lined and roofed with enormous stone slabs. A short distance away, Menga Dolmen is more impressive. It's much larger in size with stone pillars that support the roof. Even more than in Viera, you are left wondering how prehistoric humans created this. And why.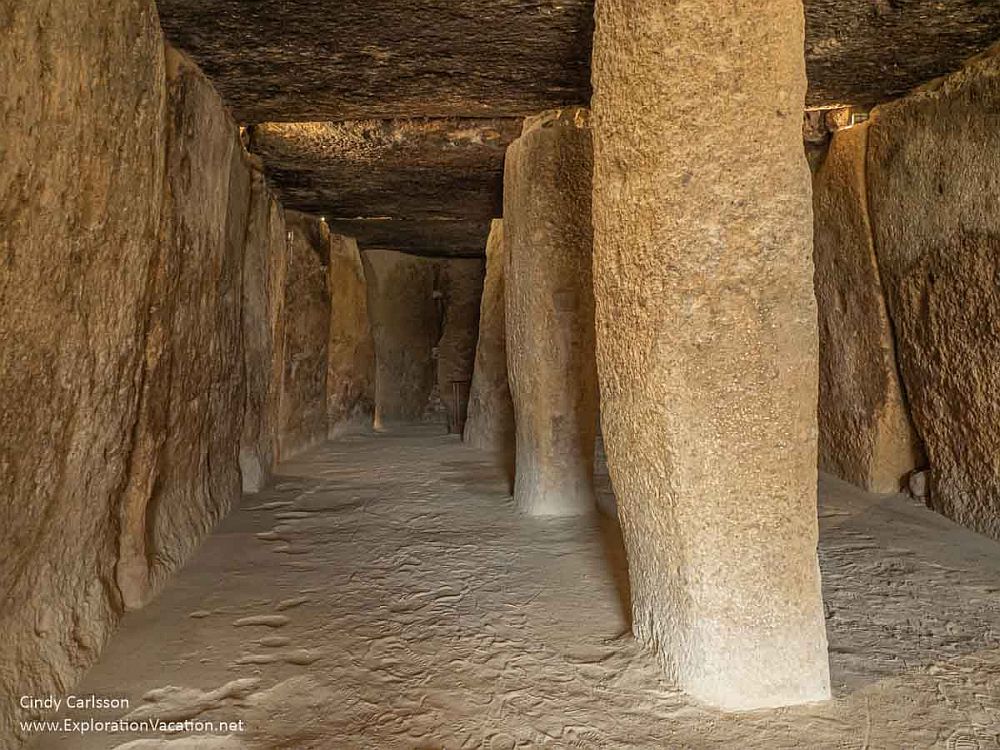 You also have a good view of La Peña de los Enamorados ("the lovers rock") from the entry to Menga Dolmen. That's by design. Along with the sightline, the connection is seen in prehistoric paintings on La Peña that seem to reference Menga. However, while La Peña is a major feature of the landscape and can be viewed from a variety of locations in the area, there isn't any public access to it.
The Tholos of El Romeral is located a short distance from the visitor center in an industrial area. This Bronze Age tomb is very different from the other two, as it is built of stones dry-stacked on top of each other like bricks. This construction technique was used to create both the long entry tunnel and the rounded, beehive-shaped burial chamber. (A tholos is simply a beehive-shaped structure.) The tomb faces west toward the El Torcal mountains, which is an unusual alignment for a European structure of this type.
The El Torcal de Antequera Nature Reserve is not well-known for its Neolithic sites, although it has several. Instead, this area is noted for its fantastically eroded and twisted limestone formations, native wildflowers, and wildlife. Several well-marked routes allow visitors to explore this incredible landscape independently. Guided tours also take visitors into areas otherwise not open to the general public, however, there is no public access to the area's prehistoric sites.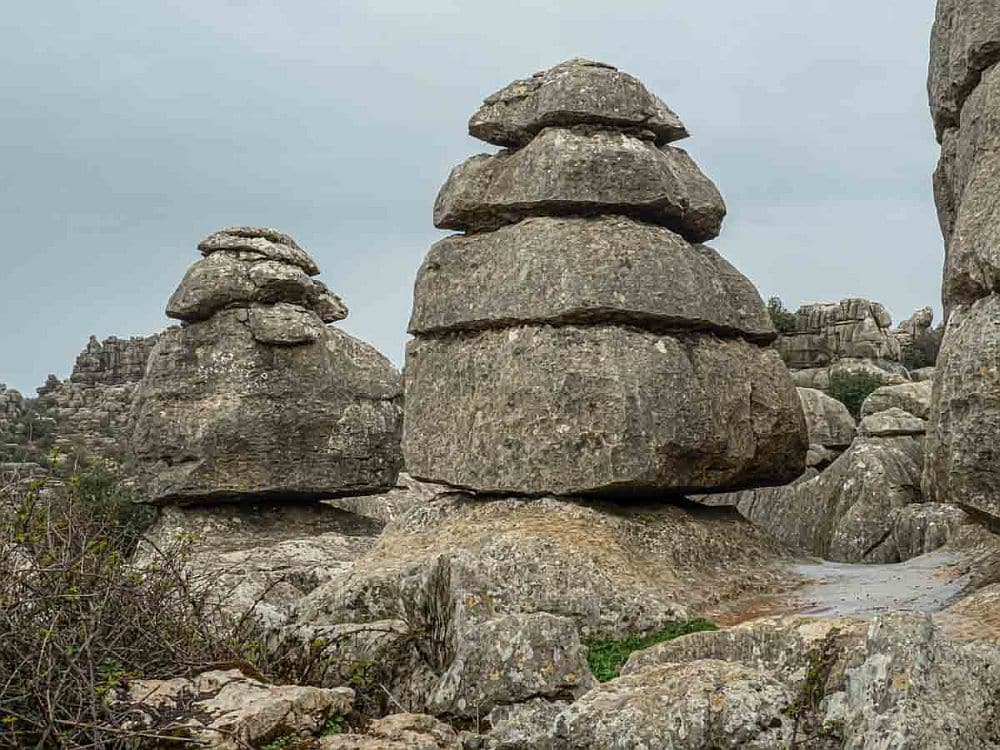 Is the Antequera Dolmens site worth visiting?
The Antequera Dolmens UNESCO site is an easy side-trip from Málaga that doesn't require a lot of time. Anyone with a strong interest in prehistoric archaeological sites definitely should have this site on their itinerary when visiting southern Spain. But it's a good stop for anyone traveling through the area – especially if they have never been inside a large megalithic structure.
Hikers, wildlife watchers, wildflower fans, and anyone interested in strange geology will find a lot to love at El Torcal de Antequera Nature Reserve. Although its link to the dolmens is not obvious from inside the park, most visitors will still be impressed by the site's bizarre formations. If you like hiking, plan to spend much more time at El Torcal than at either the dolmens site or El Romeral.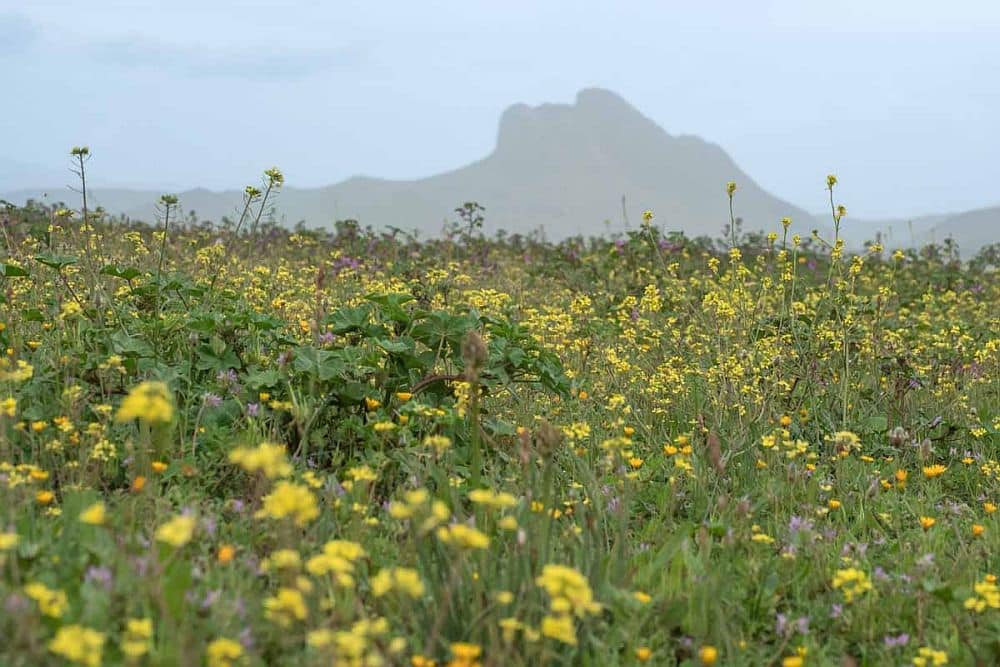 Tips for visiting the Antequera Dolmens World Heritage site
The interiors of both dolmens were once painted and some paint residue and indistinct carved markings remain. Ask the interpreter/guard to point them out. And be sure to turn around and see if you can spot La Peña framed by the entrance to Menga Dolmen.
While directional signage is pretty good, ask at the visitor center for specific directions to El Romeral, as its location in an industrial area is a little unexpected.
El Torcal is popular with Spanish families, local hikers, and tour groups. Get there early in the morning for the best wildlife viewing and less crowded trails. And wear sturdy shoes. While some trails are smooth, most go around and over rocks of various sizes. In wet weather many trails are slippery and muddy.
If you aren't up to hiking through rough terrain, the drive in to the visitor center offers some fabulously odd scenery with a few places to stop and take it all in. And, once you get to the visitor center, a very short, flat trail offers a good sample of what the area has to offer.
Book your accommodations in Malaga here or in Antequera here.
Where is the Antequera Dolmens World Heritage site?
The five pieces of the Antequera Dolmens UNESCO site are located north of Málaga in southern Spain. They are in four different locations, but only three are open to the public. All three are easy to find with most mapping programs.
The Menga Dolmen, Viera Dolmen, and the visitor center are located together right outside the city of Antequera.
The Tholos of Romeral is located less than 4 km (just over 2 miles) northeast of the visitor center.
El Torcal de Antequera is located 16 km (10 miles) south of the dolmen visitor center in Antequera.
It's about a 40-minute drive from Málaga to Antequera. It takes about an hour if traveling by bus. However, there is no regular bus service to El Torcal de Antequera. Tours of the UNESCO site are also available from Málaga.
The Dolmens Visitor Center has a large, free parking area. Parking is also free at the El Torcal visitor center, but it can fill quickly. However, when the lot by the visitor center is full, another one is opened down the mountainside. From there, visitors are taken to the visitor center via shuttlebuses.
For more information about the Antequera dolmens, including opening hours and admission fees, see the official website. For information on El Torcal de Antequera, see its official website.
Text and photos provided by Cindy Carlsson, the always-curious traveler and photographer at ExplorationVacation. Cindy loves diving deep into the world and sharing her discoveries with other curious travelers. Visit the website, Facebook, or Instagram for more travel inspiration.
Have you been to Antequera Dolmens Site? If so, do you have any additional information or advice about this UNESCO World Heritage site? Please add your comments below!