By Cindy Carlsson
What is the Doñana National Park World Heritage site?
Doñana National Park is part of a protected wilderness area in southern Spain. The UNESCO site covers just over 540 sq km (210 sq mi) and includes a variety of landscapes and ecosystems, including seasonal beaches, dunes, marshes, scrublands, and forests.
Disclosure: This article contains affiliate links. Making a purchase through an affiliate link will mean a small commission for this website. This will not affect your price.
Doñana is part of Spain's largest wetland and one of the country's last large areas of natural coastline. As such, this is an essential stop for birds migrating between Europe and Africa. Up to 6 million birds migrate through the area each year and over 300 bird species have been sighted here. The national park is also home to a mix of European and African plants and animals. Some of these, like the Iberian lynx and the Spanish imperial eagle, are extremely rare.
Both Doñana National Park and the adjacent Doñana Natural Park are part of a UNESCO Biosphere Reserve.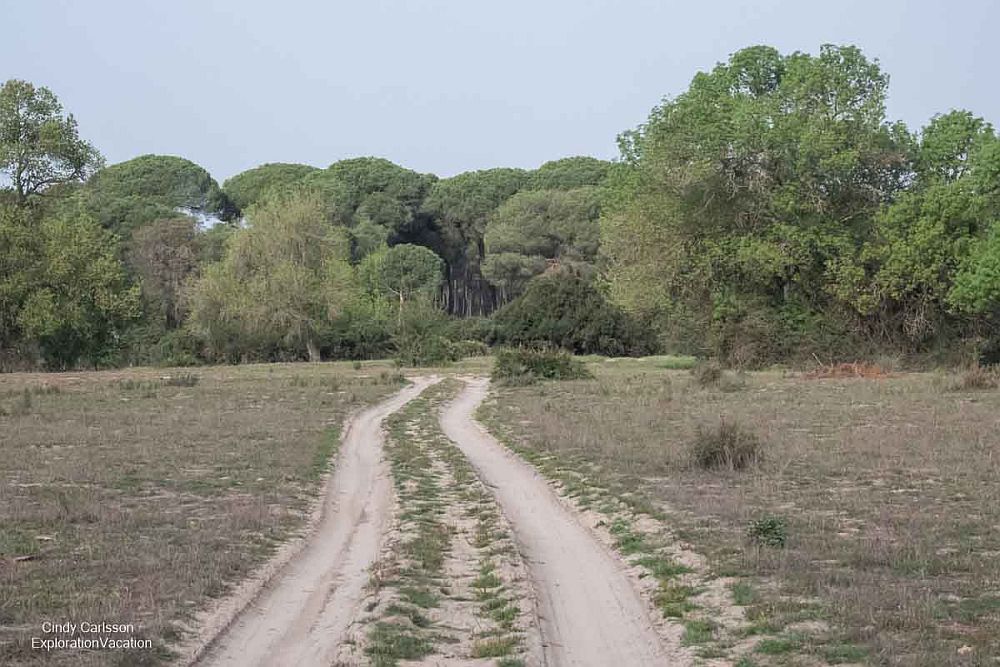 Why is Doñana National Park a UNESCO World Heritage site?
UNESCO made Doñana National Park a World Heritage site in 1994 as "an exceptional example of a large Mediterranean wetland site with diverse habitats of marshes, forests, pristine beaches, dunes and lagoons which contain a high faunal diversity, particularly for its ornithological values."
The designation recognizes the beauty and wildness of the site, the mobile dunes and other geological processes that continue to shape the landscape, and its large, diverse population of wildlife – which includes globally threatened species. However, agriculture and other water uses impact this site, and climate-related changes amplify those water-related problems. Although not on the World Heritage in Danger list, the future of this amazing landscape and its wildlife looks rather bleak.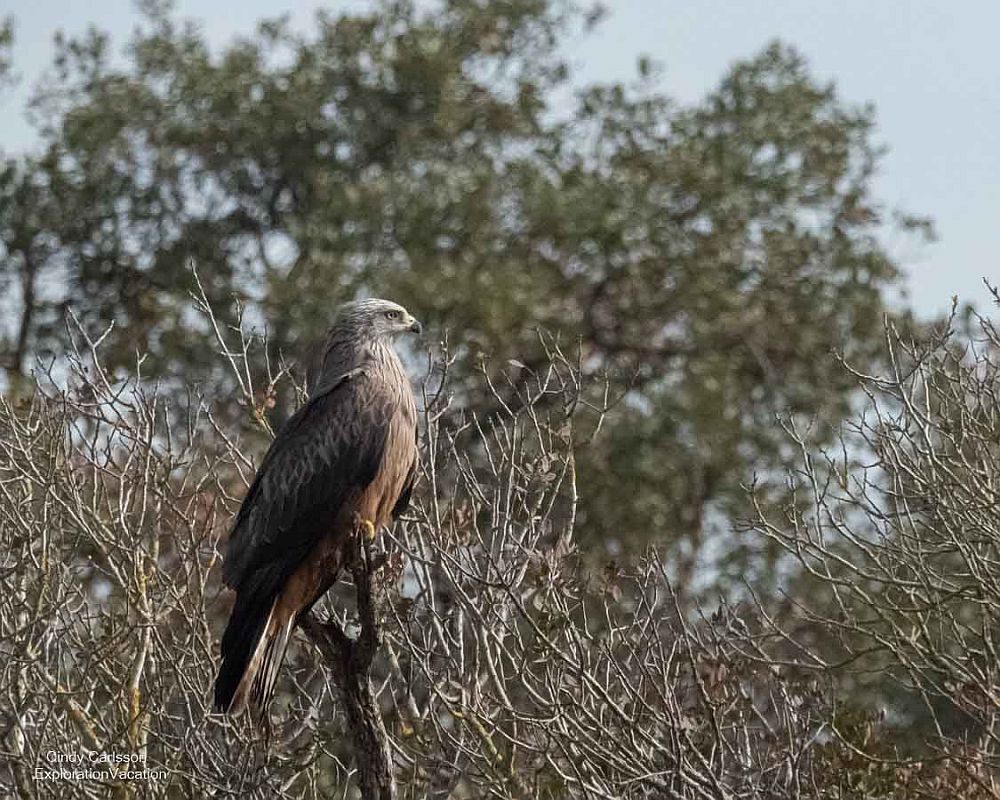 What can you expect on a visit to Doñana National Park?
The Doñana UNESCO site is adjacent to a large natural park that allows traditional agricultural uses and recreational development, but includes many of the same landscapes, ecosystems, and wildlife as the Doñana National Park World Heritage site. Visitors are welcome throughout the natural park, which has visitor centers, bird blinds, campsites, and a wide variety of walking, hiking, and biking trails.
It's a different story in the national park. Here visitor access is limited to the very edge of the World Heritage site unless you spend a day hiking or biking one of the long-distance trails or book a 4-wheel drive or boat tour. Authorized 4WD tours within the UNESCO area offer two types of routes: a coastal dune and forest route or your choice of several interior routes. Both the coastal and interior routes offer opportunities for bird and wildlife watching from the vehicle. In addition, boat tours run along the Guadalquivir River. These include a couple of stops for short walks in the national park area.
Every route will include some pine forest, scrublands, and wetland areas. (Summer visitors will likely see mostly or entirely dry wetlands unless their tour takes them to the rice fields that adjoin the national park.) Only the coastal route includes a look at the dunes, but inland routes tend to offer more time to view wildlife.
Depending on the time of day, visitors are likely to see a mix of birds, deer, and free-roaming horses. While lynx are sometimes seen on a regular tour, it's pretty rare.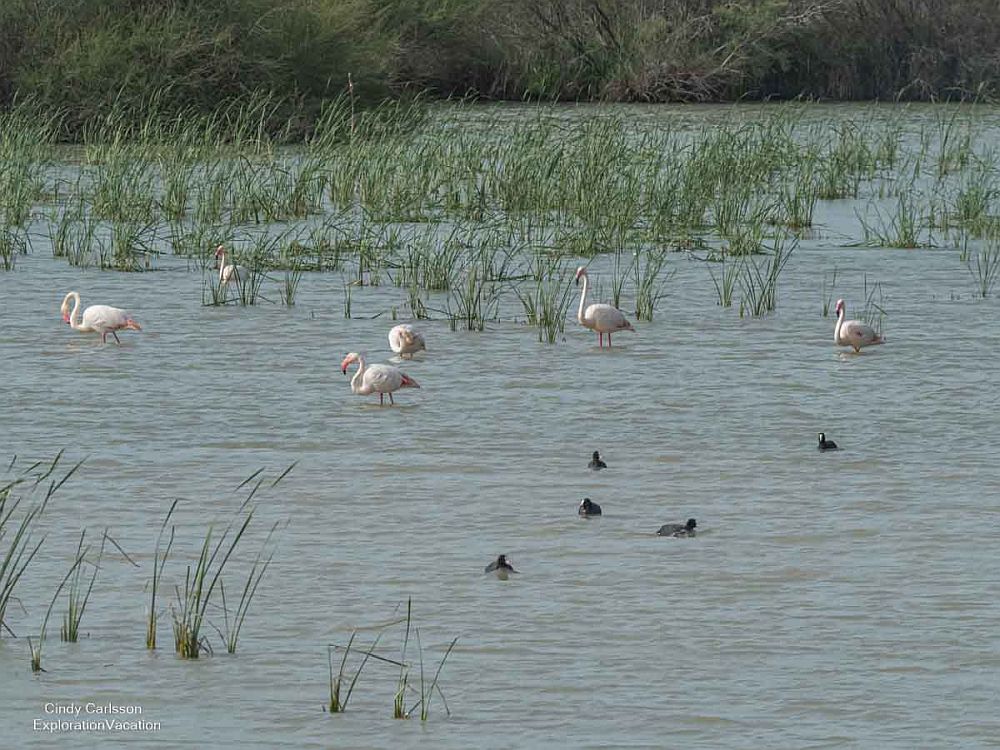 Is Doñana National Park worth visiting?
While the Doñana National Park UNESCO site is only a little more than an hour from Seville's World Heritage sites, it's a rather out-of-the-way spot. Nor does the national park itself offer much you can't see in the surrounding natural areas. So, it's probably not a spot that belongs at the top of most people's itinerary for Spain.
However, bird watchers will find a lot to see in and around the national park. Serious birdwatchers flock here in spring to add a mix of European and African birds to their life lists, but more casual birders will also appreciate the wide variety that can be seen here. And wild horse fans will be delighted to find herds of native Marismeño and Retuertas horses in the area. (Visit in June to see the horses rounded up and herded into El Rocío where they are blessed by the priest and given a health check before being released back into the marshes.) This is also the best place to look for endangered Iberian lynx, although sightings are rare even here.
And, once you are in the area, it's easy to combine a visit to the Doñana World Heritage site with a beach vacation in Matalascañas or Sanlúcar de Barrameda or a visit to the very unusual pilgrimage town of El Rocío. That makes early morning and late afternoon bird and wildlife watching easier. And it provides a wider range of non-nature options for your down-time and for those traveling with you who may be less interested in birding, wildlife watching, or other outdoorsy activities.
Doñana National Park tours generally run a half-day, although full-day options are also available. Most, but not all, tours from Seville run for a full day and include a few other sites and activities. Hikers, bikers, and other independent travelers can spend as much time as they'd like looking for wildlife and exploring natural areas in and around the park.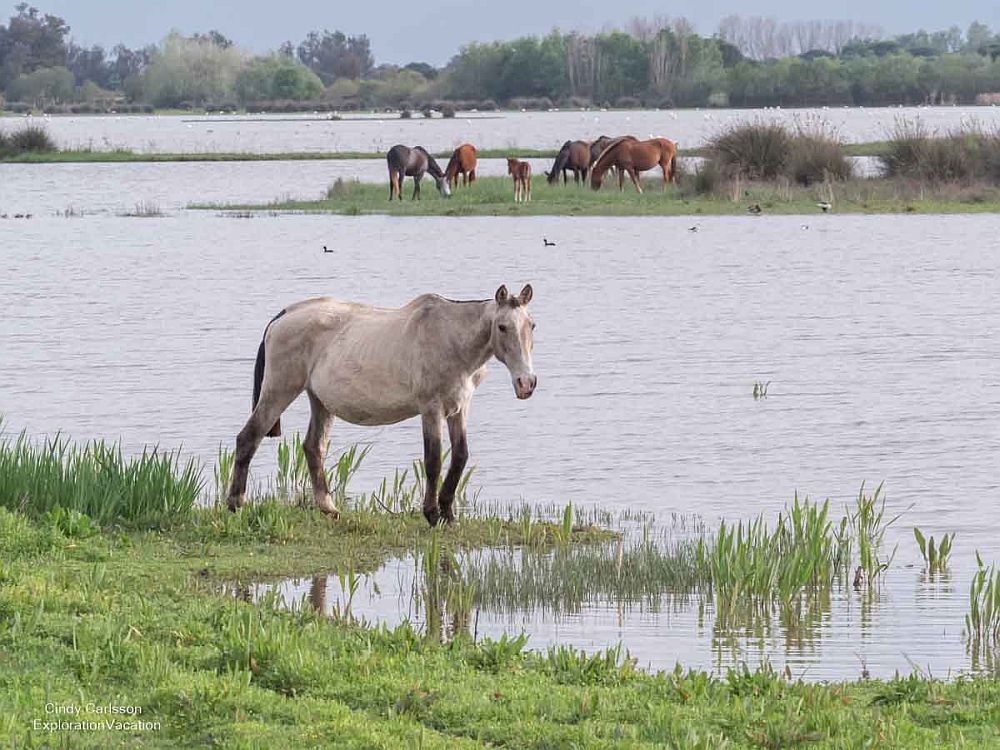 Tips for visiting Doñana National Park
Early morning and late afternoon are generally the best times for bird and wildlife watching.
Most information about the park lumps the national park and the natural park together. That makes it hard to know exactly what is or isn't part of the World Heritage designation. For most visitors that won't matter, as the two parks have many of the same features and wildlife. However, if it is important that you actually get inside the boundaries of the World Heritage site, make that clear when booking your tour.
Know which side of the park you want to visit and plan to stay in that area. El Rocío is both a fascinating little place and sort of in the middle of the whole protected area. It has a couple of entrances to Doñana National Park and many tours depart from here or nearby.
You often can see wild horses and many wetland birds and waterfowl right from the park in El Rocío.
However, if you want to take the boat tour, you need to be across the Guadalquivir River in Sanlúcar de Barrameda … and the only river crossing between the two is a two-hour drive that takes you almost all the way back to Seville.
Accommodations in Sanlúcar de Barrameda.
Three companies are authorized to operate 4WD tours inside Doñana National Park. Several routes are available, with private tours offered at a surprisingly wide range of prices. Even if you are on a budget, it's worth checking the price of a private tour if you want to do photography, see a specific bird, animal, or ecosystem, or just don't want to be part of a bigger group. However, no matter what tour you take, think of this as a safari where you'll mostly be in the vehicle – get a window seat for the best view and pictures.
Horses and wagons headed to El Rocío can use a sand road along the national park boundary. This area is very busy during pilgrimage week or other religious events. If you want to combine a park visit with a chance to see the pilgrimage, be aware that park visitor centers close for the week as over a million visitors descend on this small town.
Where is Doñana National Park?
Doñana National Park is located along the right bank of the Guadalquivir River and the sea in southern Spain. It's about an hour's drive south of Seville.
El Rocío is both the shortest drive from Seville and a good entry point into the park.
You can also reach Doñana by bus, although the bus schedules often do not work if you want to visit on a day trip and take a tour. (Most buses arrive too late and leave too early for most tours.) Taking a bus from Seville to El Rocío adds about a ½ hour to your travel time if you can avoid a transfer in Huelva. (Transferring in Huelva requires a lot more time.) From El Rocío you can easily continue on to Matalascañas. Traveling from Seville to Sanlúcar de Barrameda requires taking either a train or bus to Jerez de la Frontera and then transferring to a bus from there. It usually adds an hour or more to the travel time.
Only the national park is included in the UNESCO World heritage site. However, visitor centers have information on both the national and natural parks, as well as other areas included in the Biosphere site.
El Acebuche Visitors Center (37.07366, -6.37729 near Matalascañas, the primary visitor center)
La Rocina Visitor Center (37.1238, -6.49654 just outside El Rocío)
José Antonio Valverde Visitor Center (37.07366, -6.37729, accessible via unpaved roads)
Acebrón Palace Visitor Center (37.28839, -6.3872 near El Rocío)
The Ice Factory Visitor Center (37.07366, -6.37729 in Sanlúcar de Barrameda)
Los Centenales Visitor Center (37.28839, -6.3872 in Hinojos, temporarily closed)
Limited free parking is available at all visitor centers.
For more information about Doñana National Park, its opening hours and admission fees, see its official website. Note that most trail information is in Spanish.
Text and photos provided by Cindy Carlsson, the always-curious traveler and photographer at ExplorationVacation. Cindy loves diving deep into the world and sharing her discoveries with other curious travelers. Visit the website, Facebook, or Instagram for more travel inspiration.
Have you been to Doñana National Park? If so, do you have any additional information or advice about this UNESCO World Heritage site? Please add your comments below!