Trang An Landscape Complex
By Cindy Carlsson
What is the Trang An Landscape Complex?
The Trang An Landscape Complex is a beautiful rural area in northern Vietnam. It is famous for its boat tours through a landscape of forested karst peaks that tower above submerged valleys. The area also has important archaeological and historic sites.
Disclosure: This article contains affiliate links. Making a purchase through an affiliate link will mean a small commission for this website. This will not affect your price.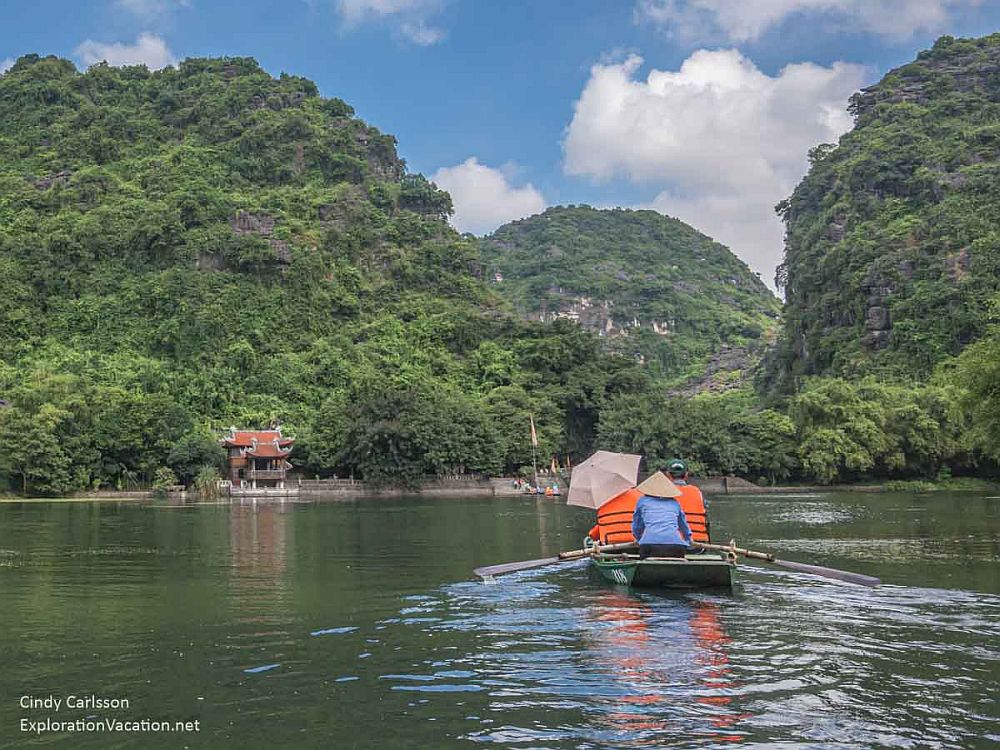 The site has three parts:
The Hoa Lu Ancient Capital with the ruins of Vietnam's 10th and 11th-century capital and a couple of restored religious sites.
The Trang An-Tam Coc-Bich Dong Scenic Landscape: flooded valleys usually toured via traditional sampans.
The Hoa Lu Special-Use Forest protecting the area's interconnected ecosystems and the many rare plants and animals found there.
Why is Trang An a UNESCO World Heritage site?
UNESCO cites Trang An as an outstanding example of a "humid tropical tower-karst landscape in the final stages of geomorphic evolution." The area has been submerged by the sea several times, and today the eroded karst towers are draped in native vegetation, surrounded by water, riddled with caves, and interconnected by tunnels.
The area is also significant because humans have lived here for over 30,000 years. Archaeological evidence shows how humans adapted to extreme changes in their environment over that time.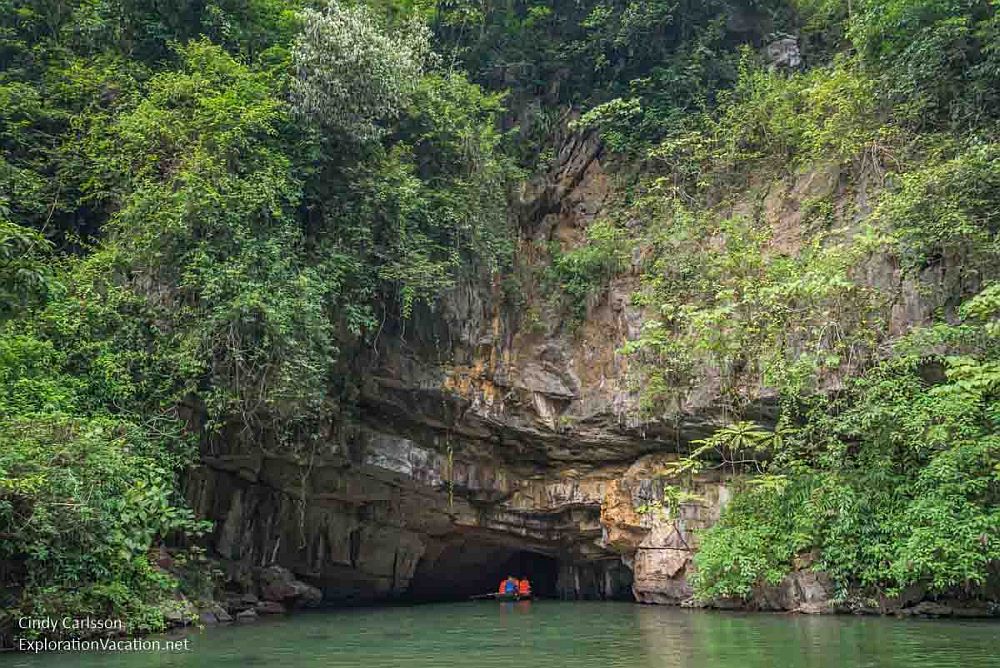 What can you expect on a visit to Trang An?
This area is very beautiful. That's true of the natural areas, the valleys with rice fields, and the area's small villages.
The primary way to experience that beauty is on a sampan tour through the flooded karst landscape. Visitors can access these tours at two sites: Trang An and Tam Coc. At either site, visitors choose a tour from a handful of options and then get in a small rowboat. Tours usually take 2-3 hours. All include a few opportunities to go ashore to visit spiritual sites or just get a different view of the scenery.
The Trang An boat routes (pictured here) wind through up to nine caves (tunnels) in a mostly natural area. They also stop at a couple of religious sites. This area is often called "Ha Long Bay on land," for its similarity to the more famous coastal site.
The Tam Coc-Bich Dong routes follow a river through rice fields below the peaks. There are fewer caves, but more interesting pagodas on this route.
Although there will likely be hundreds of other boats on the water, the trip is very relaxing.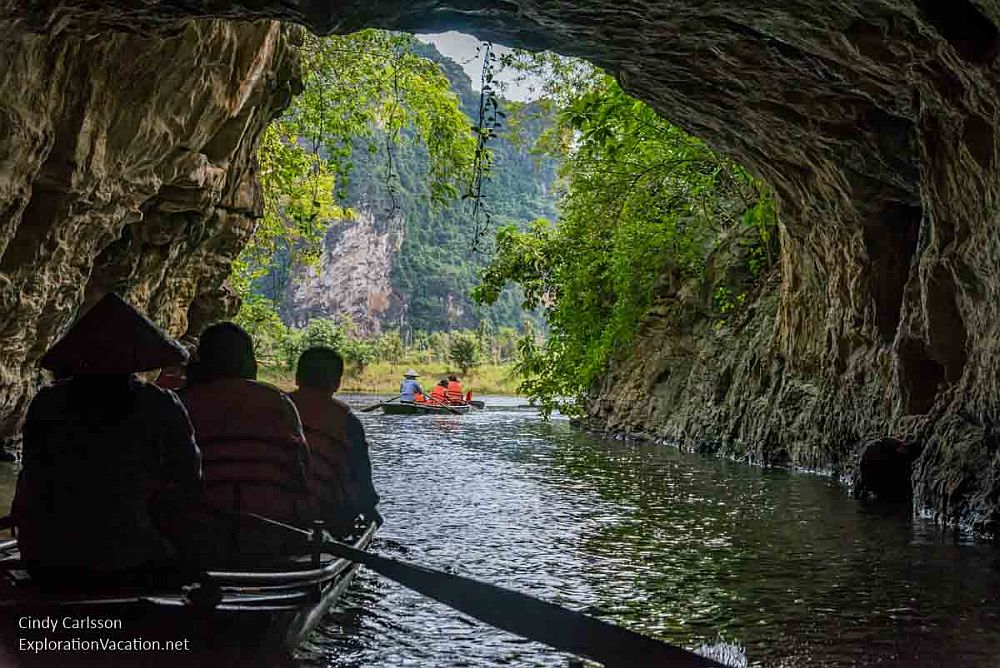 Is Trang An worth visiting?
The Trang An Landscape Complex is listed as a site of "significant concern" by UNESCO due to the high number of boat tours. However, anyone visiting Hanoi should take a day to see this site because of its unusual beauty. And, despite the crowds, the boat trips are the best way to experience it.
Most visitors can skip Hoa Lu, as it isn't particularly unique.
What sorts of travelers would like Trang An?
Trang An will appeal to anyone who likes beautiful scenery.
Day trippers coming from Hanoi should expect to spend most of their time getting there and relaxing on the water. Ecotourists and those seeking a more active experience could easily spend several days biking, hiking, and touring in the UNESCO site and surrounding area.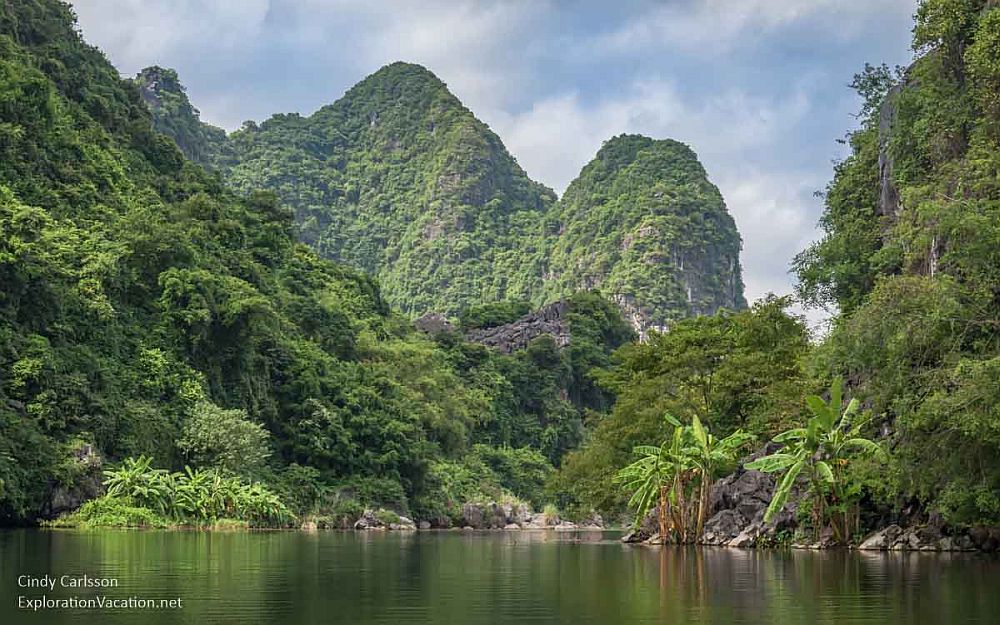 Tips for visiting Trang An
Don't expect to be alone no matter when you visit. But don't let that keep you away – you'll be in your own boat almost the entire time. For the least crowded experience, arrive before 9 am. Avoid Vietnamese holidays, as this is an extremely popular destination among the Vietnamese.
Boats usually seat 2-4 people, but foreigners are generally limited to 2 per boat to reduce the weight.
There are a couple of longer tunnels on some routes. If you are very claustrophobic, you may want to avoid those routes.
Bring sunscreen, water, and something to eat. There is no shade while you are out on the water and concessions at the dock are limited.
Tam Coc tours run through the rice fields. To see those fields with rice in them, visit between January and April. Or come in May and June to see both the harvest and lotus in bloom.
Avoid July and August. This is the rainy season.
Ninh Binh is a beautiful area. Travelers who want to slow down and experience a more rural side of Vietnam will find it a pleasant place to spend a few days.
Use the map below to find your accommodations in Ninh Binh:
Where is Trang An?
The Trang An Landscape Complex is located near Ninh Binh city, about 95 km (59 miles) south of Hanoi.
You can easily book a day tour or a private car from Hanoi, but bus and train service to Ninh Binh are also available. The trip to Ninh Binh takes as little as 1½ hours by car, over 2 hours by train and about 3 hours by bus. From Ninh Binh you can easily get a taxi to the dock at Trang An or Tam Coc.
Here is a list of tours going to Trang An, mostly leaving from Hanoi.
Trang An wharf is 7 km (4 miles) west of Ninh Binh.
Hoa Lu Ancient City is 3 km (2 miles) north of the Trang An wharf (you'll see it from the road).
Tam Coc – Bich Dong is about 7 km (4 miles) southwest of Ninh Binh.
For more information about Trang An, its opening hours and admission fees, see its official website.
Text and photos provided by Cindy Carlsson, the always-curious traveler and photographer behind the website ExplorationVacation. Cindy loves diving deep into the places she visits and sharing her discoveries on the website, Facebook, and Instagram.
Have you been to Trang An? If so, do you have any additional information or advice about this UNESCO World Heritage site? Please add your comments below!