Te Wāhipounamu – South West New Zealand
By Cindy Carlsson
What is Te Wāhipounamu – South West New Zealand?
The Te Wāhipounamu – South West New Zealand World Heritage site covers about 26,000 sq km/10,000 sq mi of (mostly) wilderness along the southwest coast and mountains of New Zealand's South Island. Almost the entire UNESCO site is part of a national park (Westland Tai Poutini, Aoraki/Mount Cook, Mount Aspiring, and Fiordland) or other protected area.
Disclosure: This article contains affiliate links. Making a purchase through an affiliate link will mean a small commission for this website. This will not affect your price.
Besides a number of highly endangered birds and plants, South West New Zealand includes dramatic fjords, rugged shorelines, glaciated mountains, temperate rain forests, lakes, and waterfalls galore. Most of the World Heritage site is a true wilderness area that is difficult to access. However, it also includes a couple of very popular tourist sites and some of New Zealand's most famous wilderness treks.
Te Wāhipounamu means "the place of the greenstone" in Māori. Like other places in New Zealand, many sites in the UNESCO area inconsistently use a combination of English and Māori names.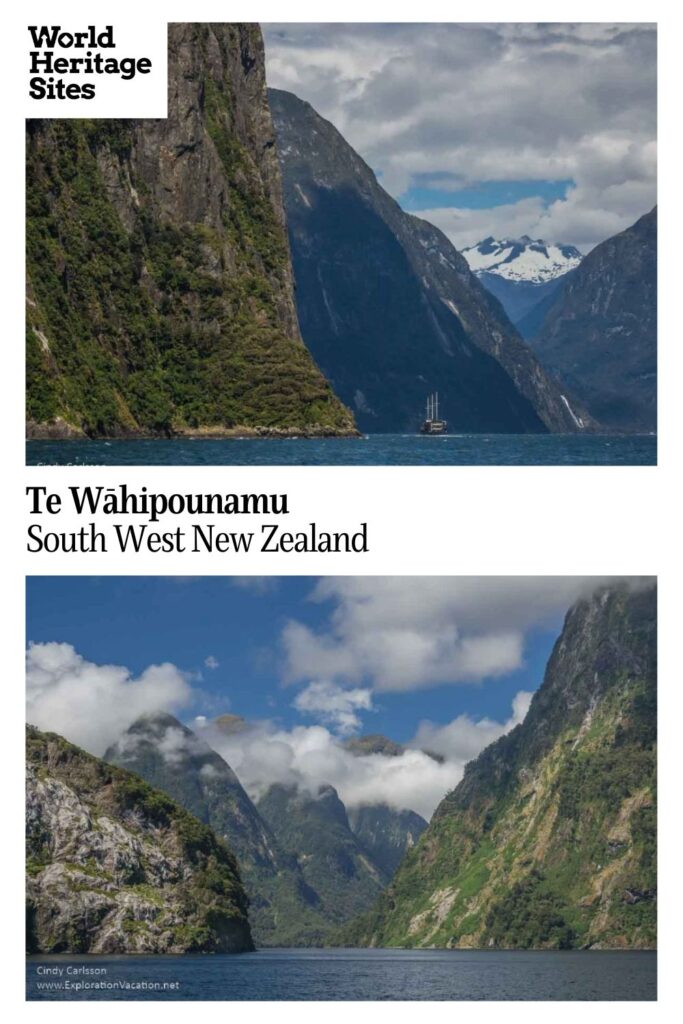 Why is Te Wāhipounamu a UNESCO World Heritage site?
Te Wāhipounamu – South West New Zealand is important for its geology, geological history, unique plants and birds, and incredible beauty.
UNESCO explains: "It is the combination of geological and climatic processes, the resultant landforms, the unique biota displaying evolutionary adaptation over a diverse range of climatic and altitudinal gradients, all in a relatively pristine state, that give Te Wāhipounamu – South West New Zealand its exceptional and outstanding natural characteristics."
That explanation goes on to proclaim "the landscapes are world class for the sheer excellence of their scenic beauty" and cite the area as the "best modern example of the primitive taxa of Gondwanaland seen in modern ecosystems."
It's all a little breathless, but South West New Zealand tends to have that impact on visitors.
What can you expect on a visit to Te Wāhipounamu – South West New Zealand?
The Te Wāhipounamu World Heritage site in South West New Zealand includes some of the world's most breathtaking landscapes. Much of this is accessible only to back country hikers, backpackers (trampers), heli-hikers, mountain climbers, and expedition cruisers. However, a few areas offer road trippers and day hikers a taste of what lies in the vast wilderness beyond.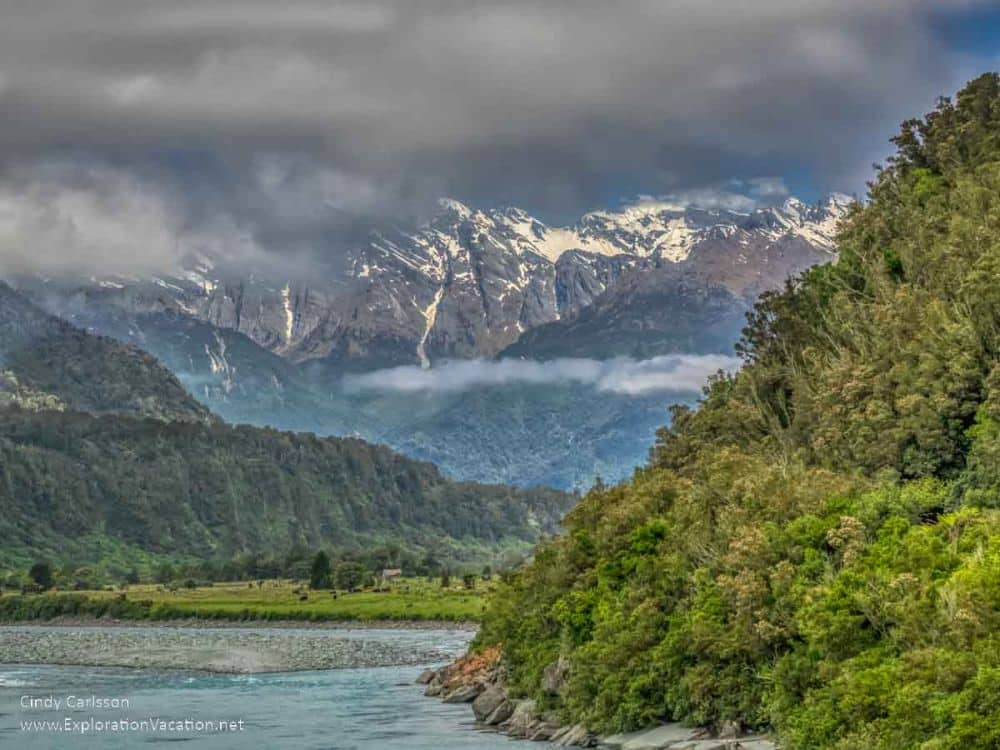 Aoraki/Mount Cook National Park
If you're looking for big mountains and lots of glaciers, the Aoraki/Mount Cook National Park section of the Te Wāhipounamu – South West New Zealand UNESCO site is the place to be. Named for New Zealand's highest peak, Aoraki/Mount Cook National Park is home to 19 of New Zealand's 20 mountains over 3,000 meters/9,800 feet. And, not surprisingly, 40% of the park is covered by glaciers.
Visitors can hike alpine valleys and mountain ridges, watch for rare birds like the kea (the world's only alpine parrot), ski, test their mountain climbing skills, or take a scenic flight. While climbing Aoraki/Mount Cook itself requires a high degree of fitness and technical skill, the park has a variety of both day hikes and multi-day tramping routes, cycling routes, and even a few short and easy walks suitable for small children.
Westland Tai Poutini National Park
Best known for its fast-moving glaciers, visitors at Westland Tai Poutini National Park can walk up to the face of Franz Josef and Fox glaciers, take a guided walk on a glacier, or take a scenic flight that stops to let you walk around on the snow and ice at the top of a glacier.
But it's not all about getting up close and personal with glaciers. You can just enjoy the views through the rainforest along a variety of trails, some of which begin right in the tourist town of Franz Josef/Waiau. Or spend your time birdwatching (on foot or by kayak). Particularly good birding sites include Waitangi Roto Nature Reserve, known for its white herons, and Ōkārito lagoon, with more than 75 species of native birds.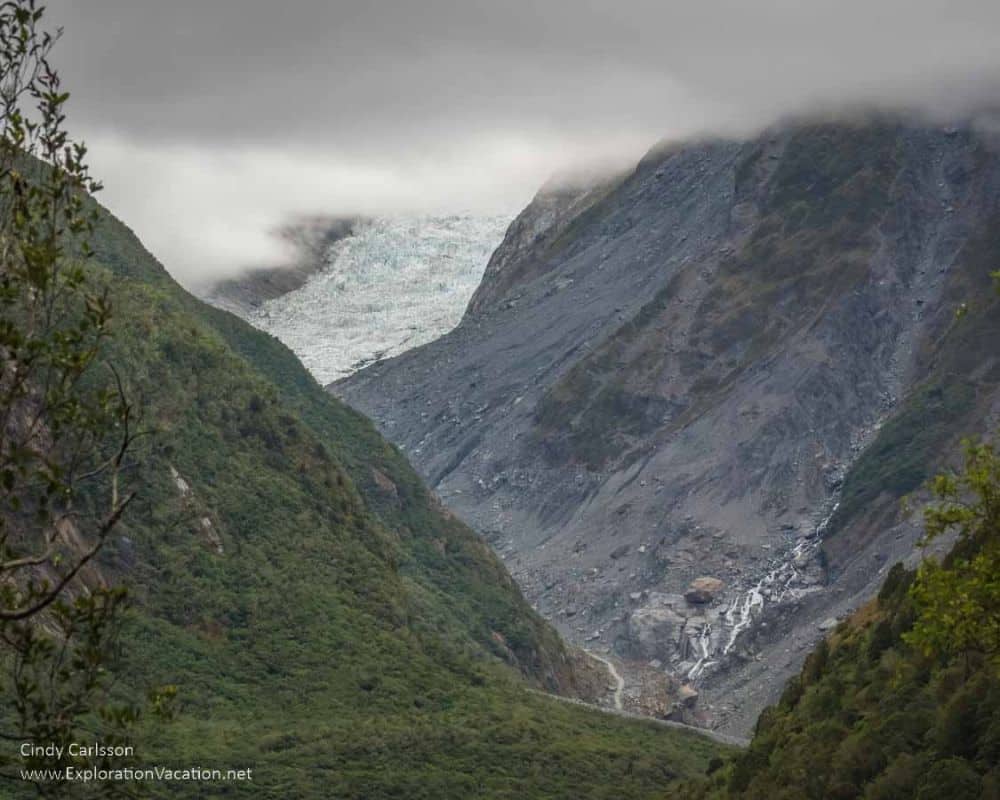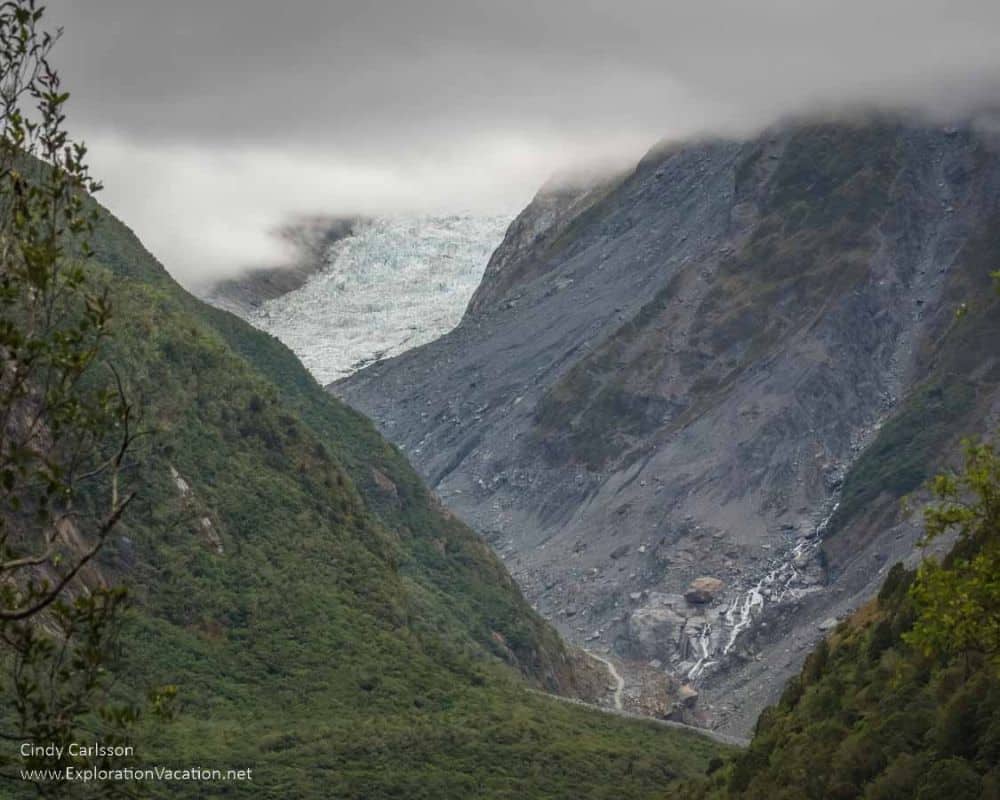 Mount Aspiring National Park
Straddling the Southern Alps and named for one of New Zealand's highest peaks, multi-day treks take visitors deep into the mountain wilderness. However, shorter walks are also available right off the scenic Haast Pass/Tioripatea Highway. Not into walking? Scenic flights give visitors views over the park, while jet boats race up several rivers into more remote areas.
Milford and Doubtful Sounds in Te Rua-o-te-moko/Fiordland National Park
The best-known area of the Te Wāhipounamu-South West New Zealand World Heritage site is in Fiordland National Park. The gateway city of Te Anau has its own attractions. However, while there's plenty to do right in and around Te Anau, it's best-known as the access point for cruising beautiful Milford Sound.
But cruising Milford Sound is just one option. Just getting to Milford Sound is an adventure in and of itself, as the 75-mile trip along Milford Road offers stunning scenery and many hiking and tramping opportunities. This is the busiest area of the park, but even here you don't have to walk very far from the parking lot to lose most of the tour bus crowds.
Click here for a guide to the Milford Road and cruising Milford Sound.
Milford Road and the Sound are a only small part of what Fiordland National Park has to offer. The Lake Manapouri area is popular for boating, day hikes, and tramping. To get deeper into the wilderness, head to Doubtful Sound/Patea. Doubtful Sound is much larger and far less-visited than Milford Sound, with options for hiking and tramping, paddling, or cruising in the marine sanctuary. And, if none of those are far enough off the main tourist trail for you, the Southern Fiords area offers hiking, paddling, and cruising in a protected marine area that is very far from any road and most other visitors.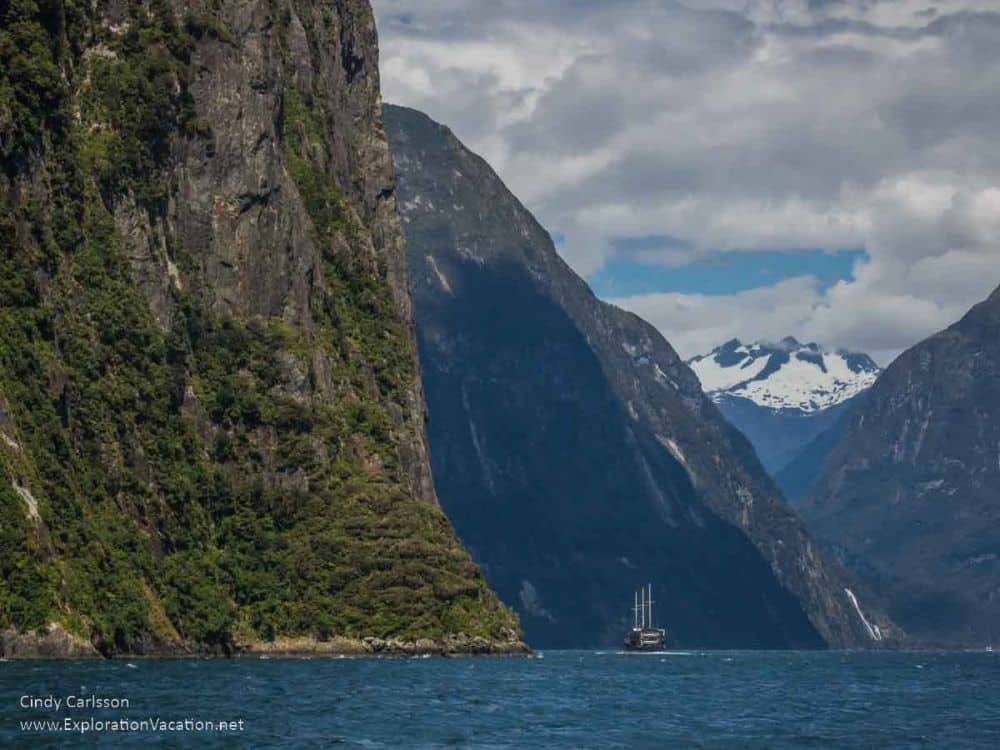 Is the Te Wāhipounamu World Heritage site worth visiting?
Te Wāhipounamu – Southwest New Zealand is well worth traveling a very long way to see, both for its natural beauty and its unique flora and fauna. But don't limit your visit to a day trip to Milford Sound from Queenstown. Spend at least a few days driving, walking, tramping, cruising, paddling, or maybe flightseeing in this stunningly beautiful wilderness area. This World Heritage site covers 10% of New Zealand's land mass, so if you're traveling a long way to get here, allow a little extra time to explore!
What sorts of travelers would like Te Wāhipounamu – South West New Zealand?
This is a World Heritage site for people of all ages who enjoy nature, epic scenery, and/or outdoor activities like hiking, climbing, paddling, or wildlife and bird watching. You'll find activities suitable for all levels of physical ability, as well as a wide range of lodging options. That means you don't need to be an active adventure traveler to enjoy visiting Te Wāhipounamu – South West New Zealand. However, you do have to like nature, as cultural activities are limited.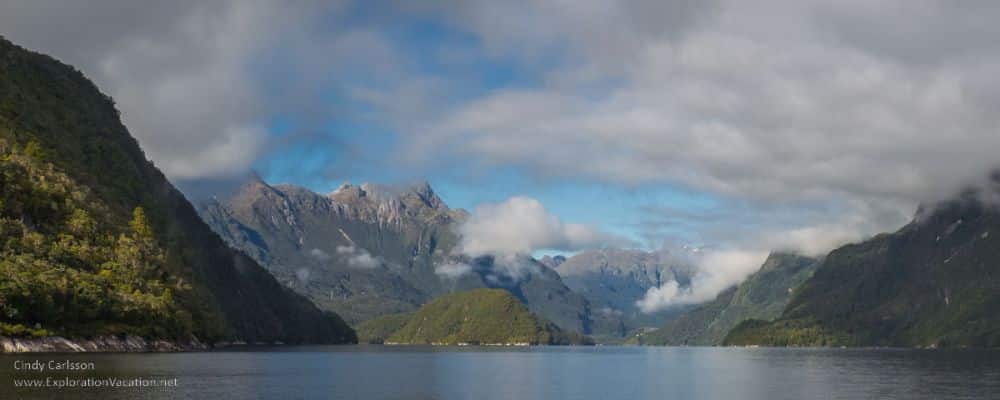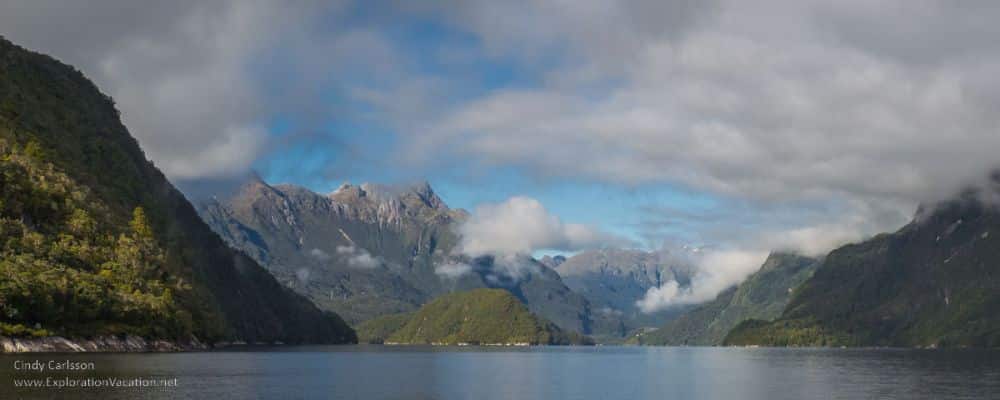 Tips for visiting Te Wāhipounamu
Fjord is spelled "fiord" in New Zealand, and both fjords (carved by glaciers) and true sounds (drowned valleys) are often called sounds.
Rent a car or camper van and drive to see as much as possible of Te Wāhipounamu – South West New Zealand. Make plenty of stops along the way to hike or just take in the scenery. While roads only run through a tiny portion of this UNESCO site, scenic overlooks and trails make a wide variety of landscapes easily available to visitors of all fitness levels.
Wherever you go, and whatever you do, be prepared. Even Milford Road is pretty remote – there's almost no place along the way to stop for food or gas. Get a good map and don't expect to rely on your phone to get around or summon help, as coverage is limited outside gateway cities. And keep in mind that rain and snow are possible at pretty much any time of year, so be prepared for both cold, wet weather and temporary road and trail closures due to landslides, floods, ice, or avalanches.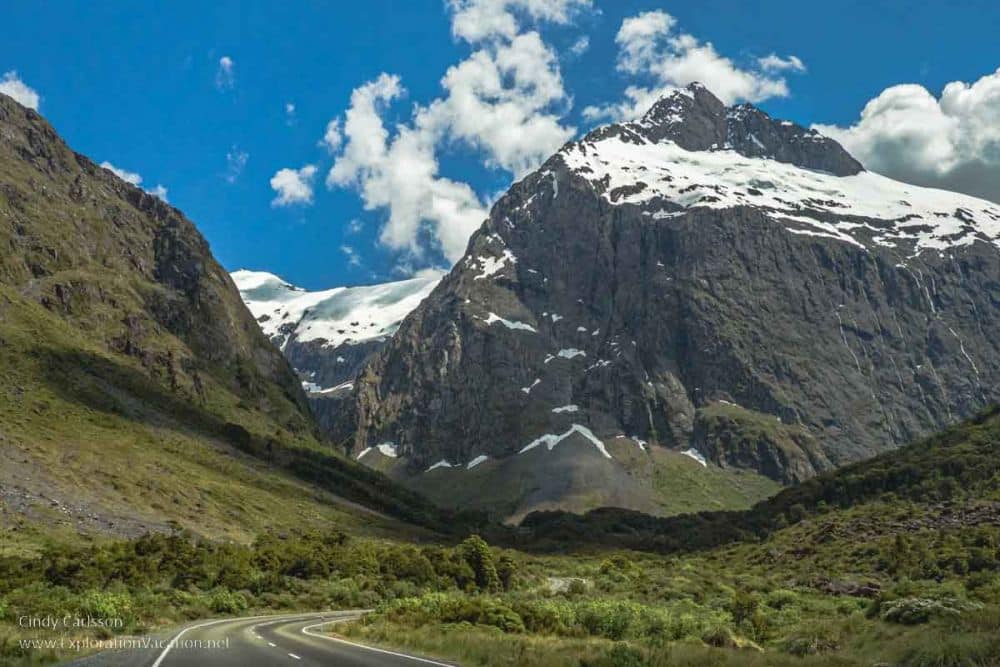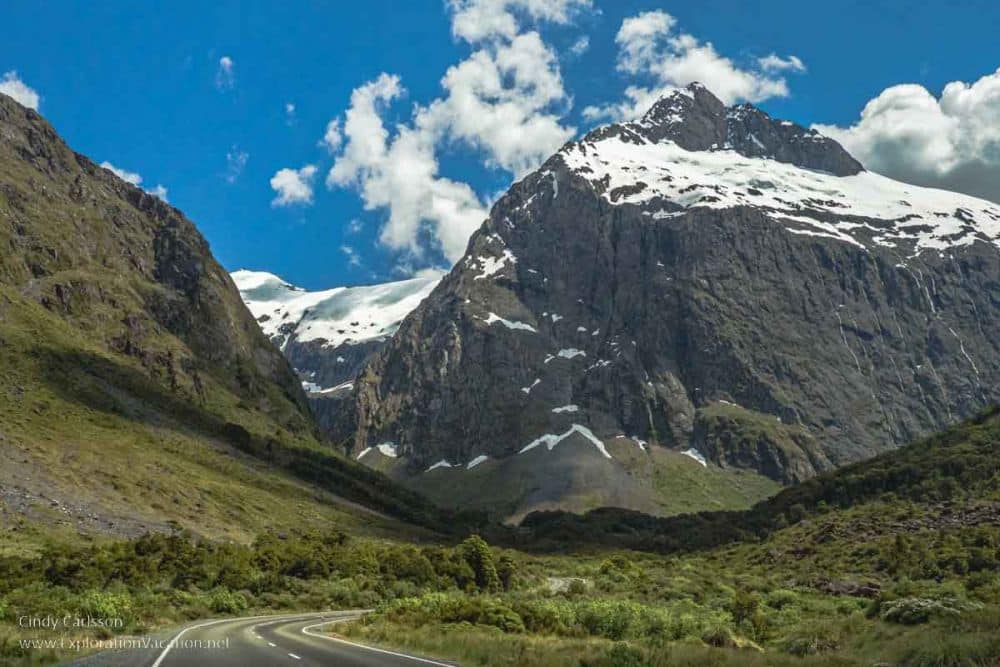 Don't feed the wildlife! And keep a close eye out for kea, New Zealand's highly intelligent alpine parrot. They aren't afraid of humans and will get into anything that looks interesting, sometimes causing significant damage to unattended backpacks and parked cars alike.
A range of camping and lodging are available in or just outside all the national parks. However, ALL are very, very busy from late spring into early fall. Book as far in advance as possible.
The region's native Ngāi Tahu people view the mountains and valleys of Te Wāhipounamu as places belonging to the gods that record the deeds of their ancestors. Respect their traditions and the landscape.
Where can you find Te Wāhipounamu – South West New Zealand?
The Te Wāhipounamu – South West New Zealand UNESCO site covers nearly all of the southwestern portion of the South Island. At least some part of all national parks in the World Heritage site can be reached via paved roads. There are five main access points: Highway 6 north of Franz Josef/Waiau, Mount Cook village, Makarora, and Te Anau.
All access points have Department of Conservation Visitor Centers. Visitor Centers are also located inside the World Heritage site in Fox Glacier and Haast, and outside it in Wānaka and Queenstown.
If you drive, keep in mind that New Zealand's roads are not built to the same standard used in many other countries. Allow a lot more time than you think you will need both for driving and stopping to enjoy some of New Zealand's most breath-taking scenery.
Queenstown is the region's transportation hub, with regularly scheduled domestic flights available to/from Auckland, Wellington, and Christchurch. Wānaka also has regular service to/from Christchurch.
Bus tours that include one or more of the national parks are available out of Christchurch and Queenstown.
Milford Sound is the only place that charges a parking fee. It can be avoided by taking the shuttle from a slightly more distant parking area.
Aoraki/Mount Cook National Park
Scenic State Highway 80 is the only road into Aoraki/Mount Cook National Park. The nearest town of any size is Twizel. (70 km/45 mi, but allow extra time.) Make last-minute stops for supplies or gas in Twizel.
Several bus lines run to Mount Cook village from Queenstown (270 km/170 mi) and Christchurch (330 km/200 mi). Some offer tours that include Mount Cook, but regular fares are also available. A shuttle service connects Twizel and Mount Cook. On-demand service is available from Wānaka.
Mount Cook Village also has an airport used by charter and flightseeing services.
Westland Tai Poutini National Park
From the north, State Highway 6 runs along the coast most of the way from the port at Nelson to Westland Tai Poutini National Park (at least 6 hours of driving), through the park and conservancy areas to Haast, and then along Mount Aspiring National Park down to Makarora and out of the World Heritage site and on to Wānaka. Bus service is available along the coast. Hokitika, along the coast about 1½ hours north of the park, has daily air service to/from Christchurch.
Coming from the south, Makarora is a scenic 1½ hour drive north of Wānaka. Daily flights connect Wānaka and Christchurch, but the only bus from Wānaka is an on-demand service.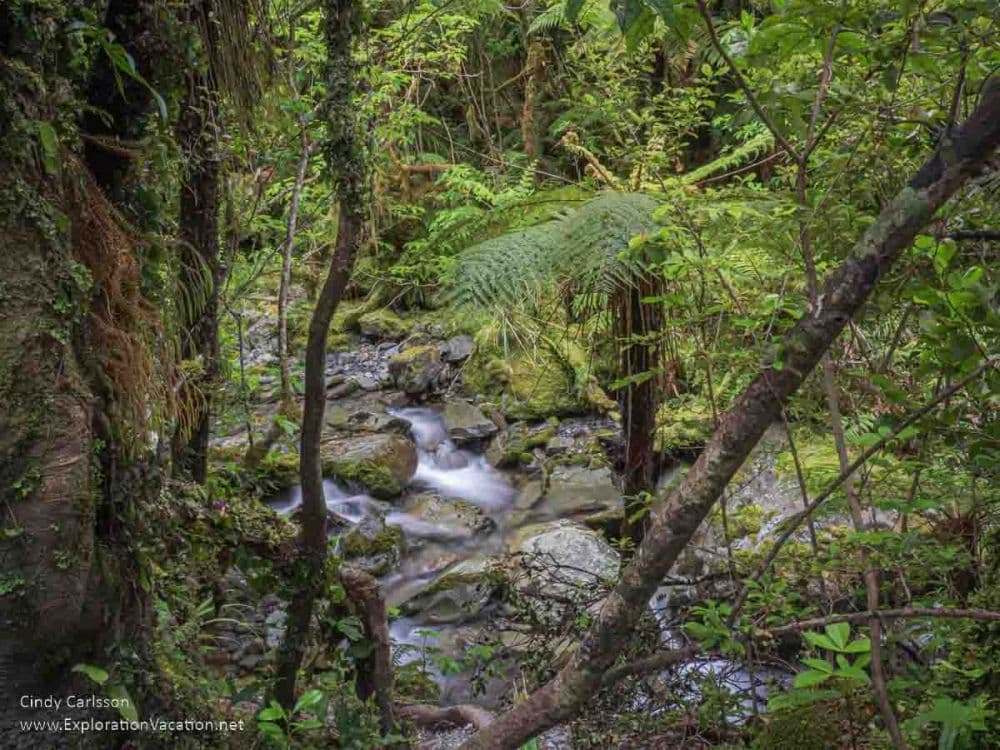 Mount Aspiring National Park
The northernmost part of the park can be accessed via State Highway 6 south of Haast, as described for Westland Tai Poutini. Most of the park's day hikes are located between Haast and Makarora.
Local buses (and a boat service in Glenorchy) provide access to a number of park trailheads and other visitor stops along Highway 6. Regular bus service connects this area to Queenstown and Te Anau.
Fiordland National Park
The main access to Te Rua-o-te-moko/Fiordland National Park is via Te Anau, a 170 km/105 mi drive from Queenstown. A variety of bus services, both regular route and tour buses, serve Te Anau and Milford Sound from Queenstown. Service to Te Anau is also available from Invercargill and Dunedin. Charter flights are available from Queenstown to both Te Anau and Milford Sound.
At the far southern end of Fiordland, the Tutatapere area can be accessed from Highway 99 near the town of Tutatapere. Helicopter, float plane, and jet-boat services also provide access to this area.
For more information about Te Wāhipounamu – South West New Zealand, including maps, road and trail conditions, closures, and more, see the official websites for Aoraki/Mount Cook, Fiordland, Mount Aspiring, and Westland Tai Poutini national parks.
Text and photos provided by Cindy Carlsson, the always-curious traveler and photographer at ExplorationVacation. Cindy is an independent traveler who loves diving deep into the world and its wonders. Check the website, Facebook, or Instagram for more travel tips and inspiration.
Have you been to any part of Te Wāhipounamu – South West New Zealand? If so, do you have any additional information or advice about this UNESCO World Heritage site? Please add your comments below!