Pre-Hispanic Town of Uxmal
By Cindy Carlsson
What is the Pre-Hispanic Town of Uxmal?
Largely built in the late Mayan Puuc style, the areas included in the Uxmal World Heritage site are often cited as the best of Mayan art and architecture. Although some sites were inhabited far earlier, most of what remains today was built between 700 and 1000 AD when Uxmal (pronounced "oosh-mal") and neighboring Kabah were major cities. The Maya abandoned all these sites before 1200, although Uxmal itself remained a pilgrimage site until the Spanish conquest.
Disclosure: This article contains affiliate links. Making a purchase through an affiliate link will mean a small commission for this website. This will not affect your price.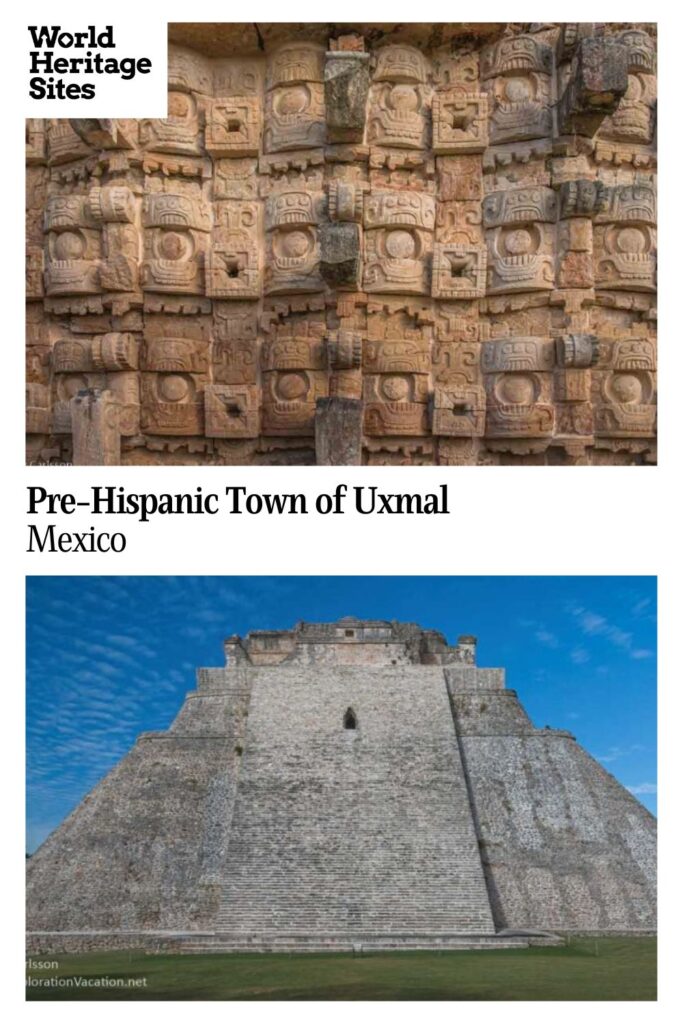 The Uxmal UNESCO site includes four locations:
Uxmal is the largest and most fully-excavated and restored part of this World Heritage site. At its peak, its population may have reached 25,000 and it controlled the surrounding region. It's a spectacular site, with ruins that include a very large pyramid; residential, administrative, and ceremonial spaces; and a ball court.
Kabah was another large city, perhaps almost as large as Uxmal. Only a small portion of this site has been excavated, but areas open to visitors include a building covered with hundreds of masks representing the rain god Chaac. It's an unusual structure and an impressive example of Mayan art.
Labná is the smallest site, but it has a beautiful gateway arch, as well as a temple pyramid and a large palace.
Sayil also has the remains of a very large palace, as well as several other structures. It has fewer elaborate carvings and architectural details than the other sites, but its buildings are noted for their particularly harmonious features.
Note: At Uxmal UNESCO site, the term "palace" is used to describe any large, multi-room building along with its courtyards and plazas. Although some may have been used for a single purpose, most served some mix of residential, administrative, functional, and ceremonial purposes.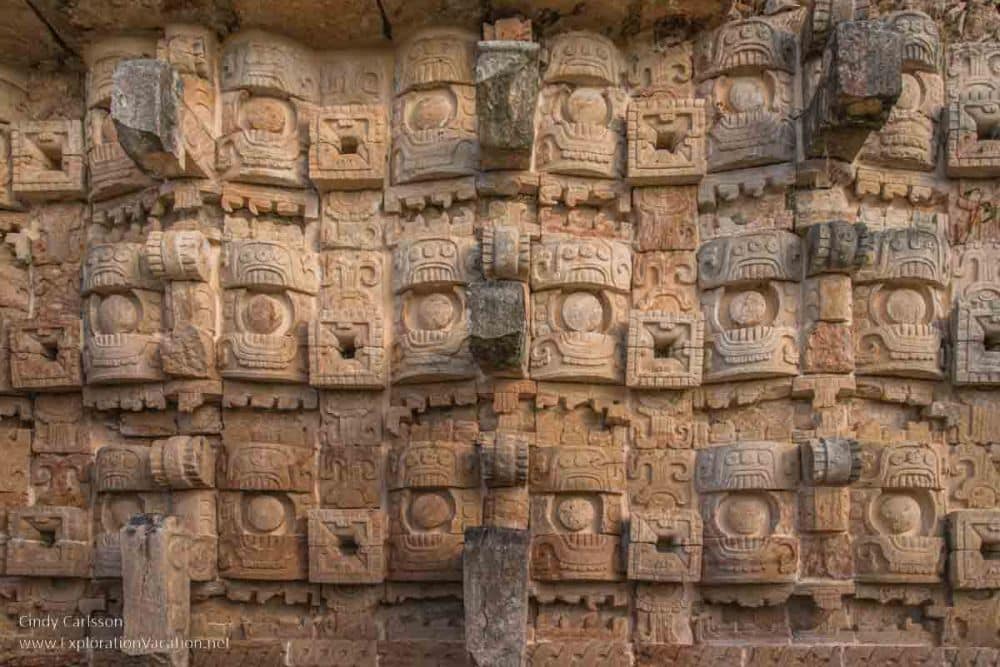 Why is the Pre-Hispanic Town of Uxmal a UNESCO World Heritage site?
The Uxmal World Heritage site is important both as an outstanding physical example of a particularly fine late Mayan complex and for what it tells us about Mayan culture and society.
UNESCO explains: "The ruins of the ceremonial structures at Uxmal represent the pinnacle of late Maya art and architecture in their design, layout and ornamentation, and the complex of Uxmal and its three related towns of Kabah, Labná and Sayil admirably demonstrate the social and economic structure of late Maya society."
Documentation for the site describes it as one of the most "exceptional examples of Mayan architecture in Mesoamerica."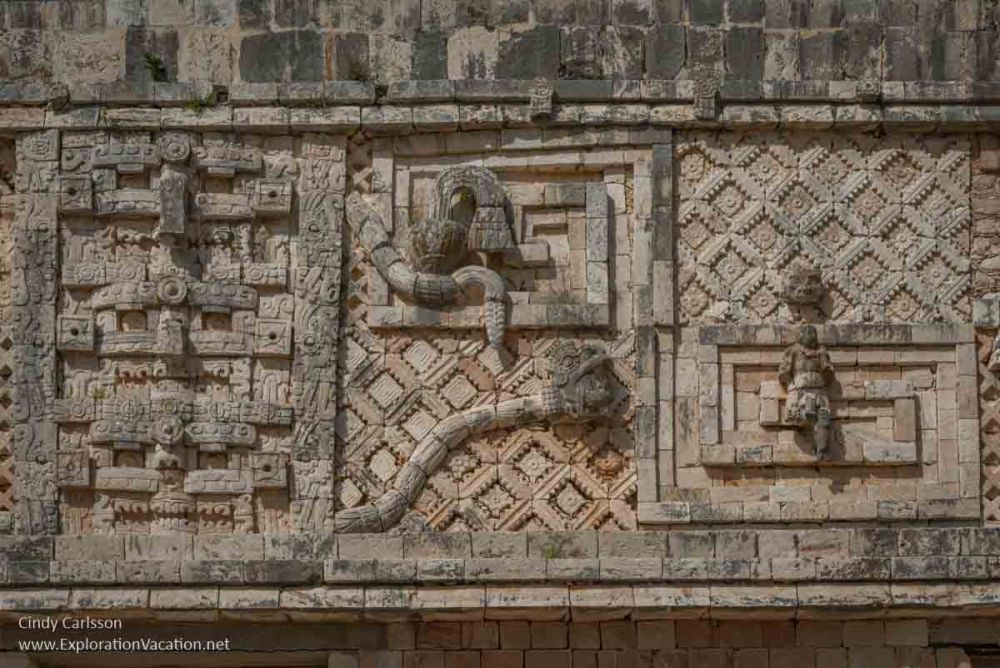 What can you expect on a visit to Uxmal, Mexico?
All four components of the Uxmal World Heritage site are located within a half-hour of each other in the Puuc (hilly) region of the Mexican Yucatán. That makes it easy to visit all of them on your own or as part of a tour.
Most structures at all locations are classic Puuc architecture. That means they were constructed with a concrete core that allowed stronger and higher walls and arches, a smooth undecorated lower façade, and a highly decorated upper façade with designs created from pre-cut stone.
All four sites have a mix of structures and many areas that have yet to be excavated. Some of the most significant structures are described below.
Uxmal
Uxmal is by far the largest and grandest site included in this World Heritage designation. It's also the one where visitors get the best sense of how the ceremonial core of a Mayan city was put together.
Standing 35 meters (over 100 feet) tall, you can't miss the oval Pyramid of the Magician (also called the Pyramid of the Soothsayer or the Pyramid of the Dwarf). While it looks like one structure, it's actually five temples built on top of each other over about 300 years.
From here visitors can enter a lovely small courtyard and pass through an arch to get to the Quadrangle of the Nuns. This multi-level complex was built around a very large courtyard over a period of years. Despite the name, these were probably administrative buildings. It's just one of several quadrangles at Uxmal, but it is the largest and several of its buildings have particularly intricate decorations.
A reasonably well-preserved Ball Court separates this administrative area from the Governor's Palace. Believed to be where the ruler of this region lived, this impressive building stands high above ground level on a large platform. The intricately decorated façade is 96 meters (320 feet) long and features two of the highest arches found in any Mayan building. It's recognized as a masterpiece of Mayan art and architecture. Sadly, visitors usually can't get very close to it.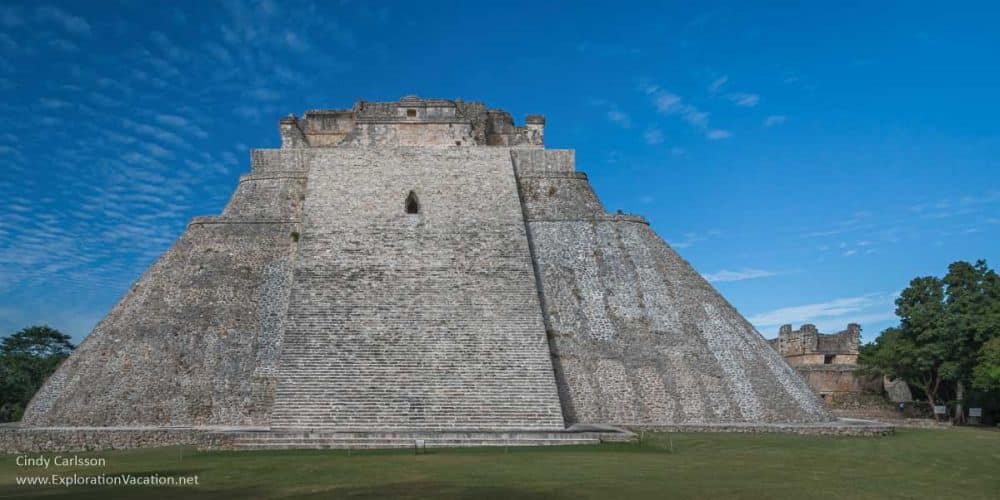 Kabah, Labná, and Sayil
All three of these sites are largely unexcavated and few structures have been restored. However, each site has features that make it worth visiting.
Kabah
While Kabah may have rivaled Uxmal in size and power, only a small portion of the site has been excavated. But that includes one of the most incredible buildings in Puuc architecture, the Codz Poop (pronounced "codes pope") or Palace of the Masks. Set on a very large platform that functioned as part of the site's water system, its walls are covered from top to bottom with carved stones fit together to form a repeating pattern representing the loop-nosed rain god Chaac. No other Mayan building quite like this has been discovered. Even though very few noses are intact, it's an amazing site.
But be sure to go around to the other side, where larger than life carvings of human figures and narrative relief panels are also unique to this site.
After you've taken all that in, head over to the large palace or stroll through the jungle to take in some of Kabah's other structures, including a free-standing arch.
Find more photos and information on what you'll see at Kabah.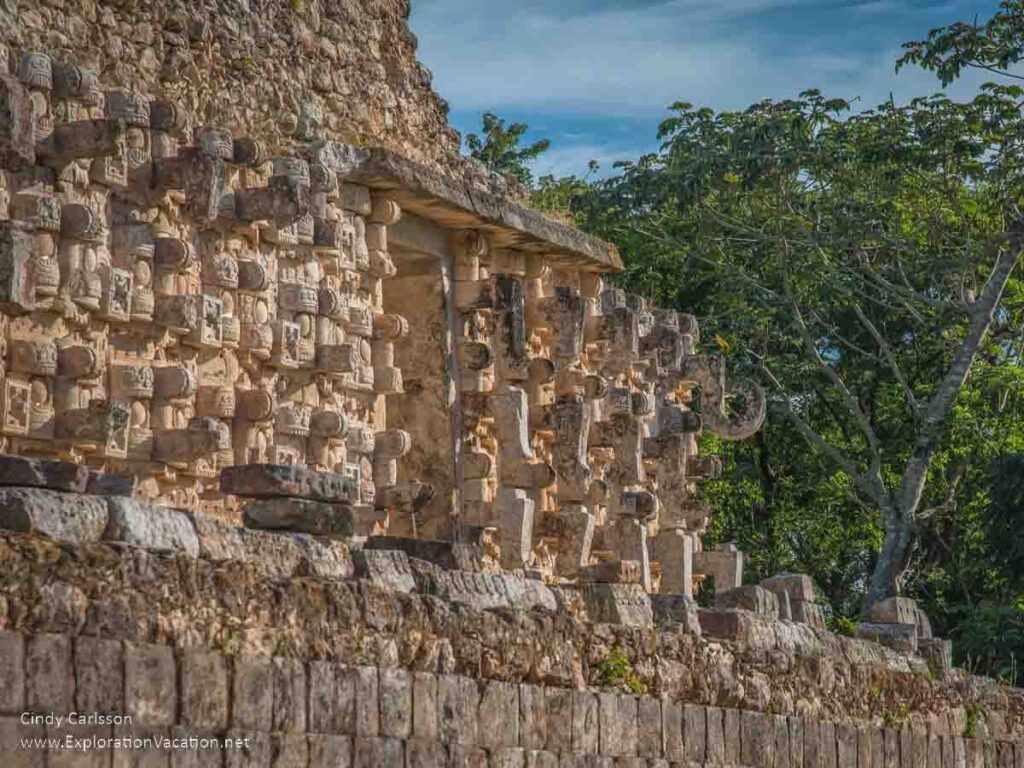 Labná
Labná is noted for a beautiful Gateway Arch. However, this small site has several interesting ruins, including a temple with a dramatic comb. It's older than most other structures in the Uxmal UNESCO site.
Sayil
Sayil has a very large palace with little elaborate decoration. But, beyond its large size, it's unusual for having three levels, each of which is set back from the other. There are only a few partially excavated ruins at Sayil. Most are located along the original raised Mayan road, but none are particularly close together.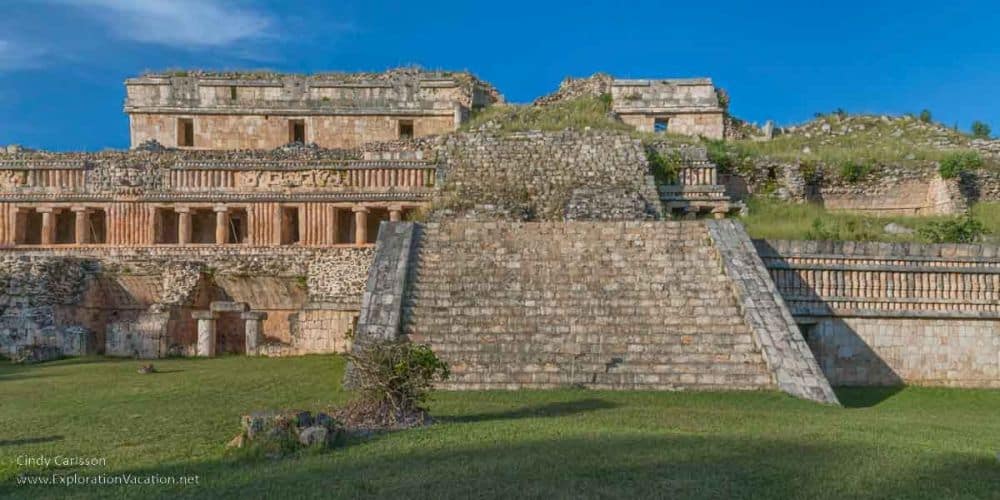 Is Uxmal worth visiting?
Yes, Uxmal is very much worth visiting. After all, along with the World Heritage sites of Chichen Itzá, Palenque, Tikal (Guatemala), and Copan (Honduras), Uxmal is considered one of the five great monuments of Mayan civilization. It's also safe and relatively easy to get to Uxmal if you are already in the Mexican Yucatán.
Uxmal has elements that will interest visitors of all ages. And you don't need to know anything about Mayan civilization to marvel at the dramatic structures and their imaginative decorations.
So how long does it take to visit Uxmal? Many visitors, especially families, can visit Uxmal and a couple of its smaller sites in a single day. Visiting Uxmal itself takes at least a couple of hours.
However, visitors with more interest in Mayan culture or ancient architecture in general should plan for at least a half-day at Uxmal itself. Kabah and Labná are worth at least an hour. Sayil requires less time. However, it would be easy to spend much longer at all these sites. Plan at least 1½ days to see all these sites at a more relaxed pace.
It only takes a couple of hours to drive between Uxmal and Chichen Itzá. That makes it easy to combine them into a single trip over a few days. Since the two are rather different, it's worth your time to see both. And, if you'd like to add a little natural World Heritage to your trip, take a loop that takes you to Sian Ka'an along the Caribbean coast south of Tulum.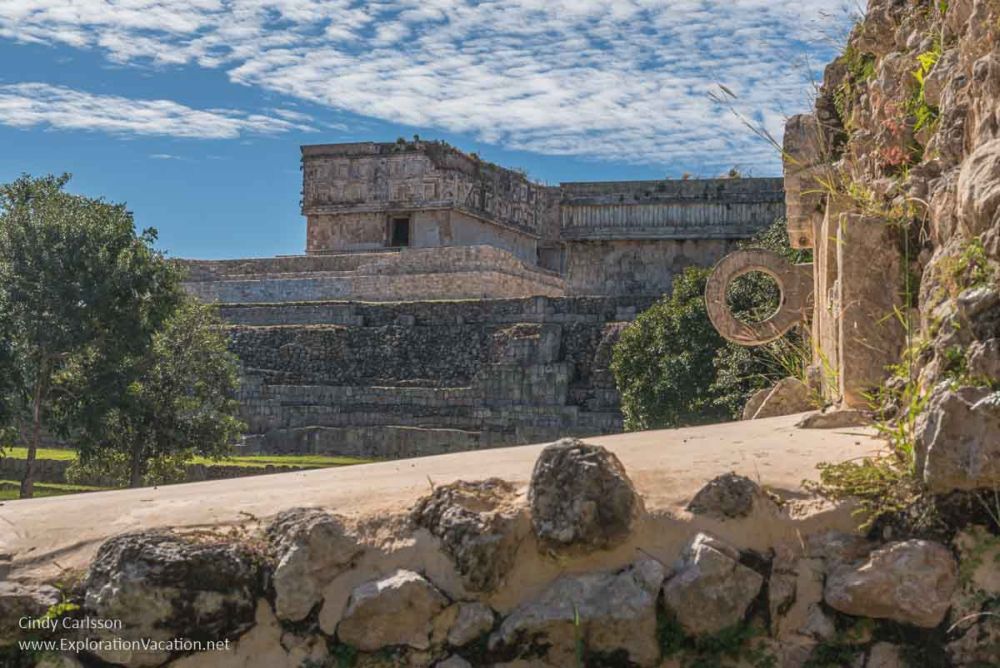 Tips for visiting Uxmal
All locations included in the Uxmal World Heritage site are located along the scenic and easy-to-drive Ruta Puuc (Puuc Route). The route also includes the ruins of Xlapak, which was considered for inclusion in the original Uxmal UNESCO World Heritage listing.
Uxmal sees far fewer visitors than Chichen Itzá or other Mayan sites closer to Cancun. But it can get busy and Uxmal limits capacity. Beat the crowds by entering the Uxmal site first thing in the morning before the tour buses from Mèrida arrive. That usually ensures you can enter without waiting or at least without a long wait.
Other sites included in the Uxmal World Heritage designation don't limit visitor numbers, but will likely be nearly deserted whenever you visit. And, if they are busy, just wait a few minutes, as big tours generally make only a very brief stop at each.
Kabah is best viewed in the afternoon when the sun lights the Chaac figures on the Codz Poop.
Guided tours of Uxmal are available on-site, but visitors are free to wander independently too.
Mexican residents can visit these archaeological parks for free on Sundays, so expect lots of local families if you visit then.
Luxury lodging at The Lodge at Uxmal is right at the edge of the Uxmal Archaeological Zone. Check nearby Santa Elena listings for more affordable options.
Where is the Pre-Hispanic Town of Uxmal, Mexico?
The Uxmal World Heritage site is in Yucatán state in southern Mexico.
All locations included in this World Heritage site are accurately located in Google Maps. Coordinates are also listed on the UNESCO's Uxmal web page. Road signs mark all four sites and the Ruta Puuc.
The main site of Uxmal is a little over 80 km (50 miles) or an hour's drive south of Mèrida along a modern highway. It's twice that time and distance to drive to Uxmal from Campeche. Travel time from Cancun or Tulum is a minimum of 4-5 hours.
Parking is available at all four sites. There is a charge to park at Uxmal itself, but not at the others.
A local bus runs from Mèrida to Uxmal and along the Ruta Puuc on Sundays (only on Sundays). It leaves the TAME (second class) bus station in Mèrida at 8 am and returns at 4 or 5 pm. This is a budget option that gives you a couple of hours at Uxmal and about a half-hour at each of the other ruins along the Ruta Puuc. This is just a bus, there's no guide or other services.
You can take a tour to visit the Uxmal World Heritage site as a day trip from Mèrida. Most day trips package Uxmal with the chocolate museum nearby. This tour goes to both Uxmal and Kabah, while this one allows you to visit all four sites in one day.
For more information about the Pre-Hispanic Town of Uxmal World Heritage site, including opening hours and admission fees, see the official website for each location: Uxmal, Kabah, Sayil, and Labná.
Text and photos by Cindy Carlsson, the always-curious traveler and photographer at ExplorationVacation. Cindy is an independent traveler who loves diving deep into the world and its wonders. Check the website, Facebook, or Instagram for travel tips and inspiration.
Have you been to the Pre-Hispanic Town of Uxmal UNESCO site? If so, do you have any additional information or advice about this UNESCO World Heritage site? Please add your comments below!